Today sees the conclusion of the Gfinity FUT Champions Cup at the Gfinity Arena in London. A total of eight players remain in the tournament and will battle it out for a first-place prize of $40,000 and 1500 Global Series points. In this preview we take a look at the four console semi-final matches and predict the results of each contest.

PlayStation 4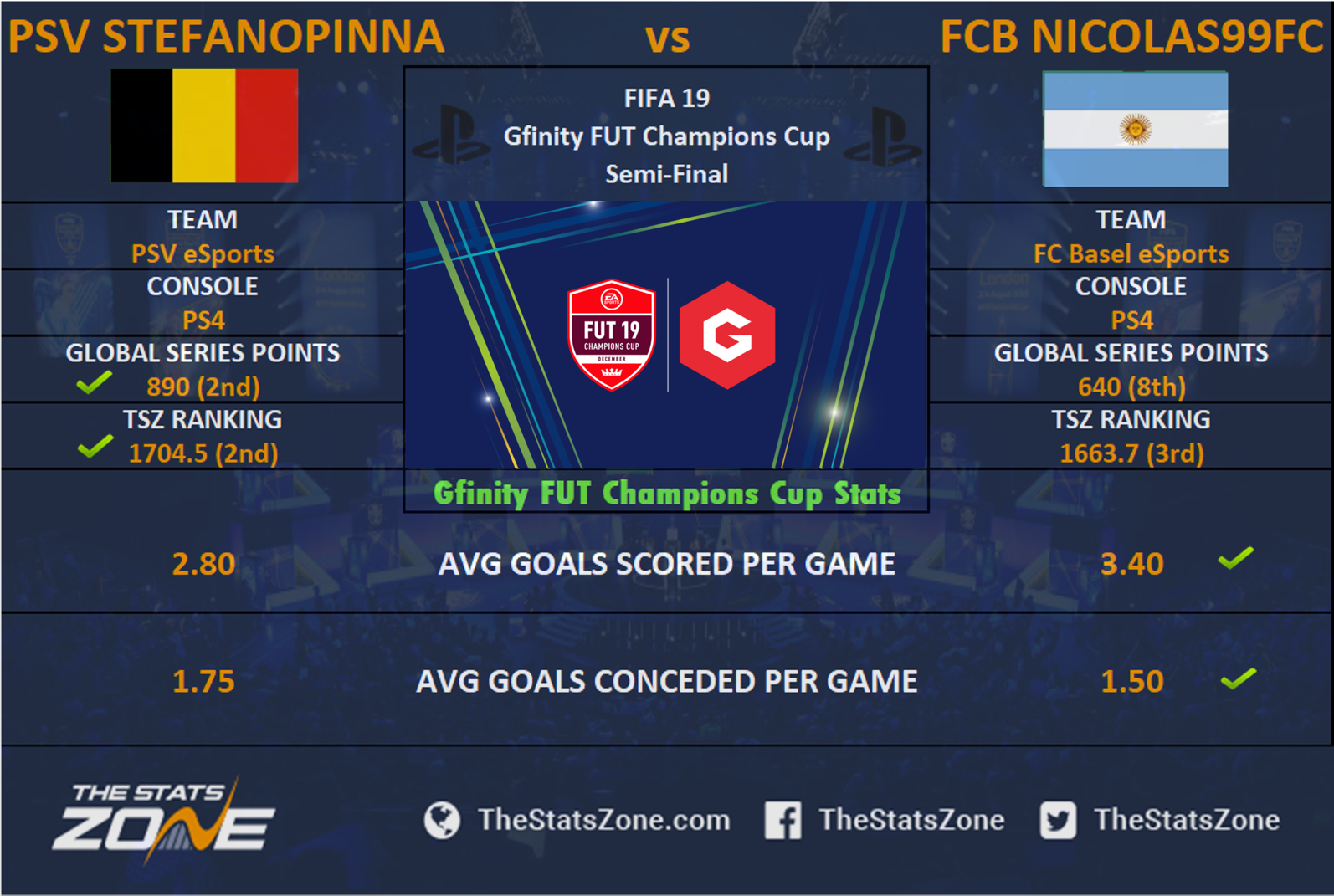 The first PS4 semi final-sees PSV Eindhoven's Stefano Pinna face off against FC Basel's Nicolas "nicolas99fc" Villalba. Stefano has continued his wonderful form over the past few months which saw him reach the FIFA eWorld Cup Grand Final and most recently the PGL Cup Grand Final only last weekend. He has established himself as one of the best PS4 players on the circuit today.
Villalba came through the losers bracket to get to this stage, gaining revenge on Team Vitality's "Maestro" in the process. After losing to the Vitality player in the earlier rounds, the Argentinian rallied and came back to beat him 8-2 in the quarter-finals. This sets up a showdown with Pinna who has beaten "Prohunter", "Dr Erhano" and NYCFC's Chris Holly to reach this stage of the tournament.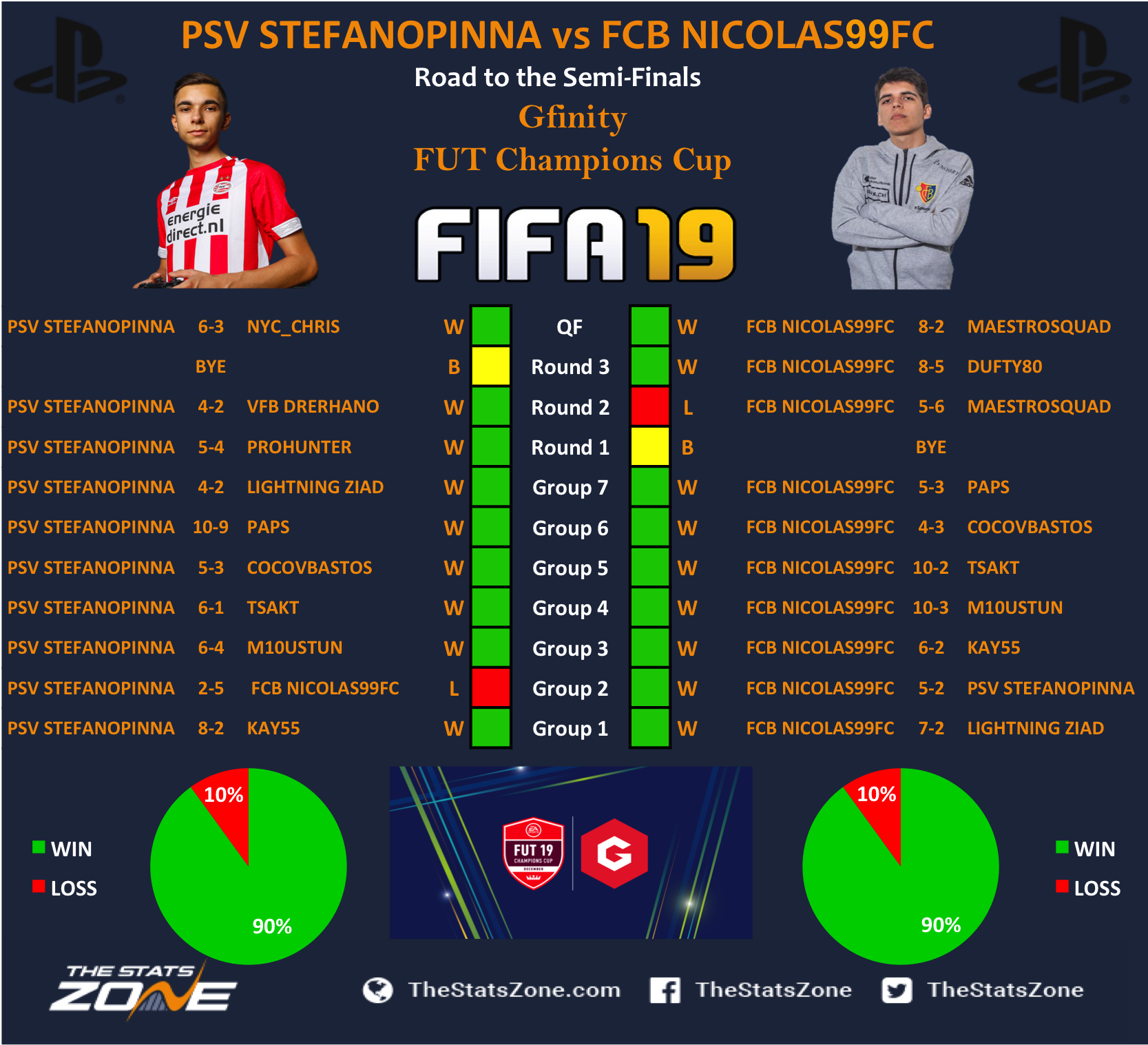 Prediction
Of the four semi finals this has the potential to be the closest game; a battle between the two best PS4 players in the world today. While Stefano has yet to be beaten in the knockout bracket, most of his wins have been fairly narrow, whilst Nicolas' wins throughout the tournament have been more dominant, suggesting that he may be playing better. These two have already faced off once already in this event, with Nicolas coming out on top 5-2 in the group stages and we're predicting him to do so again in this semi-final contest.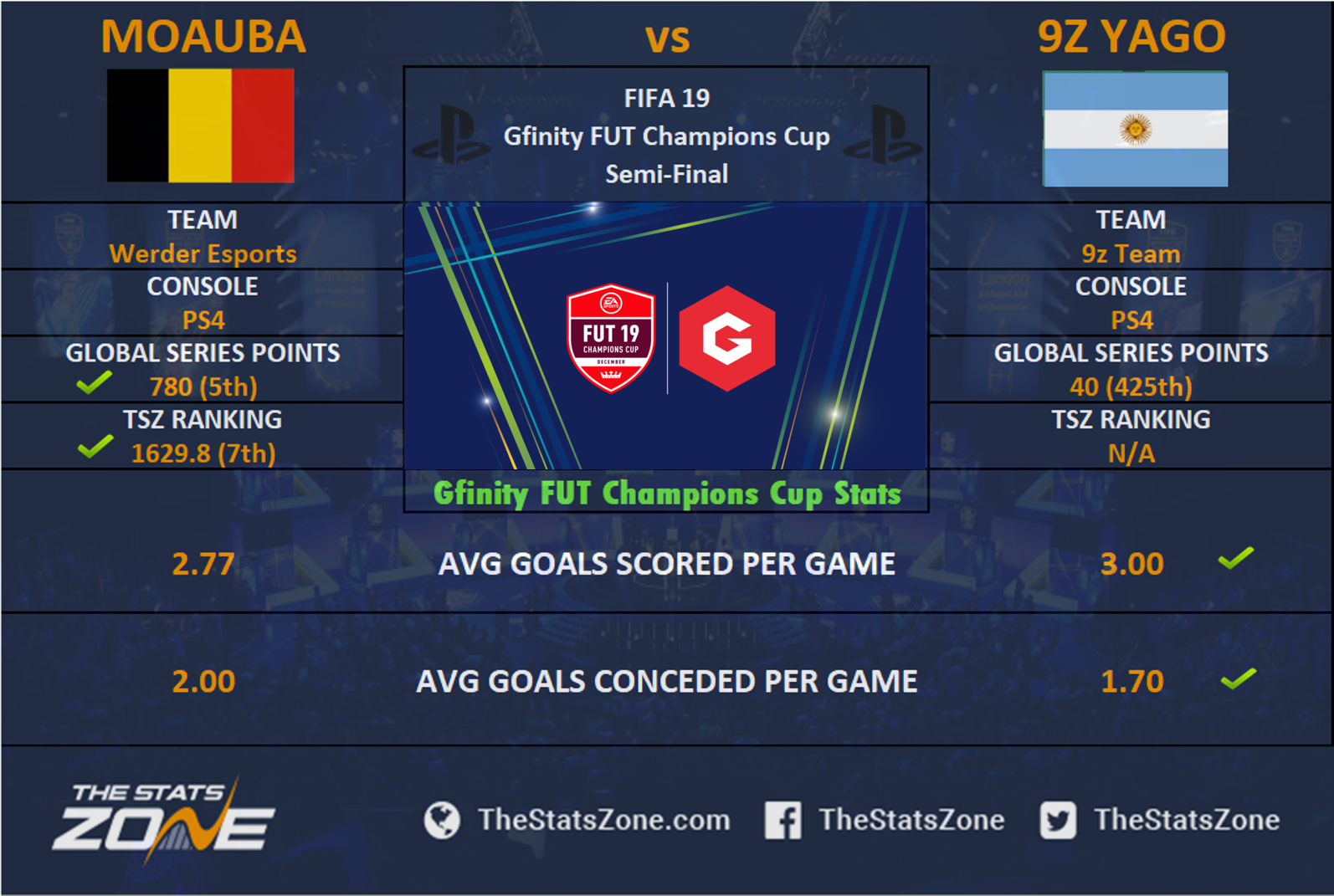 The second PS4 semi-final sees the tournament's surprise package in "9z Yago" take on Werder Bremen's Mohammed "MoAuba" Harkous. The second Argentine player to make it to the semi-finals, 9z Team's "9z Yago" pulled off the shock of the tournament so far in the quarter-finals where he dumped out the number one ranked PS4 player and Continental Cup winner "Joksan" in an 8-3 thrashing.
"MoAuba" has made it to this stage largely due to his firepower up top. In the knockout stages alone, Harkous has scored a whopping 24 goals including nine in one match against "Ustun" in the first round. After winning that game, Harkous went on to met the FIFA eClub World Cup winner in a round three rematch. The German came out on top once again and backed it up with a 7-3 win over "LordHjorth", booking his place in the semi-finals and avenging his 4-2 defeat to the same player in round two.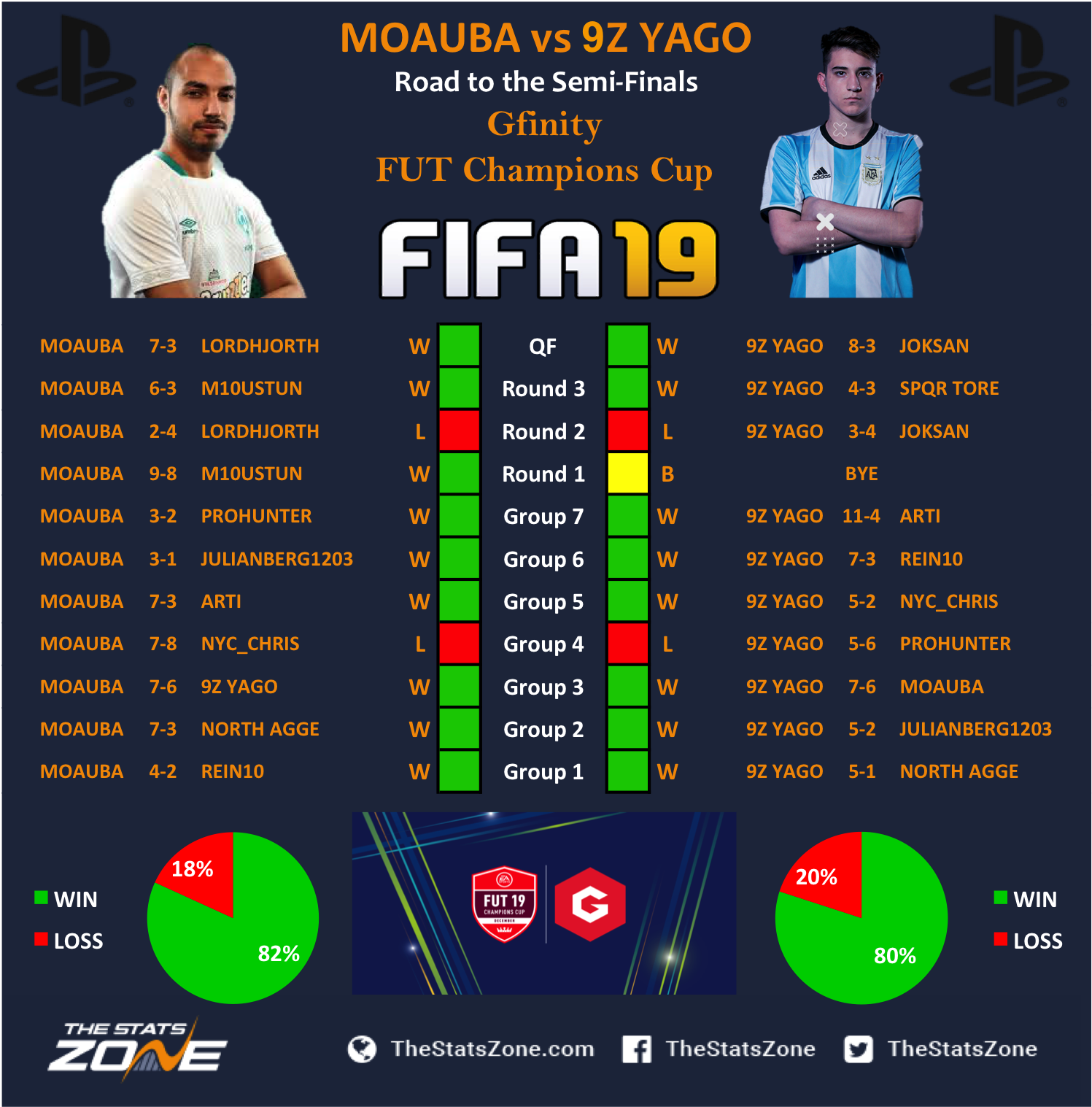 Prediction
These two also faced off in the group stages, with "MoAuba" winning a 7-6 thriller. We're expecting an exciting match packed full of goals with both players putting the emphasis on attack rather than defence. In terms of the result, we're expecting experience to win out and "MoAuba" to advance, but "9z Yago" will no doubt relish the underdog tag and play with freedom, making this a very uncomfortable affair for the Werder Bremen man.
Xbox One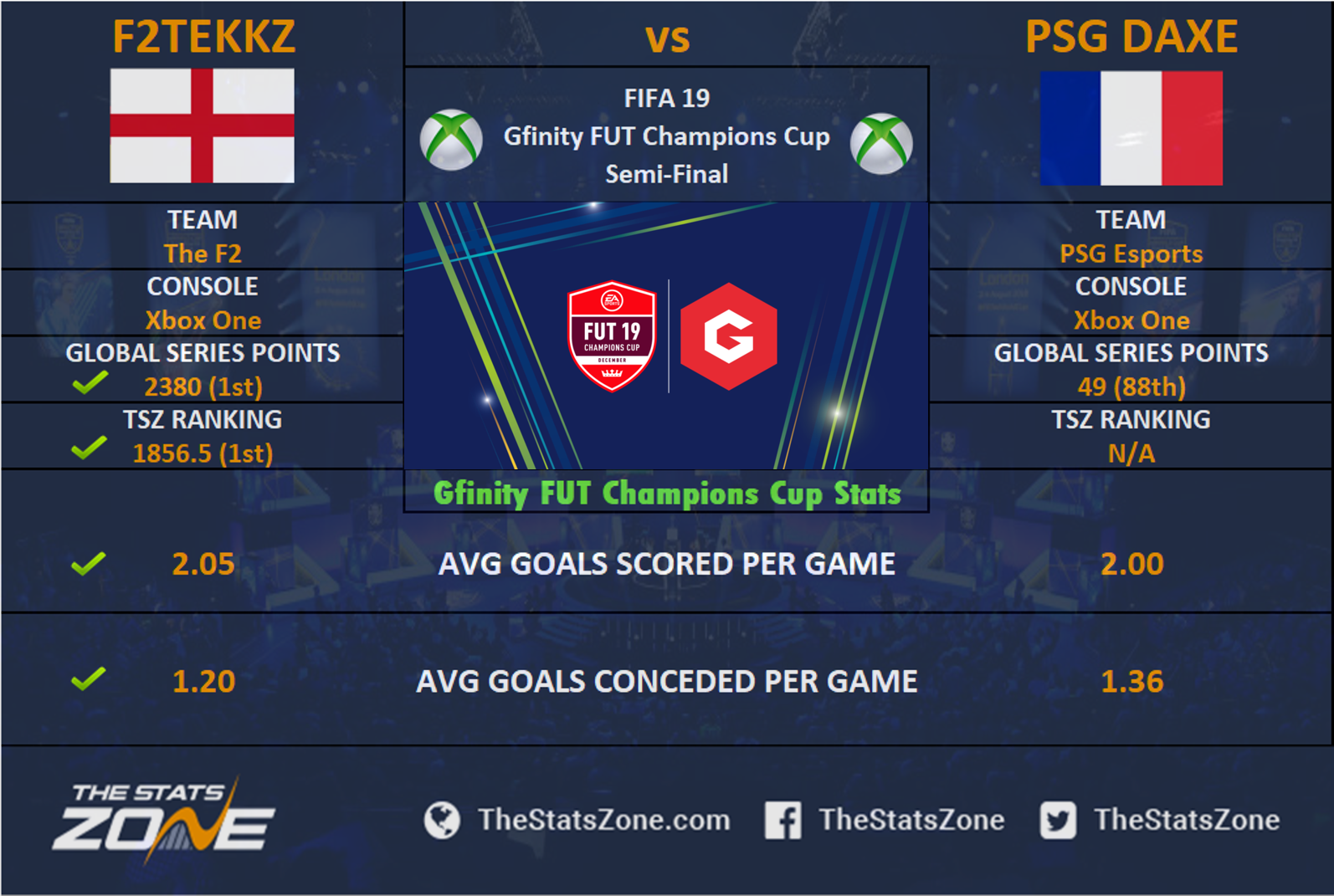 PSG's Lucas "PSG DaXe" Cuillerier has the unenviable task of trying to stop Donovan "F2Tekkz" Hunt from making it three trophies in three weeks. The ESWC winner has shown real grit to make it to the semi-finals. After losing to "NRaseck" in the second round, "PSG DaXe" has bounced back to beat "Bundled Stokes" 3-2, before gaining revenge on Raseck in the quarter-finals, beating him 4-3 to set up a showdown with the 17-year-old Brit.
"F2Tekkz" is continuing to show why he's in a world of his own on FIFA 19 so far this season. The number one ranked Xbox One player has cruised his way to the semi-final stage without much difficulty, only conceding three goals in his two winners bracket matches so far. He also averages just over two goals scored per game, losing only one of his nine match so far over the course of the tournament.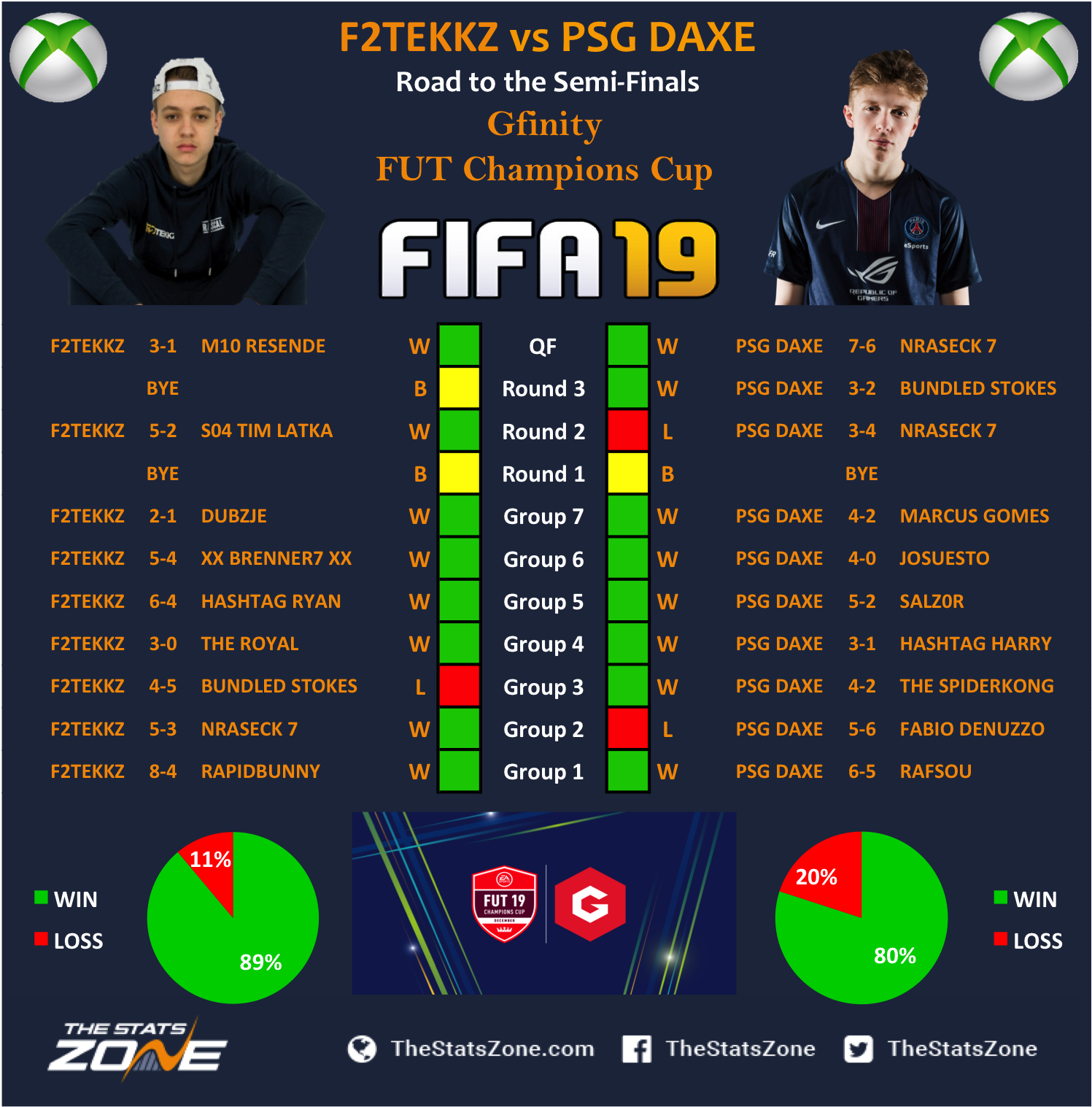 Prediction
"PSG DaXe" will have to be at his very best to stand a chance of beating the favourite to win the entire competition. "F2Tekkz" has firmly established himself as the best player on FIFA 19 so far and has shown no signs of slowing down on the big stage. Playing on home soil, we're predicting him to go through and become one step closer from sealing a historic hat-trick of trophies.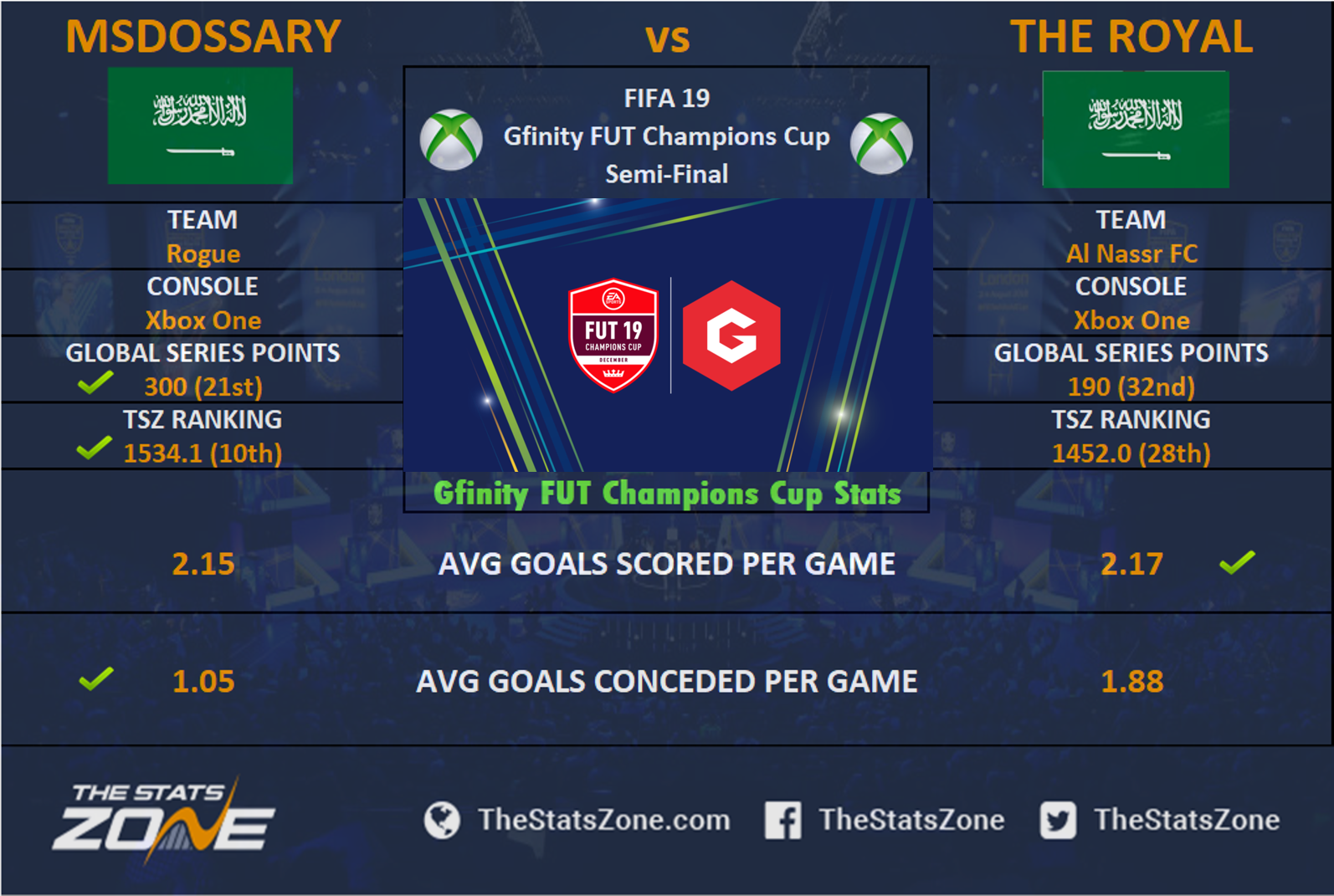 The second Xbox One semi-final is an all Saudi affair with the reigning FIFA eWorld Cup champion Mossad "Msdossary" Aldossary taking on his good friend and fellow countryman Khalid "The Royal" Aloufi of AlNassrFC. Aldossary has started to look like the champion he is this weekend. He's clearly comfortable being back in the UK, where he has won his last two major trophies and has shown it so far, winning eight of his nine matches. We previously predicted the Rogue eSports player to provide the biggest threat of ending the run of "F2Tekkz" and a win here could well see the two players face off in the Xbox One console final.
However, Aloufi will have something to say about that. The Al Nassr man is riding the crest of the wave having won his last six tournament games in a row, including a 9-2 win over "Mino7x". Aloufi also has a higher average goals per game ratio than Aldossary and will hope that counts for something when the two face off.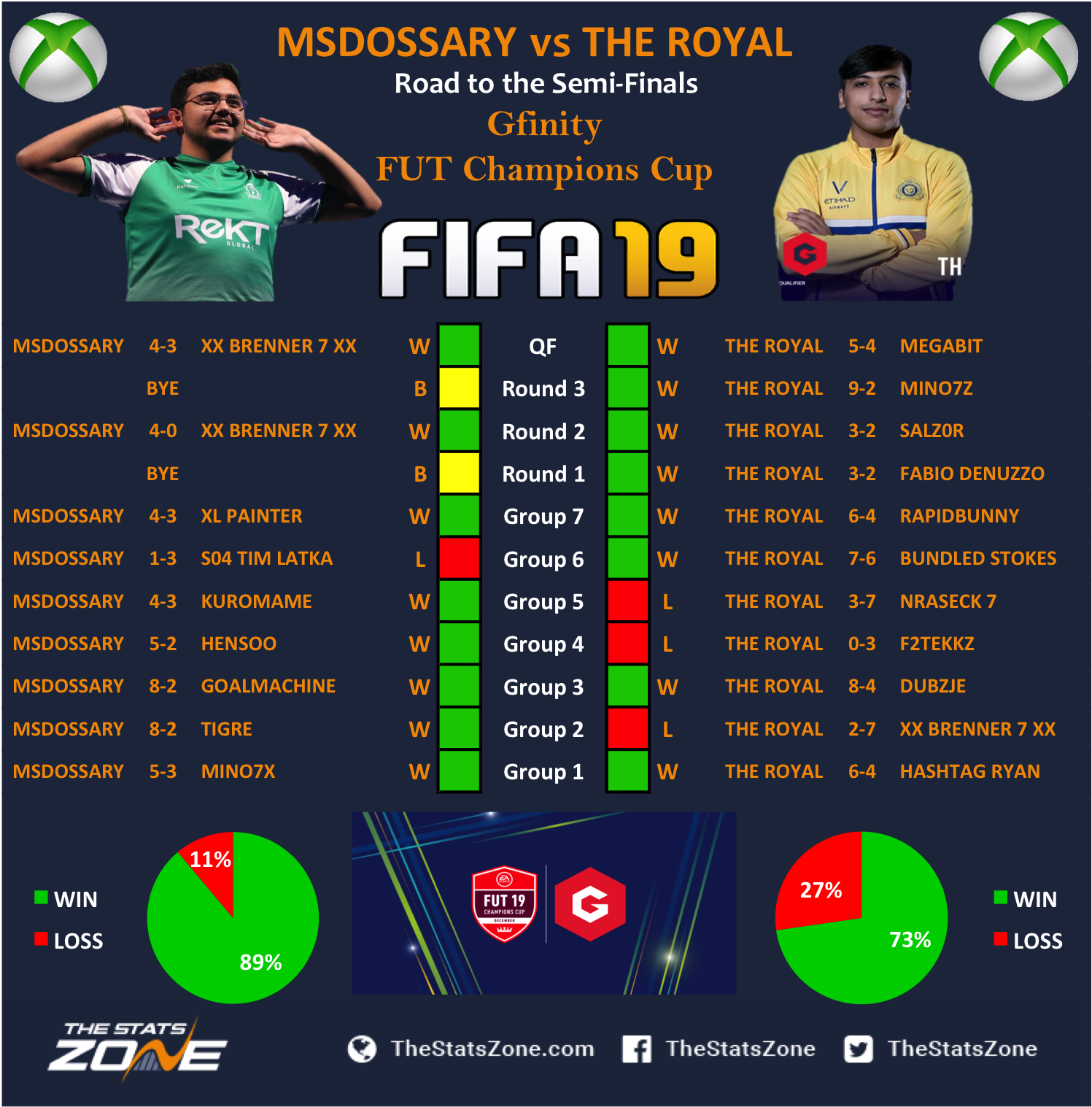 Prediction

In what is sure to be an emotional match between two close friends, it looks like a battle of form against experience. "The Royal" is on a hot streak right now and the momentum that comes with winning game after game is something that could see him come full circle and cause an upset against his fellow Saudi Arabian. But the world champion "Msdossary" knows how to approach games like these and normally shows his class at this stage of a major tournament. Back in London for the first time since his greatest ever success, we're tipping him to get past his countryman and take his place in yet another console final.
Click here for a full breakdown of the road to the FIFA eWorld Cup 2019