AT A GLANCE

When? December 14th-16th
Where? Gfinity Arena, London, UK.
Are tickets still available? https://www.eventbrite.co.uk/e...
Where can I stream the tournament? The entire competition can be streamed on EA Sports' official Twitch, YouTube, Twitter and Facebook channels as well as Gfinity's official Youtube and Video channel. The schedule is as follows:
Friday December 14th – 13:00 to 21:00 GMT
Saturday December 15th – 13:00 to 21:00 GMT
Sunday December 16th – 13:00 to 21:00 GMT
The broadcast will contain live commentary from some of your favourite FIFA casters such as Brandon Smith and Richard Buckley, both of whom will be casting their third major event in as many weekends.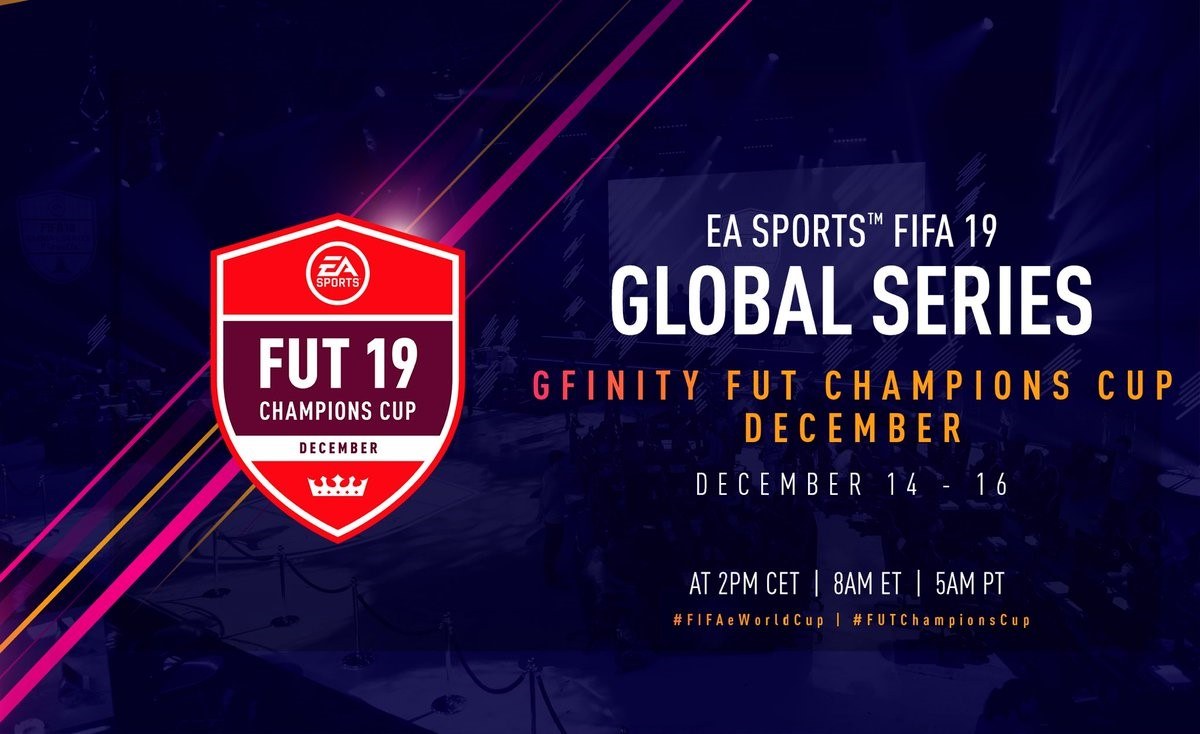 Can I follow the tournament on Twitter? Updates will be provided on the official Gfinity Twitter page, along with the EA Sports official Twitter page and the brand new competitive EA Sports Twitter page which focuses specifically on FIFA eSports. Also be sure to search the hashtags #FIFAeWorldCup, #GfinityFUT and #FUTChampionsCup as well as looking up Gfinity FUT Champions Cup in the Twitter search bar. Don't forget to follow your favourite players competing in the tournament, along with their respective clubs/organisations who are likely to provide real time updates on their progress.
THE LOWDOWN
Tournament Format and Schedule
Thursday - a round-robin group stage played away from the cameras
Friday - Xbox One knockout bracket up until semi-finals (14:00 UK start)
Saturday - PS4 knockout bracket up until semi-finals (14:00 UK start)
Sunday - Console semi-finals, final and cross-console Grand Final (13:00 UK start)
Are there rules regarding what teams/players can be used for the tournament?
Each game will be played in the FIFA Ultimate Team mode, with each player free to use their own UT in the competition.
Who will be competing in the tournament?
A total of 64 players around the globe have qualified for the Gfinity FUT Champions Cup through the official FIFA Global Series online qualification tournament, which took place back in November.
What prizes are up for grabs?
A total cash pool of $100,000 is on offer at the Gfinity FUT Champions Cup that sees the winner take home a total of $50,000. Perhaps even more important though is the opportunity to collect vital FIFA Global Series Points, with more points up for the grabs the higher you place at the tournament. These points will see them rise up a newly created FIFA Global Series rankings leaderboard for their respective console. At the end of the season, the top 16 ranked players from each console according to the Global Series rankings leaderboard will qualify for the 2019 FIFA eWorld Cup. The winner of the Gfinity FUT Champions Cup will win a total of 1,500 FIFA Global Series Points. The total amount of prize money and global series points awarded for each finishing position at the tournament is below:
Winner - $40,000 + 1500 GSP
Runner-up - $20,000 + 1500 GSP

3rd-4th - $10,000 + 850 GSP

5th-8th - $5,000 + 625 GSP
9th-16th - 450 GSP

THE PLAYERS
The Gfinity FUT Champions Cup will take place in London at the Gfinity Esports Arena. It will be the first official FIFA Global Series event to take place in London since the FIFA eWorld Cup Grand Finals at the 02 Arena.
Unsurprisingly coming into the tournament, one player is at the forefront of everyone's minds and many professional FIFA players' nightmares. Donovan "F2Tekkz" Hunt in just two weeks has already doubled his accrual of major trophies in the FIFA 19 season that he won last campaign on FIFA 18. The 17-year-old Brit secured double delight in Bucharest, winning the first FUT Champions Cup of the season, before taking home the PGL Cup the week after as predicted in our preview of the event. This weekend he returns to home turf as he looks to make it a hat-trick of titles and further cement himself as the best FIFA 19 player in the world today.
THE PREDICTION
We'd like to apologise for perhaps playing it safe with this Gfinity FUT Champions Cup prediction. Right now though, it is simply impossible to bet against "F2Tekkz" making it a hat-trick of major tournament wins on FIFA 19. So far he has been in a league of his own, beating anyone that has come in his path. He was pushed close by "Gorilla" last weekend, but managed a comeback win of a standard that perhaps only he is capable of right now.
In the interest of providing our readers with a differential selection, we are also drawn towards the fairytale story of "Msdossary" coming out on top once again in London and taking home his third UK-based trophy of 2018. The world champion has the overall game to beat any player in the world and won't be fazed by the challenge of toppling "the best player on FIFA 19". But right now, "F2Tekkz" is the one to beat. And if you don't believe us, ask Harry "HashtagHarry" Hesketh!