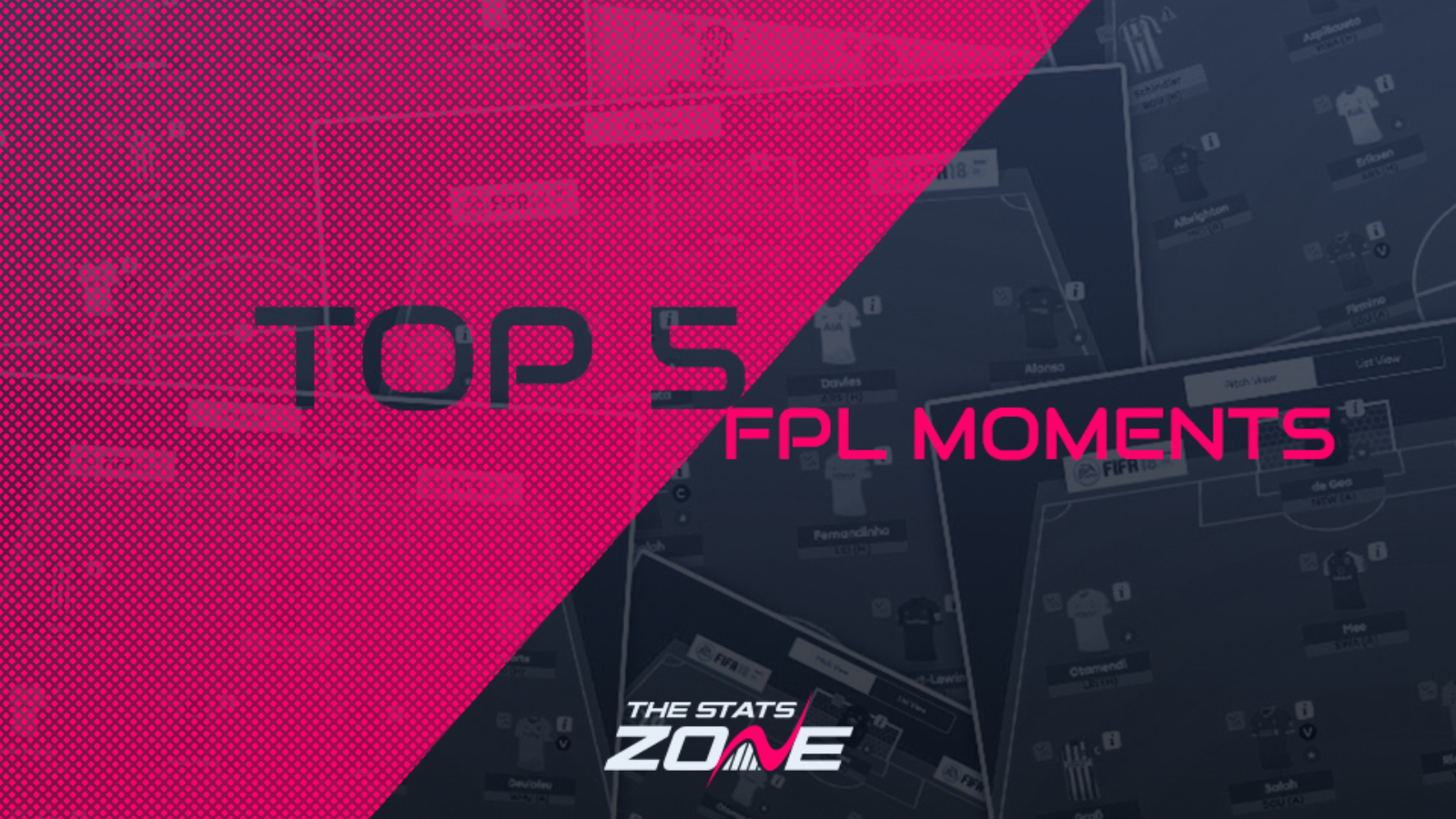 We're already missing the Premier League and in particularly the FPL season. We hope that the season will resume as soon as possible, but until then, we're not going to stop talking about FPL, whether it be looking back on past glories or planning for future success.

In this article we focus on the former. Specifically, the top five FPL moments to have taken place over the past five years. This writer has only been playing FPL seriously for the last five seasons and as such, that is the benchmark of this article. For those of you who have been playing for much longer, please let us know on Twitter @thestatszone of your most memorable FPL moments, whether it be a particular haul from past Premier League stars such as Cristiano Ronaldo or Gareth Bale, or perhaps a lesser-known player proving a once in a season differential for your team. Warning, this article may contain an element of bias based on this writer's own FPL experiences.
Sergio Aguero October 3rd 2015 – Five goals vs Newcastle
Let's paint a picture. Around 40 minutes into Man City's Saturday 3pm home game against Newcastle and Sergio Aguero hadn't found the net yet. By the 66th minute, Aguero was leaving the field to a standing ovation, both at the Etihad Stadium and in every household of every FPL player who placed their captain's armband upon the him that gameweek. Incredibly, the Argentinian had gone on to scored five goals against the Magpies in the space of 22 minutes on the pitch and had accrued 25 FPL points. For the many who had captained him, the rewards were far greater, with that points tally doubling and even tripling for those brave enough to have played their triple captain chip. An iconic moment in the history of FPL and a reminder why even today, anyone who doesn't own Sergio Aguero draws a deep intake of breath every time he steps foot on the pitch in the Premier League.

Alexis Sanchez May 13th-16th 2015 – Three goals & one assist vs Stoke & Newcastle
We're going back to Double Gameweek 37 in 2017. Arsenal's Alexis Sanchez faced a double gameweek that included a trip to Stoke and a midweek home fixture against Sunderland. A goal and an assist vs Stoke set the tone, with Sanchez picking up 12 FPL points. A brace against Sunderland brought further joy, leading to Sanchez picking up 15 FPL points after Mesut Ozil collected maximum bonus points over the Chilean. This gave Sanchez a final score of 27 FPL points and for the many managers who triple captained the Gunners midfielder, a score of 81 FPL points. An FPL haul for the ages.

John Lundstram November 2nd 2019 – Two goals and a clean sheet vs Burnley
Yes, we know it's recent, but we simply had to find a way of including Lord John Lundstram into this top five. Listed on the official Fantasy Premier League game as a £4.0m defender at the start of the season due to making just ten league appearances for Sheffield Utd last season, the powers that be at FPL towers were left with egg on their face as Lundstram not only began the season as a first-team regular, but as a central midfielder with license to roam forward by Blades boss Chris Wilder. After gaining a couple of double-figure hauls early on in this season, all roads led to an explosion in Gameweek 11 when Lundstram scored a first half brace against Burnley at Bramall Lane. Sheffield Utd eventually ran out 3-0 winners that day, also earning Lundstram a clean sheet. This gave him a total score of 21 FPL points for the gameweek. Thus, the nickname "Lord Lundstram" was officially born.

John of the House Lundstram, the First of His Name, The Unbenched, King of the Budget Defenders, the Doubters and the First Sub, King of Bramall Lane, King of the Blades, Protector of the Realm, Lord Regent of the Seven Kingdoms, Breaker of Despair and Father of #FPL Managers

— David Munday (@DavidMunday815) 21 October 2019
Mo Salah 17th March 2018 – Four goals and one assist vs Watford
Blank Gameweeks normally bring misery to FPL managers with numerous teams decimated due to the FA Cup. This looked like being the case again in Blank Gameweek 31 of the 2017-18 season. However, Liverpool were in Premier League action at home to Watford and with a fit-and-firing Mo Salah within their ranks, things were about to get messy. The Egyptian midfielder bagged a whopping four goals and laid on an assist for good measure in a 5-0 victory for the Reds. This gave Salah an FPL score of 29, but for the many FPL managers who captained him, they gained a monstrous 58 points. For those wondering why Salah isn't ranked higher than the three players above despite gaining a better FPL score, the sheer amount of people who captained Salah, with him being one of the only premium assets with a fixture due to the blank gameweek, meant that not many players benefitted hugely from such a big haul.

Aymeric Laporte 3rd-6th February 2019 – One goal, one assist and a clean sheet vs Arsenal and Everton
As a Laporte owner at the time, there is definitely a hint of bias here from this writer. When Double Gameweek 25 rolled around in the 2018-19 season, it were the likes of Leroy Sane and Sergio Aguero that most managers jumped onto with differing results. Sane fell victim to the Pep Roulette, accruing just one point from the two matches. Aguero however, bagged a hat-trick in Man City's 3-1 win against Arsenal, to earn 19 points for his ownership, of which just under a million handed him the captaincy. However, it was Aymeric Laporte who supplied one of the biggest differential scores of the season after an assist in his first game against Arsenal was topped by both a goal and a clean sheet in his second, a 0-2 win over Everton. For those who owned him, their reward was 20 FPL points and a meteoric rise up their respective mini league tables. Most people will remember Aguero's exploits in this double gameweek, but don't worry Aymeric…we'll never forget you!