FPL – top five value-for-money defenders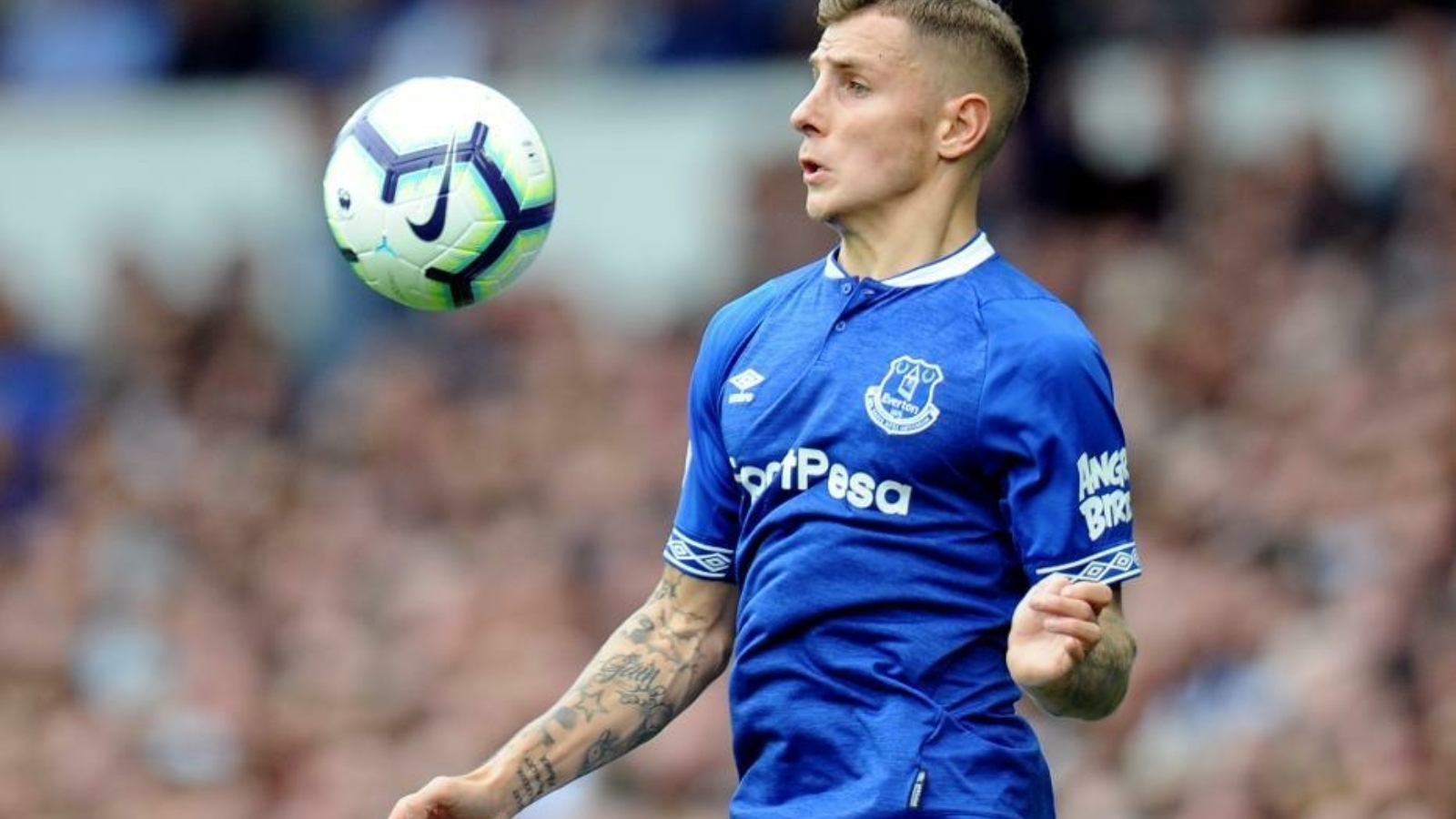 5. Lucas Digne (£6.0m) – Everton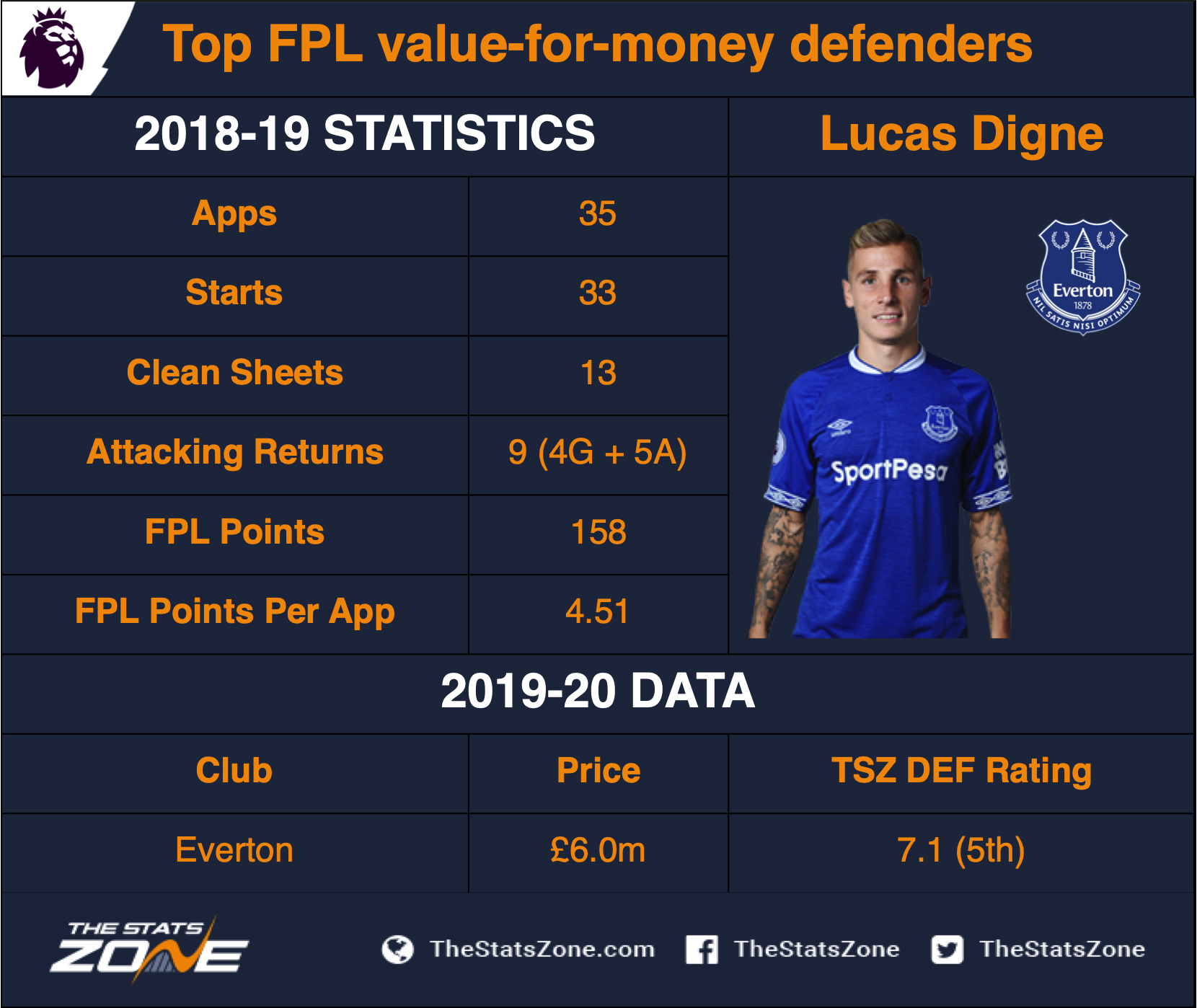 Uncertainty surrounded Lucas Digne's (£6.0m) talents at the start of the 2018-19 campaign as the Frenchman took over from FPL favourite Leighton Baines (£5.0m) as Everton's left back. 13 clean sheets, four goals, five assists - Digne has proved a worthy replacement for Baines, both on the pitch and in FPL sides.
4. Fabian Schar (£5.0m) – Newcastle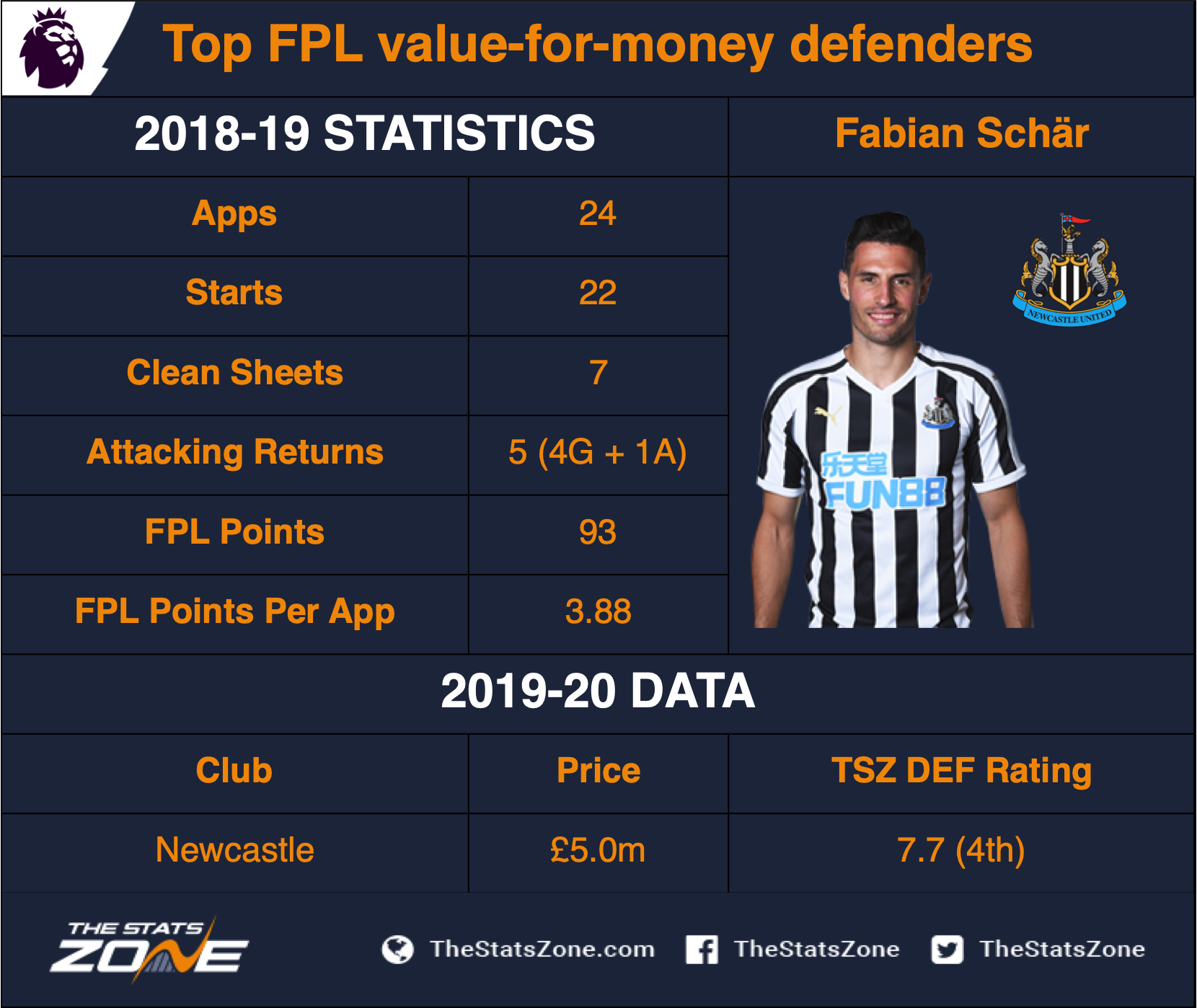 At fourth on the list is Newcastle defender Fabian Schar (£5.0m). Although only starting 22 matches last season, his 3.88 points per appearance are the most of any defender to cost £5.0m or less this season. While Newcastle's defensive capabilities this season are under question, only Shane Duffy (£5.0m) managed more goals than the Swiss international in the 2018-19 Premier League.
3. Andrew Robertson (£7.0m) – Liverpool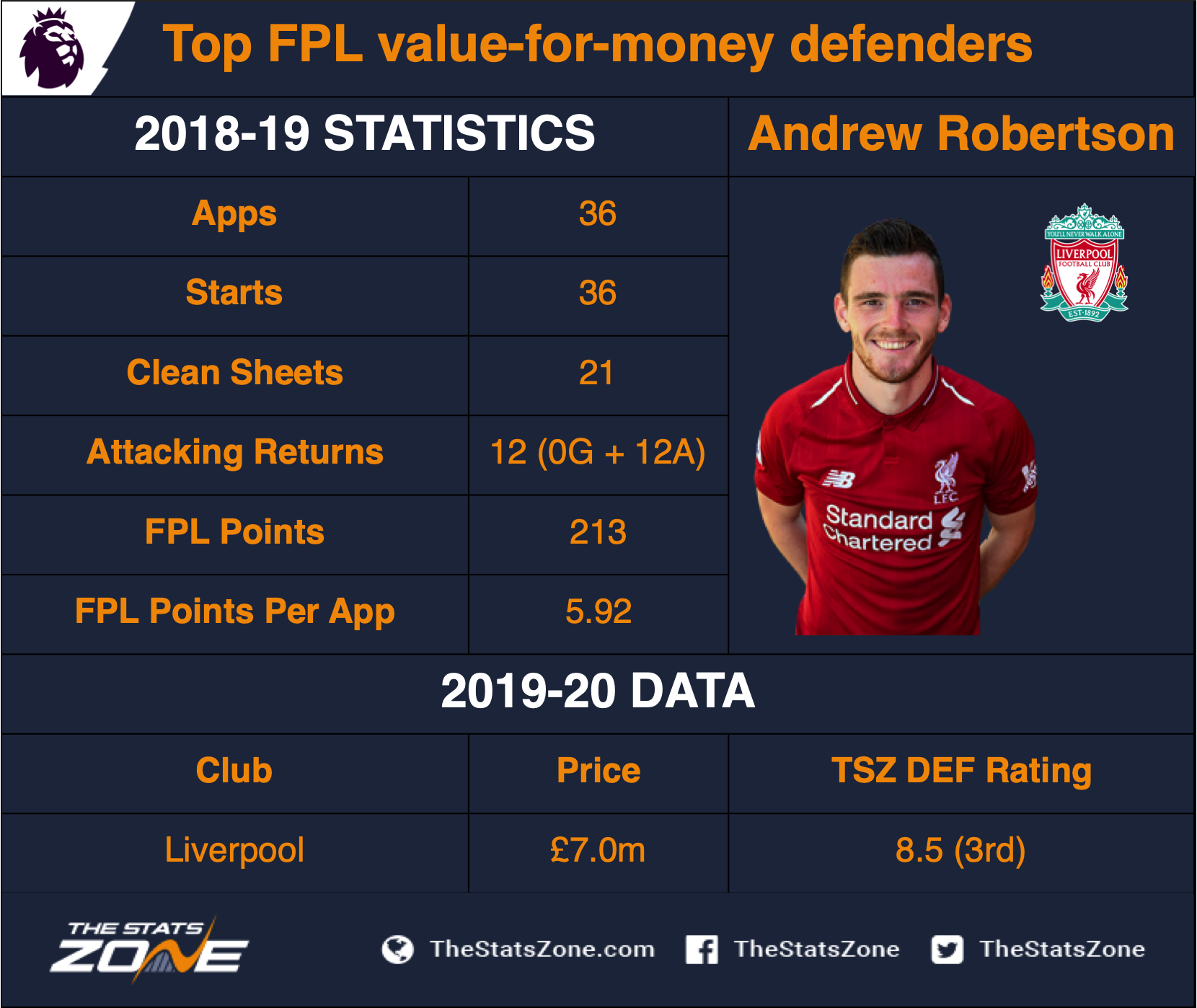 The first of three Liverpool defenders to make the top three is Scotland's captain Andrew Robertson (£7.0m). The top scoring defender with 213 points, Robertson's total was good enough to be the fourth highest scoring player in FPL last season. A £7.0m outlay seems extremely reasonable for a player who returned 12 assists in 2018-19; a total only bettered by two midfielders, and has the added bonus of getting four points for every clean sheet.
2. Virgil van Dijk (£6.5m) – Liverpool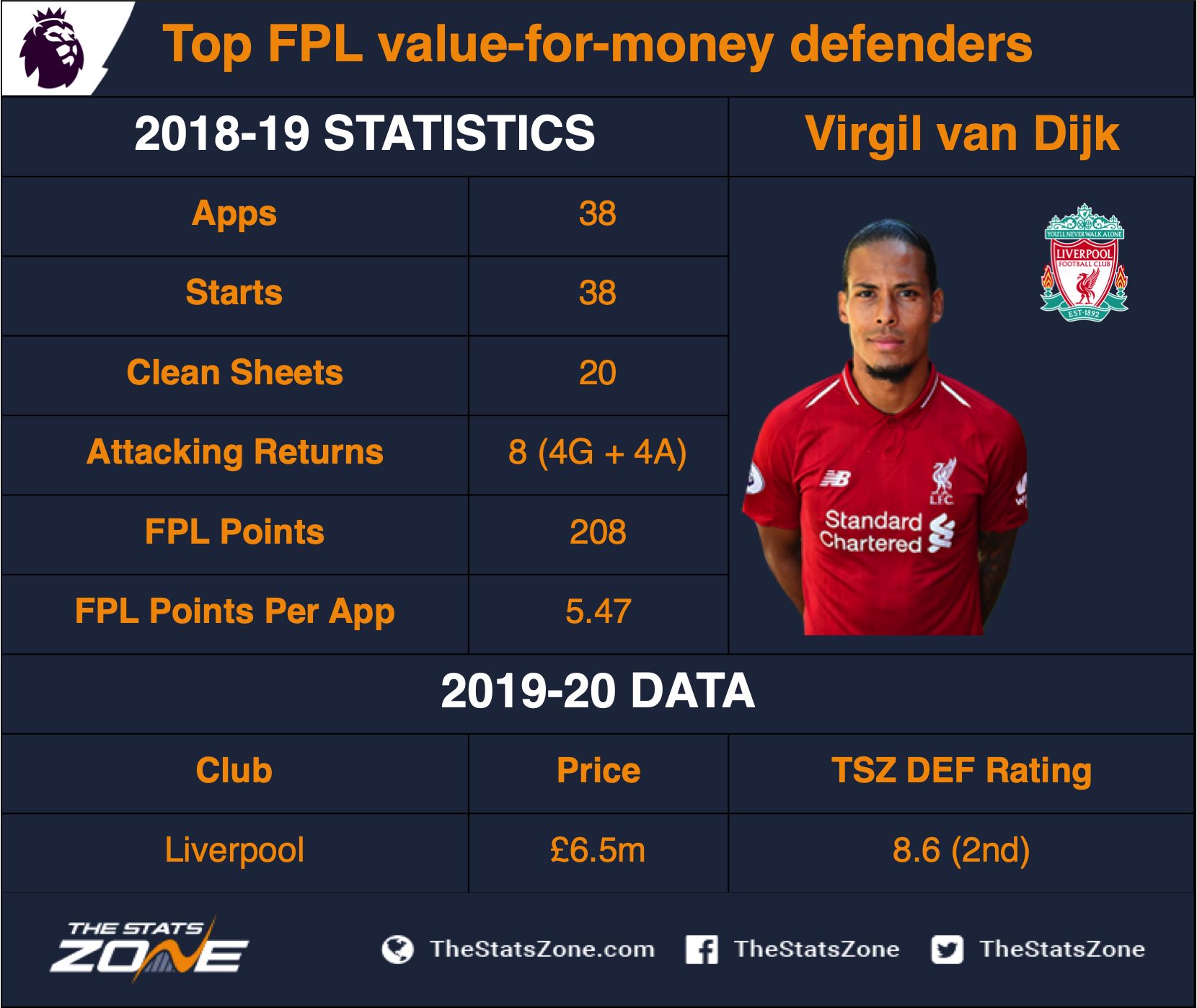 In the number two spot is current favourite for the 2019 Ballon d'Or, Virgil van Dijk (£6.5m). With over 200 points scored last season, there is no other player in his price bracket who even comes close to matching his outlay in 2018-19. Guaranteed to start every match when fit, at £6.5m Van Dijk is a cheaper alternative to his two marauding full-backs.
1. Trent Alexander-Arnold (£7.0m) – Liverpool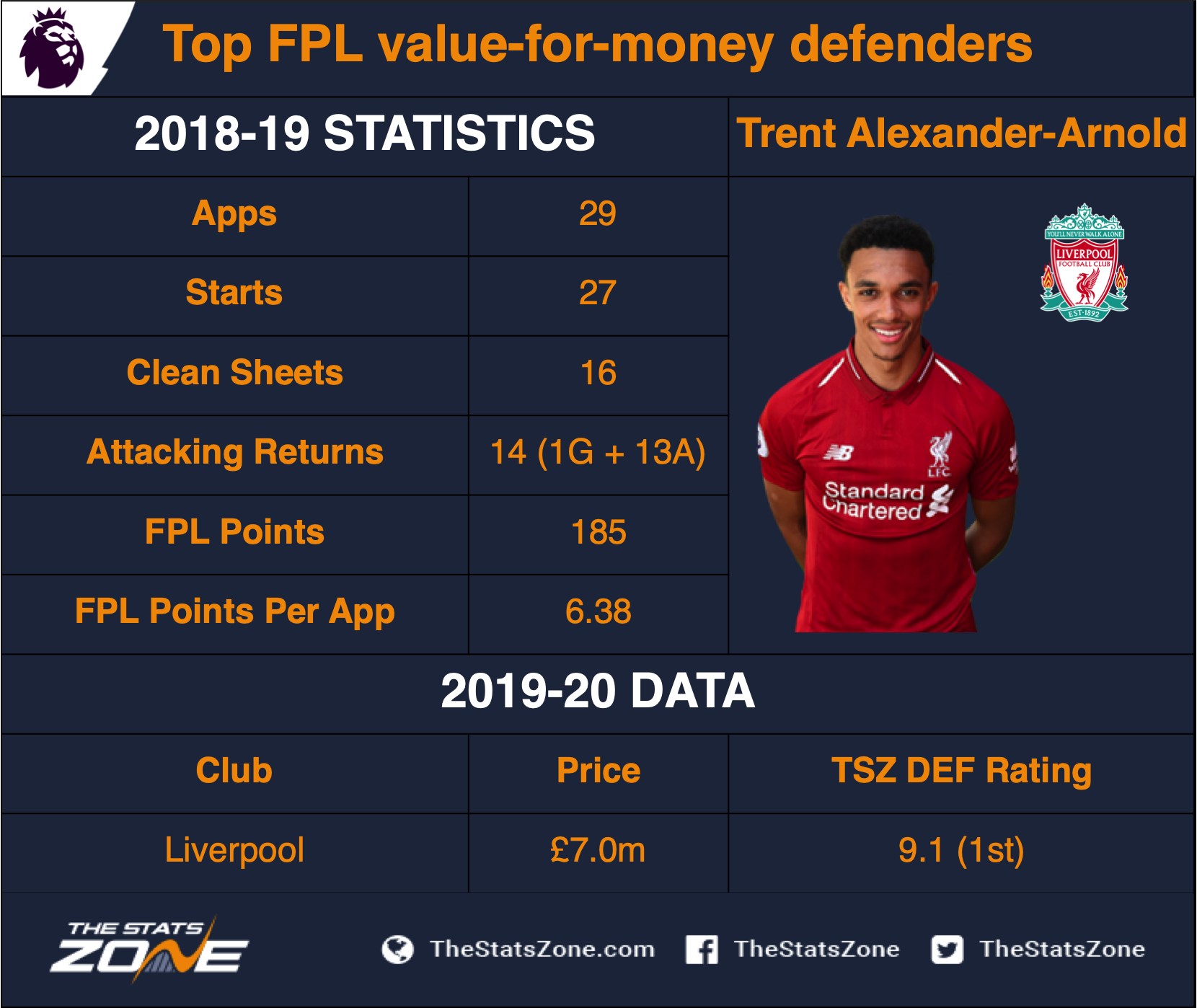 At number one is the final one of Liverpool's dynamic defensive trio – Trent Alexander-Arnold (£7.0m). Despite being outscored by both Robertson and Van Dijk last season, it was actually the right-back who boasted the best points per appearance record. Scoring, on average, 6.38 points every time he stepped onto the field (0.46 more than Robertson and 0.89 more than Van Dijk), Trent's total was hurt by the fact he was not the clear first choice right-back at the start of the season. As such, Alexander-Arnold only started 27 matches. Extrapolating his point-scoring record over an entire season would have seen see the Englishman produce an eye popping 242 points – more than anyone other than Mo Salah (£12.5m) in 2018-19.