FPL Gameweek 7 – Team TSZ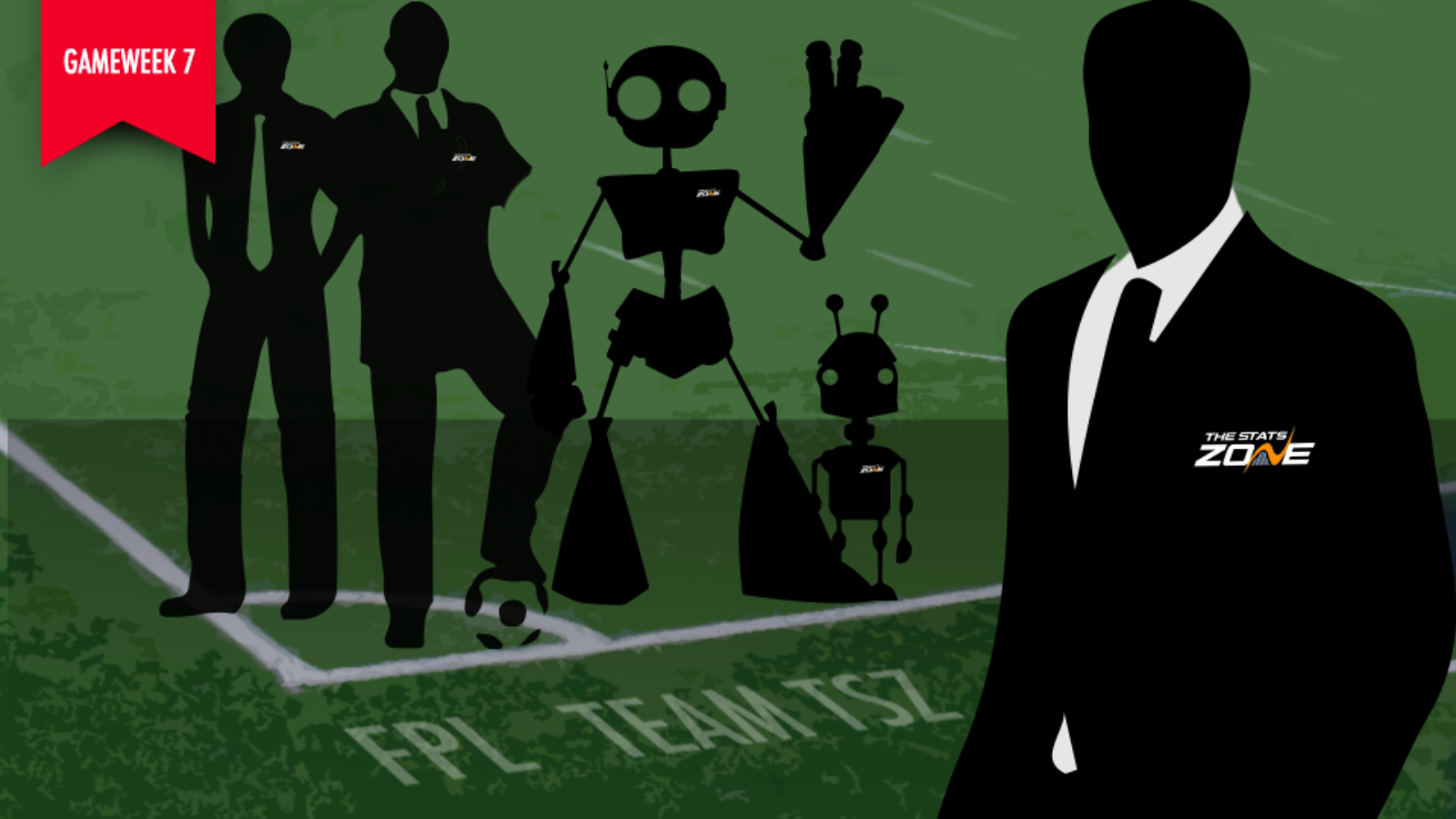 Once again this season, we've banded together to form our very own FPL site team, otherwise known as 'Team TSZ'. After finishing 1390 in the world in our debut campaign, how will we handle the pressure in the 'difficult second season'?
Decisions will be made collectively after polite discussion. 'Team TSZ' consists of:
Rob Esteva – Managing Director
Trystan Pugh – Sports Content Manager
Tim Blackwell – Chief Sports Data Scientist
HOW DID WE GET ON IN GAMEWEEK 6?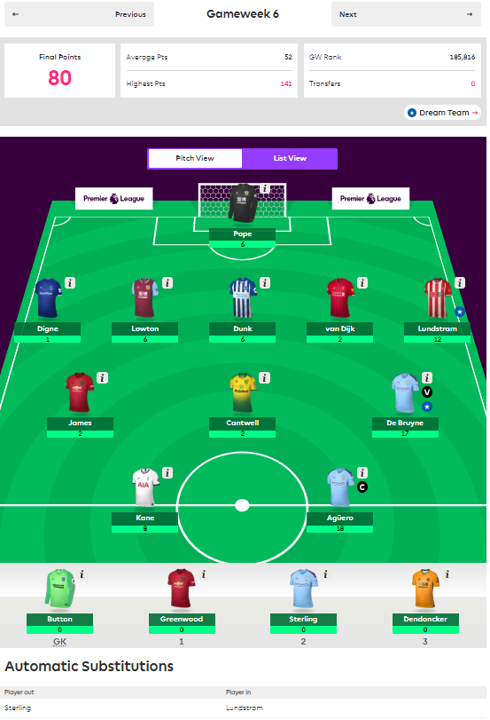 GW points: 80
GW average: 52
GW rank: 185,816
Overall rank: 603,228 (▲)
After an astoundingly terrible Gameweek 5, the team were quickly reminded that the Fantasy Premier League is a marathon and not a sprint by a sound return of 80 points - the fruits born of their previous wildcard. Rising a million places in a league table has a nice ring to it, and the team all looked a little more chipper this morning at 603,228th in the world. Thanks to Pierre-Emerick Aubameyang's random generosity, Harry Kane outscored him, which vindicates Rob, Trystan and Tim somewhat for panicking and swapping the North Londoners at the last moment in the aforementioned wildcard. Kane managed what so few of us could, and did his job whilst falling over. How many other careers can you think of where that could be possible? So far, I have 'Stunt Double' and 'Paratrooper'. If you have any other suggestions, please tweet them to @thestatszone.
GAMEWEEK 7 TEAM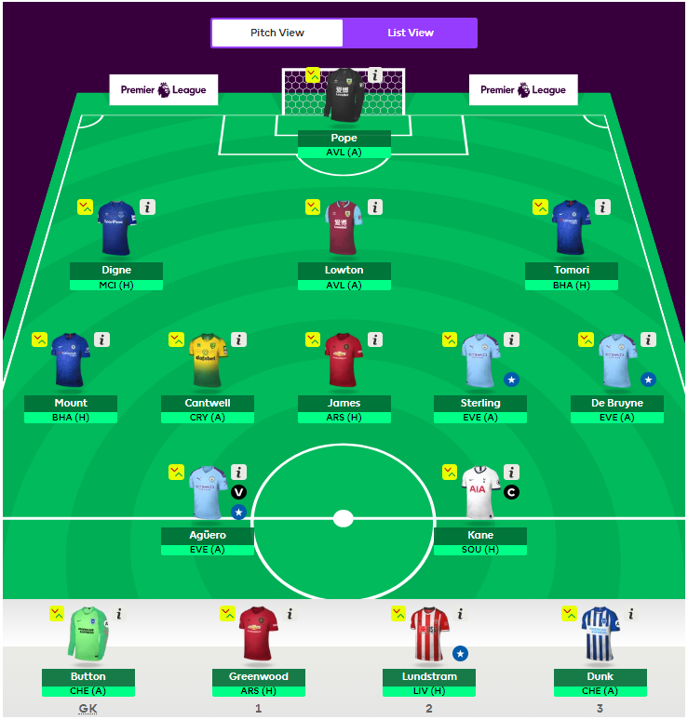 Formation: 3-5-2
Captain: Kane
Vice-captain: Aguero
Transfers made: 2 (Van Dijk > Tomori / Dendoncker > Mount)
Point deductions: 0
The first order of business this week was to remove the overpriced, perennial clean sheet-avoider and elocution nightmare Lucas Digne. Chelsea's next few fixtures have not escaped the attentions of many FPL managers, and so the team were desperate to bring in the indestructible Mason Mount. Rob made it clear that he didn't fancy bringing in Chelsea defenders, as they still look unsure at the back. This was noted, and, as you can see, totally ignored.
Tim was keen to bring in a Leicester defender for Digne, the premium option being Ricardo Pereira, but he also wanted Mount in and was unwilling to transfer Daniel James to cover it. This was unhelpful, because Team TSZ have no money whatsoever. Caglar Soyuncu was another option, but a rather uninspiring move from Digne who is, yes, right now very frustrating but does have the capacity for 18-point hauls. Tim suggested upgrading Dendoncker, as side-grading James seemed like a bad idea, but more money was needed for Mount. We were looking at a situation where Team TSZ would be transferring out their last remaining member of the only team in the country on a 100% campaign this season. This debate rattled on for some time, and looked in places quite tetchy between three players with quite contrasting play-styles. Rob tried to escape the situation by subtly causing his Skype connection to fail, but it was no use. His disappointed, slightly blurred face returned to us, with Tim and Trystan waiting patiently to resume ignoring him.
Uncomfortably, Trystan was coerced into removing Virgil van Dijk from Team TSZ for Fikayo Tomori who, last time I checked, is a Chelsea defender. The team also said goodbye to Dendoncker and installed some more young English talent next to Raheem Sterling (whose TSZ days, rumour has it, might be numbered). Therefore, another week has passed, dear readers, where I have to watch Team TSZ make establishing decisions in the first few minutes, and then slowly unpick them for half an hour. Digne remains in defence to face a team that scored eight (8) goals last weekend, and the world's best defender is transferred out just in time to face a promoted side.
"This is the week. This is it," said Tim.
"What?" asked Trystan, confusedly hovering his mouse over the confirm button.
"I don't know...this is it," he replied.
Thanks for reading, and good luck in the gameweek!
For the rest of our FPL content, visit our Fantasy section!