FPL Gameweek 5 – Team TSZ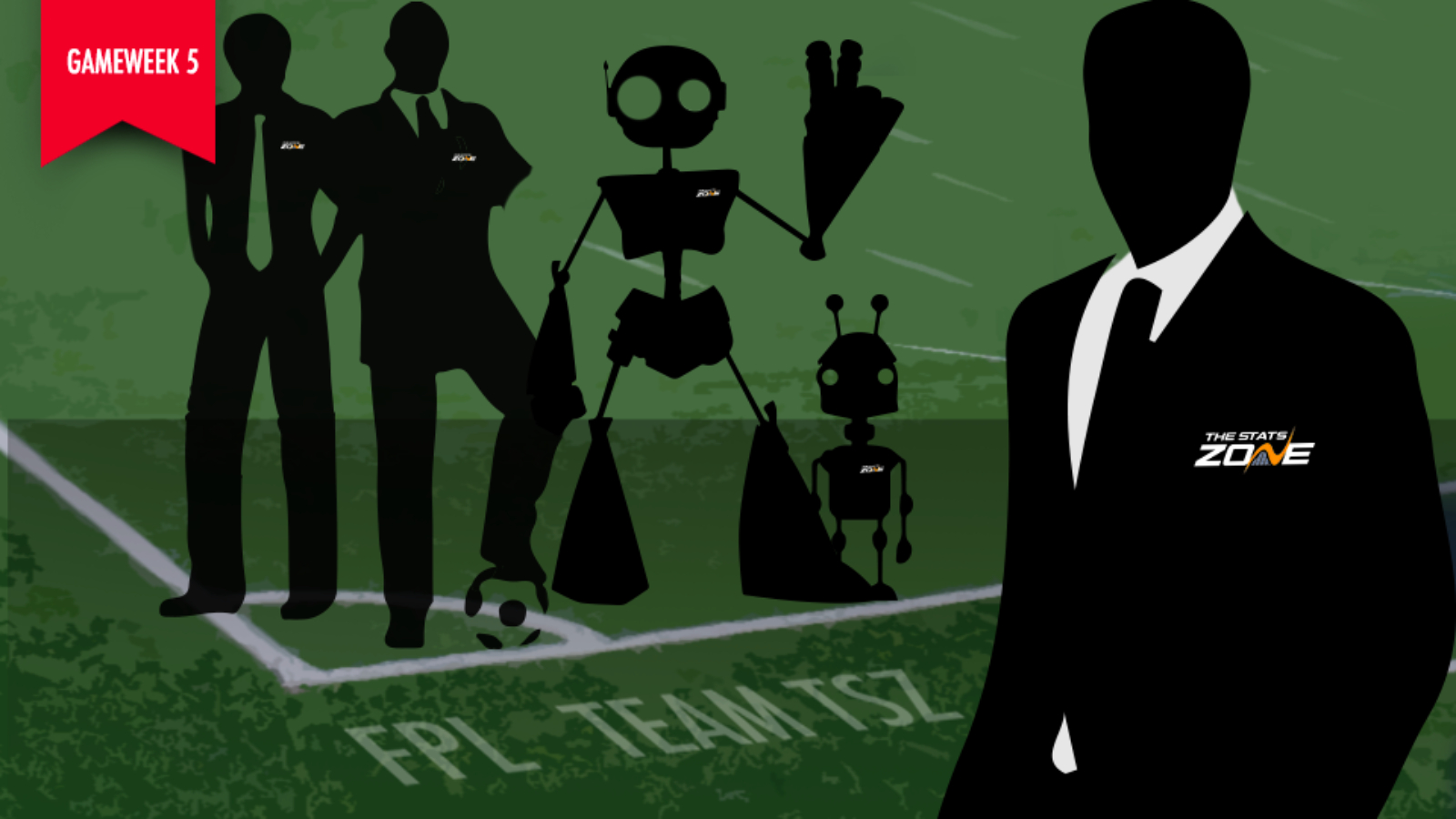 Once again this season, we've banded together to form our very own FPL site team, otherwise known as 'Team TSZ'. After finishing 1390 in the world in our debut campaign, how will we handle the pressure in the 'difficult second season'?
Decisions will be made collectively after polite discussion. 'Team TSZ' consists of:
Rob Esteva – Managing Director
Trystan Pugh – Sports Content Manager
Tim Blackwell – Chief Sports Data Scientist
HOW DID WE GET ON IN GAMEWEEK 4?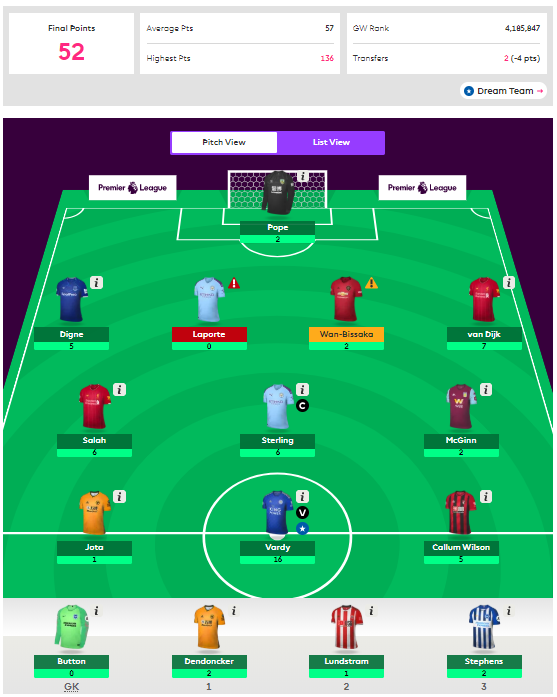 GW points: 52
GW average: 57
GW rank: 4,185,847
Overall rank: 590,761 (▼)
Seeing as the main order of business for Gameweek 4 was to bring in Aymeric Laporte, it was reflective of our team's efforts before the international break that the Frenchman should kick his knee off at home to Brighton and be stretchered off. Another recent defensive addition, Aaron Wan-Bissaka, is also now carrying a knock, with a rare orange flag to his name which means 'definitely injured but could be brought on because United only have three defenders left'. Thanks to Jamie Vardy, GW4 was not a completely disaster, but 87th in our mini-league and a -4 hit for a 0 point reward left the team in a very glum mood indeed. I have nothing more to say on the matter, as there is too much to say on the next matter: Team TSZ have activated their wildcard.
GAMEWEEK 5 DELIBERATIONS
The main topic for debate was bringing in either Kevin De Bruyne or Sergio Aguero, with Raheem Sterling the team's sole City offensive player. It must be said at this point that the team's value was in poor condition and there was little leeway to bring in both. The options at £7.0m and above were discussed at length, with Teemu Pukki an obvious target but plenty of other interesting options available; essentially any player other than the two currently playing up front for Team TSZ in Callum Wilson and Diogo Jota. I still to this day, no matter how bad I am personally at FPL, have no idea why the team brought in Jota over Pukki in GW3. There are moments when a desire to be different to your competitors can leave you cutting off your nose to spite your face, I thought, but we'll come to that later.
Tammy Abraham was touted as one to watch for the future but the likes of Ashley Barnes, Sebastien Haller and even Wesley Moraes were preferred as options.
I have noticed a general distrust of ex-Championship players from Team TSZ. I distinctly recall Rob saying in pre-season that Pukki would flop at this level (five goals, one assist), that McGinn would not be a good attacking option (scored in first PL start) and Tim telling me not to bring in Dan James (United's top-scorer). The ex-Swansea youngster scored again in the international break, making it four for the season, and now sits rather smugly between the likes of KDB and Raheem Sterling, making me (one might say) right, but we'll come to that later.
Tim expressed a distrust of West Ham's Haller by foreseeing the future, a future in which Villa's Wesley will score 10 goals this season. Distinctly 10, he reiterated. "Not 5, not 20, so, 10 goals". That is two dozen goals, if we're talking a striker's dozen. Which means Pukki, Abraham, or even James may well score three dozen. Tim's mathematical prowess came to the fore again as he calculated that our team value, in no uncertain terms, was rubbish, and that we should grow some more money. This led to a discussion of forwards whose value may grow, like Pierre-Emerick Aubameyang, who has some mouth-watering fixtures coming up against plenty of lower-quality sides, which are his favourite meal.
Fast forward a few minutes (about a striker's dozen) and neither Kevin De Bruyne or Sergio Aguero were in the side, with Trystan hovering over the confirm button. I cannot remember how different the team looked to the one you see above, but there were murmurs from the team of it's a risk…maverick move…gamble… I must stress at this point that the success of Team TSZ in their debut season last year has truly got to Rob, Trystan and Tim and it is rather distressing to watch as they consternate for ages about the benefits of Leander Dendoncker, or Todd Cantwell. I was forced to step in.
"If you swap Otamendi, Firmino and Pukki out," I said, as three pairs of sad eyes met my gaze, "you can bring in Aguero and Aubameyang".
There was a stunned silence, largely as the team had forgotten I was there, as my stomach rumbled on through to the second half of their HOUR LONG discussion. Also, though, I had made a creditable suggestion. There was some cautious nodding, as they endeavoured each to find a flaw in my plan. Tim was the first to snap, suggesting an entirely different selection including Sadio Mane, Son Heung-Min and three mid-priced forwards. This was my #pogbagate moment of the 2019-20 season, and Tim was doing his best to keep me in my place as betrodden wordsmith only. The team scoured over my overpowered front-five option of Aguero, Auba, Sterling, KDB and...James. They liked it, and they could not bear it. They placed it alongside the 'best supporting actors' team featuring the likes of Haller, Wesley and Son, and the tension was palpable.
44 minutes in, Tim asked if these were the only two options being considered. Trystan's reply was a large exhalation of breath. It came down to a democratic vote, as suggested by Tim. 'Operation Adam Is Right', or 'Operation 15 Safe But Underwhelming Options'. Trystan plugged for the first, while Rob allowed Tim two minutes of deliberation, a soliloquy of sorts, before confirming that he had already picked 'Operation AIR'. Tim's final card, and he played it well, was to proffer Kane in place of Auba, despite beginning this hour-long debate by singing the praises of last year's joint top-scorer.
"Alright then" said Trystan, yawning.
"Shall we triple captain Aguero, too?" Asked Rob, as the rest of us ended the call.

GAMEWEEK 5 TEAM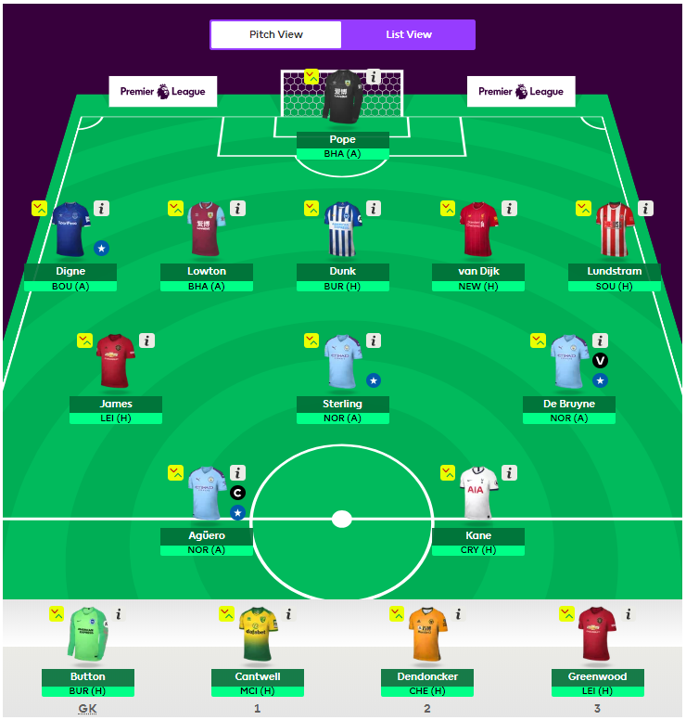 Formation: 5-3-2
Captain: Aguero
Vice-captain: De Bruyne
Transfers made: Millions (wildcard)
Point deductions: 0
Thanks for reading, and good luck in the gameweek!
For the rest of our FPL content, visit our Fantasy section!