FPL Gameweek 4 – Team TSZ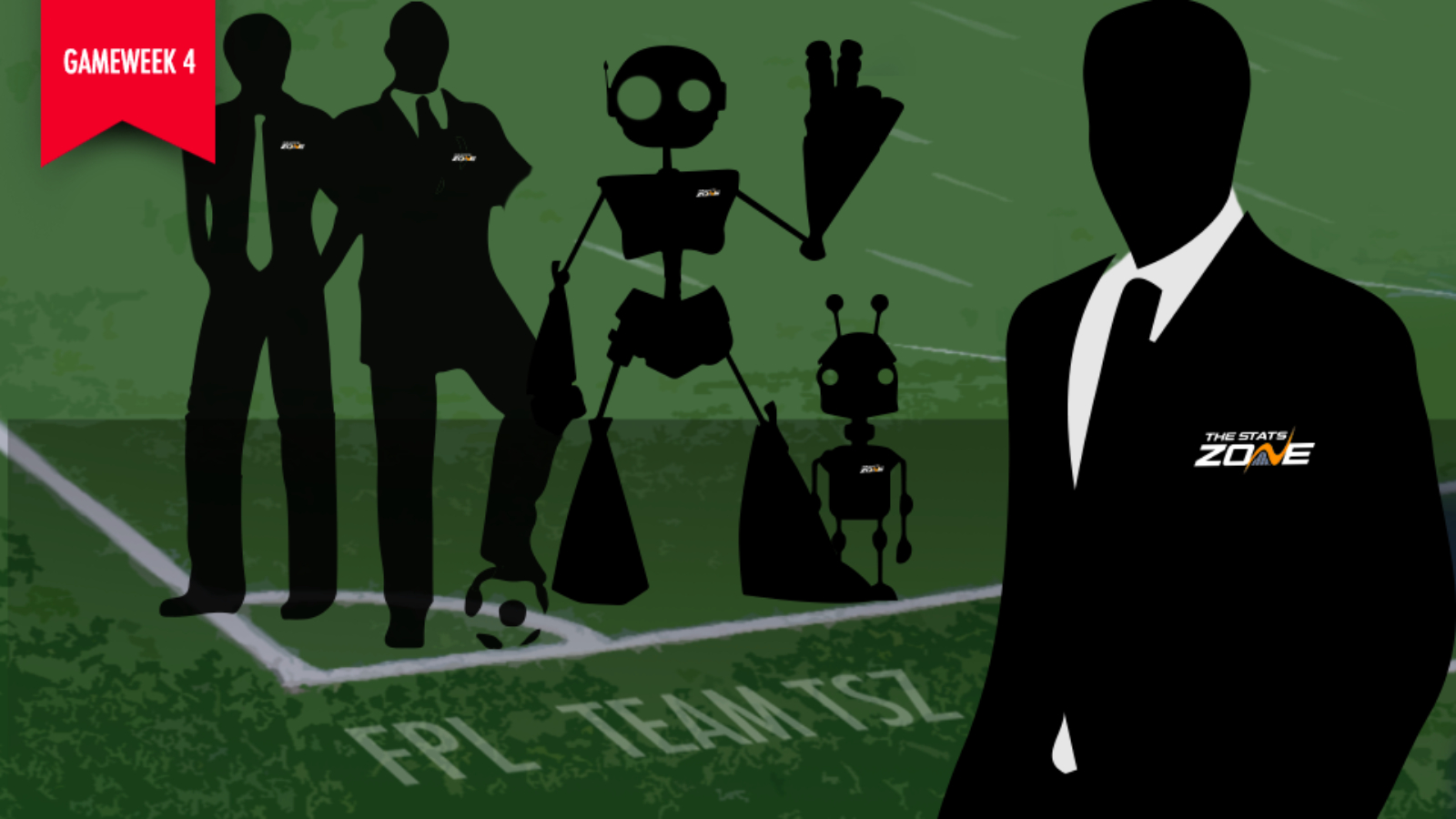 Once again this season, we've banded together to form our very own FPL site team, otherwise known as 'Team TSZ'. After finishing 1390 in the world in our debut campaign, how will we handle the pressure in the 'difficult second season'?

Decisions will be made collectively after polite discussion. 'Team TSZ' consists of:
Rob Esteva – Managing Director
Trystan Pugh – Sports Content Manager
Tim Blackwell – Chief Sports Data Scientist
HOW DID WE GET ON IN GAMEWEEK 3?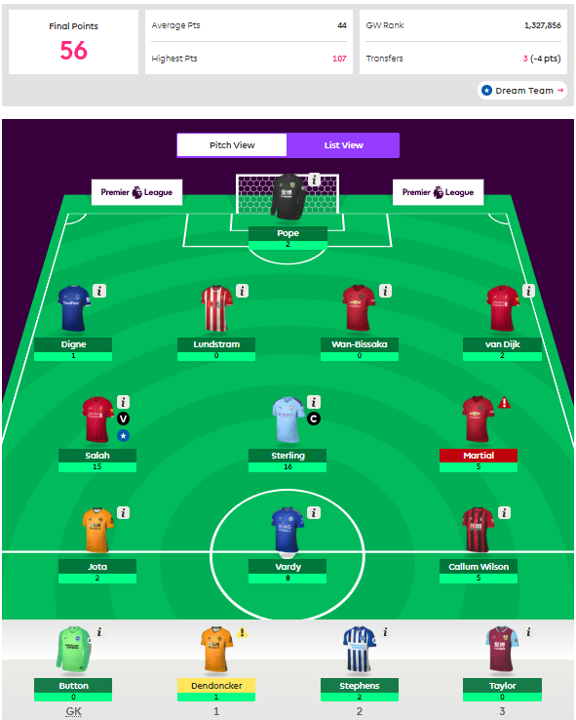 GW points: 56
GW average: 44
GW rank: 1,327,856
Overall rank: 212,010 (▼)
Gameweek 3's fortunes really rested with your captain of choice; if you chose any of the captains we suggested it is likely you had an average week, but choosing our secret fourth option (whom Rob explicitly said he would not be mentioning) Mo Salah, you'd be feeling pretty good about yourself right about now. Liverpool's star-man, who is about as much a midfielder as I am Poet Laureate, received three tasty bonus points for two goals scored in the Reds' rout at home to Arsenal, whilst Harry Kane tripped over Jamaal Lascelles' head. A frankly miserable showing from Team TSZ's back four was saved by a first return from Jamie Vardy, the aforementioned Egyptian King and Raheem Sterling, who scored just the once this week to the annoyance of Twitter. Still, 56 points was a decent return for Rob, Trystan and Tim following the first wildcard wobble of the season.
GAMEWEEK 4 TEAM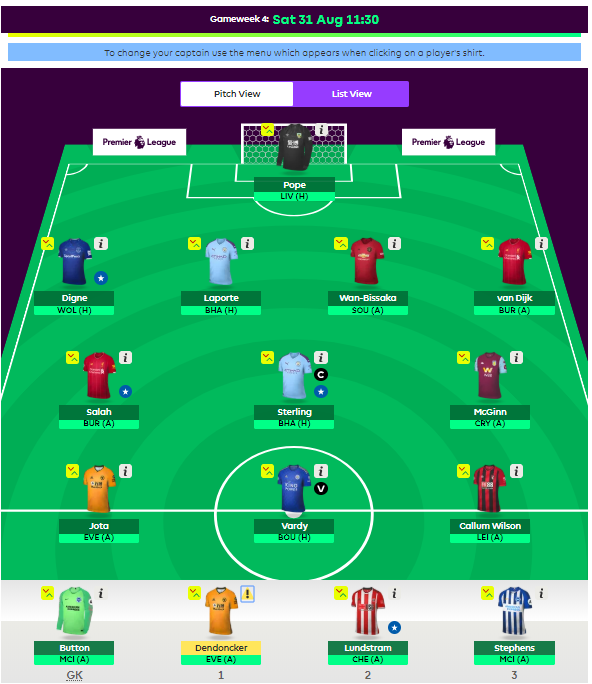 Formation: 4-3-3
Captain: Sterling
Vice-captain: Vardy
Transfers made: 2 (Taylor > Laporte / Martial > McGinn)
Point deductions: -4
There were few words minced in today's Team TSZ discussion but the first order of business was to transfer out the injured Anthony Martial for a cheaper option, as TSZ was sitting penniless. Manuel Lanzini's tuneful moniker ruined an otherwise fantastically 1960s line-up of midfield surnames: Mount, Maddison, McGinn and Cantwell, the latter of which received some questionable pronunciation on this week's podcast. For a fourth week running, Tim suggested that TSZ could do with a Man City defender in the side, considering they look to be just one of 20 teams capable of keeping more than the odd one this season. Switching out Martial for McGinn (whom I had suggested before the start of the season as a good option but was told to go away) allowed the team enough funds to spring for last season's rotation-proof general Aymeric Laporte. Burnley's Charlie Taylor made way for the French international, with Trystan remarking that Laporte would have to score four more points than the now benched John Lundstram to make the -4 points hit worthwhile. We all know what happens when you bench John Lundstram.
Tim was pleased, as "McGinn keeps you happy Trystan, Laporte keeps me happy, and Rob's happy because we're happy" but Rob had not yet spoken. Not wanting Tim to assume his happiness, he suggested Harry Wilson at Bournemouth as another excellent mid-price option, if you swapped Laporte for Kyle Walker for the extra £0.5m. There was a pause as Tim concocted how best to shoot this down gently: "I wouldn't want Harry Wilson in our team while we've got Callum Wilson", which is something I'm sure he and the kit manager down at the Vitality Stadium agree on. Therefore, a -4 hit for the second gameweek running was finalised, with Sterling made captain once again. This was a short 12-minute discussion today, and I am contractually obliged to provide at least one sentence per minute of conversation. The end.
Thanks for reading, and good luck in the gameweek!
For the rest of our FPL content, visit our Fantasy section!