FPL Gameweek 30 – Team TSZ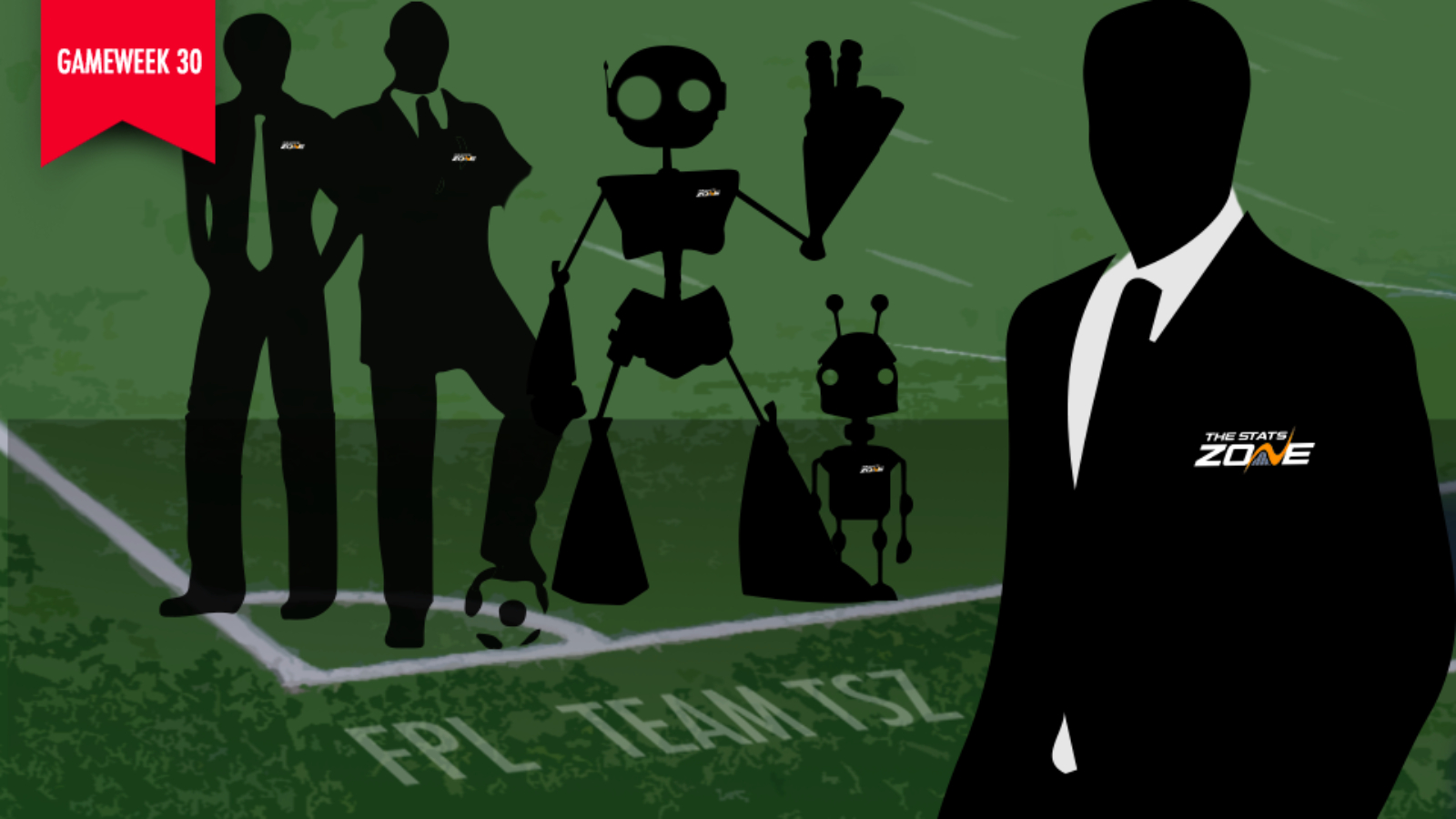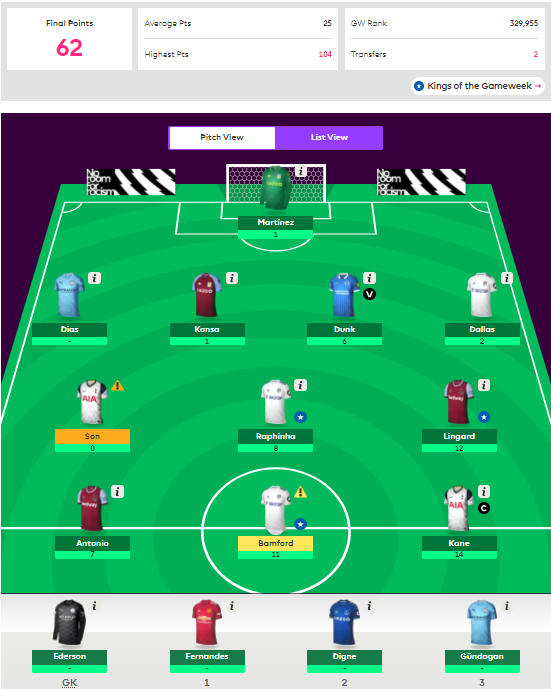 GW points: 62
GW average: 25
GW rank: 329,955
Overall rank: 194,106 (▲)
My Free Hit for Blank Gameweek 29 was an astounding piece of business, with the team finishing inside the top 50k worldwide on 77 points. A show of faith to Alphonse Areola over a do-or-die triple Brighton defence backfired only slightly and a last-minute switch from Leandro Trossard to Jack Grealish was a poor move but in the grand scheme of things I was incredibly pleased with myself. Finally, a Free Hit used properly after five years in this cut-throat world we call FPL.
What's that? Team TSZ? You don't need to hear about them. Blah blah blah Patrick Bamford blah blah Raphinha blah Jesse Lingard blah top 200k. They didn't bring in West Ham nemesis Alexandre Lacazette and captain him, did they? I did!
GAMEWEEK 30 TEAM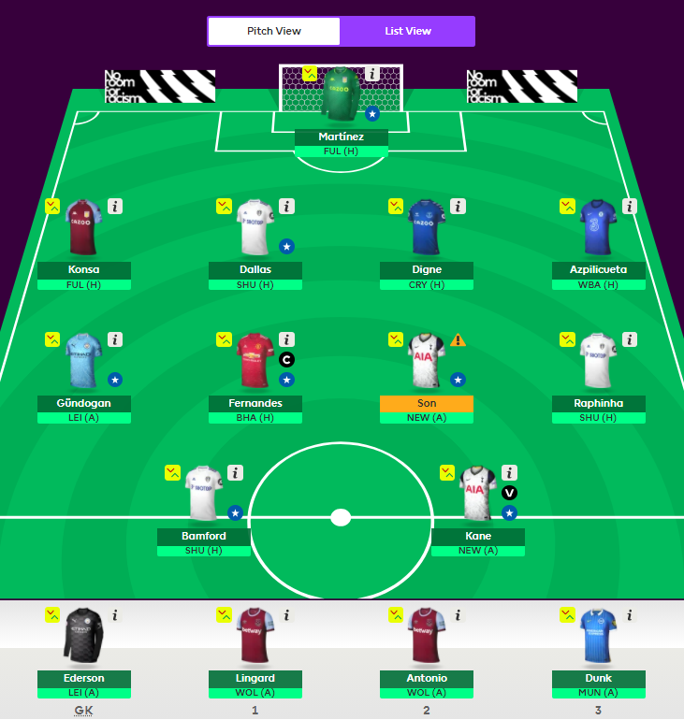 Formation: 4-4-2
Captain: Bruno Fernandes
Vice-captain: Kane
Transfers made: 1 (Dias > Azpilicueta)
Point deductions: 0
As the familiar trill of Skype rang through my laptop speakers, I began to wistfully hark after the international break now passed. What a joy it was last weekend not to watch eight-and-a-half Premier League games a day, somehow all of them involving Burnley, and what relief it was to not want to throw my phone off the balcony after another dire week for everyone in FPL apart from Trystan Pugh. As a Liverpool fan, I'd like the season to end this week. We can call it one big happy draw and rest-up in anticipation for the Euros. I am in advanced talks with MD Rob to get some 'The Stats Zone' European Championships wall-charts made up. God I love a wall chart.
Alex got us underway with some his weekly #boldstatements – Gameweek 30's is that Wolves never, I repeat never, get smashed at Molineux. We'll have some more #boldstatements for you in next week's article.
The main theme of this Team TSZ meeting was speculation. Whilst I was thinking about wall charts, the guys discussed talk of a massive double gameweek supposedly set for Gameweek 35, as well as they're plans for the incoming Spurs double in Gameweek 32 and then their blank the following week, alongside Manchester City in Gameweek 33. Considering City may well have already won the title by then, it could be worth starting to trim out some of Pep Guardiola's more bench-able players as they continue to fight on four fronts.
For that reason, Alex and Trystan talked themselves slowly round in circles until swapping Ruben Dias for Cesar Azpilicueta seemed like a good idea. Planning ahead weeks in advance of Blank Gameweeks had worked in their favour this time and could well do so again. Still, swapping Senhor Reliable, Dias, for Señor Reliable, Azpilicueta, seems a bit of a sideways move. I could be wrong, but yellow-card enthusiast Lucas Digne may well prove to be the better removal for Thomas Tuchel's big mean clean sheet machine. Alex briefly mentioned bringing in Reece James just to check if I was listening. I was not. The thing about wall charts that makes them so fun is, when else do you get to write on your walls? It is at once a great practice of administration and childish creativity. I like to announce to whomever is in the room at the time that "I'm marking the chart!" in a loud, proud sing-song voice. As of yet, I have not lived with anyone who has cared in the slightest. God I love a wall chart.
Bruno Fernandes' excellent record against Brighton sees him just preferred as captain over Harry Kane against a Newcastle side likely to park as many buses as they can find on Sunday. Toon manager Shteve Bruce's name is an anagram of Three Buses' CV if you use your imagination and can't think of a better way to end this week's article.
Thanks for reading, and good luck in the gameweek!
For the rest of our FPL content, visit our Fantasy section!