FPL Gameweek 3 – Team TSZ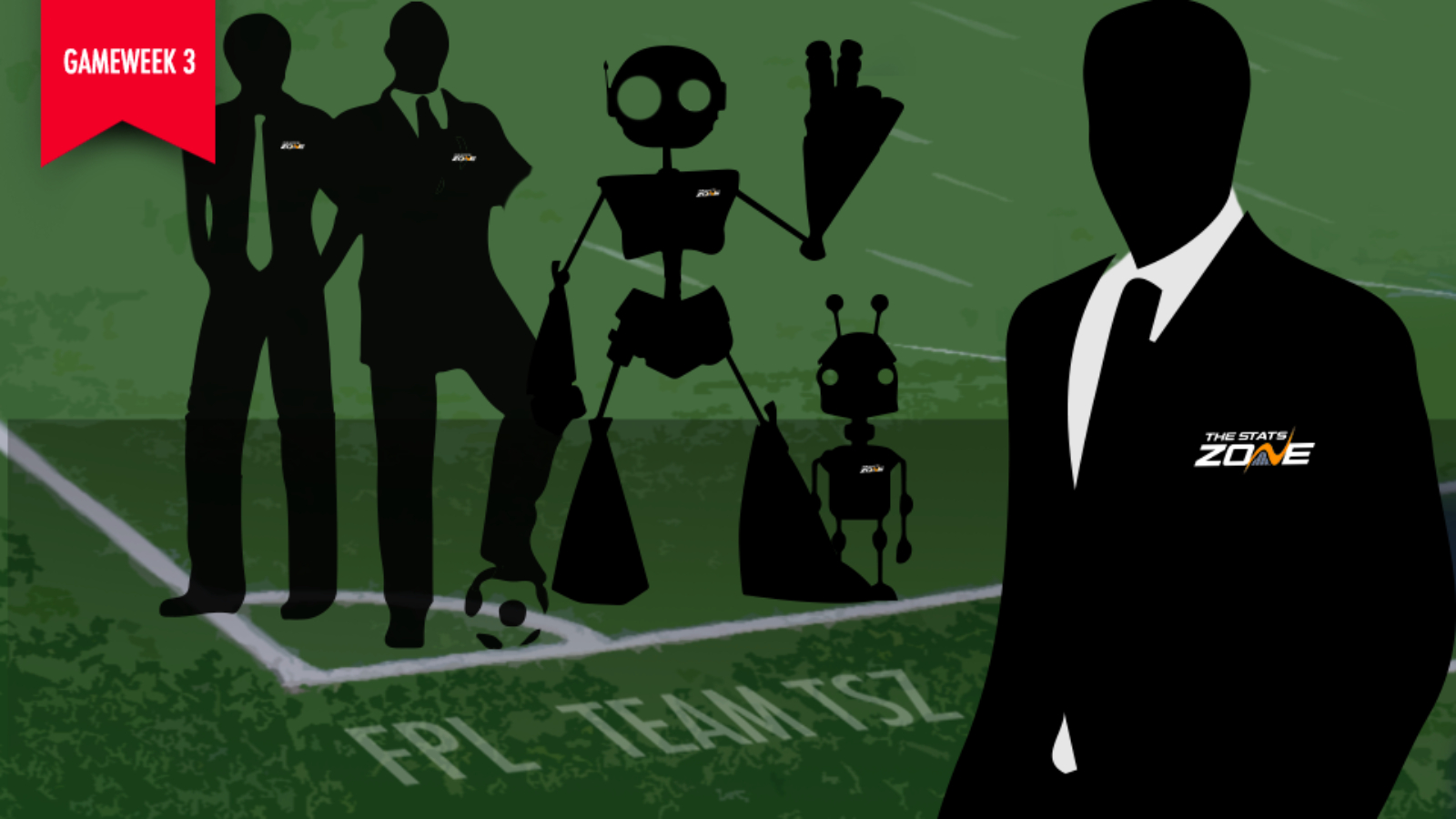 Once again this season, we've banded together to form our very own FPL site team, otherwise known as 'Team TSZ'. After finishing 1390 in the world in our debut campaign, how will we handle the pressure in the 'difficult second season'?

Decisions will be made collectively after polite discussion. 'Team TSZ' consists of:
Rob Esteva – Managing Director
Trystan Pugh – Sports Content Manager
Tim Blackwell – Chief Sports Data Scientist
HOW DID WE GET ON IN GAMEWEEK 2?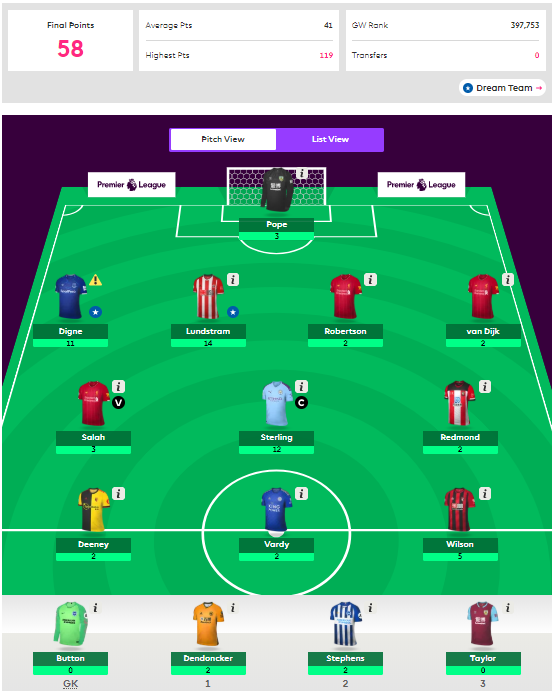 GW points: 58
GW average: 41
GW rank: 397,753
Overall rank: 203,667 (▲)
Team TSZ scored a very respectable 58 points in a quite unremarkable Gameweek 2 and it is too early in the season to talk seriously about green or red arrows, unless you are at Airbourne this weekend on the south coast where they will be performing. The team came within the top 400k in terms of gameweek rank, good enough for an overall climb, but not in our hotly-contested mini-league where the standard has clearly improved again this season. With Sheffield Utd's sneaky midfielder John Lundstram masquerading as a defender, and Everton's left-winger Lucas Digne (who sometimes defends a bit) hauling in the double figures, the rest of our team is excused from being horrendously average.
Everyone here at TSZ Towers is talking about wildcards. I am ecstatic. It appears I made my first good FPL decision when I deployed it to good effect for my personal team last week.
DISCLAIMER: I have just checked, and shockingly the Red Arrows will not be performing at this year's Airbourne. This will be front page news in my home town for at least two months. Unless a seagull does something out of character.
GAMEWEEK 3 TEAM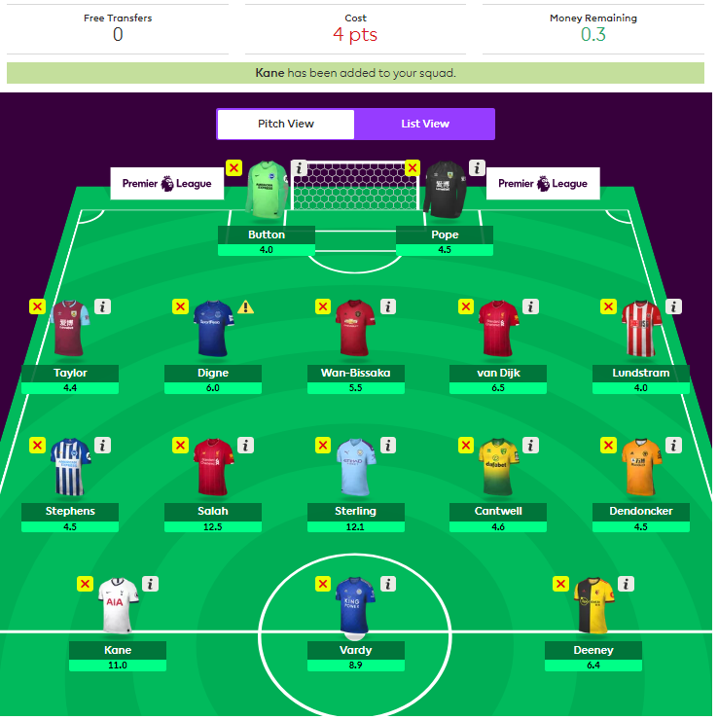 Following the conclusion of the podcast, which you can as always find at the top of this article, the Kevin De Bruyne vs Heung-Min Son debate reached fever-pitch. After Alex called Team TSZ "unhealthy" in the pod, Rob and Tim became increasingly frenetic. The word wildcard was uttered several times. They get a bit out of hand when Trystan isn't here to diffuse them into rolling a transfer and maybe sticking Issa Diop on the bench.
After pretending we'd already ripped up the whole squad, we called a poorly Trystan from his flat. The prank did not work, however, as he was all for the gamble. It was at this point I realised he was truly unwell.
Readers, there were so many alterations made at this point to the line-up it was hard to keep track. If you can imagine the tune to Billy Joel's We Didn't Start The Fire, I'll list all the ones I can remember:
Ceballos, Cantwell, Lucas Digne or Coleman
Harry Kane, VVD and Tammy Abraham,
Martial, Walker, Adams Jota Lowton,
Origi, KDB, WAN-BISSAKA PUKKI!
We didn't start the fire…
The walls between the offices are paper thin. It is at this point I would like to apologise on behalf of the team to the neighbouring businesses for over 30 minutes of Rob and Tim shouting at a television screen. At roughly the volume of two elderly people trying to Facetime each other in a hailstorm.
As the team chopped and changed, Tim forgot on several occasions that there is a budget in FPL, something we are frequently reminded of by the mysterious "Star-Lord" (see last week's pod for details).
"I feel like we'd have to take a punt with that fifth one…I'd like Martial" said Rob, with the final £0.5m available bursting blood vessels in the office. The new number 9 came in and out of the side more times than he did in United's squad last season. However, half an hour later, the team had settled on eight changes.
"Let's do it!" said Trystan. Followed by anguished cries from the others.
"After this entire chat, I don't want to wildcard" replied Tim, as I watched him set-up his own team remarkably similarly to the discussed changes for an eight-point hit.
There was a thud from next door, as somebody eavesdropping died of boredom.
…"shall I reset it then?" Muttered Trystan, wondering why he had bothered staying home from work today, now that work had come to his kitchen-diner. We then transformed from a 21st century video call back to the late 70s, as Rob walked over to the whiteboard and started penning out equations in squeaky red ink. Those equations read: Robertson to Wan-Bissaka, Redmond to Cantwell, and Wilson to Kane.
The wildcard had lived. I saw it leave soon after. The current strategy, and I expect this to change wholesale by Friday evening, is now a -4 hit for those three transfers.
They are to reevaluate the situation next week. I head back south for a wedding this weekend. I may not return.
UPDATE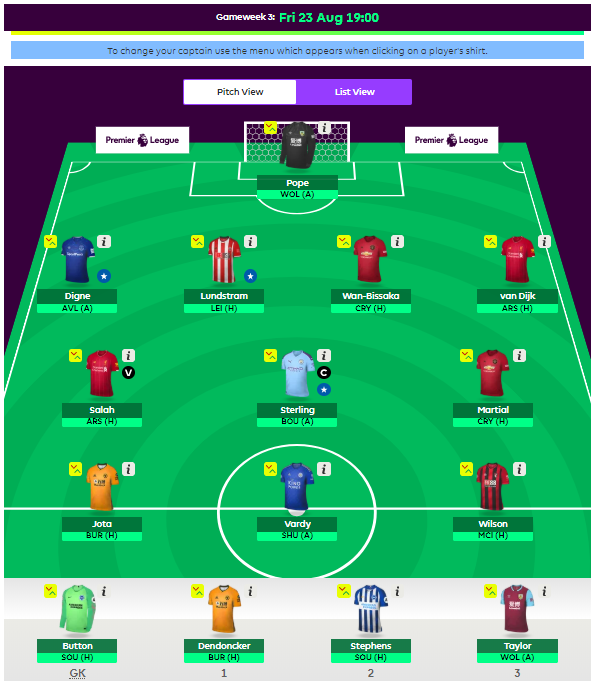 Formation: 4-3-3
Captain: Sterling
Vice-captain: Salah
Transfers made: 3 (Robertson > Wan-Bissaka / Redmond > Martial / Deeney > Jota)
Point deductions: -4
Trystan here. After all that, the Deeney injury news came in and we were forced to change the plans we had agonised over earlier in the week (apologies to Adam for that now completely unnecessary write-up above). Troy was hardly setting the world alight in our team anyway, so the crocked Watford man was promptly shown the door. The Robertson to AWB move remains, but it's now Martial in for Redmond (what were we thinking?) and Jota for Deeney. We resisted the Pukki bandwagon, which feels more like a full-blown stampede now, and opted for the Wolves man who has been tearing up trees in the Europa League. Surely it's only a matter of time before he translates that form to the domestic front? You know, where we actually care about how he performs.
This new plan means we are Kane-less going into Gameweek 3, which is of course a concern, but our FOMO is tempered somewhat by the fact that placing the armband on an in-form Sterling hardly feels like much of a downgrade. Raheem the dream, it's down to you.
Thanks for reading, and good luck in the gameweek!
For the rest of our FPL content, visit our Fantasy section!