March 12, 2021 3:44 PM

Adam Evans
FPL Gameweek 28 – Team TSZ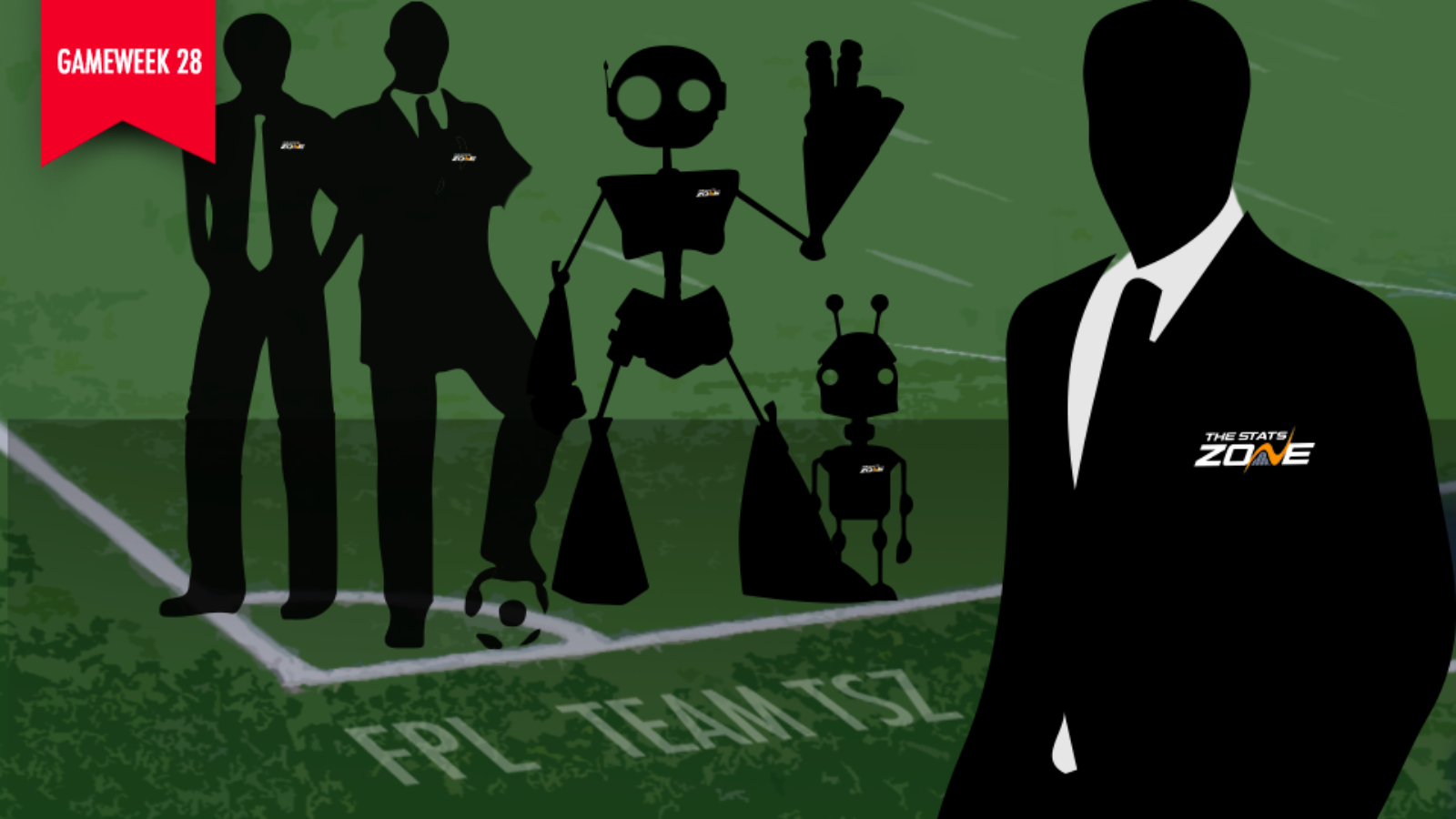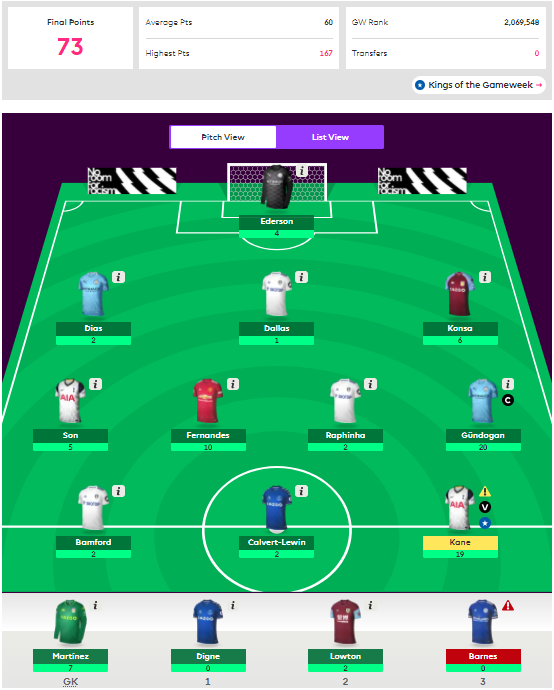 GW points: 73
GW average: 60
GW rank: 2,069,548
Overall rank: 226,744 (▲)
It was a pretty fruitful DGW27 for many FPL managers last time out, so long as those managers had either one of Kevin De Bruyne or Harry Kane. Otherwise, a potential car crash. Luckily for Team TSZ, Harry Kane's two goals, two assists and three bonus points was enough to save them from an average haul and provide a little green arrow in the right direction towards their end of season goal of top 100k. A normal old 10-match Gameweek 28 is next on the agenda and the countdown is on for Trystan and Alex to fill a starting XI for the incoming Blank Gameweek 29. They have become quite obsessed with having a full team of players destined to provide two points apiece. I imagine the question for most managers in BGW29 will be to Free Hit? Or F**k it?
GAMEWEEK 28 TEAM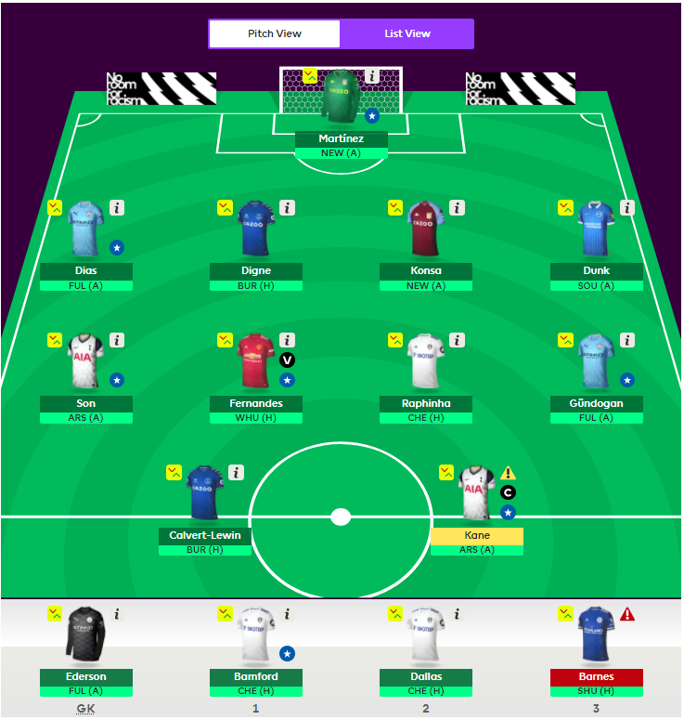 Formation: 4-4-2
Captain: Kane
Vice-captain: Fernandes
Transfers made: 1 (Lowton > Dunk)
Point deductions: 0
I can't tell you how little there is to relay this week, readers, but contractually I have to.
It turns out not getting rid of the game's top-scorer, Bruno Fernandes, was a sensible move and all of a sudden both Trystan and Alex have become incredibly pious on the matter.
"Now that we've kept him he's a difficult sell" they said, glumly accepting that they would likely keep the top scorer (by 24 points) for the rest of the season. Poor them! And further gloom was expressed by Alex as he admitted that, on the face of it, Jesse Lingard would have been a good option and does seem to be quite good at football after all. Alongside Gareth Bale, the weekly Skype call has recently become more of a chat about players that both guys think look set to have excellent weeks but somehow are not worth bringing into the team. This week's example is Mason Mount, so, you know what to do.
As aforementioned, BGW29 discussions rumbled on between glum and glummer as they deliberated over tripling up on Spurs players or bringing in Ademola Lookman. The problem with triple Spurs would be betting against their double defence of Ezri Konsa and 59.2% of FPL managers' least favourite goalkeeper Emiliano Martinez, whilst Lookman's home match this gameweek against Man City seemed a big risk. As you can see, neither of those transfers happened but at least I was lucky enough to be there for the entirety of that riveting conversation. Diogo Jota was also briefly mentioned as a useful replacement for injured Harvey Barnes but either that idea was fleeting or I totally missed it whilst trying to count how many seconds I've been alive.
One interesting factor from today's conversation is that there is the slightest hint of desperation in Trystan and Alex's voices. A lot of what they are doing rests on BGW29 not being a total flop. Lewis Dunk, for example, is "due a goal" according to Alex who appears to be party to some kind of underground Defenders' consortium where the likes of Dunk, Ben Mee and Harry Maguire sit round a large oval table, sunglasses on, divvying out the allocated goals for centre-backs for the 2020-21 season. The chairman of this exclusive club is probably ex-Blackburn Rovers centre-back Christopher Samba. What Alex seems to forget is that Dunk already had his due goal scratched off by referee Lee Mason a few weeks ago, possibly working as an agent for the Midfielders' Union waging a war on the DGDS (Due a Goal Defenders' Society).
Thankfully, I digress. Matt Lowton (the last man brought in by Alex's 'due a goal' sensor) gets the chop for Lewis Dunk, with Trystan and Alex promising they will revisit the BGW29 chat next week. Oh. Good.
Thanks for reading, and good luck in the gameweek!
For the rest of our FPL content, visit our Fantasy section!