FPL Gameweek 22 – Team TSZ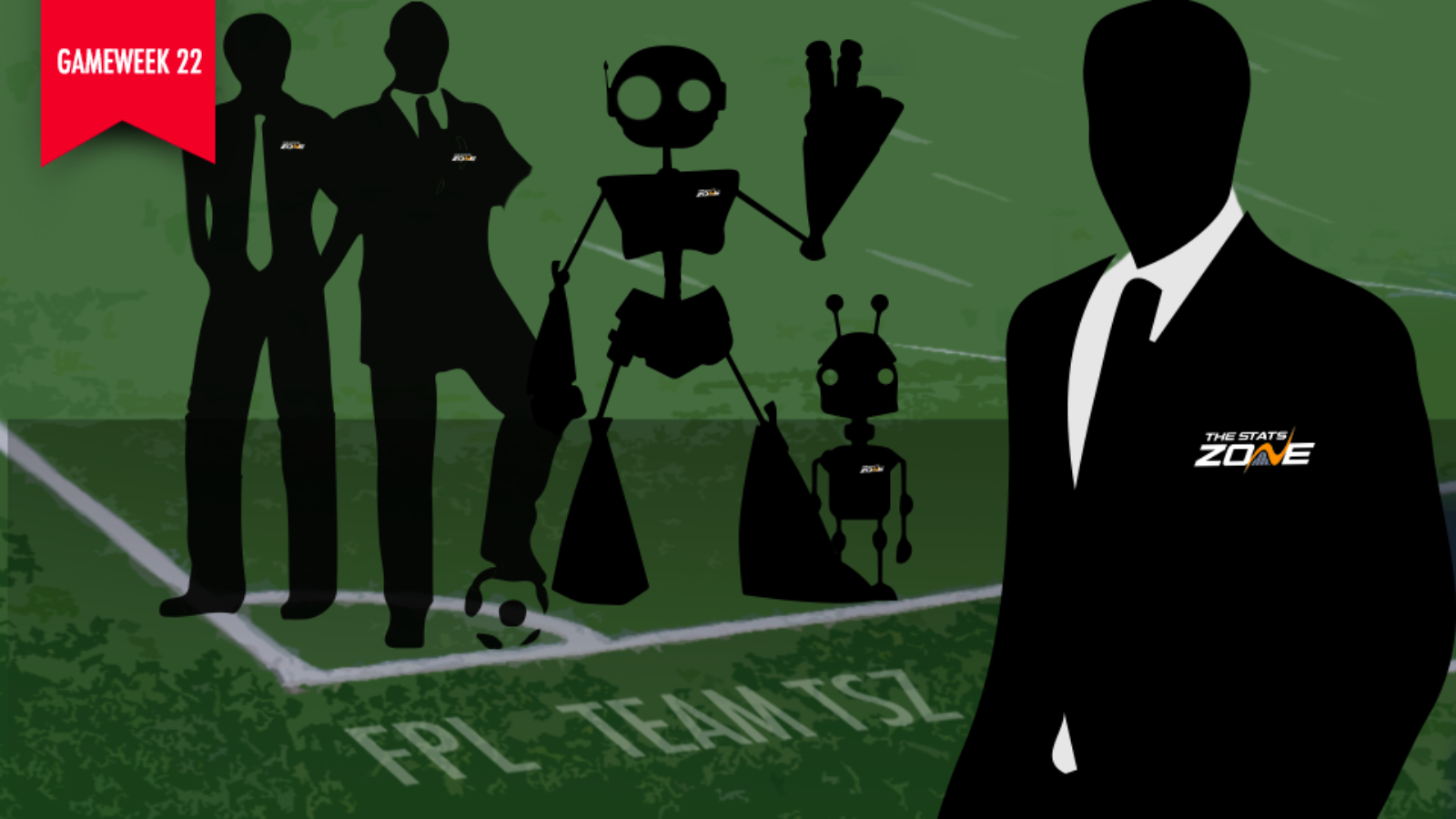 Once again this season, we've banded together to form our very own FPL site team, otherwise known as 'Team TSZ'. After finishing 1390 in the world in our debut campaign, how will we handle the pressure in the 'difficult second season'?
Decisions will be made collectively after polite discussion. 'Team TSZ' consists of:
Rob Esteva – Managing Director
Trystan Pugh – Sports Content Manager
Tim Blackwell – Chief Sports Data Scientist
HOW DID WE GET ON IN GAMEWEEK 21?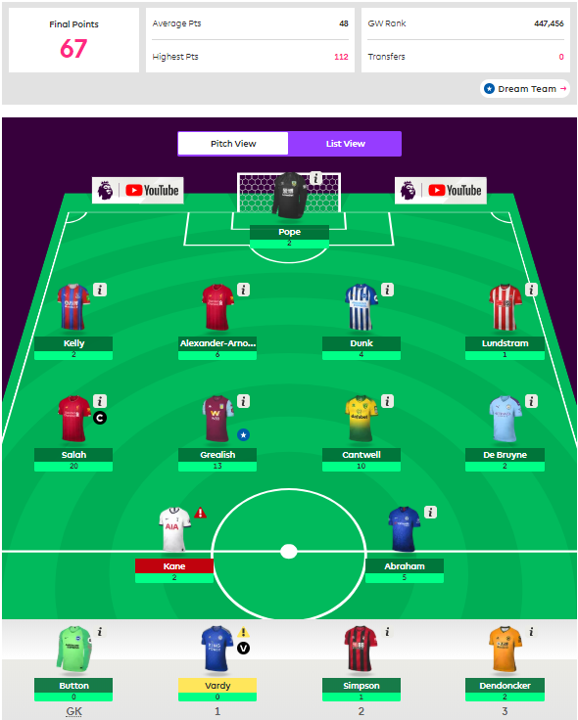 GW points: 67
GW average: 48
GW rank: 447,456
Overall rank: 272,064 (▲)
Happy new year FPL fans! After a brief sabbatical from covering the goings-on of Team TSZ, I'm back to bring you all the latest from a festive period of, shall we say mixed, results.
Don't worry, by "sabbatical" I do not mean that any rest was had. There was simply too much other work to be going on with. Given the state of Team TSZ's Boxing Day, I now wonder if the workload was Trystan's method of keeping me quiet from revealing "Mastermind FC's" lowest FPL hour - and he's had a few this year.
Here's a quick rundown of gameweeks 18-21.
GW18: Trent Alexander-Arnold is benched for Liverpool's extra-curricular double gameweek elsewhere - playing at the FIFA Club World Cup in Qatar less than 24 hours before the EFL Cup in a set of fixtures even Hermione Granger equipped with her Time-Turner would struggle to meet. The team score an above-average 53 points thanks to Todd Cantwell and Jack Grealish, but Son is sent off for kicking Antonio Rudiger in the appendix and captain Harry Kane scores an overwhelming 4 points.
GW19: Trent Alexander-Arnold is benched for Liverpool's stunning 4-0 victory over Leicester, in which the 21-year-old produced a stunning 24 points made of three assists, a goal and a clean sheet. It was the most complete performance of any FPL player this season. Not only is TAA benched for TSZ, but in third position, seeing two points each from Bournemouth's Jack Simpson and Leicester's Youri Tielemans come off of the bench and into the side to brandish both middle fingers at Team TSZ's darkest day.
Reports are varied, but sources claim that the team's chief mouse-clicker, Trystan Pugh, was either inebriated, asleep, or all of the above. As frantic WhatsApp messages zoomed this way and that on the morning of 26th December, there was nothing to be done. The team quickly realised the failings of technology. There were lessons to be learned. Firstly, you cannot shout at a sleeping man remotely, not yet, anyway, and secondly that the log-in details rested solely with the unconscious Trystan.
GW20PBD: The team scored some points. It did not fill the void.
GW21PBD: Some other points were scored. A few more than previous weeks. The team began talking to Trystan again - small, necessary sentences only.
For some clarity: from here on in, the period following Boxing Day shall be known as PBD, or post-Boxing-Day. As in, we are now in GW22PBD.
The events of Boxing Day were too much for Managing Director Rob, who quit the team with immediate effect. Although, the effect was not as immediate as he might have hoped, as the rest of us thought he was joking. He was not joking.
Please join me in welcoming Alex Sarwar to the triumvirate of Team TSZ. Alex, good luck.

GAMEWEEK 22 TEAM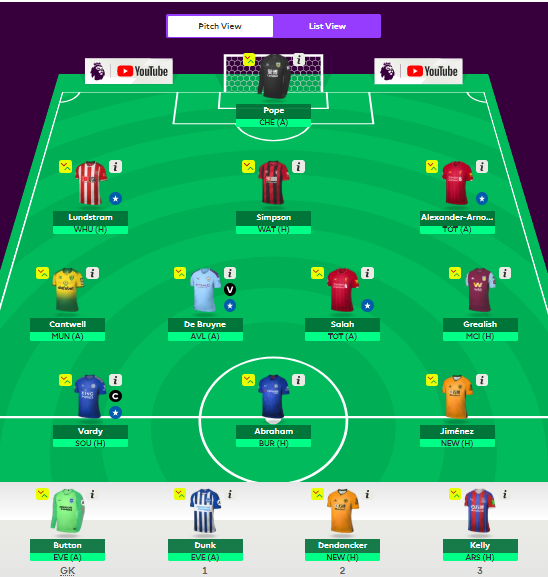 Formation: 3-4-3
Captain: Vardy
Vice-captain: De Bruyne
Transfers made: Kane > Jimenez
Point deductions: 0
The main news to bring you from this week's brief discussions is that Trent-Alexander Arnold definitely plays, and will likely be a nailed-on starter for the rest of time after the events that I've been told "we don't want to talk about any more". The main cause for change for many FPL managers this week will be the sad news of Harry Kane's long-term injury, with more than half a million FPL managers already making the switch. The 12.1% who still own the Spurs talisman are either dead teams, die-hard Spurs supporters, or shrewd medical professionals who believe he'll be back before you know it
The all-new Team TSZ, featuring Alex in place of a relieved Rob, had a straightforward decision to make between one of three: Marcus Rashford, Raul Jimenez or Roberto Firmino. Rob, as it stands, is sunning himself in Dubai as we speak. It is unclear as to whether he already had this holiday booked, or decided he deserved a break after severing ties with the site team. Tim fancied Jimenez, while Trystan "just edged Rash," which sounded painful to me. This left the deciding vote to Alex, who did not respond until I was offered the deciding vote. Suddenly, Mr Sarwar appeared with an opinion, and Team TSZ welcomes Jimenez into its bosom. It's amazing how the threat of my input so often sparks this team to action.
Thanks for reading, and good luck in the gameweek!
For the rest of our FPL content, visit our Fantasy section!