FPL Gameweek 2 – Team TSZ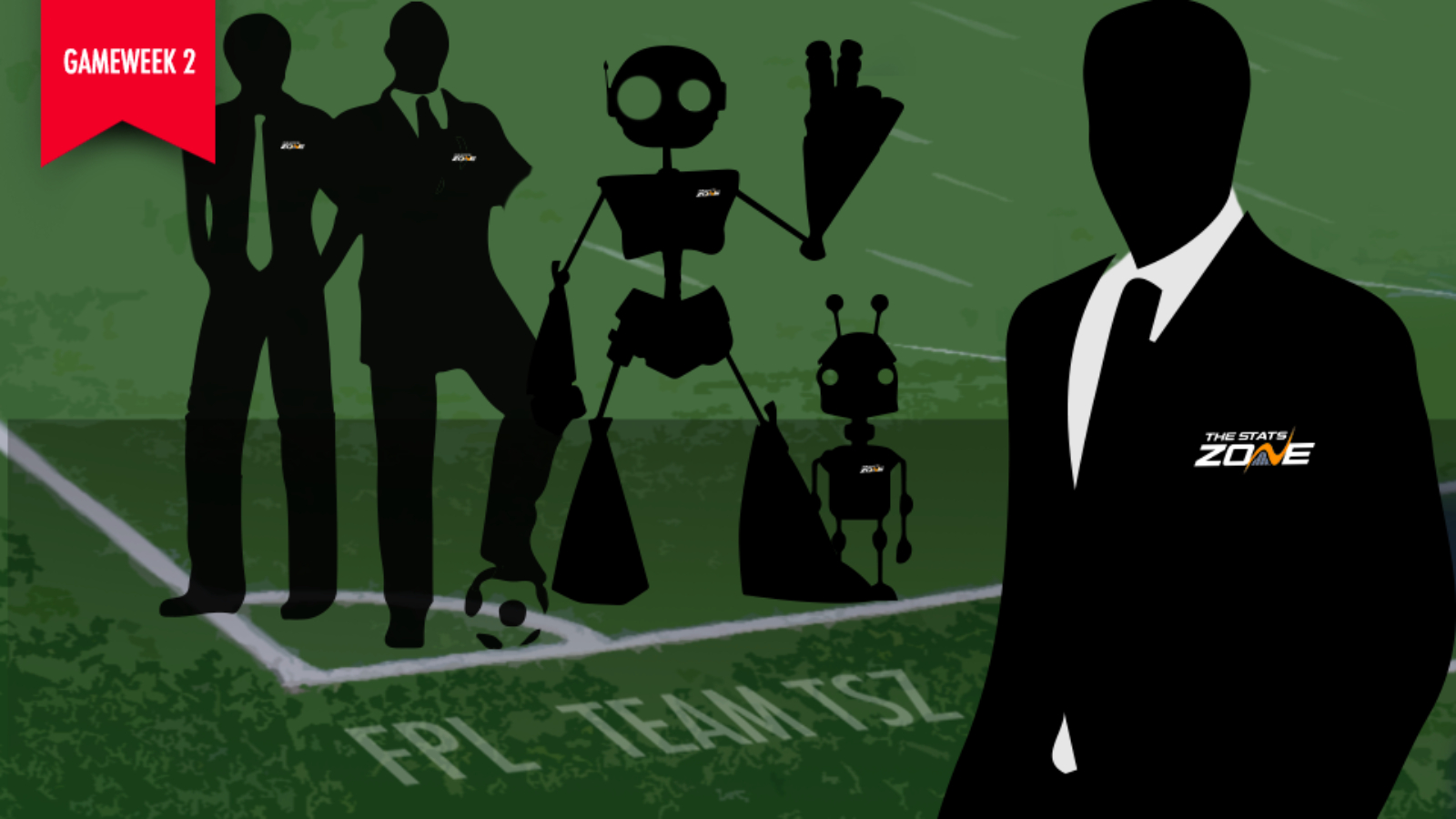 Why not take us on in our very own mini-league? The code to join is cdgnoz

Click here to go straight to the FPL website

Once again this season, we've banded together to form our very own FPL site team, otherwise known as 'Team TSZ'. After finishing 1390 in the world in our debut campaign, how will we handle the pressure in the 'difficult second season'?

Decisions will be made collectively after polite discussion. 'Team TSZ' consists of:
Rob Esteva – Managing Director
Trystan Pugh – Sports Content Manager
Tim Blackwell – Chief Sports Data Scientist
HOW DID WE GET ON IN GAMEWEEK 1?
GW points: 82
GW average: 65
GW rank: 839,666
Overall rank: 839,678 (for some reason it's different to our gameweek rank which makes no sense to us)

It is incredibly daunting that 839,665 FPL players scored more than 82 points in Gameweek 1, with that score normally representing a stellar gameweek and a smug text to your friends. However, almost all of FPL 2018-19's stars came out fit, firing and ready to pick up from where they left off - apart from Liverpool goalkeeper Alisson, who had to be picked up from where he lift off. With Messrs Sterling, Salah, Kane and Aubameyang making FPL managers everywhere curse the fifth time they swapped out one for the other before the season began, and the Alisson injury (and subsequent Adrian ankle story) making that premium Liverpool back three not look so clever, a manic transfer spree has ensued. Not least for me personally, as due to a glitch on my app that led me to believe I had been given a second free transfer, I have now panicked my way into a brave or likely idiotic gamble of an early wildcard. I think life will be easier with one less chip hovering over me.
ANYWAY enough about me. Team TSZ did very well, but almost one million other people did better. From what I hear, the team started terribly last year, but this was largely down to their lack of me and my weekly scrutiny keeping them on their toes.
GAMEWEEK 2 TEAM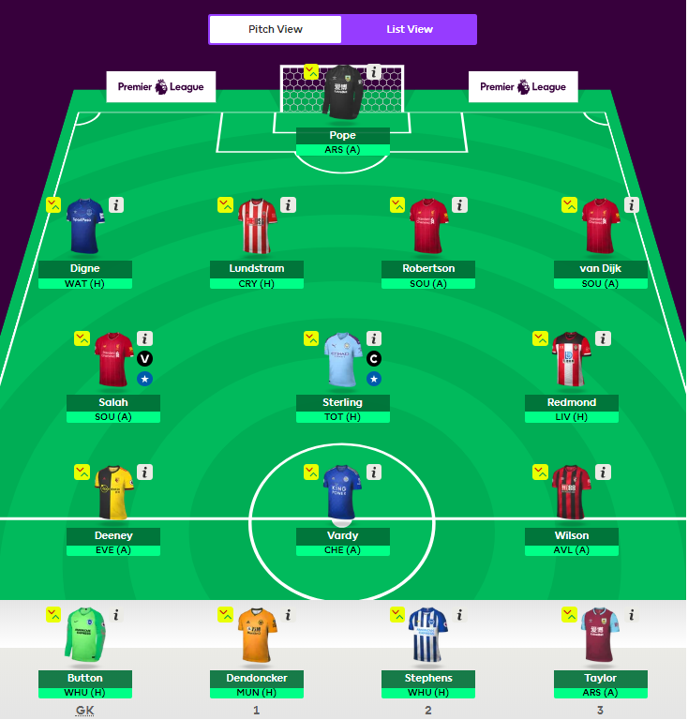 Formation: 3-4-3
Captain: Sterling
Vice-captain: Salah
Transfers made: 0
Point deductions: 0
As discussed on this week's podcast, which by this point you've likely muted at the top of the page, Trystan triple-captained Mo Salah in his personal team. He also said, and I quote (loosely), "there's nothing like watching a player you've triple captained from the stands", which is something I can imagine greyer fans of a certain age ripping their ears off to. The team have swapped the armband over from Salah to Raheem Sterling, notable for blanking in the week directly after scoring a brace or more, so watch the Egyptian King run riot at Southampton tomorrow afternoon.
Otherwise, it's as you were at Team TSZ with a good GW1 performance and the team willing to hold off making any rash transfers with a set of inane fixtures incoming this weekend. John Lundstram climbs off the bench for new FPL darling Leander Dendoncker in the week's most exciting movement. The long-term plan is to bring in Harry Kane next week, so a double transfer will be required, as the lack of a premium forward looks to be a no-go tactic this season. When I pushed the team for something to write about, Tim said that they were not inclined to change a team they had spent an hour making which is a massive lie. All-in-all it took them almost two hours to decide on a XV, and that was just the parts I was awake for. After spending a good while on the podcast bigging up Aubameyang's profitability against Burnley and suggesting to 'you', dear listeners, that he would captain him, Tim spoke off air about his confidence in our goalkeeper Nick Pope; that Burnley would keep a clean sheet. I don't know what his agenda is or I would tell you, but I think he has designs on the 2019-20 title by sabotage.
Elsewhere, the word "wildcard" keeps being whispered. Mainly by Rob, of course, whose wish to bring in Anthony Martial fell on deaf ears for probably the 32nd week running. With seven players travelling this week, Rob's concerns over their double Liverpool defence and a lacklustre front three were noted. "This week is damage limitation" said Trystan, secretly thrilled with his 110 points and first place in our mini-league. Damage limitation!? In Gameweek 2? The wildcard could be used as early as the international break.
Thanks for reading, and good luck in the gameweek!
For the rest of our FPL content, visit our Fantasy section!