FPL Gameweek 18 – Team TSZ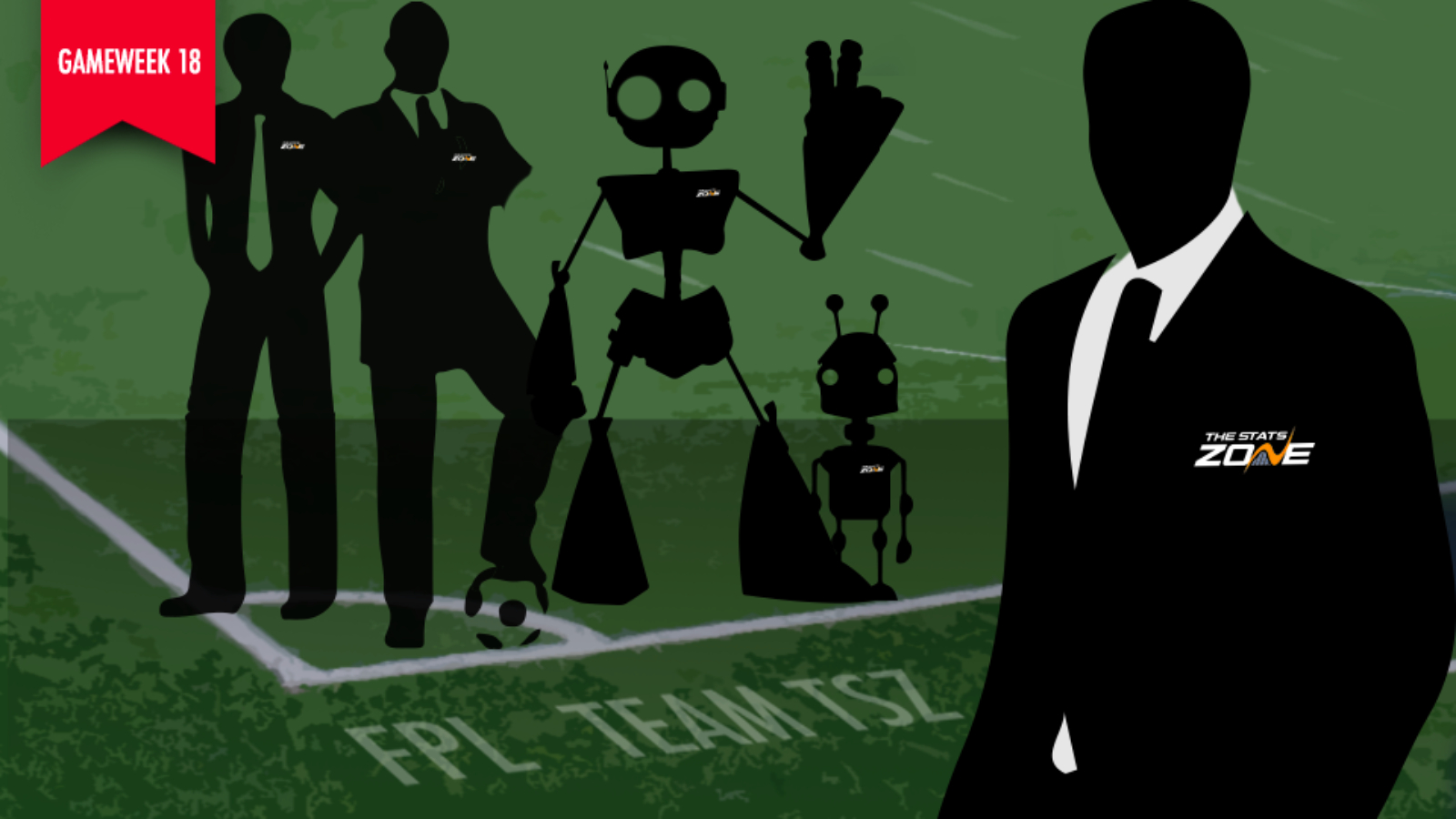 Once again this season, we've banded together to form our very own FPL site team, otherwise known as 'Team TSZ'. After finishing 1390 in the world in our debut campaign, how will we handle the pressure in the 'difficult second season'?
Decisions will be made collectively after polite discussion. 'Team TSZ' consists of:
Rob Esteva – Managing Director
Trystan Pugh – Sports Content Manager
Tim Blackwell – Chief Sports Data Scientist
HOW DID WE GET ON IN GAMEWEEK 17?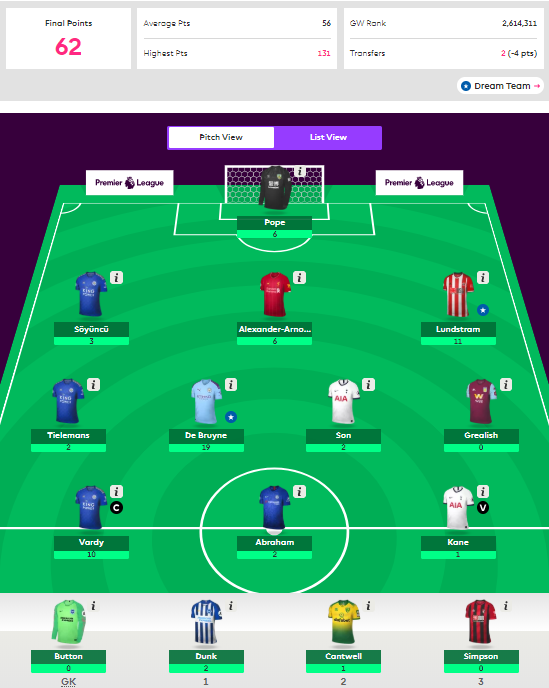 GW points: 62
GW average: 56
GW rank: 2,614,311
Overall rank: 380,868 (▼)
Before we begin with this week's Team TSZ readers I must inform you that I am rather hungover following the staff Christmas party. A wonderful time was had! Darts, drinks and dinner (the three essential Ds) were enjoyed immeasurably by all. However, the result is that I am finding typing sentences longer than a few words quite difficult. I have spent far too long trying to think of an alternative Twelve Days of Christmas song but, alas, I have failed. Highlights were "10 Lundstrams leaping" and "...and a party for Jamie Vardy" instead of the classic partridge in a pear tree. A particular low point was simply "Tyrone Mings" in place of five gold rings...
TSZ had an ultimately average gameweek last time out, saved by the efforts of Kevin De Bruyne and everyone's favourite 'John', Lundstram. Incidentally, Lundstram's double-figure haul proved my theory on an interesting equation that should predict when next to captain the Blades' box-to-boxer. You'll have to listen to the podcast to find out more about the 'Lundstram Code', though.
Despite a drab week, Team TSZ are happy to have made it through the perilous first round of the FPL Cup. They now face 'Patriots' in round two, and are feeling confident of a deep run. Hopefully they don't have to send their entire first team to Qatar or something ridiculous like that.

GAMEWEEK 18 TEAM
Formation: 3-4-3
Captain: Kane
Vice-captain: De Bruyne
Transfers made: 1 (Soyuncu > Kelly)
Point deductions: 0
The Team TSZ chat today was brief and sullen, with Rob, Trystan and Tim all feeling the effects of Christmas cheer. The team is in decent nick, but equally uninspiring right now, and a transfer looked on the cards. Both Tim and Trystan presented a similar argument: Youri Tielemans out, Adama Traore in. It was not confirmed if this is because Traore is pulling up trees in Alex's table-topping FPL side in our staff league, but it was implied with an air of envy. Rob, too, was eager to rid TSZ of Tielemans, but promptly forgot about my blanket ban on Anthony Martial by asking how soon the team could bring him back in.
At this point I felt the need to leave my desk. I popped my earphones in, played Merry Xmas Everybody by Slade, and went outside for a breath of fresh, festive air. As soon as I reached the outdoors, I turned and stared up at the office, 12th floor, and waited. Waited. Eyes closed, until Noddy Holder screamed his famous "IT's CHRISTMAAAASSSSSS" - with which I screamed in unison.
When I'd returned to my desk, nobody noticing of course, the discourse had gladly moved on from Martial's imminent return to my waking nightmare. In fact, they were discussing a replacement for Caglar Soyuncu, Leicester's popular defender, as he faces a difficult run of fixtures, including four away games in his next six gameweeks. Aston Villa assets were put forward, Matt Targett a decent option, but Rob's distrust of them defensively was enough for Tim and Trystan to change tack, and offer Martin Kelly. If you'll recall, Kelly was the proposed transfer last week before a truly boring move for £3.9m Jack Simpson, whose Bournemouth sprung a shock clean sheet away at Chelsea - without him. Crystal Palace's kind-looking run of games and defensive crisis makes Kelly look an excellent budget option, so no qualms there, but why have TSZ waited a week to make this move? It is as if they actively do not want to make any team value.
With business concluded, Harry Kane was selected as TSZ's captain despite plenty of clamour for Jamie Vardy throughout the week. The Spurs striker does love a London derby...
If you would like to write the Twelve Days of Christmas in a Fantasy Premier league style, feel free to submit them to use on Twitter (@thetstatszone) and put me out of my misery.
Thanks for reading, and good luck in the gameweek!
For the rest of our FPL content, visit our Fantasy section!