FPL Gameweek 17 – Team TSZ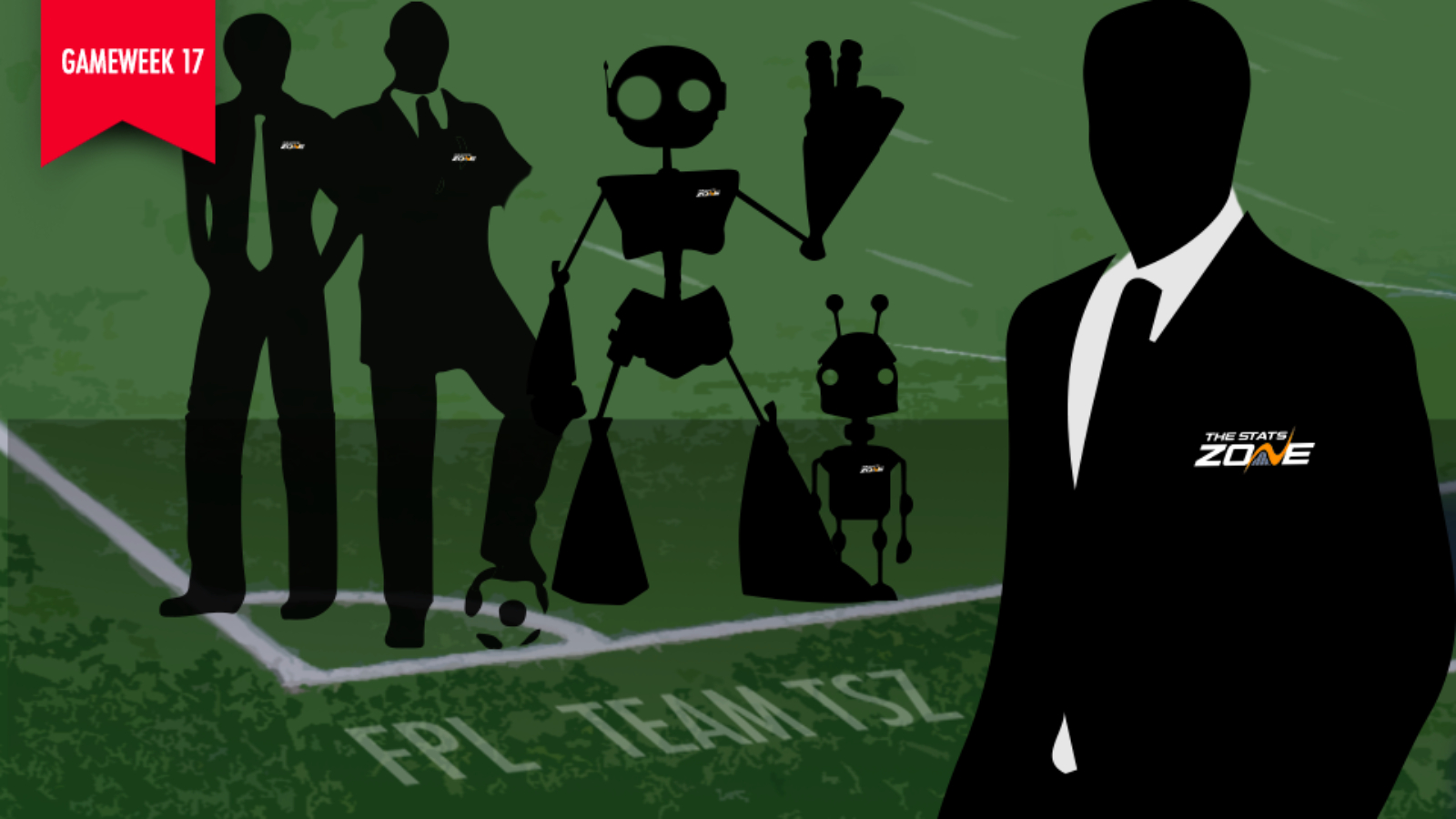 Once again this season, we've banded together to form our very own FPL site team, otherwise known as 'Team TSZ'. After finishing 1390 in the world in our debut campaign, how will we handle the pressure in the 'difficult second season'?
Decisions will be made collectively after polite discussion. 'Team TSZ' consists of:
Rob Esteva – Managing Director
Trystan Pugh – Sports Content Manager
Tim Blackwell – Chief Sports Data Scientist
HOW DID WE GET ON IN GAMEWEEK 16?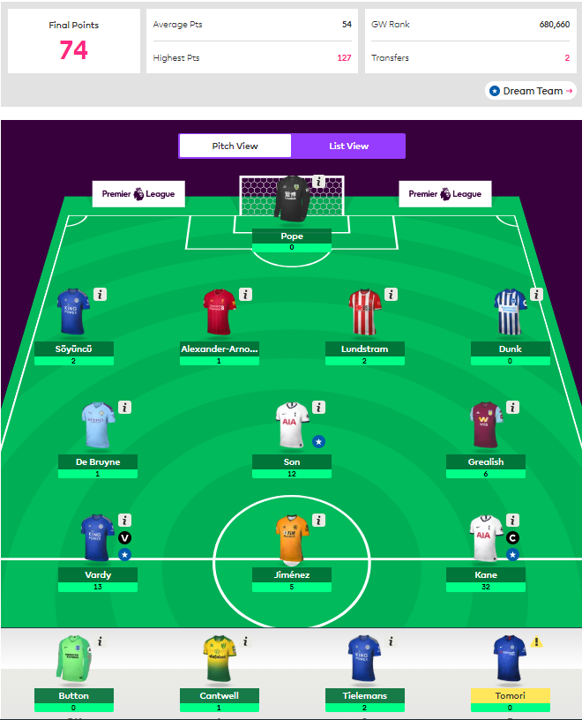 GW points: 74
GW average: 54
GW rank: 680,660
Overall rank: 342,081 (▲)
Gameweek 16 was quite the high-scorer for some and a stinker for others in another curve-ball round of this intriguing FPL season. Christmas is approaching, of course, and as a traditional Christian holiday it made full sense for Eriksen to take another break on the bench as Spurs' new-look front four took aim at poor Burnley. Mourinho's first clean sheet could flatter to deceive after such a one-sided performance but it seems that Spurs assets are on everyone's wish-lists and the template coming into these festive fixtures should include the Vardy and the Son, but probably not Jesus. Harry Kane's spirited brace & assist performance blessed those FPL managers with a little patience, and brutally punished those of me who switched him IN for Tammy Abraham last week (thus missing the 'injured' Chelsea striker's 12 points) and then back OUT again in a reversal that saw me miss a combined 24 points. After mocking the exploits of Rob, Trystan and Tim in GW15, this feels deserved. Divine intervention.
Still, this must be slightly less annoying than transferring out Anthony Martial for probably the sixth or seventh time in 18 months of FPL, only to see the Frenchman completely boss it against the Premier League champions. If I get some spare time this Christmas, I'll go back and work out just how many times Martial has trolled Team TSZ, as a little present to myself. Happy Holidays, one and all!
Team TSZ's 74 points proved to be a good haul and took them up to within the top 350k, which is respectable but by no means desirable. Jack Grealish made up somewhat for the loss of Martial's points, but that was negated by Trent Alexander-Arnold not quite clocking-in in time for the full hour, and therefore missing a clean sheet. Crucially, though, a GW rank of 680,660 sees the team qualify for the FPL Cup with points to spare. Unlike several individuals in our staff. I won't name names, but Alex Sarwar's 'Twisted Dierstarter' and Trystan Pugh's 'Mastermind FC' are just two of the total of two people to have missed out here at TSZ towers.
GAMEWEEK 17 TEAM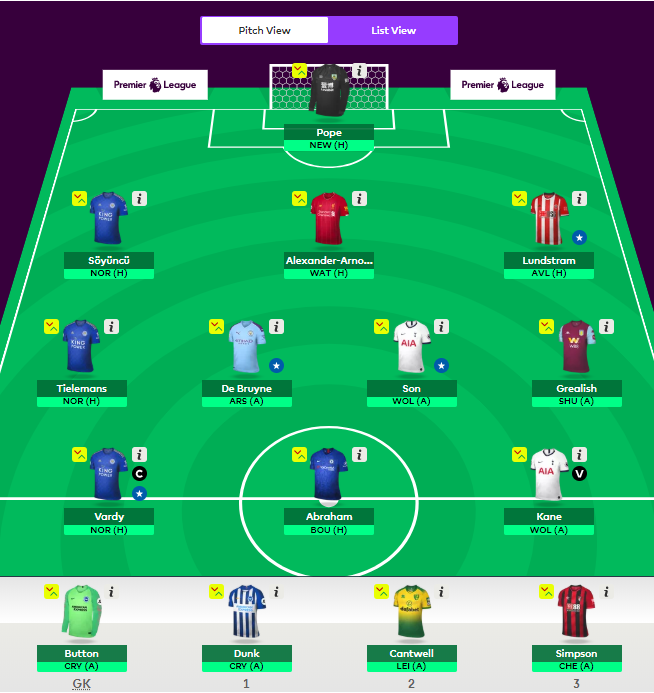 Formation: 3-4-3
Captain: Vardy
Vice-captain: Kane
Transfers made: 2 (Tomori > Simpson / Jimenez > Abraham)
Point deductions: -4
The team came in all guns blazing for this week's meeting and as we were all together in the office - the real life office with our real life faces - TSZ's members had brought their fully-formed plans. As it turned out, all three wanted to ditch Fikayo Tomori, who may find his Chelsea game-time decreased with the return of Antonio Rudiger, and bring in FPL flavour-of-the month Martin Kelly in a move which enabled a return of flavour of the season(?) Tammy Abraham. Cheaper, and keeping twice as many clean sheets as Tomori, Kelly is proving to be quite the money-spinner for those managers with an eye for a bargain. Unfortunately, Team TSZ do not have one of those managers within their ranks and, as you can see, could not afford this plan of action.
Instead, I watched the team scroll through the cut-price options for what seemed like an hour, and probably was. "We can't have a defender from Watford" said Rob, at one stage. Then, some minutes later: "Maybe we just go for someone from Watford who actually plays". However, even the Hornets' bottom-of-the-table backline were too pricey for TSZ, who have just under £102m to play with. So, Trystan fatefully clicked on "-> 7 of 7" to reveal the saviour of their season. Step forward £3.9m-rated Jack Simpson of Bournemouth, who with 55 minutes of play time under his belt so far this season, is statistically the Cherries' least-injured player at this stage.
With Simpson safely installed on the Team TSZ bench alongside perennial bench-scorers Lewis Dunk and Todd Cantwell, Rob, Trystan and Tim could finally welcome back Abraham from his brief stint pretending to be injured.
Oh, and Jamie Vardy skippers the side obv.
Thanks for reading, and good luck in the gameweek!
For the rest of our FPL content, visit our Fantasy section!