FPL Gameweek 15 – Team TSZ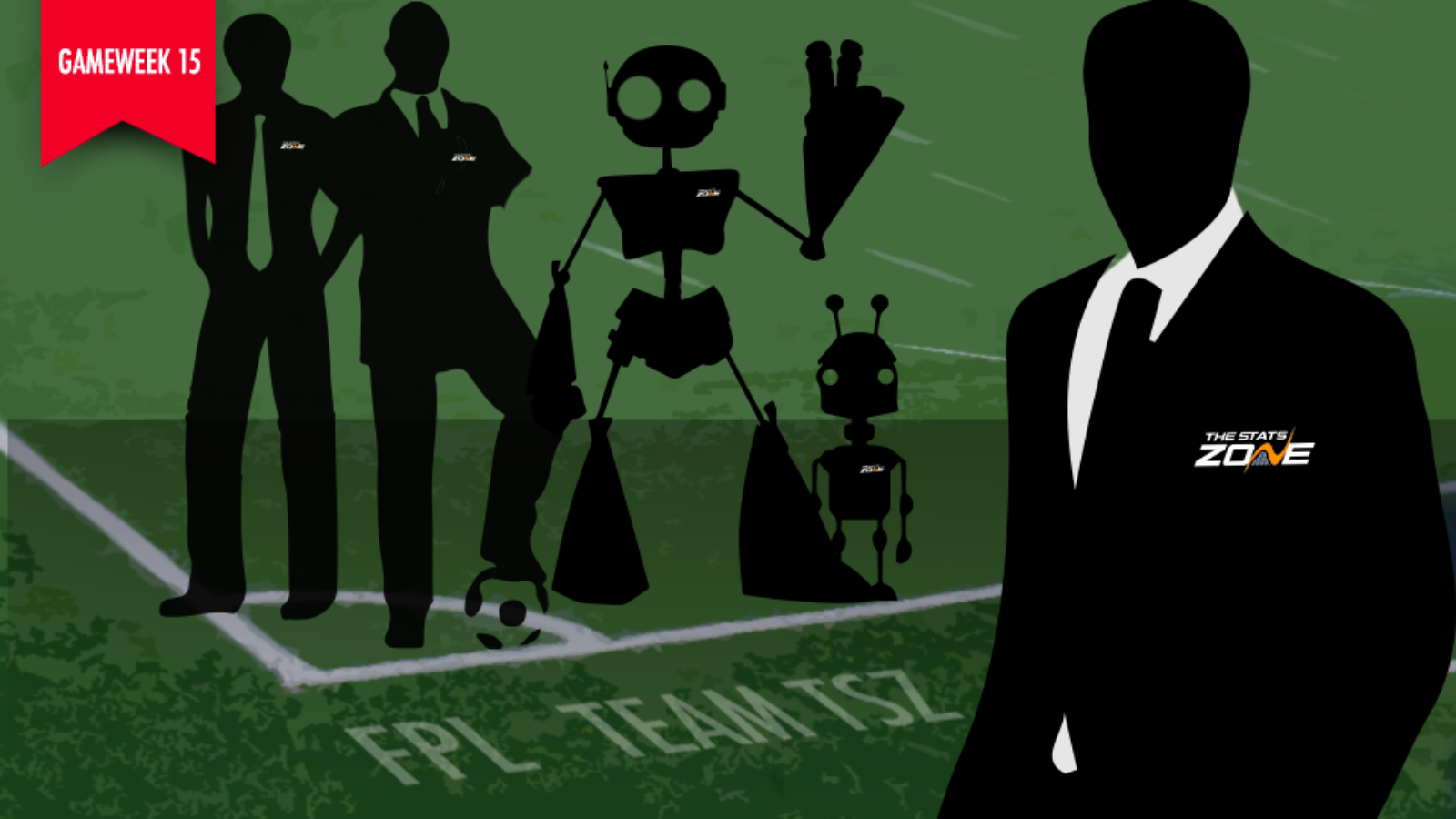 Once again this season, we've banded together to form our very own FPL site team, otherwise known as 'Team TSZ'. After finishing 1390 in the world in our debut campaign, how will we handle the pressure in the 'difficult second season'?
Decisions will be made collectively after polite discussion. 'Team TSZ' consists of:
Rob Esteva – Managing Director
Trystan Pugh – Sports Content Manager
Tim Blackwell – Chief Sports Data Scientist
HOW DID WE GET ON IN GAMEWEEK 14?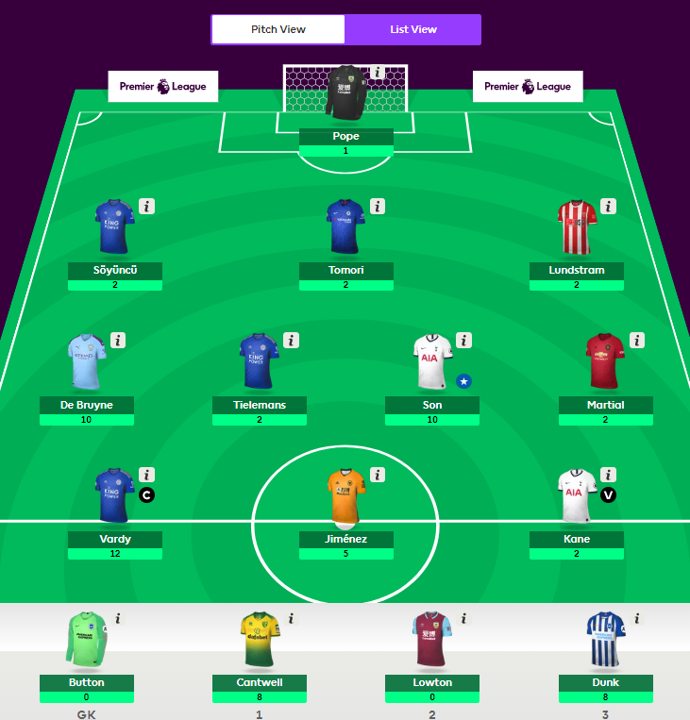 GW points: 50
GW average: 51
GW rank: 3,761,456
Overall rank: 210,618 (▼)
Gameweek 14 was an intensely disappointing week for me. I am struggling to find the inspiration to even bother to summarise it. Basically, some players scored, some didn't. Some goalkeepers kept clean sheets, some didn't. Some balls were kicked, some balls were kept, some balls were thrown. Three balls were handled, two of them spotted. Alisson slapped his, Zimmermann brushed his, and Djenepo lightly fondled one to set up Southampton's equaliser. This, in turn, meant some managers stayed employed, and some didn't. Quique Sanchez Flores was fired by Watford for the second time in roughly three years, but almost definitely for the last time this decade.
Team TSZ, on the other hand, had a decent enough week. Though they fell outside the top 200k, they scored just under the GW14 average of 51 points, with 50, and considering they've been copying my team for weeks, they could have fared a lot worse. Their early faith in Heung-Min Son continues to pay off, while they captained the correct striker in Jamie Vardy despite Rob's assertion that Harry Kane was a better shout. I switched my captain from Vardy to Kane on the back of his enthusiasm, and now I no longer want to to talk to Rob. However, 16 points sit on TSZ's bench in the form of a resurgent Todd Cantwell and steady point-scorer Lewis Dunk, which makes me feel a little better.
GAMEWEEK 15 TEAM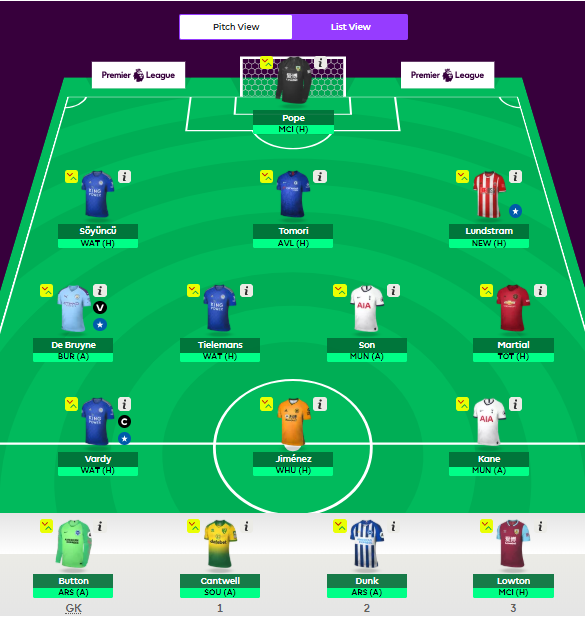 Formation: 3-4-3
Captain: Vardy
Vice-captain: De Bruyne
Transfers made: 0
Point deductions: 0
"It's a new week, a new day" said Tim's massive face, beaming down the Skype line on the office TV. In the building were Trystan, Rob and I, and our rather loud neighbours who are as much a part of The Stats Zone atmosphere as we are.
Today's scapegoat for the team's average form was Rob's favourite son (after Son) Anthony Martial. The Frenchman has failed to perform in a United team that is failing to perform, and predicted to continue failing to perform this evening when Jose Mourinho visits Old Trafford with his very best not smug grin on. Trystan threw his hat into the ring, and on that hat was Wilfried Zaha with two goals in as many games and looking to be near his potent best. Tim naturally opposed this perfectly decent option by suggesting Team TSZ go fishing for penalties, and welcome aboard star angler Luka Milivojevic. He did this with the slightest smirk, and Trystan (not for the first time) aired his doubts in Tim's credibility. No doubt we shall see Zaha in Tim's line-up come the deadline tonight at 18:30.
Tim and Trystan continued their "discussion" but unfortunately I missed some of the other names they may or may not have been suggested as Rob and I, so often sidelined in these chats, had started playing ping pong with a crunched up ball of tin foil. I did tune back in briefly at the 10-minute mark, where Trystan normally asks Tim what he would actually do, and Tim says "I'd do nothing this week." (This happened almost exactly on cue).
The score was 7-3 to Rob in Tin-foil Pong, as I had now fallen behind after an early lead when Rob had stopped to answer an email.
"Doesn't Alex have him?" I heard a frantic Trystan ask, at roughly the time the team start getting desperate for a transfer. Alex is the TSZ staff member currently highest-placed in the game, and the object of T&T's collective envy.
10-7 to Rob at this stage. Match point. Rob served out wide by the printer but I just managed to return with a backhand slice over the speakers. Rob was ready for that, though, and with a beautifully weighted drop shot over his espresso, the game was over.
Our attentions returned to the screen where Tim's enlarged face was towering over Trystan, defeated once more in his attempts to accrue a Liverpool asset. The team roll the transfer. 11-7 it finished in the Tin-foil Pong; an excellent contest. I never really got going.
Thanks for reading, and good luck in the gameweek!
For the rest of our FPL content, visit our Fantasy section!