FPL Gameweek 13 – Team TSZ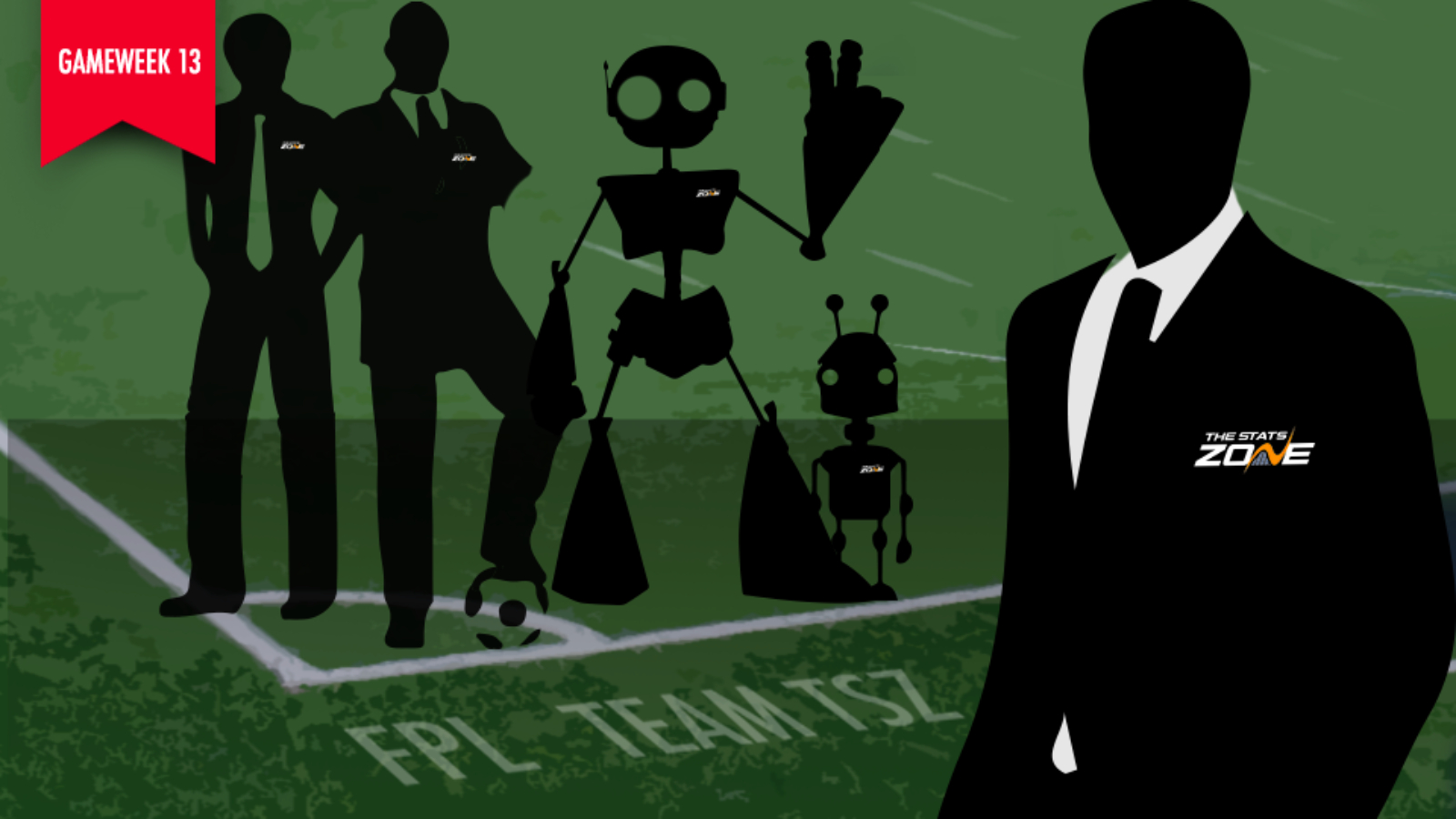 Once again this season, we've banded together to form our very own FPL site team, otherwise known as 'Team TSZ'. After finishing 1390 in the world in our debut campaign, how will we handle the pressure in the 'difficult second season'?
Decisions will be made collectively after polite discussion. 'Team TSZ' consists of:
Rob Esteva – Managing Director
Trystan Pugh – Sports Content Manager
Tim Blackwell – Chief Sports Data Scientist
HOW DID WE GET ON IN GAMEWEEK 12?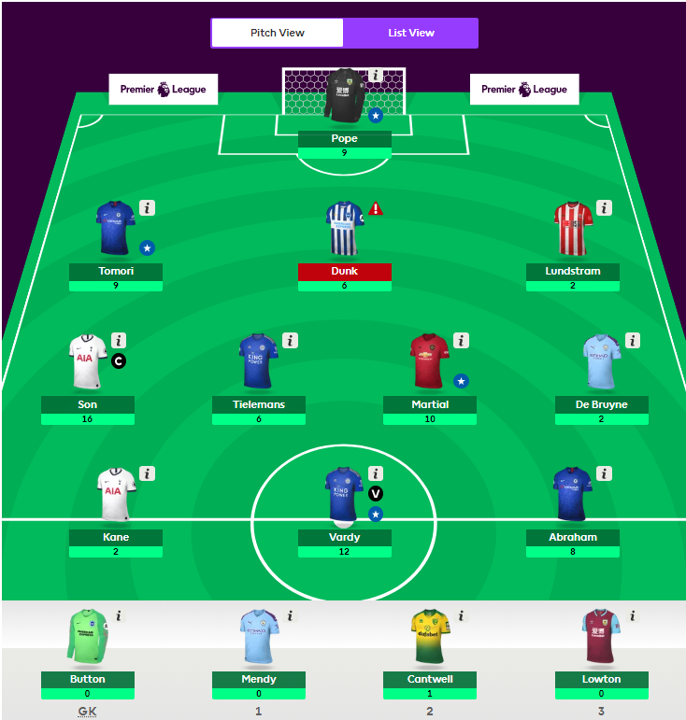 GW points: 82
GW average: 48
GW rank: 59,527
Overall rank: 356,451 (▲)
It's beginning to look a lot like Christmas, FPL fans, and that means even fewer gaps between gameweeks to fully recover from the trials, tribulations, nerves, swearing and very fleeting glimpses of actual enjoyment that fantasy football can offer. Cherish this last international break whilst you can! See your friends, your family, finish painting that dining room, finish sculpting that bust of John Lundstram, sit back and relax with a nice red wine. Because, before you know it, Gameweek 13 will be upon us, and with it a whole weekend of checking your phone and tutting - so much tutting - as 11-to-15 people you will probably never meet negatively affect your mood for 48 hours. In this case it will be roughly 58 hours, with a Monday night fixture of Aston Villa vs Newcastle to look forward to.
GW12 bore many fruits for Team TSZ, with captain Son offering up a tasty 16 points as a mini-differential and new acquisition Jamie Vardy proving that if you essentially copy my team, ever-so-slowly, one player at a time, you'll be rewarded with points. Nick Pope pulled his socks up amidst rumours his position was under threat, Anthony Martial proved to be an excellent transfer, while Benjamin Mendy's second successive 0 proved that he was the exact opposite. Albeit, still better than Lucas Digne in the long run. The guilt-ridden grins of Rob, Trystan and Tim this week tell me they are feeling pretty lucky about the 15 points that came off their bench for Mendy and Matt Lowton, especially after spending the whole season having a go at Alex for his bench successes. A tasty green arrow was more than welcome after a largely underwhelming season so far.
GAMEWEEK 13 TEAM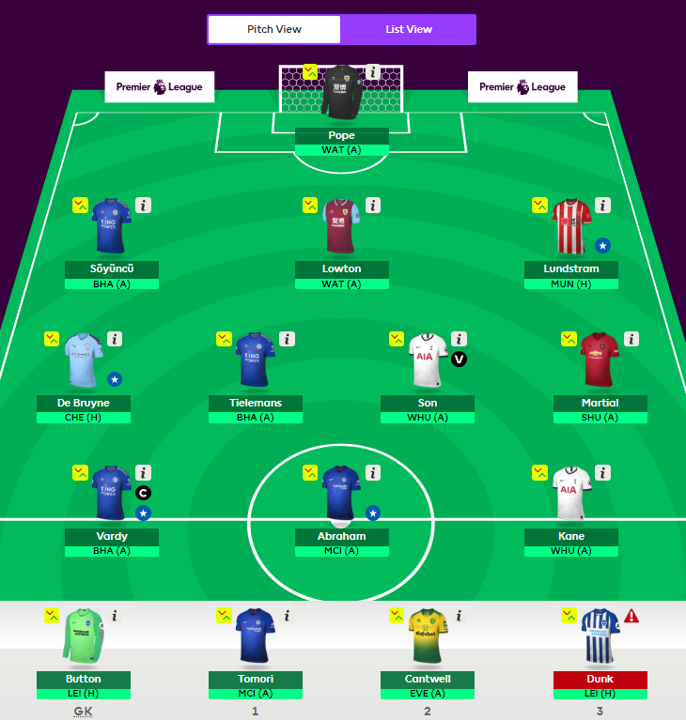 Formation: 3-4-3
Captain: Vardy
Vice-captain: Son
Transfers made: 1 (Mendy > Soyuncu)
Point deductions: 0
Rob, Tim and Trystan assembled around a big-screen projection of Team TSZ to assess the damage post-international break. The news from Europe was that Mendy had started for France, allaying the idea that he was somehow secretly injured, and so whether to replace him or not was the main cause for concern. Would Pep Guardiola stick with Angelino? Would he reconcile his newest difference with Mendy and start the clearly match-fit Frenchman? Would he decide to come out of retirement and play himself at left-back? As always with Pep, we cannot be sure, so the team leaned towards replacing Mendy, no matter how painful that would be after receiving a grand total of 0 points over the last two gameweeks.
For an extra slice of hubris cake, it looked as though it could be Lucas Digne making his swift return as Everton host Championship side Norwich this weekend. However, this seemed like too much of a bitter pill to swallow, so Leicester City assets Ben Chilwell, Ricardo Pereira and Caglar Soyuncu came into view.
Trystan briefly, somewhat tearfully, brought up the lack of Liverpool players for the seventh week in a row, but was met with silence. His struggle continues.
All manner of combinations were employed to upgrade Todd Cantwell alongside the Mendy transfer, with the likes of Son also briefly mentioned as a potential candidate for the chop amidst the Jose Mourinho news. More of that on this week's podcast, which is that noise you muted at the top of the page and you can find here.
Half an hour passed, and the three members of Team TSZ were still staring at a big screen on the wall with no changes made to their FPL team. The whole room felt like a shrug. Tim suggested that they simply roll the transfer, which seemed a relief to all involved but they eventually decided that Mendy > Soyuncu would be the transfer, barring any major developments pre-deadline. So, dear readers, here's my humble apology on behalf of Team TSZ for wasting your time, my time and also Ash, our excellent Sports Analyst's time. He had made the long journey up to Manchester especially to see what office life was like. I imagine he was underwhelmed.
Our final team will be published here on Friday afternoon.
Thanks for reading, and good luck in the gameweek!
For the rest of our FPL content, visit our Fantasy section!