FPL Gameweek 12 – Team TSZ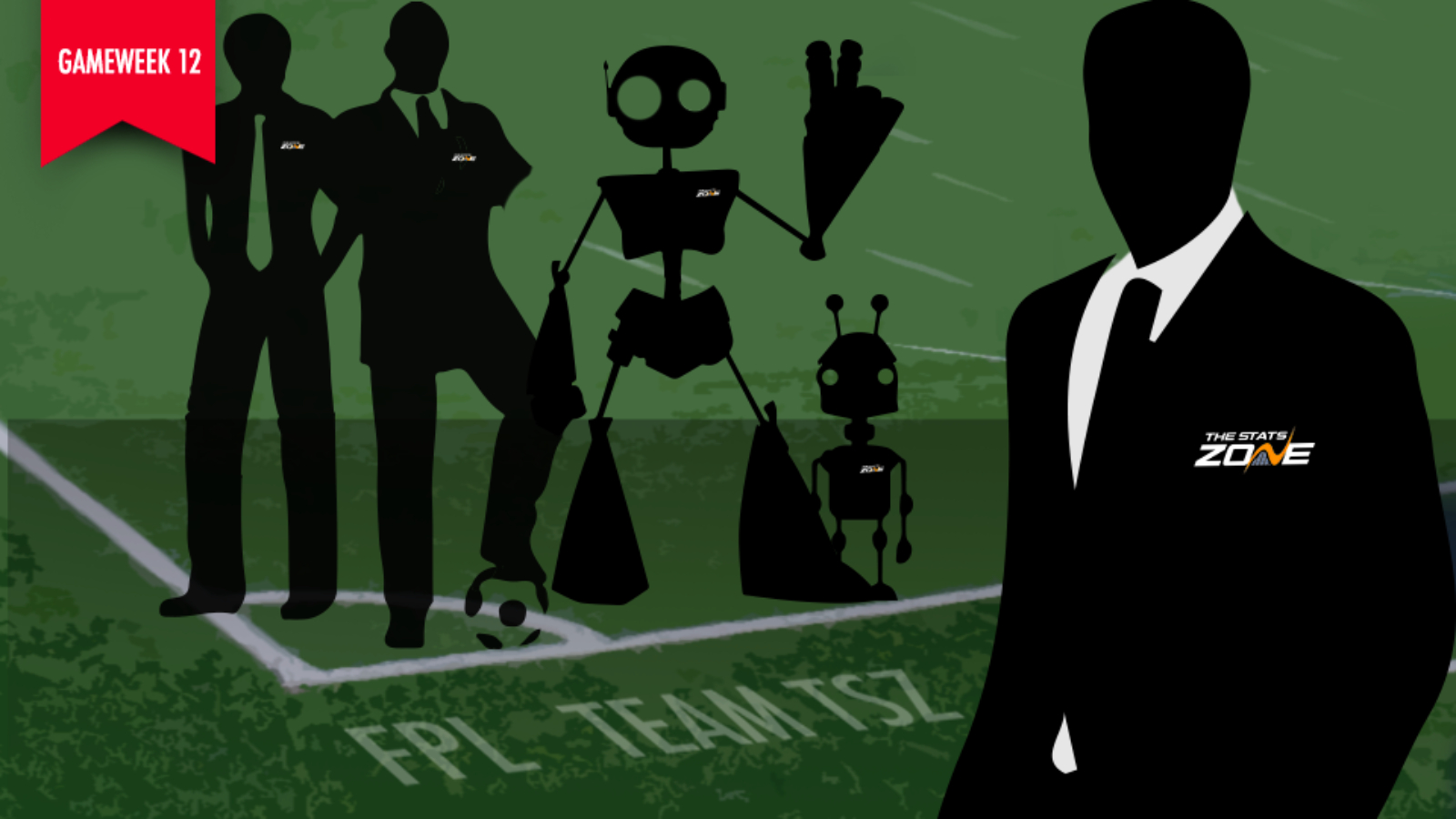 Once again this season, we've banded together to form our very own FPL site team, otherwise known as 'Team TSZ'. After finishing 1390 in the world in our debut campaign, how will we handle the pressure in the 'difficult second season'?
Decisions will be made collectively after polite discussion. 'Team TSZ' consists of:
Rob Esteva – Managing Director
Trystan Pugh – Sports Content Manager
Tim Blackwell – Chief Sports Data Scientist
HOW DID WE GET ON IN GAMEWEEK 11?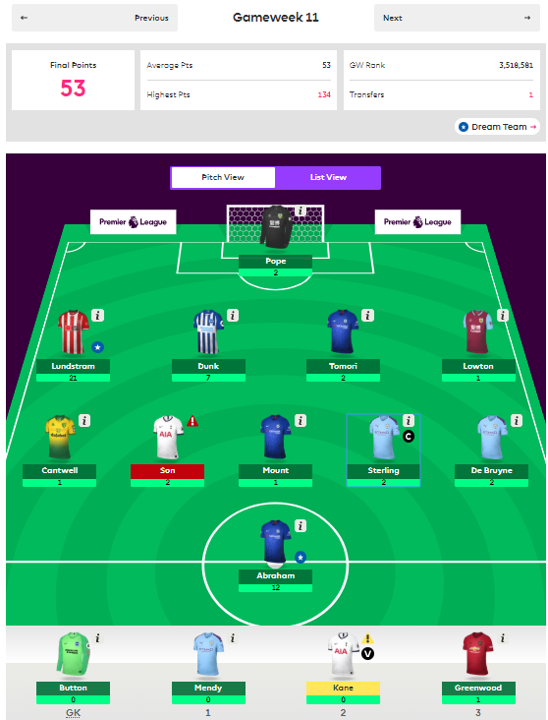 GW points: 53
GW average: 53
GW rank: 3,518,581
Overall rank: 718,805 (▼)
Gameweek 11 offered up many hidden gems for plenty of lesser-owned FPL assets, and one massive obvious gem in the form of John Lundstram. His surname even sounds like a precious adjective. If only there was a handy website with a plethora of interesting, engaging content on the Fantasy Premier League! One that might offer up Lundstram as an excellent differential captain option? Well, in my research for this article I happened across a great source called The Stats Zone who had quite rightly outlined the not-defender as this week's most cunning armband.
"That said, John Lundstram (£4.7m) is an interesting captaincy option ahead of Gameweek 11. Classed as a defender but playing as a box-to-box midfielder, Lundstram offers the dual threat of four points for a clean sheet coupled with attacking returns."
The link to their FPL section is here should you wish to find more quality advice
Two goals and a clean sheet against Burnley, who I consistently forget exist, seems like an excellent season-making call. To my dismay, I later discovered that not one of the members of The Stats Zone or "TSZ" had heeded their words. I tried to make contact but the team declined to comment. On my way out of their office building, I felt a crunching underfoot. Shattered glass was lodged in the soles of my shoes. A few metres away, several laptops lay in ruins, seemingly thrown from the 12th floor. One screen remained intact, its image flickering in a sad way, like a lighthouse in despair. I could just about make out the words "Team TSZ" before it died.
GAMEWEEK 12 TEAM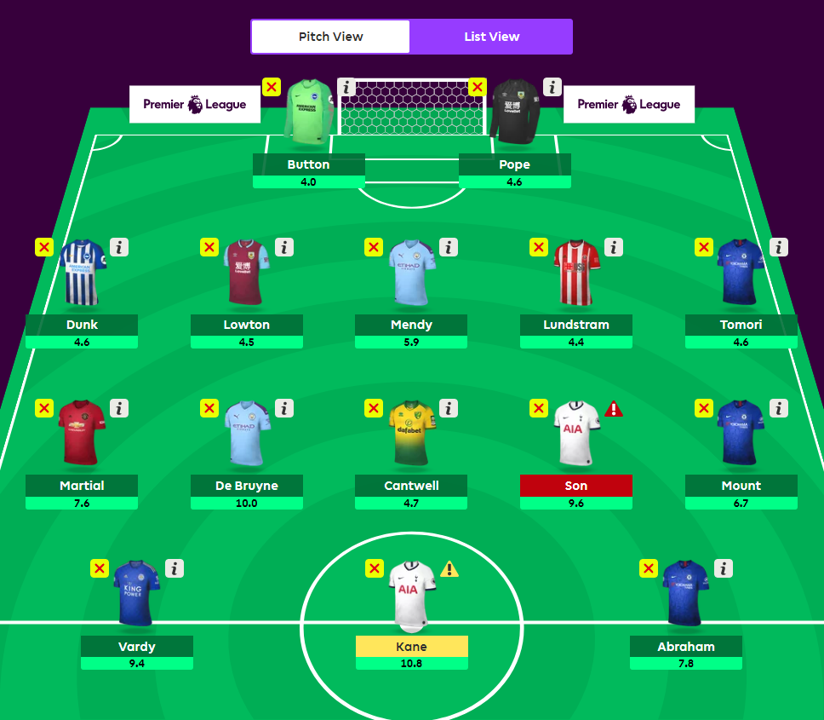 Formation: 3-4-3
Captain: Vardy
Vice-captain: Abraham
Transfers made: 2 (Sterling > Martial / Greenwood > Vardy)
Point deductions: 0
Team TSZ's members are starting to look concerned at the lack of inspiration from their selections. To be fair to Rob, Tim and Trystan, though, who would have thought Pep Guardiola of all people would rotate out a player performing perfectly well just as he was finding some FPL rhythm? Alas, Benjamin Mendy scored the team nil, while the finally dropped Lucas Digne picked up his first attacking return since GW4. I won't make light of the situations surrounding Son's red card (get well soon Andre Gomes) and Harry Kane's illness was one of those you must simply take on the chin. Overall, an absolutely dismal midfield display saved somewhat by the efforts of the aforementioned Lundstram meant that it was time for action when the team met today.
There were two conversations held today for two scenarios, the pivot being the results of Tottenham's appeal on Son's red card. Since then, his ban has been overturned, so I won't put you through Plan B. What I will do, is discuss it at length next week when it turns out to be much better than Plan A.
Plan A

It took approximately 30 seconds for Anthony Martial to be mentioned, though none of us expected Tim to be the culprit. It is worth mentioning here that the last time Tim made an out-of-character suggestion, he was simply calling a bluff and that negatively affected the team for some time. However, as you can see, Martial has found his way into the side for the second time this season after a brief GW3 cameo in which he scored five points - which is roughly what their midfield has scored in total since. The short-term risk might be low in this transfer, as Raheem Sterling makes way for a fixture he famously struggles in, but the long-term effects might be regrettable when the the team suddenly remember that United are s-
omewhat worse than they once were. Because the team cannot stand the sight of more than one red player in their side, we see Mason Greenwood depart for Sir Jamie Vardy of Party, which I think we can all agree is a good move. This is rather irksome to me, as Vardy has been my differential over my colleagues for the season so far and now TSZ and Trystan have brought him in. Just to spite me. Probably because *SPOILER ALERT* I'm winning the Differentials League, which you can hear at the end of our podcast due to come out on Wednesday afternoon.
The long term goal of this double move seems clear in the minds of at least 66.6% of Team TSZ at any one time, though they do tend to wander. After this weekend's blockbusting 0-0 draw between Liverpool and Man City is over with, they will move quickly for a double LFC defence.
FINAL TEAM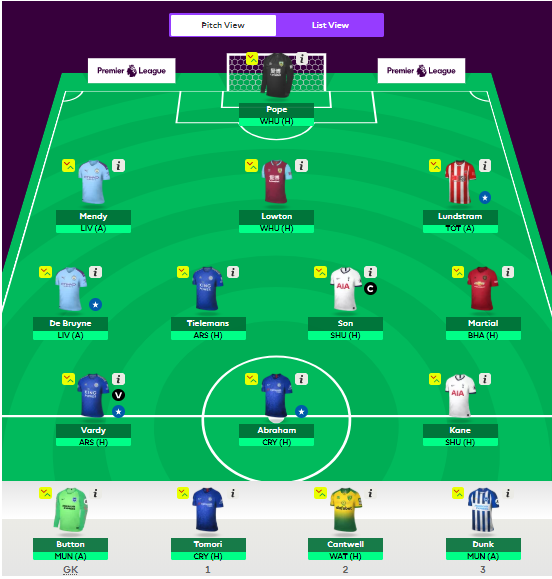 Formation: 3-4-3
Captain: Son
Vice-captain: Vardy
Transfers made: 3 (Sterling > Martial / Mount > Tielemans / Greenwood > Vardy)
Point deductions: -4

Thanks for reading, and good luck in the gameweek!

For the rest of our FPL content, visit our Fantasy section!