FPL Gameweek 1 – Team TSZ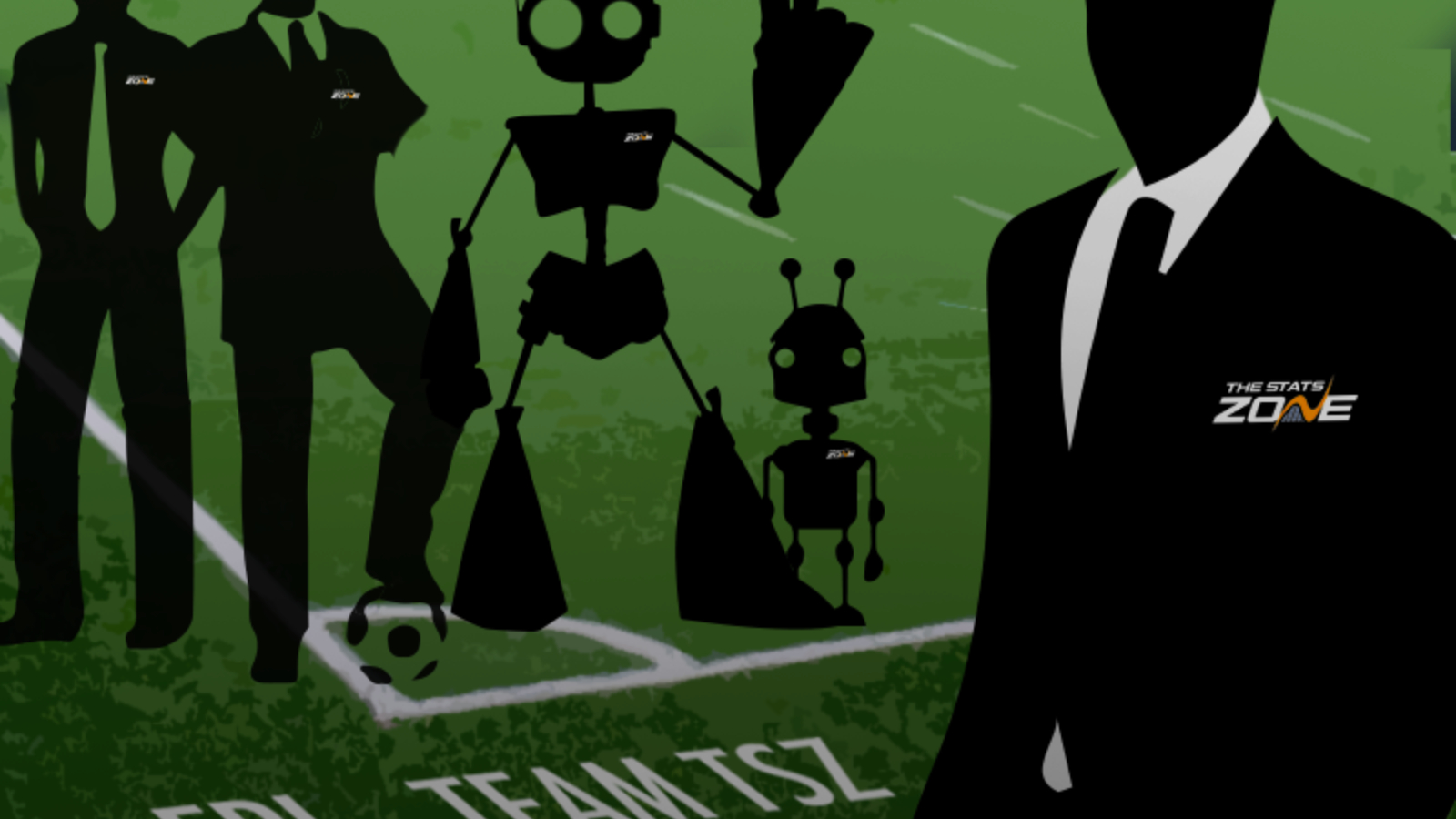 Once again this season, we've banded together to form our very own FPL site team, otherwise known as 'Team TSZ'. After finishing 1390 in the world in our debut campaign, how will we handle the pressure in the 'difficult second season'?

Decisions will be made collectively after polite discussion. 'Team TSZ' consists of:
Rob Esteva – Managing Director
Trystan Pugh – Sports Content Manager
Tim Blackwell – Chief Sports Data Scientist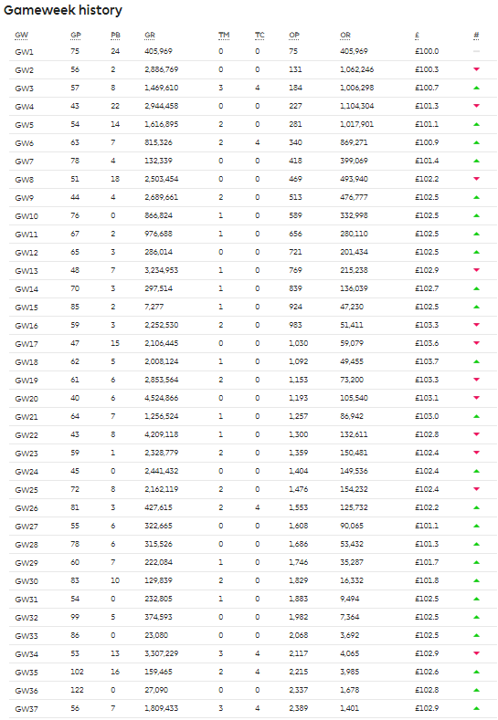 It's missing GW38 but rest assured it was a green arrow!
Hello and welcome back to your favourite weekly article on the subject of frustration, consternation and raging rotations - we're back for a new season of Fantasy Premier League "fun". I have watched first-hand over the last few days as Rob, Trystan and Tim have mutually scowled at each other over the new-look Team TSZ for 2019-20 and I can reveal that they have, at least sort-of, almost definitely, nearly finalised their starting XI for tomorrow night's deadline.

The new squad have massive shoes to fill as, thanks to some sort of coding error and/or miracle, the team soared up the FPL rankings to land rather smugly on 1390 at the close of play. 12 of the last 13 gameweeks were bedecked with green arrows, our chip strategies worked, we simply could do no wrong. So now a new season beckons, and with it the creeping shadow of hubris lays in wait for the first poor decision. This is a game, but a very serious game. This is why the team have reneged on letting me sit on the decision-making side of the desk, as mentioned last year.
GAMEWEEK 1 TEAM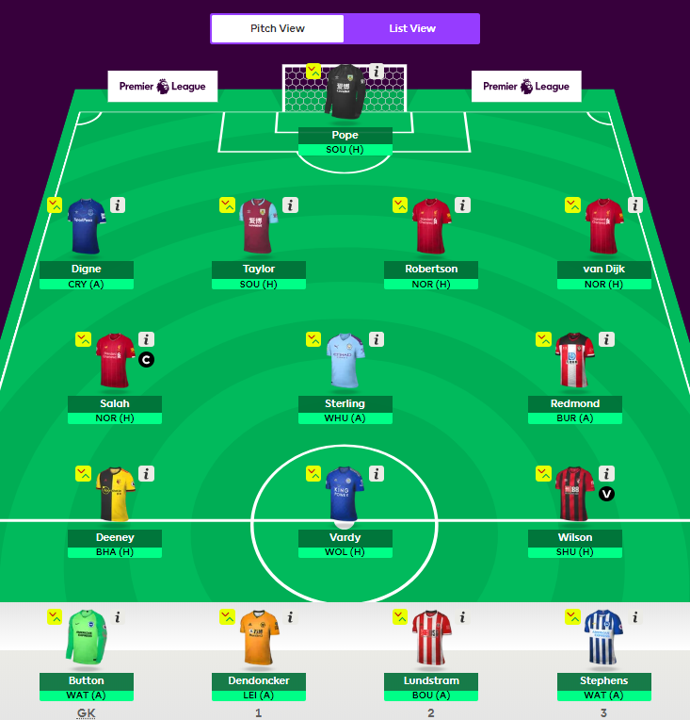 Formation: 4-3-3
Captain: Salah
Vice-captain: Wilson
Before recording of our first podcast of the new season (see above for a snippet), the team spent around 40 minutes creating a team full of last season's top-scorers; the likes of Virgil van Dijk, Andy Robertson, Raheem Sterling and Mo Salah for example, along with Lucas Digne who is only capable of scoring 19 points or receiving a red card. This was a preliminary 40 minutes, as with a decent night's sleep ruined for all three TSZ members, they returned to work this morning full of ideas. Rob liked the look of Chelsea centre-backs Zouma and Christensen on the back of David Luiz's departure news. Trystan wanted to swap out the premium forward (Aubameyang) for three mid-price options. Tim had spent approximately five hours calculating the optimum budget to spend per position. I got my eight hours in, and am rather glad not to be involved after all.
Therefore the second Team TSZ meeting, 24 hours after the first, commenced. Auba was swapped out for Leicester's penalty taker Jamie VARdy and the team had an extra £2m to play with. Troy Deeney, Ross Barkley and Newcastle's new striker Joelinton were all name-dropped while Tim single-handedly began construction on his annual David Silva bandwagon, with Rob and Trystan quite fantastically apathetic. In fact, apart from the obvious Raheem Sterling, Man City players offer more questions than answer ahead of a weird game away at West Ham on Saturday. 12:30pm against former manager Manuel Pellegrini's new-look squad is just the kind of fixture that strikes fear into the hearts of accumulators up and down the country. The sceptical members of TSZ would have been comfortable with Bernardo Silva, but that extra £0.5m could not be found.
A maelstrom of mid-priced midfielders and forwards ensued, too many to name, although when I returned from ironing all ten of my shirts the guys were discussing Diogo Jota, and when I completed my tax returns I checked back to hear the names "Isaac Hayden" and "Roberto Peyrera". Eventually, I sensed the team reaching a natural conclusion, so bid farewell to my grandmother on the phone and returned to find Southampton's Nathan Redmond sitting smartly in midfield.
"Let's just leave it" said Tim.
Mo Salah is captained for the Liverpool vs Norwich season opener tomorrow night, with big shoes to fill after recent meetings between these clubs have seen Luis Suarez score 79 goals in five games against them. Nine of those from outside the stadium. Callum Wilson is VC, hoping to play well enough to get linked with Chelsea again in two years time when their transfer embargo lifts.
We have our team.
Thanks for reading, and good luck in the gameweek!
For the rest of our FPL content, visit our Fantasy section!