FPL Double Gameweek 26 – Team TSZ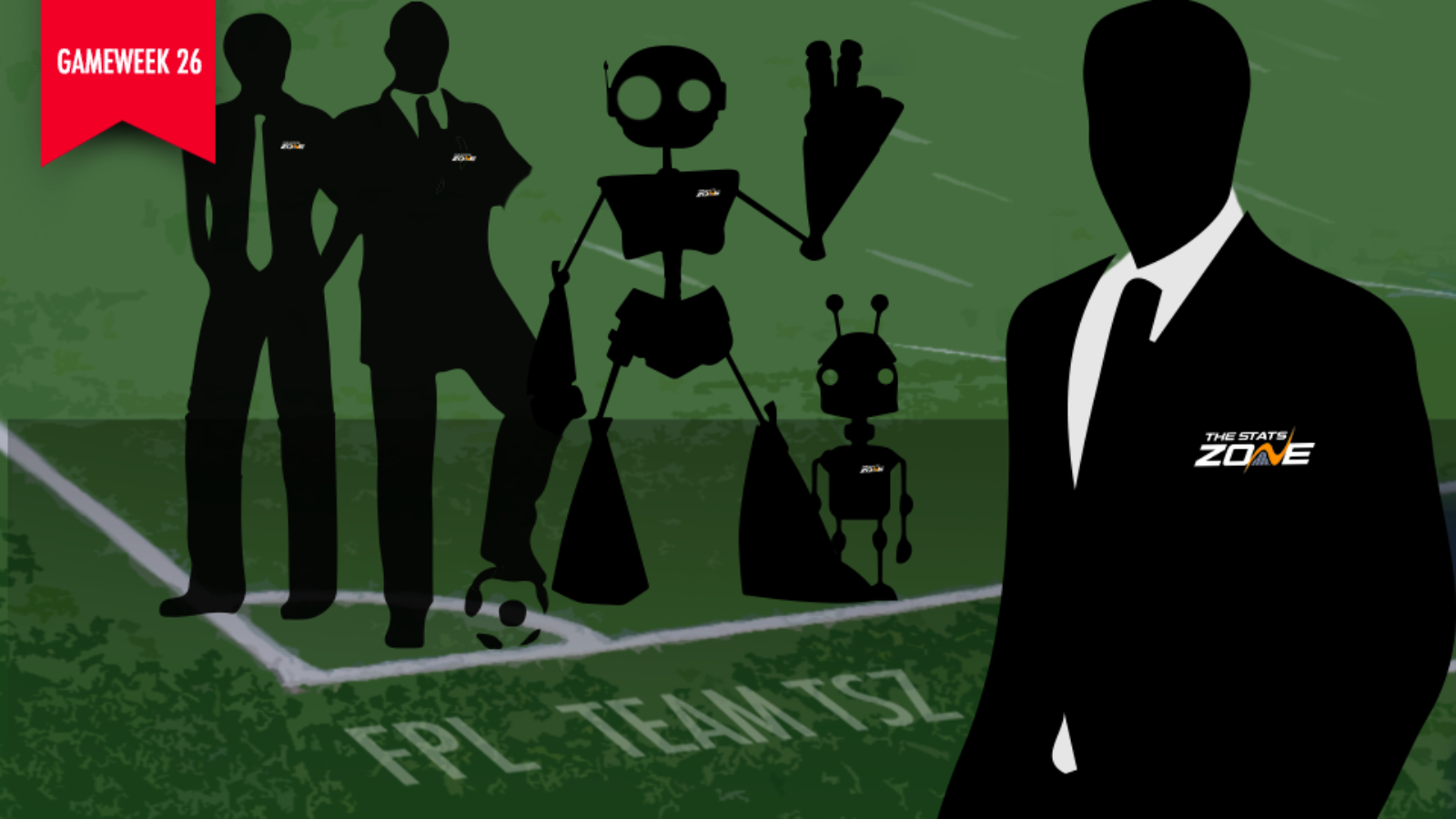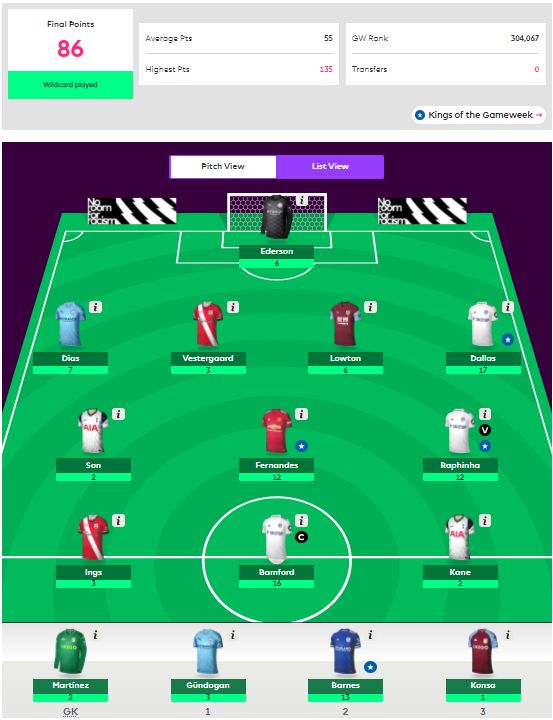 GW points: 86
GW average: 55
GW rank: 304,067
Overall rank: 342,382 (▲)
Team TSZ's wildcard worked well this week with wonderful hauls from a whole host of players in white, including would-be wing-back Stuart Dallas. Try saying that five times as fast as you can. Taking the plunge on an earlier-than-planned wildcard seems to have paid off handsomely for Alex and Trystan, just like in the 2018-19 season when we were in the top 1500 worldwide. Have we mentioned that before? It could have been so much better but Barnes was benched by some blatant betrayal of the brain. Often in print journalism a writer is encouraged to use alliteration when there is very little to say. I am utilising that here.
Jannik Vestergaard looks to be the only poor decision to come in to TSZ Station (The Station Zone) on the wildcard express and is likely on his way out again just as quickly, with barely enough time to pick up a Diet Coke and a voucher for something he doesn't want from WHSmith.
That glut of Leeds goals saw the guys grab a green arrow, grinning as they go galloping into Double Gameweek 26.
DOUBLE GAMEWEEK 26 TEAM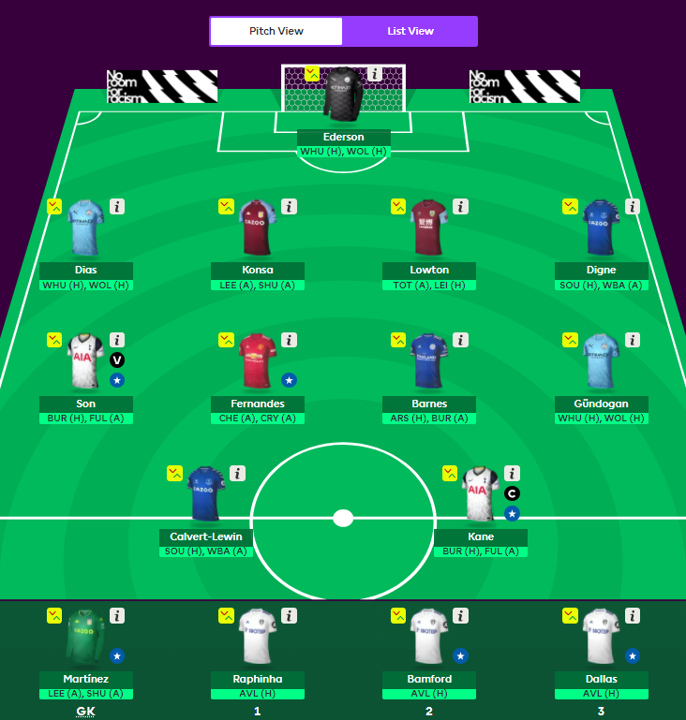 Formation: Bench Boost
Captain: Kane
Vice-captain: Son
Transfers made: 2 (Ings > Calvert-Lewin / Vestergaard > Digne)
Point deductions: -4
As with every other FPL manager in the known world, Southampton's Danny Ings was immediately switched out from a dreadfully disappointing double gameweek for Dominic Calvert-Lewin, who scored more points in 28 minutes last weekend than Ings did in two games. For those of us who swapped the two back around this week, it makes you just want to swear viciously, loud and hard forever.
With that transfer done, Alex made it know that he'd "take a hit for Digne" which I found to be quite a drastic expression of affection for the Everton wing-back. Trystan agreed, and the Frenchman came into the side for the aforementioned Jannik Vestergaard faster than you could say any of the three naff tongue-twisters I bothered to write in the text above. Today's pronunciation of Lucas Digne's surname was: deen-yay.
With an uncharacteristically quick -4 out of the way, the squad was looking very good. Worryingly good, I must say. With the plan to Bench Boost this week already decided in last week's marathon meeting, there was no need for Trystan or Alex to labour over which player to get wrong this time around or which likely goalscorer they might want to accidentally put in the second bench spot.
Already struggling with a small migraine brought on from the indecision surrounding my own DGW26 captain, it was really helpful for Trystan and Alex to list at least four of the candidates and then ask me to make their final decision. Trystan wanted Harry Kane against Burnley and Fulham, backed up by the fact he is yet to blank against a team in the bottom eight of the Premier League this season. Alex wanted Heung-min Son, a well-documented Burnley hunter, who ran past at least 28 players in claret and blue last season before scoring the goal of his life. I'd like to captain both of them alongside Bruno Fernandes, Mo Salah, Dominic Calvert-Lewin and Ilkay Gundogan or none at all and so retired from my duties as tiebreaker to have a small cry off camera.
When I returned, the captain armband was on the dependable sleeve of Harry Kane. The Bench Boost was on. The team looked good.
"This could be 130 points" I said, slightly teasing.
"Oh at least!" said Trystan. Why would he say that? Alex, head in hands, could not believe his ears.
Thanks for reading, and good luck in the gameweek!
For the rest of our FPL content, visit our Fantasy section!