February 12, 2021 3:41 PM

Adam Evans
FPL Double Gameweek 24 – Team TSZ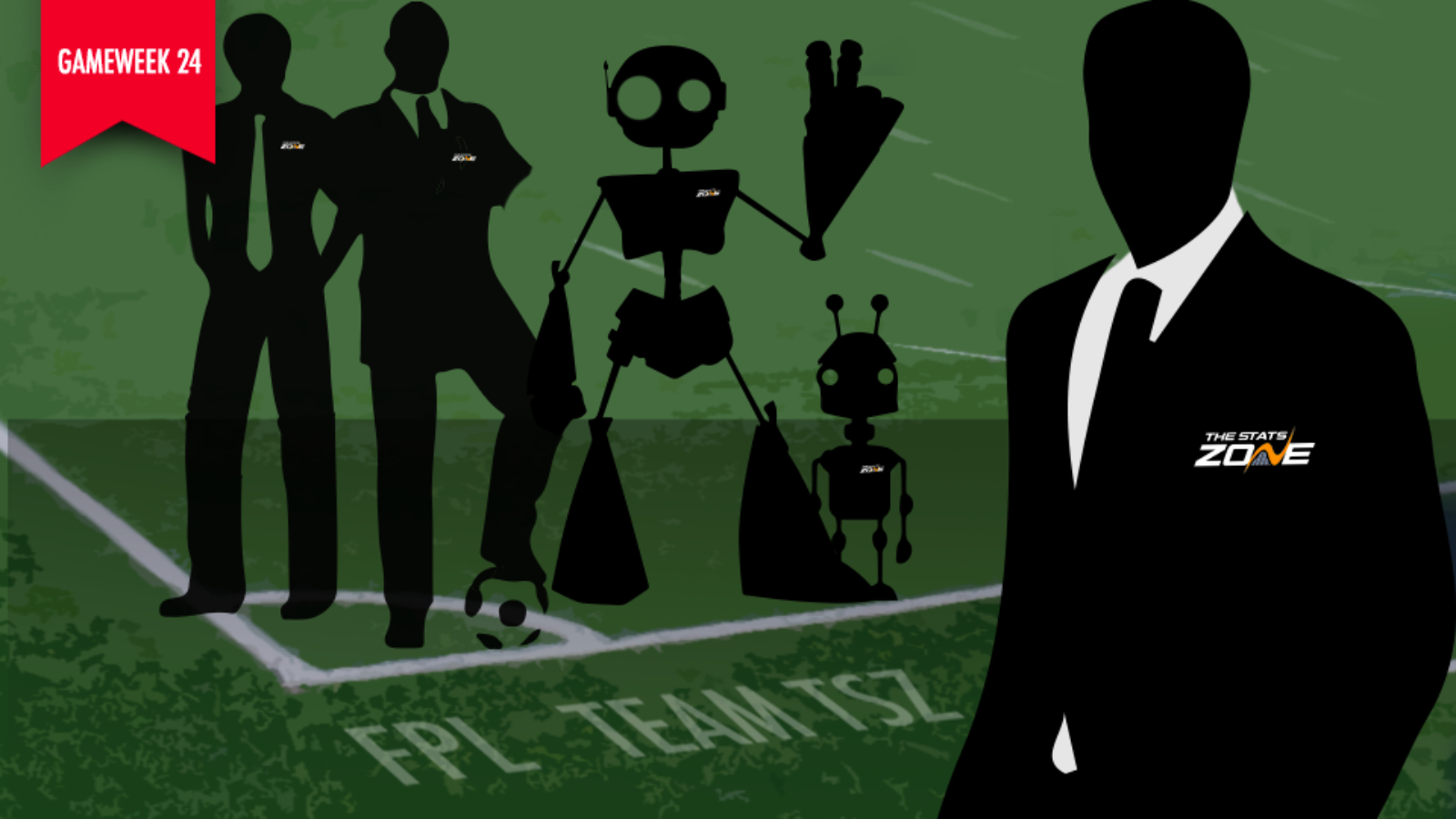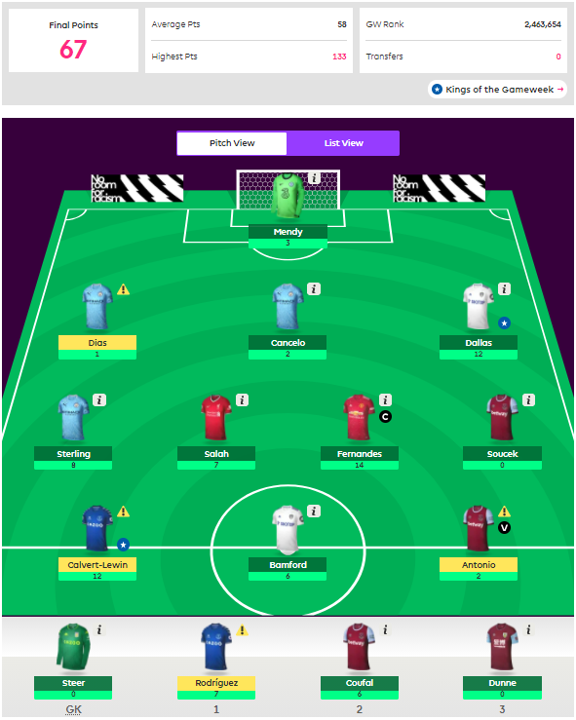 GW points: 67
GW average: 58
GW rank: 2,463,654
Overall rank: 299,354 (▼)
The hilarity of a one-two punch for Team TSZ saw Tomas Soucek play and score zero points after he, almost certainly accidentally, poked his lanky limb into Aleksandar Mitrovic's eye socket for a red card against Fulham and benched James Rodriguez starred in a 3-3 thriller against Man Utd. Those players were swapped before Gameweek 23 after the Toffees playmaker was rested and West Ham's top-scorer grabbed nine points from the comfort of his seat in Team TSZ's second bench spot. In the past two gameweeks, Trystan and Alex have actively made substitution choices that have cost them 22 points overall, though it could have been a lot worse. A strong performance from Stuart Dallas and DCL saved them from utter disaster.
Soucek had his card rescinded, though that means nothing in FPL, to cause likely selection headaches again for Double Gameweek 24 alongside a yellow flag for James Rodriguez just at the moment the guys had brought him in for. Two red arrows in two now for Team TSZ sees them just squeezed inside the top 300k for what looks set to be a pivotal DGW24.
DOUBLE GAMEWEEK 24 TEAM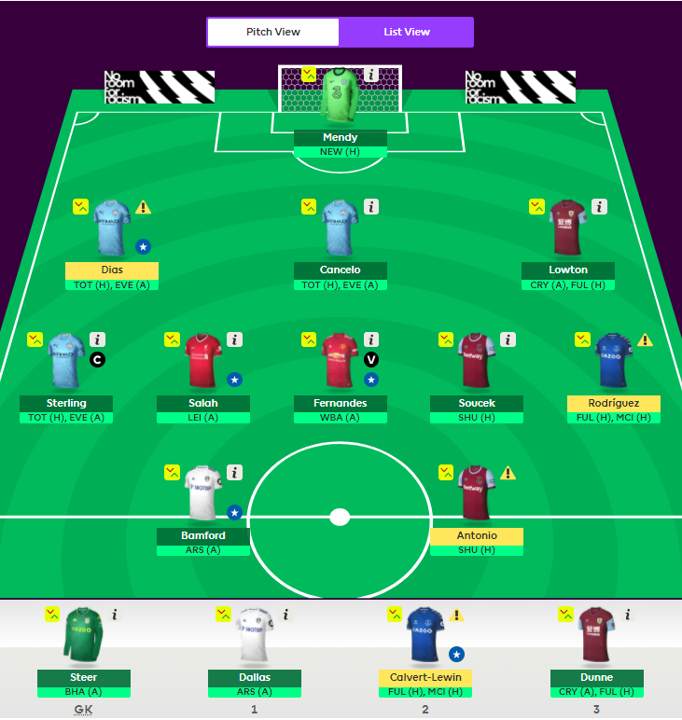 Formation: 3-5-2
Captain: Sterling
Vice-captain: Bruno Fernandes
Transfers made: 1 (Coufal > Lowton)
Point deductions: 0
As last week's main decision was whether to play Raheem Sterling or James Rodriruez, Trystan started this week's Skype call by saying it was "six of one and half-" before halting his inaccurate idiom. It was actually seven of one and eight of the other, and that kind of precision is why Trystan's Mastermind FC are at the top of our staff league. The mood was that of frustration to kick things off as we were greeted with the unwelcome sight of several yellow flags, just like the Kansas City Chiefs last weekend.
There is always the foreboding sense that double gameweeks could be poisoned chalice, and this time is no different. Dominic Calvert-Lewin has been ruled out of this weekend's match with Fulham, leaving a possible match at home to high-flying Man City next Wednesday a bit of a gamble. The news on the street is that Ruben Dias has trained and could be ok for his double but as the only City player not yet rested in the Premier League, can we all truly say we think the Portuguese will spin the full 180 mins on Pep Guardiola's roulette wheel? Questionable Michail Antonio starts against bottom-of-the-league Sheffield Utd and the jury is also out on James Rodriguez but he starts this DGW24 with few options for Trystan and Alex to renege on their original plan.
The desperation was clear in Alex's voice as he suggested James Tarkowski was "due a goal". Those famous three last words. Can you say defenders are due a goal? That is not really their job, is it? Still, Burnley's double fixtures away to Crystal Palace and at home to Fulham could well be due a few clean sheets but, alas, Team TSZ have very few pennies left with which to play. Vladimir Coufal, playing the side with the least goals scored this season, is the man sacrificed for Alex "Due a Goal" Sarwar's predictions, though not for the too-expensive Tarkowski. No goals and assists Matt Lowton comes in in his stead. I think we can safely say that Matt Lowton is not due a goal, so why have the team persisted? If Burnley do not take at least one clean sheet from either of these fixtures, this seems a desperate move. The W word was used once this week (wildcard, the other W word is used every week) which means things are getting tense for the team and this looks a little make or break in DGW24.
DCL is benched alongside Stuart Dallas (due a goal??) and double-gameweeker Jimmy Dunne which, as of the return of these TSZ reports, is still the best transfer the guys have made. Raheem Sterling gets the captain's armband with two cracks at the whip to best Bruno Fernandes vs a porous West Brom. Sterling will inevitably get rested for one of these fixtures and in a week's time I'll be writing about Fernandes' two goals and an assist against the Baggies. See you there!
Thanks for reading, and good luck in the gameweek!
For the rest of our FPL content, visit our Fantasy section!