FPL Blank Gameweek 33 – Team TSZ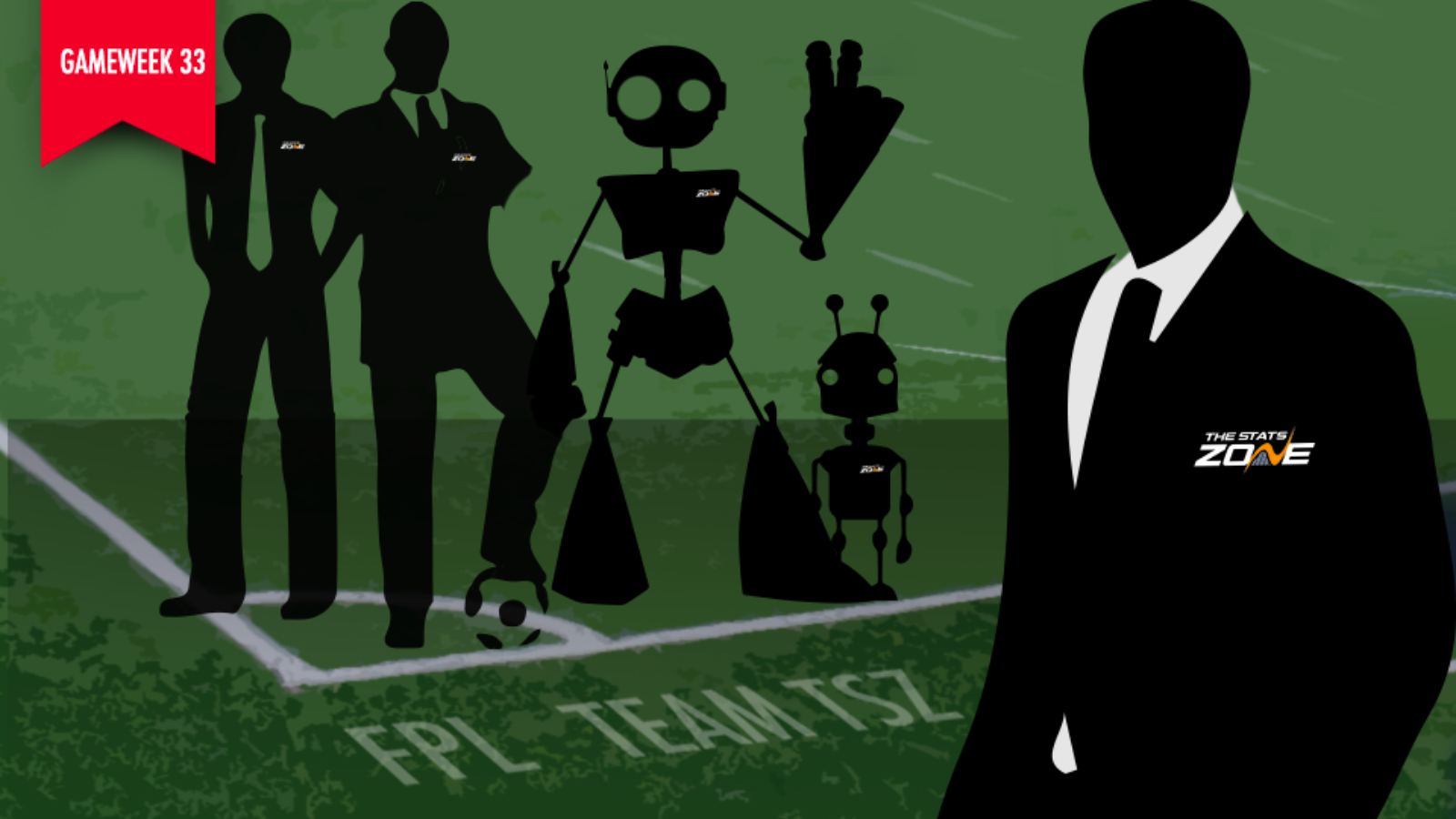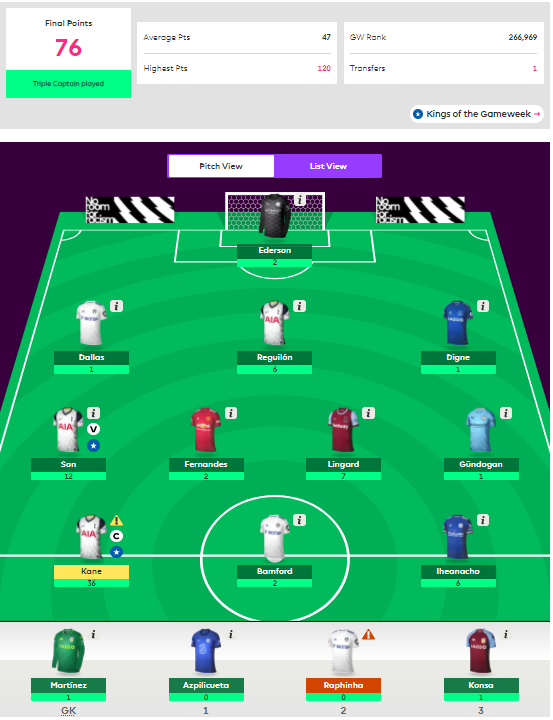 GW points: 76
GW average: 47
GW rank: 266,969
Overall rank: 144,519 (▲)
Team TSZ collected a healthy 76 points in Double Gameweek 32 thanks to Triple Captain Kane, though what could have been if he had been fit for the second match against Southampton? With the departure of Jose Mourinho and something about a Special European League thing going on throughout the last week or so, it was hard to focus on the football but Trystan and Alex were pleased to see another green arrow take them into the top 150k. It will be hard to break that top 100k with six gameweeks to go but the guys should be proud to have picked the right goalkeeper for the first time this season for a grand total of one additional point.
Speaking of the European Super League (Rest In Pieces), I must use this opportunity to congratulate myself for winning the inaugural FESL (Fantasy European Super League) with a total of 0 points. As "Adam", my team started and finished at the top of the all-new fantasy league for a grand total of two days before the game was pulled. My heart-felt thanks goes to the alphabet for all its help in securing the win and my heart-felt congratulations goes to all the people worldwide who said no to the 12 Hungry Men behind the ESL coup. Let's keep that particular scenario a fantasy for good.
BLANK GAMEWEEK 33 TEAM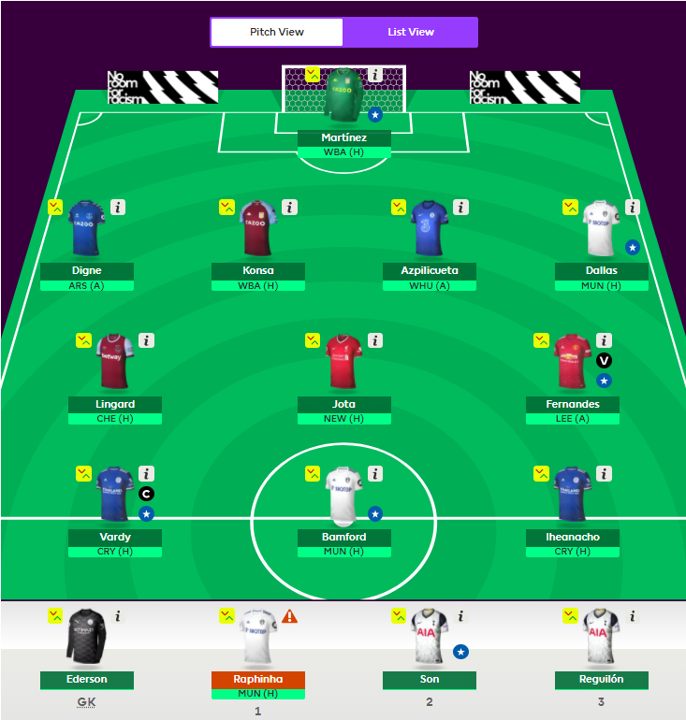 Formation: 4-3-3
Captain: Vardy
Vice-captain: Kane
Transfers made: 2 (Gundogan > Jota / Kane > Vardy)
Point deductions: -4
It was apparent that there would be at least two transfers needed for Team TSZ this Blank Gameweek 33 as, after such careful planning leading up to last week, the last-minute inclusion of Sergio Reguilon meant one less sub (Lewis Dunk) was available to play this weekend. With Raphinha not training, the midfield looked like needing serious surgery to continue the team's good work towards the top 100k. Trystan's first motion was for Reguilon to be immediately transferred away into the "forget we ever did it" pile in favour of in-form Trent Alexander-Arnold, who might as well shout "Are you watching, Gareth?" every time he leaves the field.
The "forget we ever did it" pile is massive, by the way, and also contains The Stats Zone's short-lived day-by-day coverage of Love Island, 2019.
Highlighting TAA's good recent work only empowered Alex's habitual riposte response. He suggested that James Maddison should be the England player Team TSZ takes on this week, having posted an almost full match against West Brom on Thursday night. Maddison, like a surely nailed-on Jesse Lingard before him Alex argued, is another player hoping to get into Gareth Southgate's good books ahead of the Euros which are somehow only seven weeks away. Trystan countered Maddison with another England hopeful Mason Greenwood who actually is in form, unlike the injury-stricken Leicester playmaker. This went on for some time so I stared into space for a while, eating some olives I got from the reduced aisle like a bored Ancient Greek.
I tuned back in when Alex suggested taking a -8 to fit in Trent Alexander-Arnold, James Maddison and Mason Greenwood, hoping the guys had lost their sense so my personal team could make ground on them. Trystan, though, characteristically called for the kind of calm that sees his "Mastermind FC" side currently inside the top 10k and counting. It appeared Reguilon would have to stay as only a -4 could be stomached at this crucial juncture and the midfield needed upheaving.
Instead of Maddison and Greenwood, why not swap out an injured Harry Kane for Jamie Vardy, known for his streaks of good form, and gamble on Diogo Jota after the Portuguese missed training on Thursday? Alex "liked it" with his apprehensive voice on. After doubting Jurgen Klopp's statement that the forward was fine to play Newcastle, Alex checked Jota's Instagram for clues. As if none of the countless sports journalists worldwide had thought of that. As if Jota had posted a selfie in his full kit with the caption "ready for my full 90 mins on Saturday!" and no-one had noticed.
It was a long one this week so thank you for staying this long to find out that Jamie Vardy is captain and Bruno Fernandes is vice. Trent Alexander-Arnold, James Maddison and Mason Greenwood look set to have an excellent gameweek.
Thanks for reading, and good luck in the gameweek!
For the rest of our FPL content, visit our Fantasy section!