FPL Blank Gameweek 29 – Team TSZ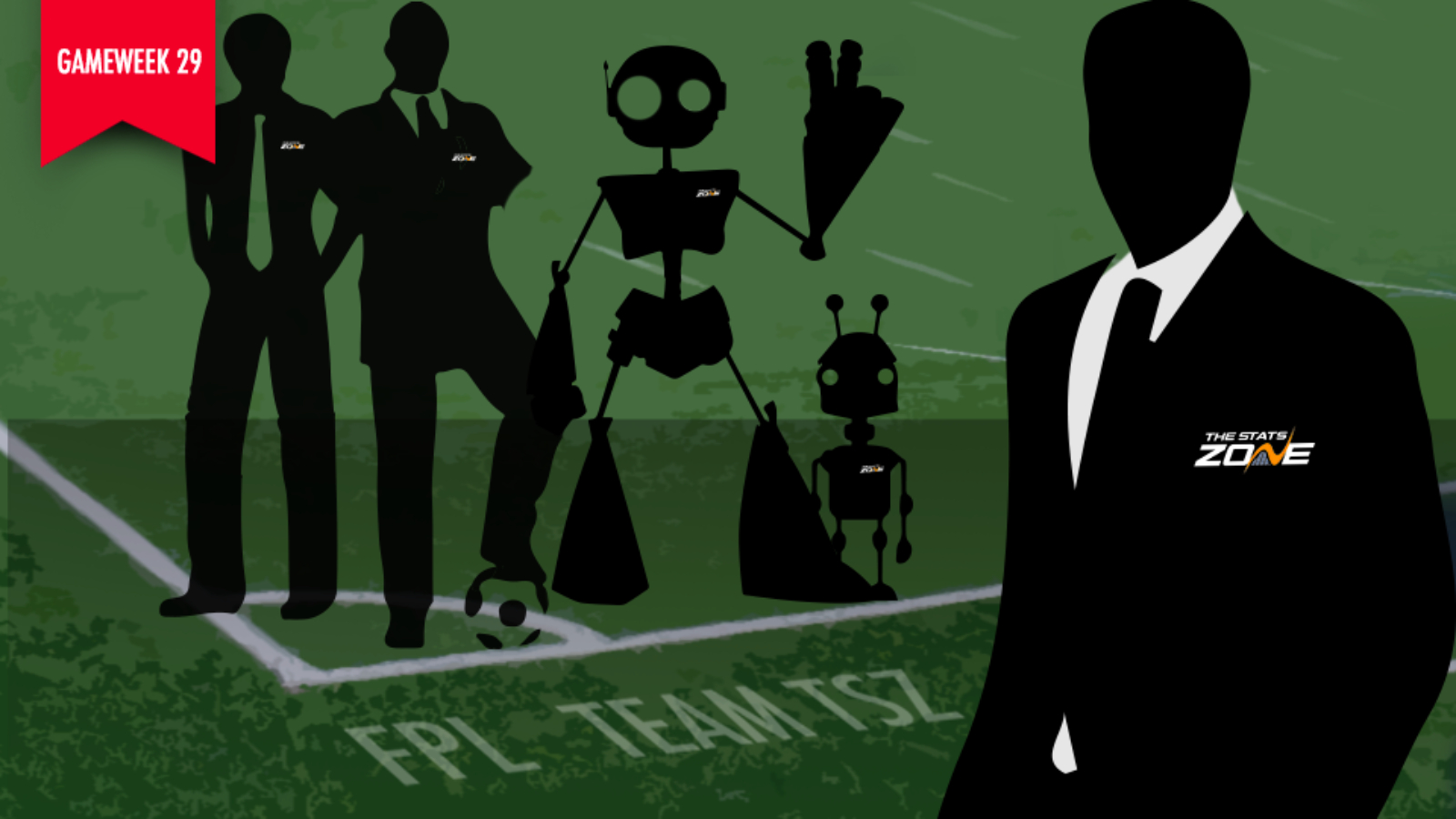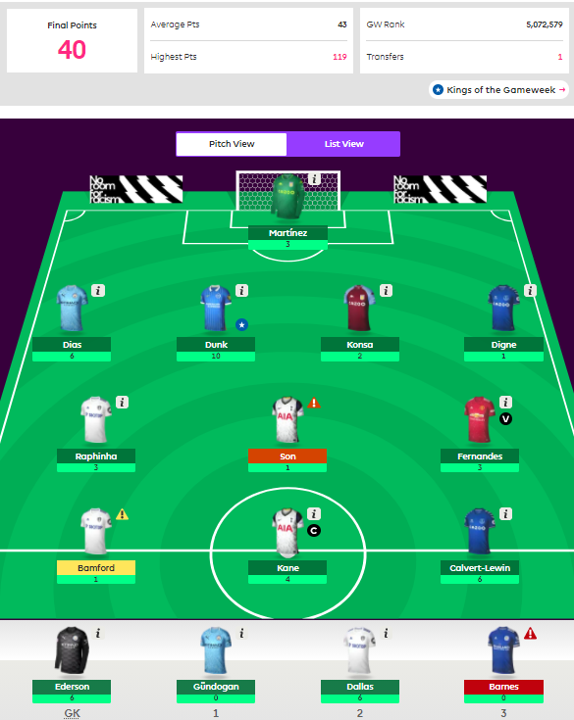 GW points: 40
GW average: 43
GW rank: 5,072,579
Overall rank: 266,641 (▼)
Before I take you through this week's Team TSZ permutations I have a whole-hearted apology to make to our very own Alex "due a goal" Sarwar. Alex, I'm sorry I ever doubted you or your ability to know when a defender is due a goal. Furthermore, I am sorry to the members of the DGDS (Due a Goal Defenders Society) for denying their existence. I am but a lowly scribe and a cynical one at that.
Points-wise, thank the FPL god (The Holy Lundstram) for Lewis Dunk's due goal last weekend that saved the blushes of Alex and Trystan's sorry team. Brighton's talismanic captain looks to be leading the charge to safety on the south coast and is very much part of Team TSZ's masterplan to field (close to) a full starting XI for Blank Gameweek 29. Gameweek 28 was a truly terrible ordeal for most FPL managers. John Stones continues to annoy as he makes up for being rested every other game with a customary toe-punt (get him in the DGDS!) and Alex and Trystan continued their run of picking the wrong keeper between Ederson and Emiliano Martinez. This is exactly why I choose the well-travelled David Button Method. Limiting yourself to just one goalkeeper a week takes a lot of the screaming out of the weekend, I find.
BLANK GAMEWEEK 29 TEAM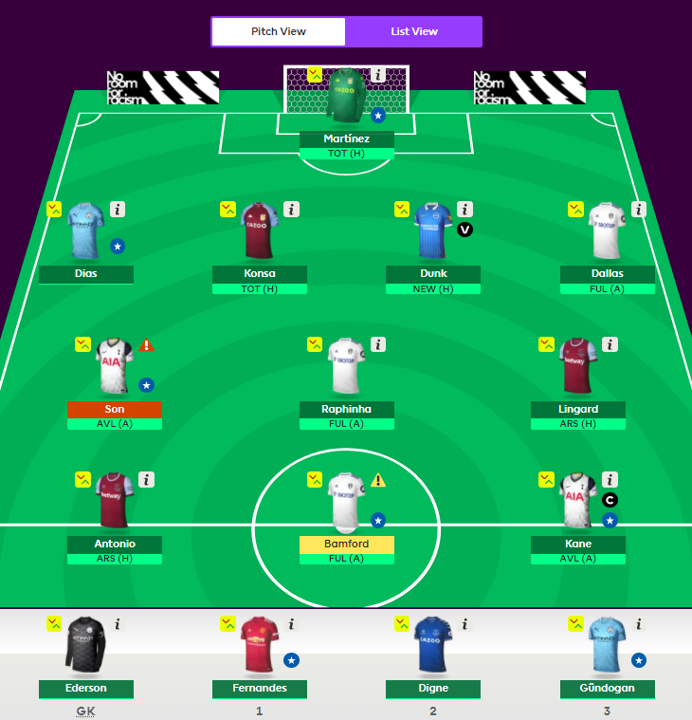 Formation: 4-3-3
Captain: Kane
Vice-captain: Dunk
Transfers made: 2 (Barnes > Lingard / Calvert-Lewin > Antonio)
Point deductions: 0
There was a lot of huffing going on as I arrived late to this morning to the weekly Skype call, or what I now call "lunch", as in what Trystan has deemed "the least inspiring gameweek in FPL history". Team TSZ were finally able to count the pieces to their BGW29 masterplan. Although, much like the travesty that was DGW24, or the travesty that was DGW26 etcetera etcetera, they faced a selection of yellow flags, orange flags, red flags and underperformers. Harvey Barnes was definitely out, Heung-Min Son was almost certainly out (more insider gossip from Alex's sources suggest Spurs will keep him away to avoid sending the South Korean to international duty) and Patrick Bamford probably fit to face Fulham this evening. Please excuse the following announcement for the benefit of our Managing Director:
ROB, THE DEADLINE IS TONIGHT AT 6:30PM!
Alex was quick to suggest Jesse Lingard as a suitable swap for Leicester's Barnes, totally trying to ignore the irony of his former ire for the enigmatic Utd man. Trystan and I did not let that slip. JLingz came straight into the Team TSZ squad which I am sure he had his fingers crossed for after re-joining the England set-up earlier this week. The need to cover West Ham chasing Europe against an Arsenal side chasing anywhere just outside of Europa League qualification (please God/Lundstram! Anything but the Europa League!) seems a strong one for most FPL managers this weekend with the next of a seemingly never-ending series of "London derbies" looking like a goal-fest. With this in mind, the guys preferred bringing Antonio in for DCL rather than a West Ham defender for Lucas Digne, who was pronounced all three known ways today: Deen-yay, Deen-yer, Deen.
Finally, and despite much sighing and shrugging, Harry Kane was captained. Because everyone else will be doing so. Everyone. Even though Spurs out-spurred themselves on Thursday night away at Dinamo Zagreb. Even though Kane has blanked in his last four away league games.
Alex concluded the call by claiming Ezri Konsa is due a goal. I have no further comments to make at this time.
Thanks for reading, and good luck in the gameweek!
For the rest of our FPL content, visit our Fantasy section!