FPL Gameweek 9 – Projections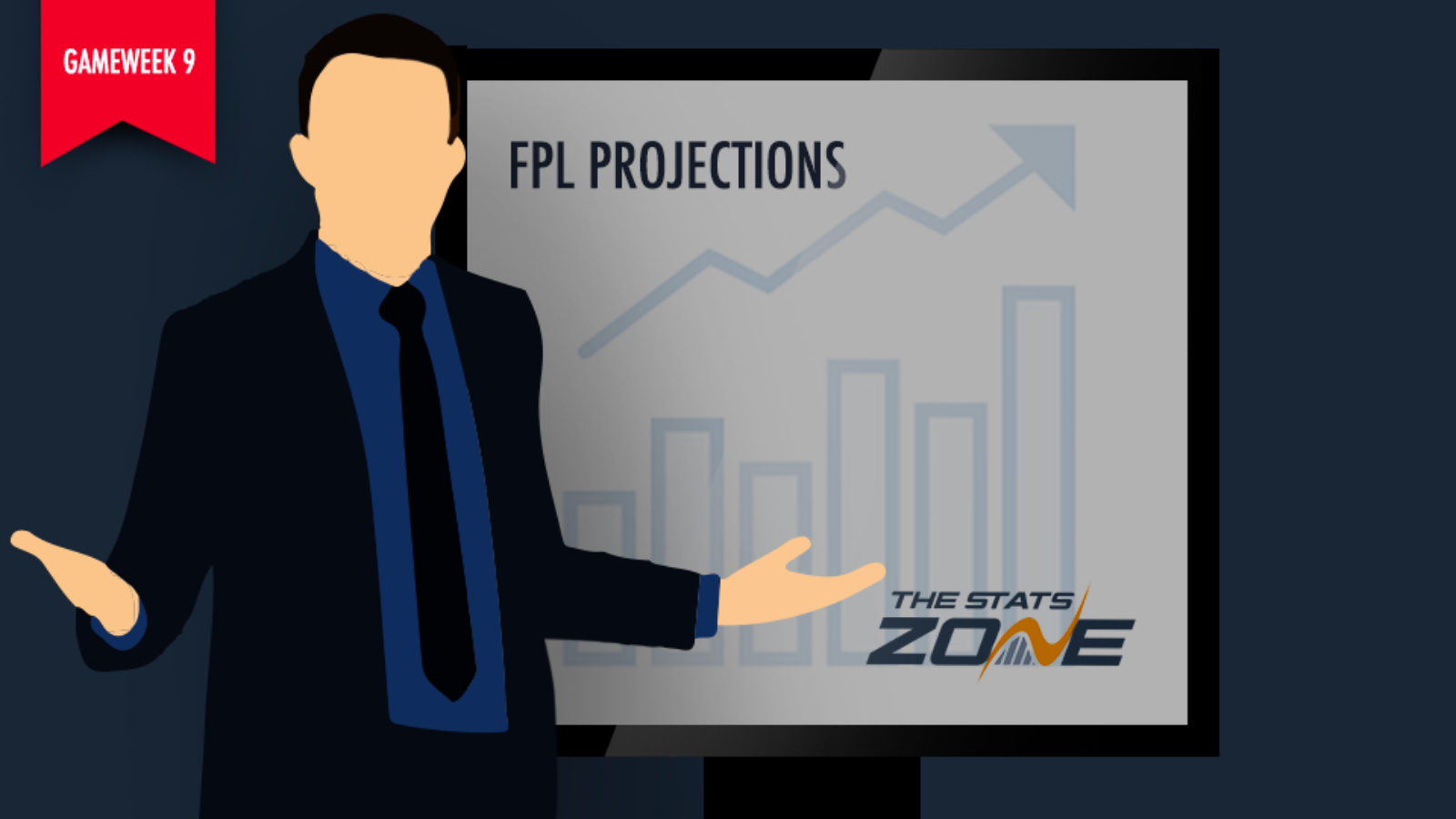 A universally bad gameweek for FPL managers also claimed the optimum squad as a victim. Totalling just 35 points, it was remarkably just one point below the average score. Whilst the likes of Adama Traore (£5.0m), Conor Hourihane (£5.7m), Aaron Connolly (£4.5m) and Jetro Willems (£4.5m) brought in hauls, this team saw Teemu Pukki (£7.1m) blank at home to Aston Villa and captain Sergio Aguero (£12.2m) do nothing in a shock 2-0 home defeat for Man City. Simultaneously, the Argentine, Callum Wilson (£7.9m) and Pierre-Emerick Aubameyang (£11.1m) lost their 100% start for attacking returns each game.

#GW8 anytime scorers Kun: 62%❌ Auba: 60%❌ Jesus: 56%❌ Sterling: 56%❌ Kane: 52%❌ Salah: 47%❌ Pukki: 46%❌ Mane: 45%✅ Abraham: 44%✅ Firmino: 41%❌ Mahrez: 41%❌ Haller: 40%✅ Pepe: 40%❌ Rashford: 36%❌ B.Silva: 34%❌ Son: 34%❌ Gray: 32%❌ Vardy: 32%❌ Wesley: 32%✅ #FPL

— FPL Salah (Abdul) (@FPL_Salah) 6 October 2019
💰 Top #FPL players by transfer value gained 📈 🏴󠁧󠁢󠁥󠁮󠁧󠁿 Mount - £0.8m increase 🏴󠁧󠁢󠁥󠁮󠁧󠁿 Abraham - £0.7m 🇫🇮 Pukki - £0.6m 🇧🇪 KDB - £0.5m 🏴󠁧󠁢󠁥󠁮󠁧󠁿 Lundstram - £0.5m 🏴󠁧󠁢󠁥󠁮󠁧󠁿 Cantwell - £0.4m 🏴󠁧󠁢󠁳󠁣󠁴󠁿 McGinn - £0.3m 🇳🇱 Pieters - £0.3m 🇰🇷 Son - £0.3m

— Fantasy Football Secrets 🤫 (@FPLSecrets) 8 October 2019
Elsewhere, a West Ham defensive double-up backfired with the home defeat to Crystal Palace, although Ryan Fredericks (£4.5m) did set up their only goal. Bargain superstar defender John Lundstram (£4.5m) racked up another clean sheet from midfield but is already on three yellow cards for the season. The curious selection of a defender travelling to Liverpool also didn't work, with Ricardo Pereira (£6.2m) unable to score in his third consecutive match. At least, at the other end, Sadio Mane (£11.7m) stepped up and delivered by scoring and assisting for a 12-point performance.
OPTIMUM SQUAD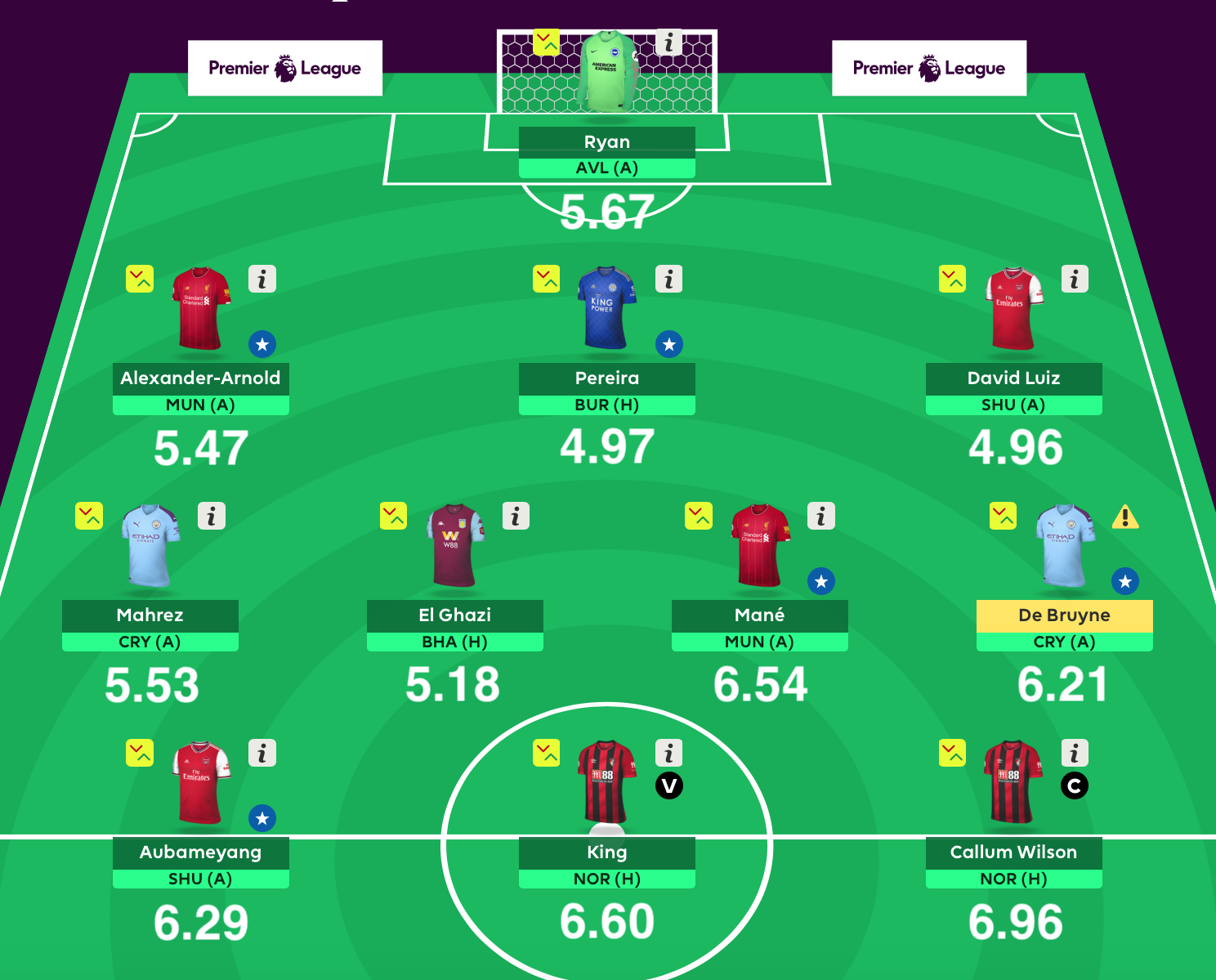 An attack-minded defence is watched from behind by Mathew Ryan (£4.6m), as Brighton aim to follow their impressive 3-0 win over Spurs with a similar result at Aston Villa. The Seagulls are one of eight sides to have kept three clean sheets so far and one reason for this is their solid base of three centre-backs. Trent Alexander-Arnold (£7.2m) still has his own coveted 100% record, making the algorithm's line-up for every gameweek so far. His trip to Old Trafford isn't daunting anymore, with Man Utd looking toothless in their 1-0 defeat at Newcastle.
Pereira may be far more expensive than popular defensive team-mate Caglar Soyuncu (£4.7m) but he has justified the gap with his 40 points exceeding the Turk's 25. Leicester find themselves in fourth despite already meeting four of the 'Big Six', facing the sixth fewest shots and having the second best defence along the way. Saturday's match with Burnley is the start of a good set of fixtures, with Arsenal and David Luiz (£5.8m) having a similarly fantastic run. However, only Norwich and Aston Villa have conceded more shots than Arsenal, so Luiz's inclusion is less to do with facing Sheffield Utd and more about his ability to score, shown by his goal and 15-point haul against Bournemouth.
Top 20 points scorers in last 2 GWs Traore: 19 Willian: 18 D.Luiz: 17 Doherty: 16 El Ghazi: 16 Ings: 16 Wesley: 16 Mane: 15 Patricio: 15 PVA: 15 Boly: 14 Connolly: 14 King: 14 Milner: 14 Pereira: 14 Targett: 14 Vardy: 14 Coady: 13 Hourihane: 13 Kelly: 13 #FPL #imposters

— FPL Salah (Abdul) (@FPL_Salah) 7 October 2019
Two Man City midfielders are selected ahead of their tough trip to Crystal Palace – a side who have only conceded once at home. Kevin De Bruyne (£10.0m) did not drop in price whilst injured, despite losing 700,000 owners in one week. Should he recover from this groin injury, the Belgian is backed to add to the remarkable nine assists achieved in just seven matches. The overall appeal of Riyad Mahrez (£8.7m) probably depends on whether Bernardo Silva (£7.9m) is disciplined by the FA but he will be in the team on merit, after delivering three 10+ points totals. It makes sense that he will play, therefore don't be surprised if Pep Guardiola gets out his rotation roulette wheel. After all, he recently revealed a similar device for disciplining players.
Pep Guardiola introduced a roulette wheel to discipline players. Punishments include helping kitmen, groundsmen, analysts and kitchen staff. Benjamin Mendy has had several stints in the club laundry room. [@SunMartinB] https://t.co/c3i5bqkpdR

— Man City Xtra (@City_Xtra) 13 October 2019
Mane decided it was his turn to out-shine Mo Salah (£12.5m) against Leicester and his ownership has risen to over 26%, with many making the brave sideways switch from one to the other. However, between them, they have only scored once against Man Utd in 11 games. In fact, for all their problems, Ole Gunnar Solskjaer's side have the league's lowest xGC (expected goals conceded) tally with 6.91.
Facing the aforementioned Ryan is Aston Villa's Anwar El Ghazi (£5.5m), who is starting to find his groove in the Premier League. Gameweeks 6-8 have seen three assists and one goal, although he has avoided bonus points on each occasion. Also, his tendency to be substituted saw him play 69 and 63 minutes during the last two.
Shots (last 4 GWs) 🇦🇷 Aguero - 17 🏴󠁧󠁢󠁳󠁣󠁴󠁿 McGinn - 16 🏴󠁧󠁢󠁥󠁮󠁧󠁿 Abraham - 15 🇪🇬 Salah - 13 🏴󠁧󠁢󠁥󠁮󠁧󠁿 Sterling - 13 Shots on target (last 4 GWs) 🏴󠁧󠁢󠁥󠁮󠁧󠁿 Abraham - 10 🏴󠁧󠁢󠁥󠁮󠁧󠁿 C. Wilson - 8 🇧🇷 Wesley - 8 🇪🇸 Deulofeu - 7 🇩🇿 Mahrez - 7 🏴󠁧󠁢󠁳󠁣󠁴󠁿 McGinn - 7 #FPL

— Fantasy Football Community (@FFCommunity_) 7 October 2019
The fact that Norwich have conceded the most shots and goals, whilst never keeping a clean sheet, explains the algorithm's decision to choose two Bournemouth strikers. Josh King (£6.3m) has been pushed out to the wing for the last four matches but there is an assumption that the Dominic Solanke (£5.4m) experiment will soon be binned and Ryan Fraser (£7.1m) can return, moving King back up front alongside Wilson. The latter has been trusted with the captain's armband because his record of five goals and three assists has huge potential against such a leaky defence, even though he has scored more than seven points on just one occasion.
Top scoring players gw5-8 🔴 Mane 32 points 🔴 Aubameyang 29 🍒 Wilson 28 ⚪ Son 28 🐺 Traore 28 🔵 KDB 23 🔵 Mahrez 27 🔵 Abraham 26 🍒 King 26 🔵 B Silva 25 🦊 Pereira 25 🦁 Wesley 25 ⚫ Willems 25 ...... 🔵 Sterling 11 🤔

— Adam Hopcroft (@ahopcroft13) 11 October 2019
Wilson has been consistent but unspectacular, just like Aubameyang. The Arsenal man has occasionally crept up to nine weekly points but also has just one double-figure haul. Monday night's trip to Sheffield Utd won't be easy, certainly not compared to their following run of games, but Aubameyang owners will still expect an attacking return. One precaution is the return to training of Alexandre Lacazette (£9.3m) after the ankle injury which saw him miss four league games. If he is rushed into the starting line-up, Aubameyang may be pushed wide to the left flank.
BEST OF THE REST - GOALKEEPERS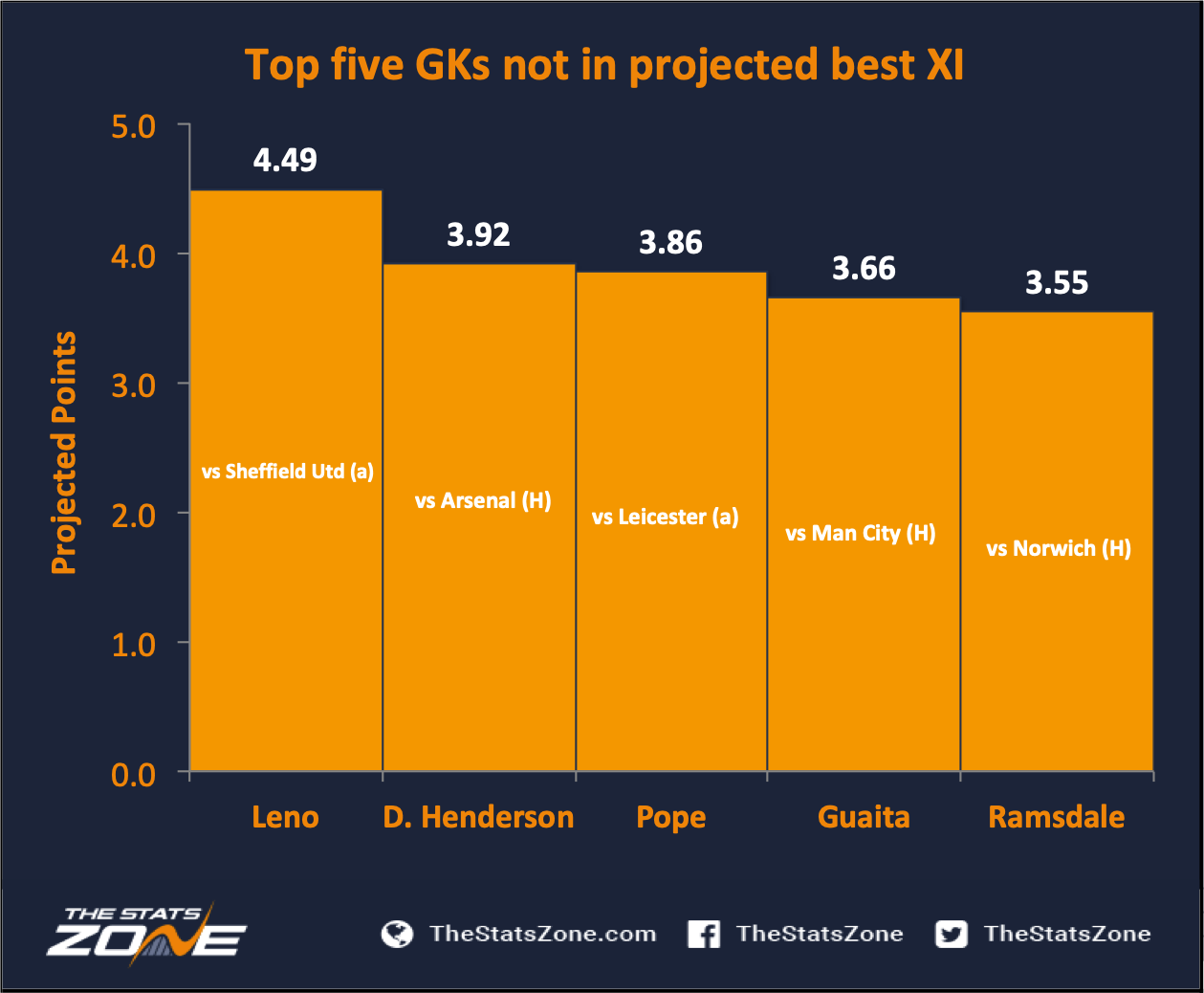 BEST OF THE REST - DEFENDERS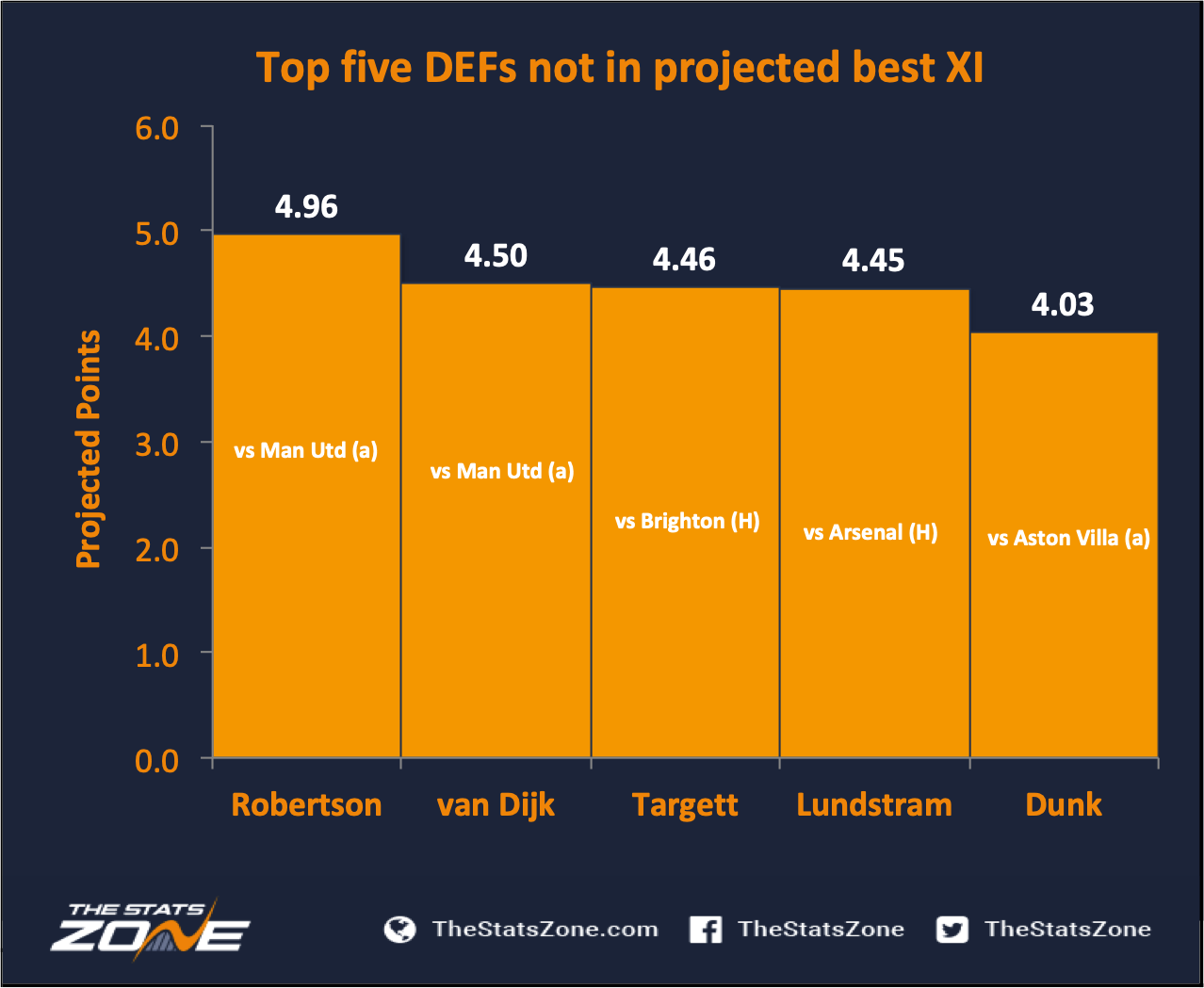 BEST OF THE REST - MIDFIELDERS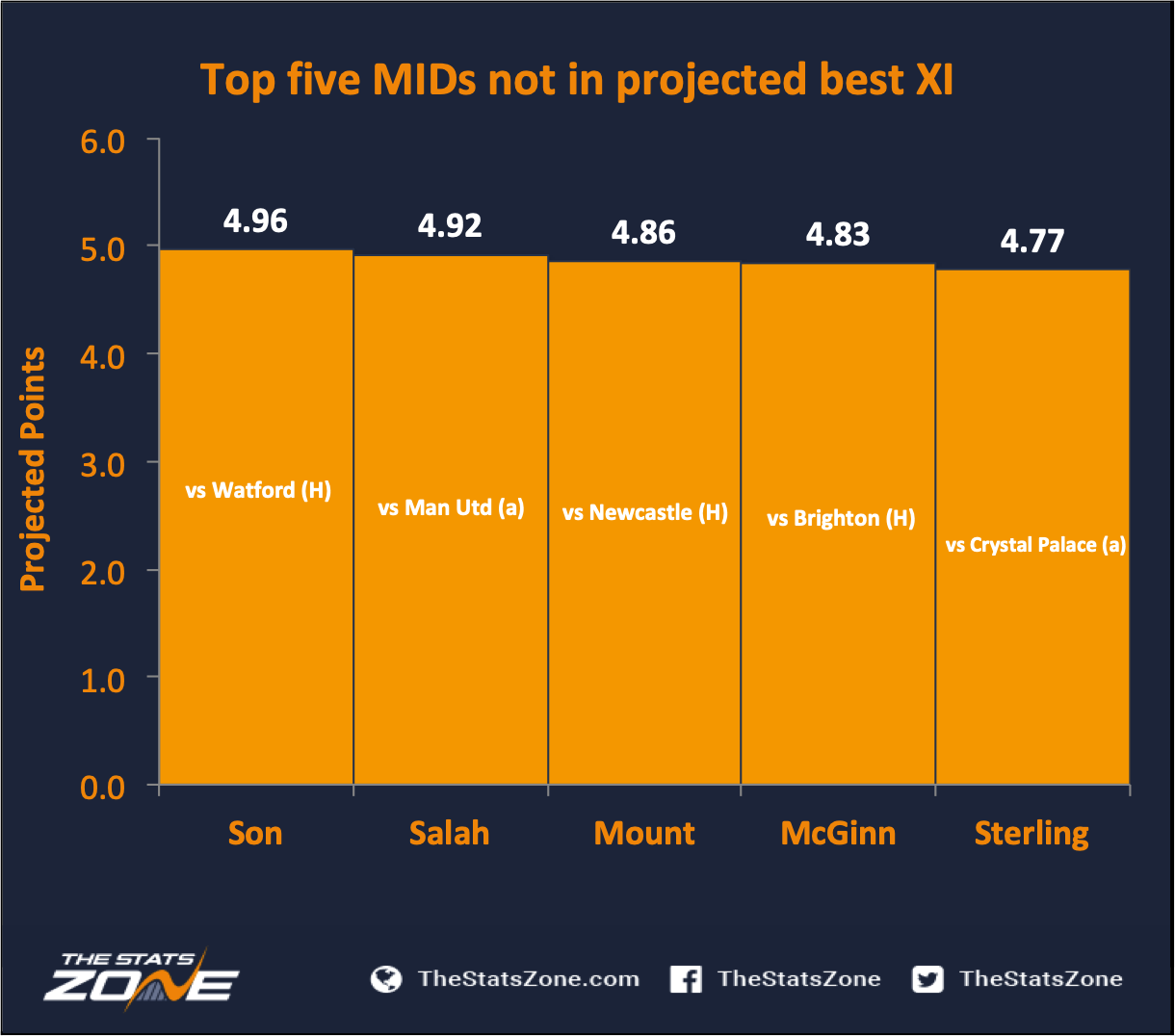 BEST OF THE REST - FORWARDS