FPL Gameweek 5 – Projections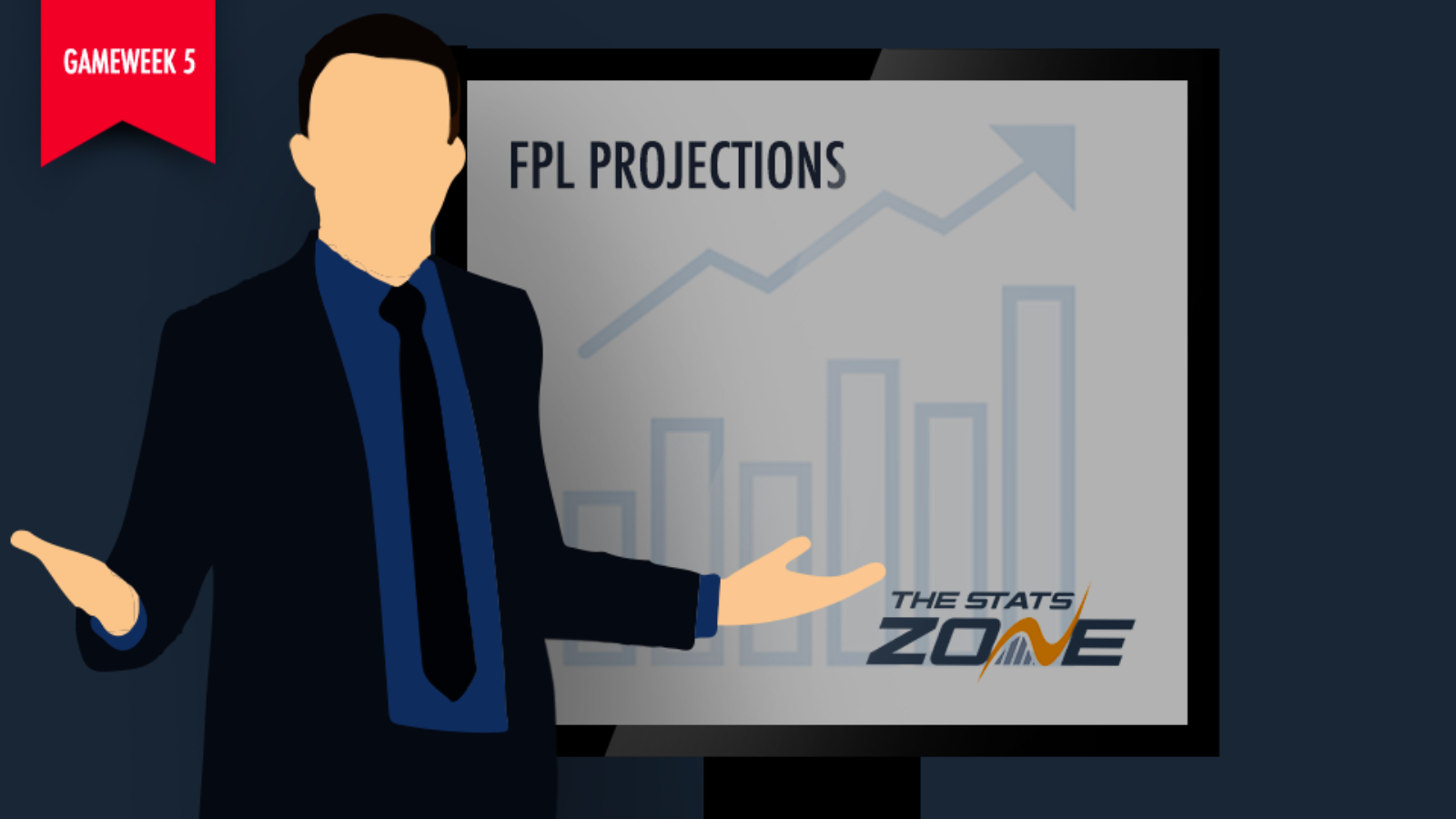 Last time out, the algorithm's score of 53 was slightly below the average of 57, relying heavily on the 16 of Sergio Aguero (£12.1m) and the 11 of Trent Alexander-Arnold (£7.1m). The former scored twice and assisted once in Man City's 4-0 win over Brighton, while the Liverpool man's cross deflected in off Chris Wood (£6.3m). At a different time, the 20-year-old may have been given the goal. Still, he kept a clean sheet on an evening remembered for Sadio Mane's (£11.5m) strop at Mo Salah (£12.5m).

The Egyptian delivered his own assist but finished on a disappointing six points. At the back, Everton's Seamus Coleman (£5.5m) blanked but fellow full-back Lucas Digne (£6.1m) crossed for Richarlison's (£7.9m) winner. And the Teemu Pukki (£7.0m) party finally stopped, as the Finn failed to score at West Ham. It was also Raheem Sterling's (£12.3m) first failure of the season, further compounded by being handed the algorithm's captaincy. Remarkably, he was the only playing £9.0m+ asset who didn't score or assist in Gameweek 4. Not to worry, he'll just score one and assist three for England.
OPTIMUM SQUAD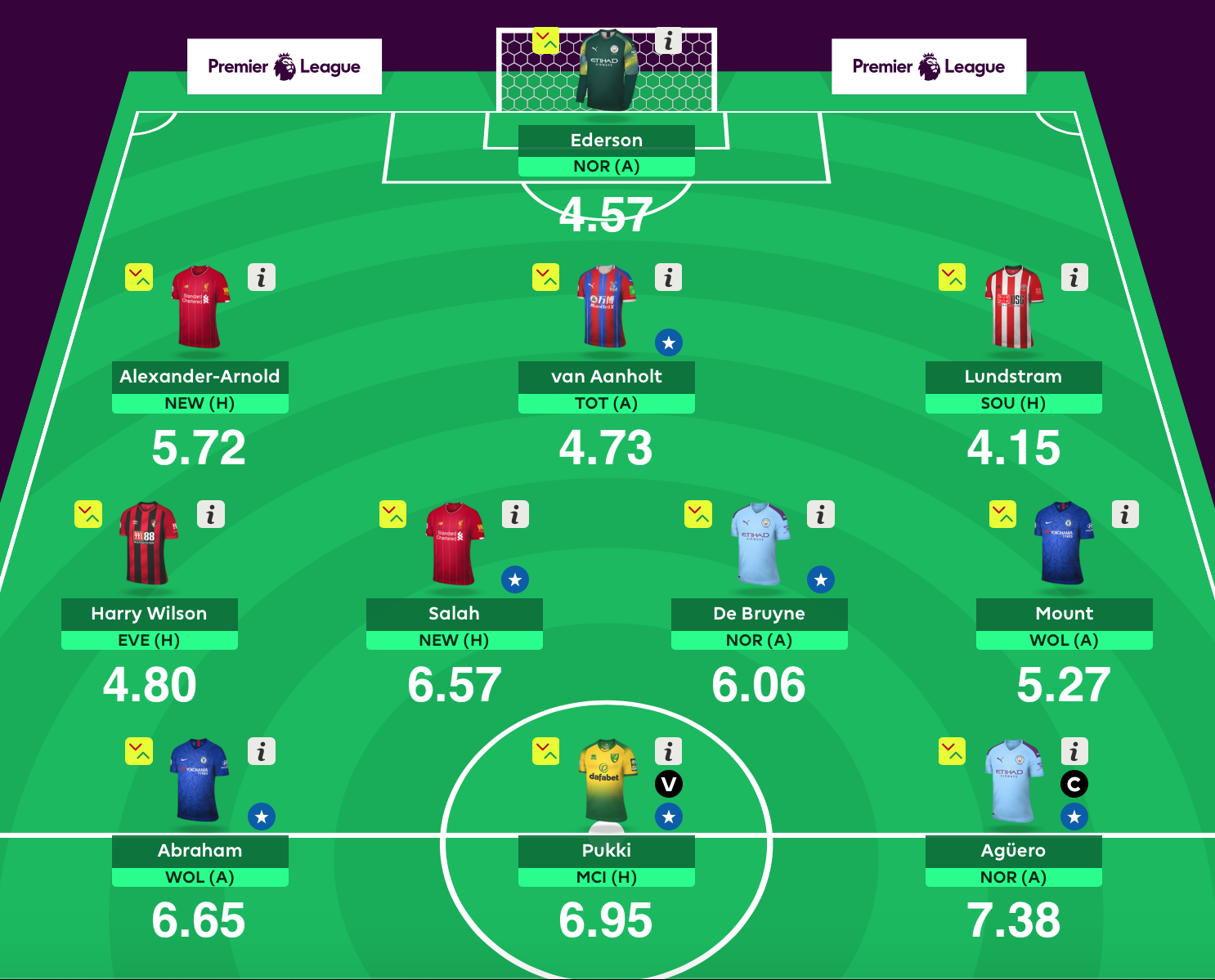 In goal is Ederson (£6.1m), providing the safest Man City coverage now that Aymeric Laporte (£6.4m) has injured his knee cartilage. It's a huge blow for Pep Guardiola's side, although it could ultimately offer more security for the few Nicolas Otamendi (£5.4m) owners. Their trip to Norwich is appealing at both ends of the field, with the newly-promoted side nullified at West Ham last weekend. Alexander-Arnold is selected once again, as he continues to prove his outstanding attacking abilities from right-back. The weekend's opening game sees his side host Newcastle but don't anticipate another 4-3 to add to the classic collection – Liverpool will expect a clean sheet.
Yet his three assists still don't make him the game's highest scoring defender - that honour belongs to Patrick van Aanholt (£5.6m). With one goal and two clean sheets from four games, the self-confessed FPL fanatic probably thinks of these things when hurling himself forward time after time. It's not often that a defender visiting Spurs makes the optimum squad but Crystal Palace have claimed away scalps at Man Utd, Arsenal and Man City in the past nine months.
John Lundstram's (£4.2m) owners will hope the mis-categorised defender starts again for Sheffield Utd against Southampton, whilst Harry Wilson (£6.0m) is at home to Everton. He has only started twice for Bournemouth but is matching that with two goals. Judging by the spectacular free kick against Man City, this loanee should be on most set-pieces. The international break saw Mason Mount (£6.4m) make his England debut after impressing Gareth Southgate with his attacking urges at Chelsea. In fact, with 15 shots, only Roberto Firmino (£9.5m), Marcus Rashford (£8.5m) and Ashley Barnes (£6.7m) have bettered Mount's fearlessness. He certainly isn't shy and that explains a surge in popularity that has already seen four price rises.
Perhaps team-mate Tammy Abraham (£7.2m) will get an England call-up if he maintains this run of four goals from two league games. Olivier Giroud (£6.8m) still lurks in the background but Abraham can't do any more to lock his spot in Frank Lampard's 11. Elsewhere, Salah and Mane have alternated their hauls over the four weeks, which therefore means it is Salah's turn to excel against a Newcastle defence missing Matt Ritchie (£5.4m) at left wing-back. With uncertainty at that part of the pitch, there aren't many players better positioned to exploit this.
2019 Goals⚽️& Assists🅰️in PL

🔵Aguero Played 21 - 18⚽️4🅰️
🔴Mane P22 - 16⚽️1🅰️
🦊Vardy P22 - 15⚽️3🅰️
🔵Sterling P21 - 13⚽️4🅰️
🍷 Barnes P22 - 13⚽️1🅰️
🔴Salah P22 - 12⚽️3🅰️
🔴Aubameyang P20 - 12⚽️2🅰️

Ageuro - over-looked?
Barnes - excellent value
Salah - "essential" ????

— Adam Hopcroft (@ahopcroft13) September 2, 2019
The final three players take part in Saturday evening's Carrow Road clash between Norwich and Man City. Although Pukki blanked at West Ham, his start has still been fantastic thanks to five goals and six bonus points. His 13 shots from inside the box is the highest so far, narrowly pipping Firmino, Salah, Sterling, Barnes and Aguero. Whether he can add to that against the champions is another thing.
Chances Created:
🇧🇪 De Bruyne - 16
🇦🇷 Lanzini - 14
🏴󠁧󠁢󠁥󠁮󠁧󠁿 TAA - 14
🇫🇷 Pogba - 11

Big Chances Created:
🇧🇪 De Bruyne - 6
🏴󠁧󠁢󠁥󠁮󠁧󠁿 TAA - 3
🇪🇸 D. Silva - 3
🏴󠁧󠁢󠁥󠁮󠁧󠁿 Lundstram - 3

Bonus:
🇧🇪 De Bruyne - 6
🇦🇷 Aguero - 6
🏴󠁧󠁢󠁥󠁮󠁧󠁿 Abraham - 6
🇫🇮 Pukki - 6
🇩🇰 Vestergaard - 6
🇬🇭 Ayew - 6

— Fantasy Football Community (@FFCommunity_) September 3, 2019
Sterling wasn't the only Man City man to run riot on international duty. Kevin De Bruyne (£9.8m) also scored one and set up three as Belgium beat Scotland 4-0. The genius has been absolutely relentless so far, assisting five times in four Premier League games and adding a goal against Brighton. Now the game's fifth most-owned player, he simply refuses to blank and is backed to produce against the Canaries, just like Aguero. The Argentine has been able to rest during the past fortnight and has been awarded the captain's armband this week. Equally as relentless, his blistering start to the season has already seen six goals. He has the same number from his seven meetings with Norwich, alongside four assists.
11 players have scored 3 or more goals in the first 4 GWs, and 8 of them are FPL forwards.

Last season, 9 players had scored 3 or more goals in the opening 4 GWs. Only 4 of them were FPL forwards.

— Paul McKinnon (@FFScout_Paul) September 2, 2019