FPL Gameweek 1 – Projections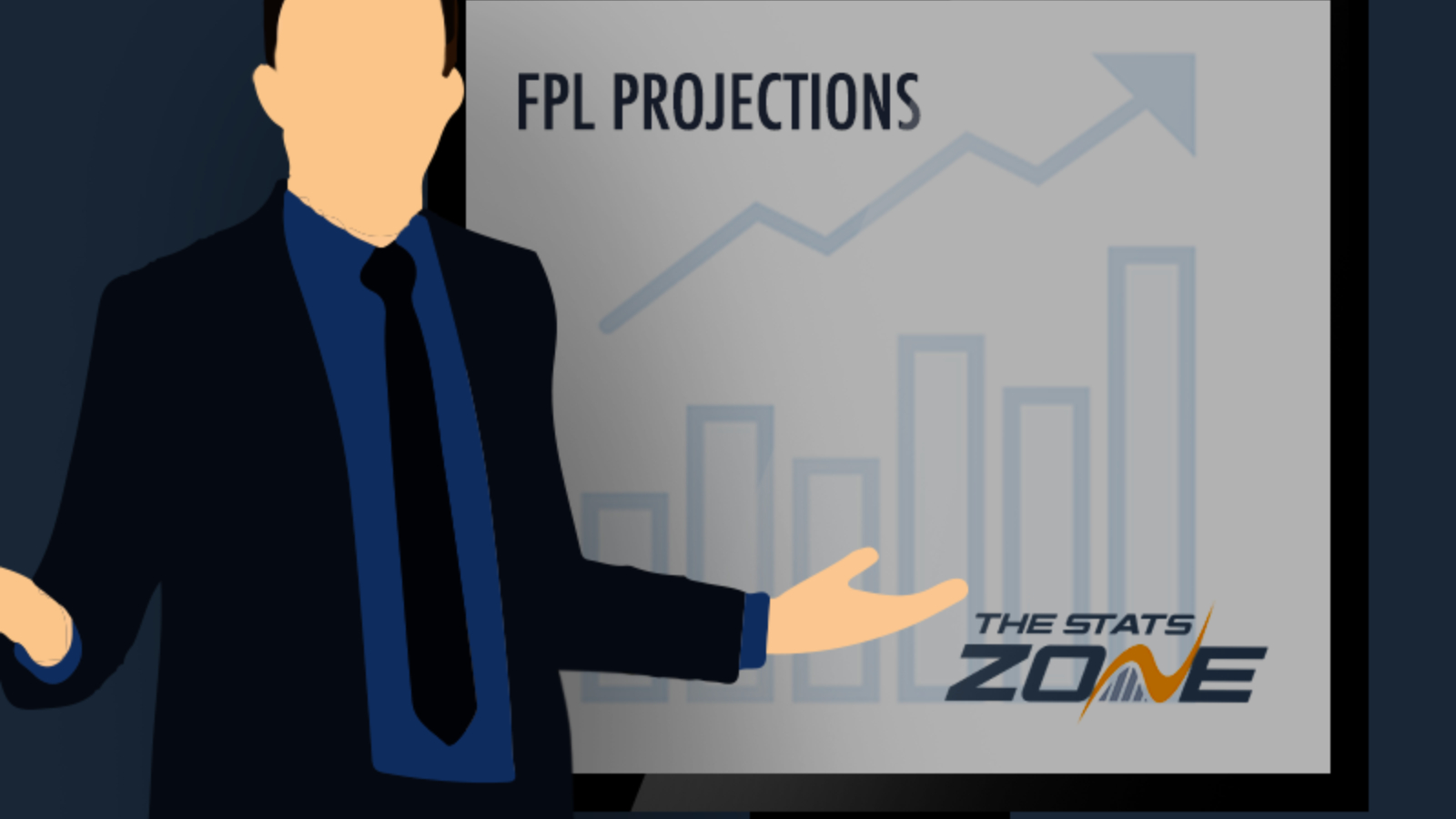 Friday night sees the return of Premier League football, as Liverpool take on Norwich at Anfield. The European champions couldn't quite knock Man City off their domestic perch, despite amassing a breath-taking 97 points, and narrowly lost Sunday's Community Shield clash. There was feistiness to what is normally a glorified pre-season friendly, suggesting that quite a rivalry is brewing. Can Jurgen Klopp stop Pep Guardiola winning three consecutive league titles? Can Arsenal's top-heavy side reclaim a Champions League spot? Can Everton, Leicester or Wolves break into the top six? Can Mike Ashley achieve his dream of a third relegation?

Top Players by Number of Double Digit #FPL Returns Last Season 📊

9⃣ Sterling
9⃣ TAA
9⃣ Mané
8⃣ Salah
7⃣ Milivojevic
7⃣ Fraser
6⃣ Aubameyang
6⃣ Son
6⃣ Pogba
6⃣ Wilson
6⃣ Sigurdsson
6⃣ Jota
5⃣ Robertson
5⃣ Aguero
5⃣ Kane
5⃣ Alonso
7 other players also had 5#FPL

— Fantasy Football Secrets ⚽️📈 (@FPLSecrets) July 28, 2019
There are so many questions to answer during what should be another thrilling season. With the transfer window closing on Thursday, make sure you are up to date with all late moves and their consequences. Also, remember that this week's deadline is Friday at 7:00pm and ensure that all transfers, drafts and leagues are sorted by then.
OPTIMUM SQUAD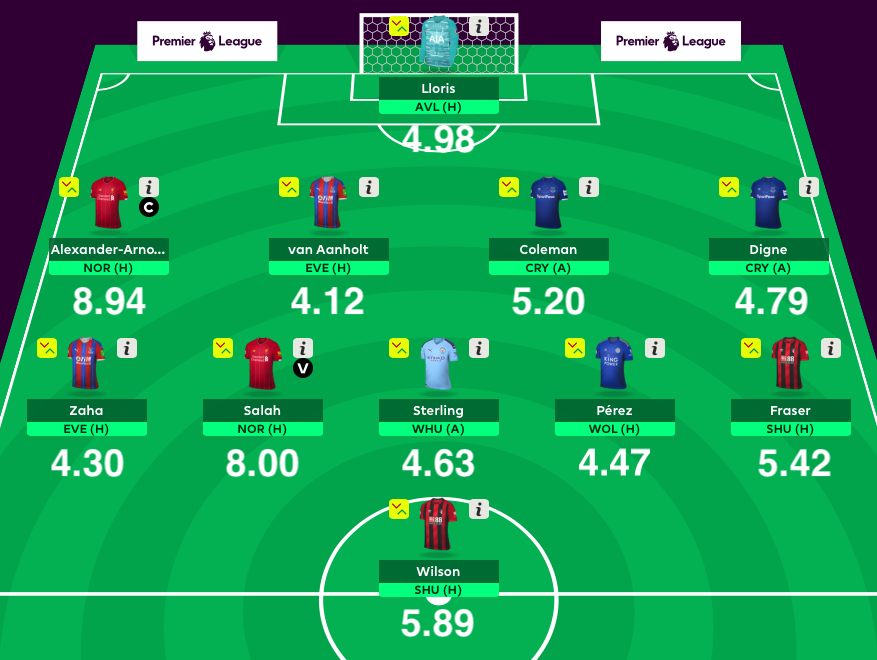 The algorithm chose this Gameweek 1 side based on last season's stats, which is why none of the 11 are new to the league. This summer has seen a real debate on formations inside the FPL community, with the standard 3-4-3 no longer assumed. In fact, many look at the pure value of £6.0-7.0m premium defenders and believe it's better to stock up on three, four or even five of them – the Liverpool trio of Andrew Robertson (£7.0m), Virgil van Dijk (£6.5m) and Trent Alexander-Arnold (£7.0m) were amongst the game's ten highest scorers with 213, 208 and 185 points respectively. Aymeric Laporte (£6.5m) came 14th with 177, whilst a poor season for Marcos Alonso (£6.5m) saw him still out-score Son Heung-min (£9.5m), Richarlison (£8.0m), Bernardo Silva (£8.0m) and Harry Kane (£11.0m).
Attitudes have seemingly changed, with managers noting that a £6m defender will probably out-score a £6m midfielder or striker. With that in mind, this week's selection sees four extremely attacking full-backs in a 4-5-1. Alexander-Arnold may have outscored his defensive team-mates if it wasn't for a spell on the sidelines, although he still found time to deliver a phenomenal 13 assists from right-back. Captained by the algorithm, he will expect a clean sheet at home to Norwich and is set to share set-piece duties throughout the season.
Lucas Digne (£6.0m) is also prone to the occasional set-piece and this has made him a popular pick, currently in over 26% of teams. He scored a free-kick and a 30-yarder in the same match at Burnley, whilst the 71 chances he created over the season ranks far higher than every other defender. Everton's early fixtures are promising, which is why his similarly attack-minded teammate Seamus Coleman (£5.5m) is also selected, considering his fine pedigree of offensive returns from the back.
They face Crystal Palace and Patrick van Aanholt (£5.5m), whose three goals last season were actually his lowest total in four seasons. Only Matt Doherty (£6.0m) made more shots (46), although Crystal Palace's 12 clean sheets will be impacted by the loss of Aaron Wan-Bissaska (£5.5m). Upon the game's launch, Wilfried Zaha (£7.0m) was an irresistible option considering his re-classification as a midfielder. He was the 10th highest-scoring striker with 143 points which, before any extra bonuses, would've been 164 as a midfielder.
As one of ten players to get double figures for goals and assists (many of which included being fouled for a Luka Milivojevic (£7.0m) penalty) in 2018-19, the reliable Zaha was very fairly priced this time around. Unfortunately, the constant transfer rumours linking him with Arsenal and opening-day opponents Everton have disrupted his return from Africa Cup of Nations duty. Therefore, Zaha hasn't played a single minute of pre-season for Palace and is unlikely to start Gameweek 1.
In goal, Hugo Lloris (£5.5m) is backed to keep a clean sheet at home to newly-promoted Aston Villa, whose large number of new signings may need time to co-ordinate. Elsewhere, £30m signing Ayoze Perez (£6.5m) provides a strong alternative to Leicester's fixture-proof Jamie Vardy (£9.0m). His second half of 2018-19 was outstanding, providing a number of goals that was only beaten by Vardy, Sadio Mane (£11.5m) and Sergio Aguero (£12.0m). Whilst we're not sure which of Brendan Rodgers' tactical experiments is his Plan A, there's a chance that Perez will be played as a striker and will therefore be an affordable out-of-position FPL asset. Leicester kick off the season against Wolves.
#GW1 bookies goal scorer odds %

Kane – 59%
Salah – 59%
Kun – 58%
Mane – 58%
Firmino – 52%
Sterling – 52%
Jesus – 51%
Auba – 48%
Wilson – 44%
Vardy – 43%
Laca – 42%
Moura – 42%
Pepe – 41%
Rashford – 37%
King – 36%
B.Silva – 35%
Deeney – 35%
A.Barnes – 35%
Eriksen – 33%#FPL

— FPL Salah (@fplsalah1) August 7, 2019
Considering the game's over-pricing of many players, it was surprising to see the top scorer of the last two seasons receive a slight price drop. Mo Salah (£12.5m) scored 303 and 259 points over this time, with 54 goals and 24 assists. The Egyptian had an early exit from the Africa Cup of Nations and, after playing all 90 minutes of the Community Shield, will be ready to resume normal service on Friday. Salah has great captaincy potential, as Liverpool have Norwich, Newcastle, Southampton and Burnley amongst their first five matches.
Just as relentlessly brilliant is Raheem Sterling (£12.0m), who opened the scoring at Wembley. He has 35 goals and 32 assists from the past two seasons, despite being the occasional victim of Pep's Evil Rotation Wheel. Man City's start isn't as straightforward but Sterling should still be focal to everything they do, whether he plays out wide or as a striker.
Finally, Bournemouth provide two players – the fantastic double-team of Ryan Fraser (£7.5m) and Callum Wilson (£8.0m). The 12 goals they combined for set a new Premier League record, with Fraser assisting Wilson on seven occasions and Wilson returning the favour five times. They have an incredible understanding and the algorithm backs this to showcase itself during Bournemouth's home tie with Sheffield United. This team has a predicted score of 69.68 points.
Why not take us on in our very own mini-league? The code to join is cdgnoz