FPL Gameweek 8 – The Fixtures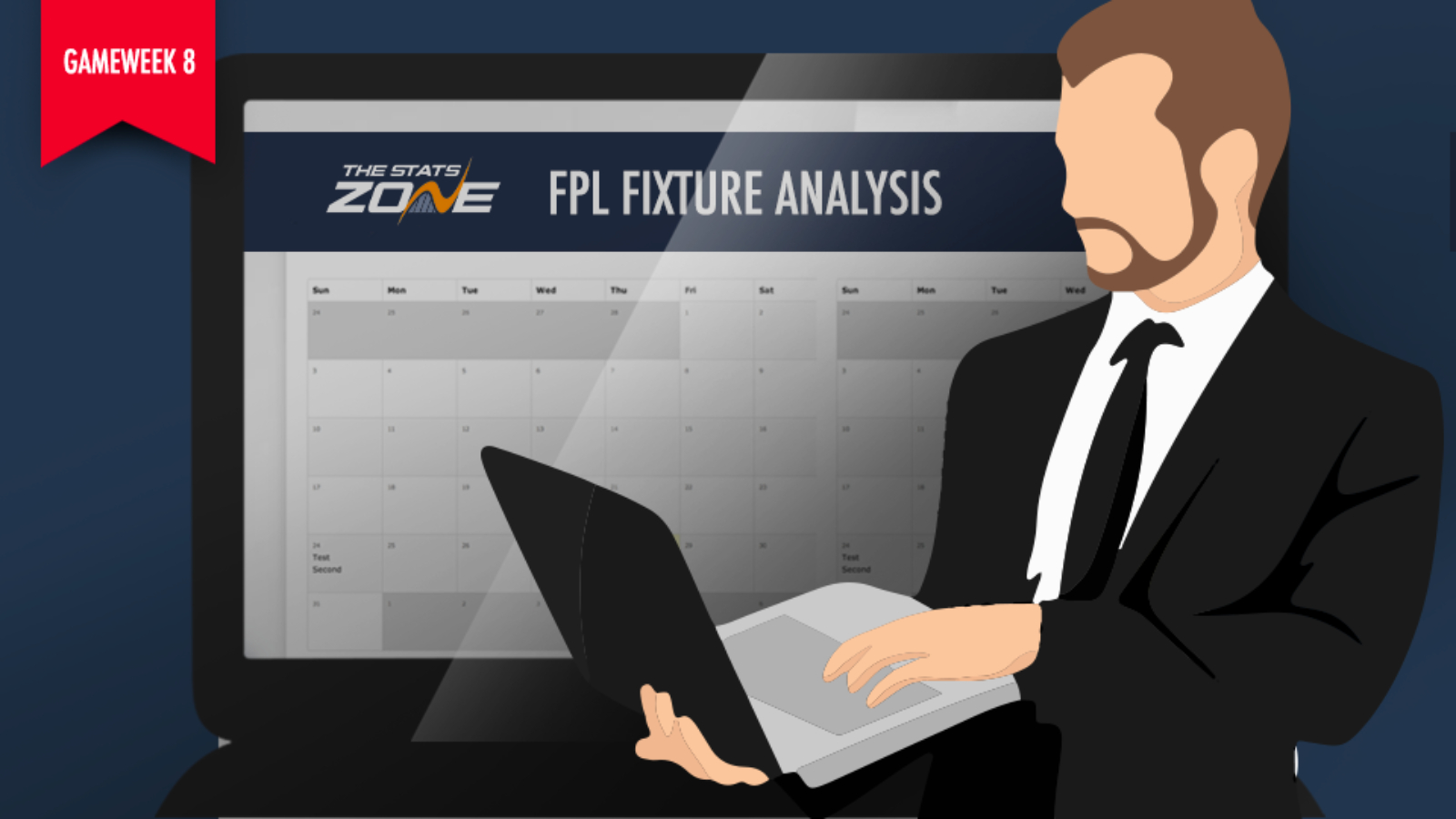 There is a lot to digest as we head towards October's international break. Pep Guardiola continued to actively tease the FPL community by benching a prime attacker for the third week running – first Kevin De Bruyne (£10.0m), then Raheem Sterling (£12.1m) and this time it was Sergio Aguero (£12.2m). The Argentine still found time to assist the final goal in a 3-1 win at Everton which saw De Bruyne rack up two more assists. With nine of them in just seven games, it's a staggering start for the Belgian.

Chelsea kept their first clean sheet of the season as they peppered Brighton's goal with shots – eventually emerging 2-0 winners in another Tammy Abraham (£7.6m) blank. Two goalkeeping howlers occurred, although Dean Henderson's (£4.5m) error had a bigger effect than Hugo Lloris' (£5.5m) audacious Cruyff turn. The former gave Liverpool a 1-0 win at Sheffield Utd but the latter still didn't stop Spurs from overcoming the Danny Ings (£5.9m) goal. The weekend even brought nostalgia via goals from Matt Doherty (£6.0m) and Luka Milivojevic (£6.7m).
GAMEWEEK 8 FIXTURES
Saturday 5th October
Brighton v Spurs (12:30)
Burnley v Everton (15:00)
Liverpool v Leicester (15:00)
Norwich v Aston Villa (15:00)
Watford v Sheffield Utd (15:00)
West Ham v Crystal Palace (17:30)
Sunday 6th October
Arsenal v Bournemouth (14:00)
Man City v Wolves (14:00)
Southampton v Chelsea (14:00)
Newcastle v Man Utd (16:30)
AUBAMEYANG JUST WON'T STOP
Gameweek 7 closed with Monday night's clash at Old Trafford between Man Utd and Arsenal. It seems that one of life's biggest guarantees is a Pierre-Emerick Aubameyang (£11.0m) goal, as his equaliser ensured he has delivered an attacking return in all seven games so far. It is remarkable and he has an incredible string of fixtures ahead of him: Bournemouth (H), Sheffield Utd (a), Crystal Palace (H), Wolves (H), Leicester (a), Southampton (H), Norwich (a) and Brighton (H).
Yet many managers will find it tough to accommodate this guaranteed source of goals as it will mean sacrificing either a second Man City attacker or going without a Liverpool one. Aubameyang is excelling in the centre forward role without the injured Alexandre Lacazette (£9.3m), despite his xG90 (expected goals per 90 minutes) of 0.53 being lower than the 0.77 and 0.78 of the past two seasons. He's still on penalties though, despite Nicolas Pepe (£9.4m) taking the spot-kick against Aston Villa. Manager Unai Emery confirmed this: "Yes, it's Aubameyang who is responsible for penalties. It is a very big decision from Aubameyang to let Pepe shoot to give him confidence. Really, the responsibility is Aubameyang."
YARMOLENKO IN FORM FOR ENCOURAGING HOME GAMES
The attention of FPL managers may have been on Sebastien Haller (£7.4m) but there's another West Ham option who is becoming a very difficult bargain to ignore – Andriy Yarmolenko (£6.0m). The former Dynamo Kyiv and Borussia Dortmund man has recovered from the Achilles tendon injury that prematurely ended his 2018-19 season and has scored three goals in four games. With so many premium players scoring consistently, having Yarmolenko as a fourth midfielder could prove very thrifty.
Manuel Lanzini (£6.5m) returned to action in the 2-2 draw at Bournemouth, adding more creativity to the Hammers' midfield. There are three very promising home games amongst the run of Crystal Palace (H), Everton (a), Sheffield Utd (H), Newcastle (H) and Burnley (a), although West Ham's impressive return of three clean sheets may be difficult to replicate now that Lukasz Fabianski (£5.1m) has injured his hip. In steps Roberto (£4.4m) between the sticks, behind left-back Aaron Cresswell (£4.9m) who has hit a purple patch of late – two goals and 21 FPL points in the past 10 days.
MO SALAH OR NO SALAH?
Even Jurgen Klopp admitted that Sheffield Utd deserved a point from Saturday's game at Brammall Lane and it's another example of a resilient Liverpool, who can scrape wins when perhaps they're unable to blitz opponents. However, a mixed bag of fixtures awaits them. Brendan Rodgers returns to Merseyside with third-placed Leicester, before the Reds face Man Utd (a), Tottenham (H), Aston Villa (a), Man City (H) and Crystal Palace (a).
SCOUT: Salah, the most-captained player for GW7 (1,330,639), continued his run of poor form on the road, with no goals away from home this season Liverpool have 3 of last season's top 6 in the next 5 GWs... #FPL https://t.co/8VsL0j45AG

— Fantasy Premier League (@OfficialFPL) 29 September 2019
Salah 18/19 (1st) v 19/20 xG90 - 0.60 v 0.59 ❌ xA90 - 0.29 v 0.18 ❌ Sh90 - 3.77 v 3.04 ❌ KP90 - 1.87 v 1.88 ✅ Not huge difference from last season. He is however having 0.73 less shots per 90. In 17/18 season he averaged 0.77 xG90

— Adam Hopcroft (@ahopcroft13) 30 September 2019
Just as concerning is the underwhelming form of the game's most expensive player, Mo Salah (£12.5m). His four goals and three assists still place him second amongst the midfield points totals, yet these strikes are only happening at Anfield. His invincibility is wearing off for some, especially when he can be downgraded to fantastic options such as Heung-Min Son (£9.7m) and De Bruyne in order to unlock money for other in-form options. Be warned though: people started to doubt Salah in early December 2018 and were swiftly punished with a hat-trick at Bournemouth that preceded seven goals in seven games.
TRAUMATIC TOON
Pitiful. Putrid. Pathetic. The way Newcastle fell apart in their 5-0 defeat at Leicester suggests there won't be any relegation battle this year – because it won't be a battle at all. They have no obvious playing style, there is no clear game plan and Steve Bruce is continuing to force players into unnatural roles like Miguel Almiron (£5.9m) and Joelinton (£5.9m). No wonder they've only mustered four goals in seven games.
Good fixtures or bad, they should probably be avoided at all costs, but their two immediate opponents are Man Utd (H) and Chelsea (a). Following that is Wolves (H), West Ham (a) and Bournemouth (H), as the eternal soap opera continues on Tyneside.