July 09, 2021 8:36 PM

Alex Sarwar
EURO 2020 Fantasy Fixture Analysis – Matchday 7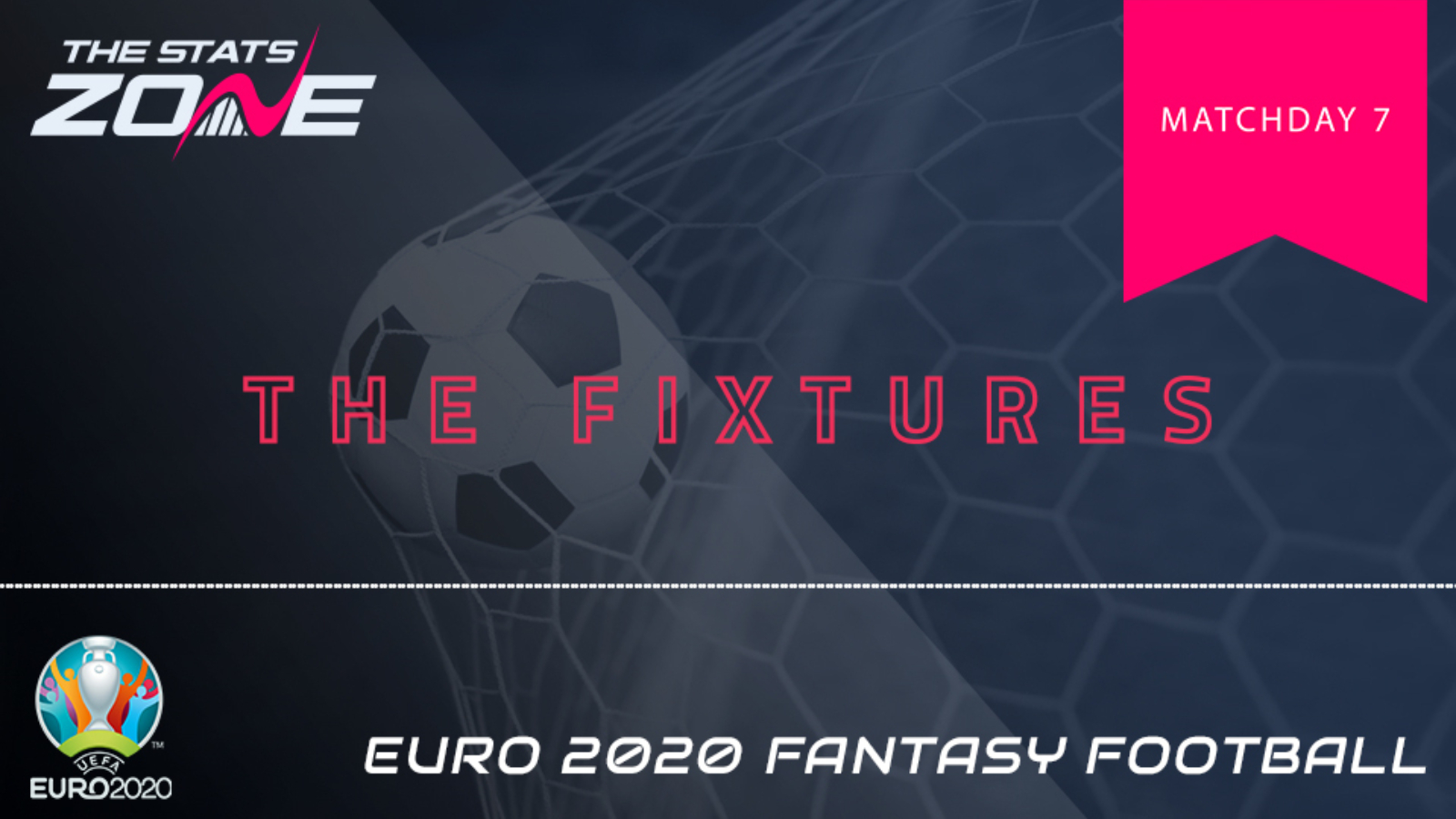 After two enthralling, yet nerve shattering semi-finals, it is Italy and England who are set to do battle at Wembley Stadium on Sunday in the EURO 2020 final. After going one goal ahead vs Spain through midfielder Federico Chiesa (€7.4m), the Azzurri found themselves pegged back and needed a penalty shootout to book their place in the final following a 1-1 draw after extra time. For England however, it was an entirely different challenge. After falling behind in the first half through a Denmark free kick, many will have wondered how the Three Lions would cope with having to come from behind for the first time in the tournament. The answer, was emphatic, with Gareth Southgate's side equalising before half time when a cross from Bukayo Saka (€6.6m) was turned into his own net by Danish captain Simon Kjaer. Despite largely dominating the second half, the winner was to evade England all the way up until the first half of extra time when Raheem Sterling (€9.9m) was adjudged to have been fouled in the box. Harry Kane (€11.7m) stepped up and despite having his penalty saved, converted the rebound to send England into their first major international final since the 1966 World Cup.
With the final now set in stone, we break the fixture down from a EURO fantasy perspective, specifically the playing assets worth having in your respective squads across both sides and who we think could emerge with the highest number of fantasy points on Matchday 7.
MATCHDAY 7 FIXTURES
Sunday 11th July
Italy v England (20:00)
IT'S COMING HOME…OR TO ROME!
So which way will the outcome go? To be honest, it's almost too difficult to call although we've done our best in our official match preview that you can find via this link. What we are expecting is a tight contest when taking into account the strength of both defences. Italy have kept three clean sheets from their six tournament matches (all in the group stage) and have conceded no more than one goal per match. England meanwhile, have done even better having recorded five clean sheets with just one goal conceded in the semi-finals. This leads us to suggest playing at least four if not five defensive assets in your EURO fantasy starting line-up, ensuring a huge number of points should either side successfully shut out their opponents. With the teams being disclosed prior to the Matchday 7 deadline, EURO fantasy managers will have the benefit of knowing the 22 players set to start so they can make their transfers as appropriate.

For England, plenty of defenders stand out as attractive options. None more so than full-back Luke Shaw (€6.3m), currently the highest scoring EURO fantasy defender with 35 points to his name having accrued four clean sheets and three assists to his name. Should Gareth Southgate opt to field three central defenders from the start against Italy, then on the opposite side to Shaw is expected to be Kieran Trippier (€5.4m) at right-wing-back. It would be Trippiers' third start of the tournament with his other two each yielding six fantasy points. However, when considering his quality from set pieces, Trippier is more than capable of a far bigger haul in the final. Let's not forget the free kick he scored in the 2018 World Cup semi-final vs Croatia.
Both Harry Maguire (€5.7m) and John Stones (€5.9m) also represent attacking threats, with the two centre-backs expected inside the opposition penalty area for attacking set pieces. Maguire has already netted at EURO 2020, scoring a header from a free kick in England's quarter-final thrashing of Ukraine. Stones has registered five fantasy scores of six points, although that chain was broken on Matchday 6 following Denmark's goal. Don't forget goalkeeper Jordan Pickford (€5.9m) currently owned by a lower percentage of EURO fantasy managers compared to his Italian counterpart Gianluigi Donnarumma (€5.8m) despite having accrued eight extra fantasy points across the tournament so far.

No England player has ever scored more goals at a major tournament than Harry Kane [10]. A late golden boot charge. 👀 https://t.co/qvqQ0wl3qh

— Statman Dave (@StatmanDave) 7 July 2021
In midfield for England, Raheem Sterling (€9.9m) is expected once again to be the main man. Winning the penalty vs Denmark helped the Man City star to a score of four fantasy points, making him the highest scoring EURO fantasy asset heading into Matchday 7. With three goals, an assist and 37 fantasy points already to his name, he'll be looking to add to that tally with another star performance against the Azzurri. For those looking for a couple of lesser owned picks among the Three Lions midfield, consider both Mason Mount (€7.3m) and Bukayo Saka (€6.6m). Mount managed his first attacking return of the tournament on Matchday 5 with an assist vs Ukraine, but will consider himself unlucky not to have gained more over the course of the competition. Maybe his luck will change on Sunday? Saka meanwhile, was a constant threat in the semi-final and was credited with an assist after his cross led to the equalising goal. At a bargain price of just €6.6m, Saka could prove not only the perfect midfield enabler, but also a differential diamond.
When examining the forwards, you can own only select one England striker. Harry Kane (€11.7m) spared his own blushes after converting the rebound of his own missed penalty on Matchday 6, his fourth goal of EURO 2020, putting him just one behind top goalscorer Cristiano Ronaldo. With 20 EURO fantasy points accumulate over the last three matchdays, it is no surprise that Kane stands as the highest owned asset among the EURO fantasy playerbase and he is very likely to be the most captained player of those featuring on Matchday 7.
Italian assets from a defensive point of view could well be lesser in demand compared to England players, especially when taking into account the absence of first-choice left-back Leonardo Spinazzola, a hugely popular EURO fantasy asset for his attacking prowess as much as his clean sheet potential. Replacing him once again will be Chelsea's Emerson (€5.5m) on the back of a personal clean sheet and six fantasy points on Matchday 6 against Spain, after he was brought off the field with the score at 1-0 Italy. Whilst both provide an equal amount of potential in regards to accruing fantasy points, Leonardo Bonucci (€5.7m) is currently far more popular among fantasy managers than fellow centre-back Giorgio Chiellini (€6.0m) and therefore, Italy's inspirational skipper represents the ideal option albeit at a high price for those looking to overtake their mini league rivals.
The most popular and arguably sensible options among Italy's midfield in terms of fantasy selection are Lorenzo Insigne (€8.7m) and Federico Chiesa (€7.4m). Both are expected to play as part of a front three and both have two goals to their name at EURO 2020, with Chiesa scoring the Azzurri's goal in the semi-final against Spain. However, spare a thought for Nicolo Barella (€7.5m) whose ownership pales in comparison despite the central midfielder having also acquired two attacking returns across the six matchdays played thus far. Those EURO fantasy managers needing to take a risk on the final matchday of the competition could do far worse than plump for Barella.
Despite having not picked up a single attacking return since Matchday 2, over half of EURO fantasy managers own forward Ciro Immobile (€10.2m), who is expected to once again lead the Italian frontline on Matchday 7. When taking into account his lack of form, combined with the fact that a low scoring contest could be on the cards between the two sides, fielding an extra defender over Immobile could well prove a shrewd play. However, that would obviously represent a huge risk when taking into account his vast ownership. Maybe the smarter move would be to transfer in another forward in Andrea Belotti (€7.9m). The Torino star will almost certainly find himself on the pitch at some stage in the final and could even make the different infront of goal for Roberto Mancini's men.