FPL Gameweek 24 – Captain Picks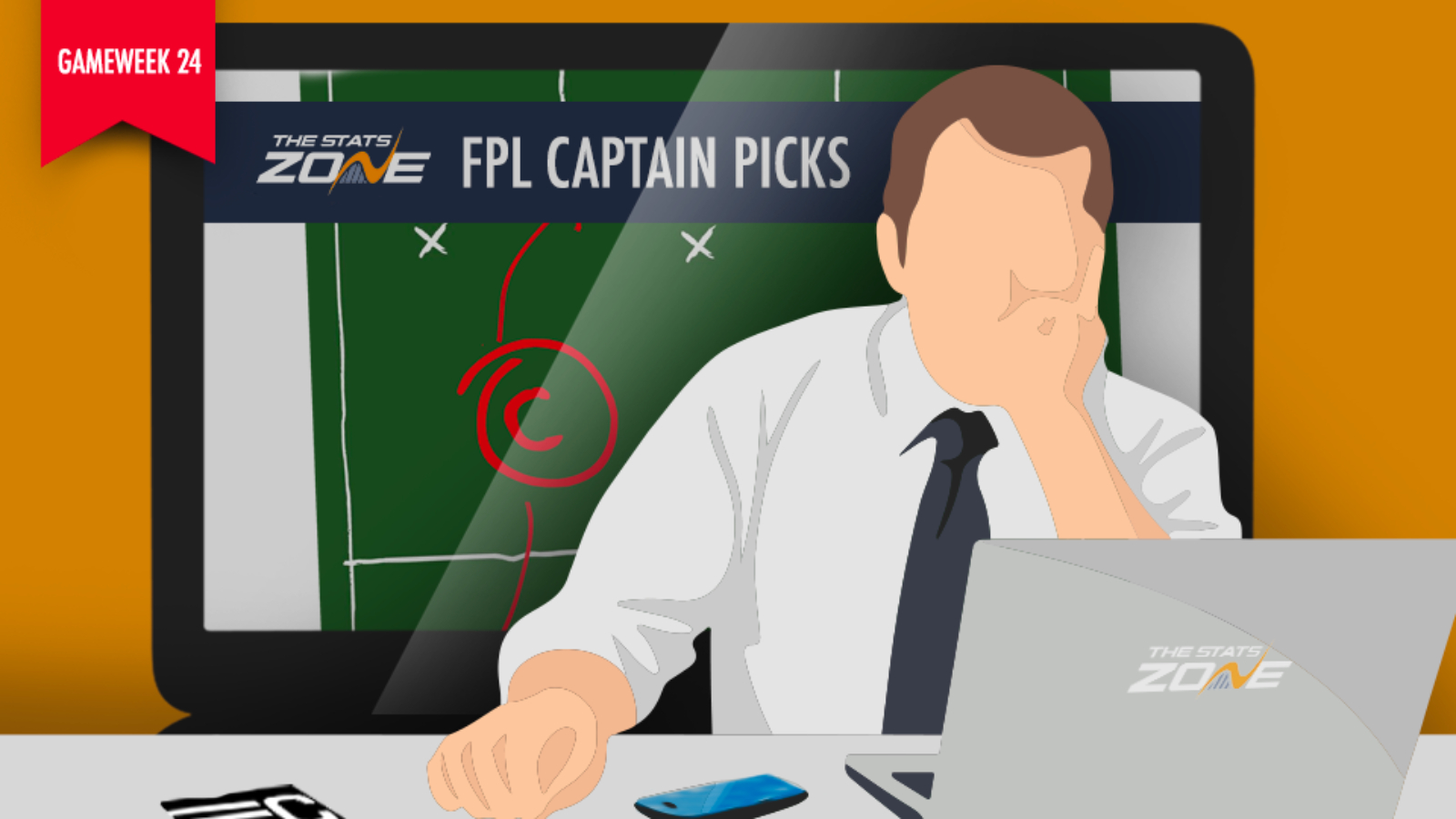 Following a scathing attack from fellow TSZ staffers @AlexSarwar20 and @aphasedyoungman on the latest FPL Zone podcast over penmanship of these captains articles, I have returned dear readers to prove my colleagues wrong. Accused of 'living in the past' when it comes to the success of my differential picks (John Lundstram – GW11), instead of throwing shade their way I'll simply let the stats do the talking:
Me – Captain articles (17), Average differential points (5.41)
Alex – Captain articles (5), Average differential points (4.40)
Adam – Captain articles (1), Average differential points (2.00)
Moving on to the more important issues of the week, Gameweek 24 is already upon as midweek fixtures mean a quick turnaround ahead of Tuesday's 18:45 deadline. Gameweek 24 also brings with it our first double gameweek of the season as both Liverpool and West Ham pull double duty. It would seem likely that the majority of FPL managers will be placing the armband on one of their many many assets this weekend. As such, Gameweek 24's captain's piece will take on a slightly different approach as instead of looking at players from a plethora of squads, we will instead break down each of the main captaincy choices from the Anfield club. There will of course be a differential selection at the bottom of the article for those managers feeling particularly daring this week as the top option from the remaining 19 clubs set to play midweek is chosen.
I did some research in order to see which option is better for the DGW 24.

I compared stats in the last 6 GWs between TAA & Robbo and Salah & Mane.

One thing I focused on was if and when do they haul together.

A thread follows. RTs are appreciated.

— FPL Climber (@FPLclimber) January 20, 2020
PREMIUM OPTIONS
Sadio Mane (£12.4m) vs WOL (a) / WHU (a)
Where else could we start than with Liverpool's top FPL asset this season. 11 goals, eight assists and 143 points to date, Sadio Mane (£12.4m) has been the most reliable Liverpool player both on the literal and fantasy pitch. Yet to go three matches in succession without some form of attacking returns, Mane boasts a record of six goals and six assists and in his last 11 starts. He also has six double-digit hauls this season – the most of all players along with Kevin De Bruyne (£10.7m) and Jamie Vardy (£10.1m).
The Senegalese international also has a fine record against the two teams he's set to play this gameweek. Already with a goal against Wolves this season and 11 FPL points when the sides met at Anfield, Mane currently has three in three against the Midlands club. Three is also the magic number when it comes to discussing his form against West Ham, with Mane having found the net in each of his last three matches against the Hammers. In fact, you have to go back to his Southampton days to find the last time Mane didn't secure some form of attacking returns against West Ham. His record for Liverpool against the club from East London reads four goals, three assists and more impressively zero blanks in five appearances.
Mo Salah (£12.3m) vs WOL (a) / WHU (a)
Despite being slightly overshadowed by Mane on the opposite flank, the second of Liverpool's fab front three is once again putting a fine season together. With 11 goals and five assists this season, Salah has been either feast or famine as of late. Over the last seven gameweeks he has had point scores of 13, 16 and 10 to go along with two threes. While Mane may have been the more consistent scorer this season, it is Salah who has offered the bigger points totals in recent weeks.
Key stats this PL-season Salah v Mané (thanks, @FFScout)

Mins 1621 v 1750
xG 10,81 v 10,38
xA 3,79 v 3,22
Mins per xGI 111 v 128,7
Big chances 17 v 21
Shots 70 v 53
Shots in the box 58 v 46

Salah does slightly better. That's why I'll triple captain him over Mané.

— FPL Sigurd (@JoremSigurd) January 20, 2020
Fresh from a goal over the weekend, the Egyptian also has a fantastic record against West Ham having scored four goals along with one assist in four appearances against the Hammers. While Salah has a slightly more modest record against Wolves – just one goal and one assist in three appearances – that goal and assist did come in the equivalent fixture last season, where he netted 14 points in a 2-0 victory for the Reds.
Trent Alexander-Arnold (£7.5m) vs WOL (a) / WHU (a)
Arguably Liverpool's form player over the last few weeks, Trent Alexander-Arnold (£7.5m) added yet another assist at the weekend to take his tally to 11 for the season. It's now been six gameweeks since the right-back last failed to secure more than the obligatory two points for reaching 60 minutes. His 60 points in that timespan is more than any other Liverpool assets over the same period.
Alexander-Arnold offers the type of explosive potential that makes defenders such an attractive captaincy option during double gameweeks – namely the propensity for keeping clean sheets coupled with attacking prowess. Already with four double-digit point hauls this season, the final bow to his quiver is his set-piece prowess – a feature that was on full display in the victory over Man Utd at the weekend.
Andrew Robertson (£7.0m) vs WOL (a) / WHU (a)
Though not gaining the same level of headlines as his counterpart on the right hand side of the Liverpool defence, Andrew Robertson (£7.0m) could be a shrewd pick as a captain for FPL managers looking outside of the three listed previously. While the return of Joel Matip (£5.2m) to training could see Joe Gomez (£5.2m) move across to right-back, handing Alexander-Arnold a rest, the injury to James Milner (£5.3m) means there is currently no competition for Robertson's place on the left side. Indeed, outside of Virgil van Dijk (£6.4m) and Alisson (£6.1m), Robertson is properly the next least likely player to be rotated out of the starting line-up during this busy time for the club.
The Scottish left-back also isn't shy of an attacking return, with a goal and six assists this season. Robertson also has an excellent attacking record against the Hammers having registered one goal and two assists in six appearances. He's also yet to concede a league goal against Wolves since becoming a Liverpool player, with three clean sheets in three appearances. In fact, it's been over eight years since Liverpool last conceded in the league against Wolves, though admittedly they have only played four times in that time period.
DIFFERENTIAL CHOICE
Roberto Firmino (£9.4m) vs WOL (a) / WHU (a)
Okay so not technically from one of the other 19 teams to play but Roberto Firmino (£9.4m) definitely falls into the differential category for this week. Despite scoring fewer points this season than the more popular choices listed in this article, Firmino has become something of an away-day specialist for Liverpool this season. His seven league goals this season have all come away from home and his 67 points collected away from Anfield have come at an average of 6.70 points per appearance. To put that into perspective, Mane is currently averaging 6.44 points per match away from home, while Salah is averaging just 5.13 points per match away from home. Only Robertson and Alexander-Arnold are close to matching that with the pair respectively averaging 6.60 and 6.70 points per match away from home this season. With three goals in his last five, excluding a disallowed goal against Man Utd, Firmino could be rounding into form at just the right time.
Like most, I keep changing my mind on how to play the upcoming GW24. Was all set to add Mane to the 2 I already have (Salah and TAA), but now... Strongly considering Firmino. Both are away and we know how good he's been away. How do others feel about Roberto?

— FPL Foot Fighter (@rook1878) January 12, 2020