FPL Gameweek 17 – Captain Picks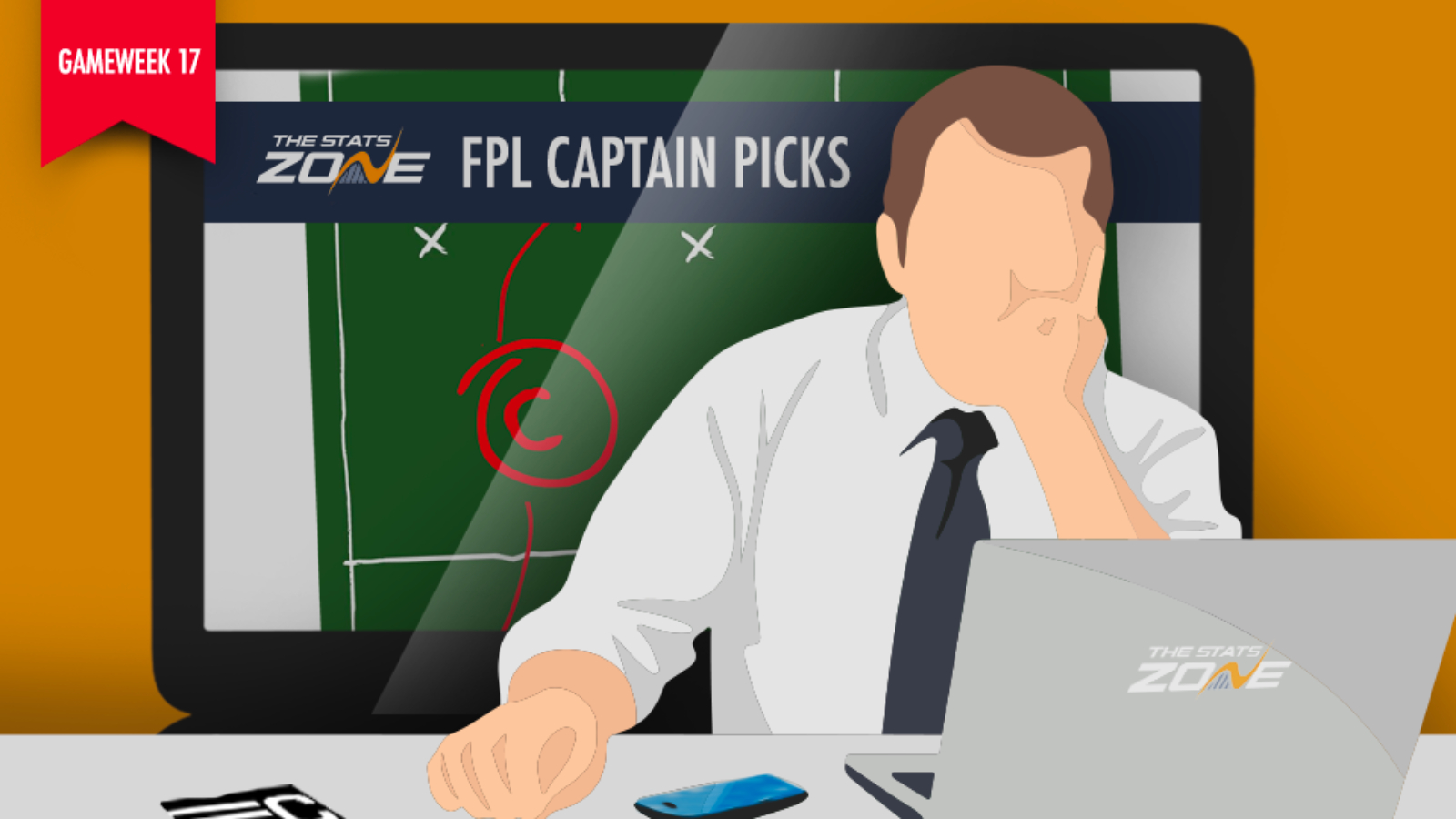 While many people are calling time on both the league and the 'Goal of the Season' winner this weekend after Liverpool pulled 14 points clear of reigning champions Man City and Heung-Min Son (£10.0m) ran through the entire Burnley squad to christen a million memes, there is still plenty of intrigue left in FPL. For example, as Jan Vertonghen (£5.2m) skilfully cleared the ball from inside his own penalty area, setting up Son to score just a few minutes and 12 touches later - what is an assist? Also, after Sheffield United's Chris Basham (£4.5m) was handed a straight red card for lunging at Kenny McLean's (£4.9m) knee only to have VAR review and 'correct' it to a yellow, have we successfully invented a form of time travel? Furthermore, how long will it be before a Premier League side presses the 'In Case of Emergency, Sam Allardyce' button? It remains to be seen. What we can be sure of is that Jamie Vardy (£10.1m) knows where all of the goals are, Marcus Rashford (£8.9m) can no longer go under the radar, and John Lundstram (£5.1m) may soon no longer be the Blades' top-scoring defender - despite not being a defender in the first place.
Elsewhere it was an extremely strange round of fixtures, as often seems to be the case on cup qualification week, with several members of Team TSZ falling foul and failing to qualify. This is not why Tim has handed the Captain Picks article to me this week (he says) but I shall endeavour to advise you to the best of my ability in his absence!
PREMIUM OPTIONS

Jamie Vardy (£10.1m) vs NOR (H)
Two more goals for Jamie Vardy against Aston Villa brought his top-scoring total up to an incredible 16 for the season, with only some help from Tyrone Mings (£4.5m), who clearly had no faith in the defensive replacements on manager Dean Smith's bench. That makes it eight Premier League games in a row that the 33-year-old has netted in, scoring 11 times in that period, and notching three assists along the way. He was the most captained player for GW16 and returned a cool 26 points for those who continue to attend his party. His foes, Norwich City, have conceded 34 goals so far this season, behind only Southampton in that particularly sad leaderboard and Leicester play at home, where they are unbeaten this season. There is no question that Vardy is the go-to guy for the Gameweek 17 captaincy!
...
My apologies readers, I have just re-read the notes given to me by this article's usual writer, Tim:
1) Suggest Jamie Vardy as a captain option in the latest captains article as he has now scored in (insert number) consecutive matches. 2) Place armband on Jamie Vardy. 3) Watch Jamie Vardy score for Leicester against (insert relevant opposition name here). 4) Rinse and repeat for new gameweek.
As you can see, he failed to mention that I had to provide some other candidates. In case, for some reason, you did not want to captain Jamie Vardy. See below:

Marcus Rashford (£8.9m) vs EVE (H)
Rashford scored two goals on the opening day of the season, sparking a flutter of appreciation for the young England international. However, as it quickly became clear that Manchester Utd's 4-0 win over Chelsea was an anomaly, he and the likes of Daniel James (£6.1m) fell by the FPL wayside. Throughout the season, though, Rashford has quietly stayed in consistent form, culminating in his excellent displays over the last five gameweeks in which he's registered at least one attacking return each game.
While the Red Devils' last two games might be red herrings, both 2-1 vengeance missions over Jose Mourinho's Spurs and rivals Man City were massive improvements and had Rashford's goals at the centre. 43 points over his last five games saw him become the third asset this season to break the 100-points barrier, and at the time of writing he is owned by just under a quarter of FPL managers. United face Everton at home this weekend, where Rashford has scored seven of his 10 Premier League goals this season, and while Duncan Ferguson brought the good times back to Goodison Park last time out, it remains to be seen how the Toffees will fare on their travels.
Sadio Mane (£12.3m) vs WAT (H)
Liverpool's nervy trip to Salzburg saw both Naby Keita (£5.8m) and Mohamed Salah (£12.2m) score for their second successive games. This will be music (probably heavy metal) to manager Jurgen Klopp's ears as he needs every ounce of effort from all of his squad over this congested December. However, in a high-tempo game that was ultimately decided within two second-half minutes, Sadio Mane (£12.3m) put in a man-of-the-match performance and his intelligent play in setting up Keita's goal proved to break the deadlock. This pick could just as easily be Salah, after his 13-point display at Bournemouth on Saturday when Mane was rested, but with both playing the full 90 minutes on Wednesday evening, Mane should be the fresher of the two.
Behind only Jamie Vardy in total FPL points (see above for a convincing argument for his captaincy), Mane has established himself as the premium in-form midfielder to own and recently surpassed even Salah's price. Nine goals and six assists makes him a fairly water-tight asset to captain every week, with just five blanks out of 15 played and five double-digit hauls over that span, home and away. What's more, the Senegal international faces bottom-of-the-table Watford, at Anfield.
Herein lies a special mention for Salah, though, who scored four goals in one game against Watford in his prolific first season for Liverpool and six overall since arriving on Merseyside.
Tammy Abraham (£7.9m) vs BOU (H)
Tammy Abraham made fools of us FPL managers who transferred him out following an awkward looking injury in the Champions League by missing just the one Premier League game and then scoring 12 points on his return. Despite being carried off on a stretcher at Valencia at the end of November, the young England international has been his usual robust self since, scoring in the Blues' last UCL group stage match with Lille on Wednesday night to make it 13 goals in all competitions. With 11 of those coming in the Premier League, alongside three assists, his modest price of £7.9m makes him a near essential FPL asset. As a candidate for captaincy, he represents a shrewd option this week. With the majority of FPL managers likely to choose the aforementioned Vardy, Abraham faces a Bournemouth side seemingly on a mission to run out of first-team players by 2020 and are riding a streak of five losses.

DIFFERENTIAL CHOICE
Danny Ings (£6.3m) vs WHU (H)
While Ings' excellent run of a goal in each of his last five games is no secret, the mere fact that there are so many excellent forward options in the FPL this season means that just over 11% of managers own him. With nine goals so far this campaign making him joint-fourth in the top scorers' chart alongside Harry Kane, Sergio Aguero and Sadio Mane, Southampton's striker is nailed on to start with little competition for his place right now and is enjoying bullying the relegation candidates with the likes of Watford, Norwich and Newcastle among his victims. Look no further than West Ham, then, as another club who really seem to hate winning football matches.
With so many excellent options this week, we've not even touched upon Spurs trio Harry Kane (£10.9m), Son or Dele Alli (£8.7m) as they play a difficult Wolves side. We could mention that Alli has scored 50 FPL points in his last seven gameweeks, or that Kane scored in both games against Wolves last season, but you'll probably just captain Jamie Vardy. Right?