March 04, 2021 4:28 PM
Last modified date: March 04, 2021 5:48 PM

Jamie Ryder
FPL Double Gameweek 27 – Captain Picks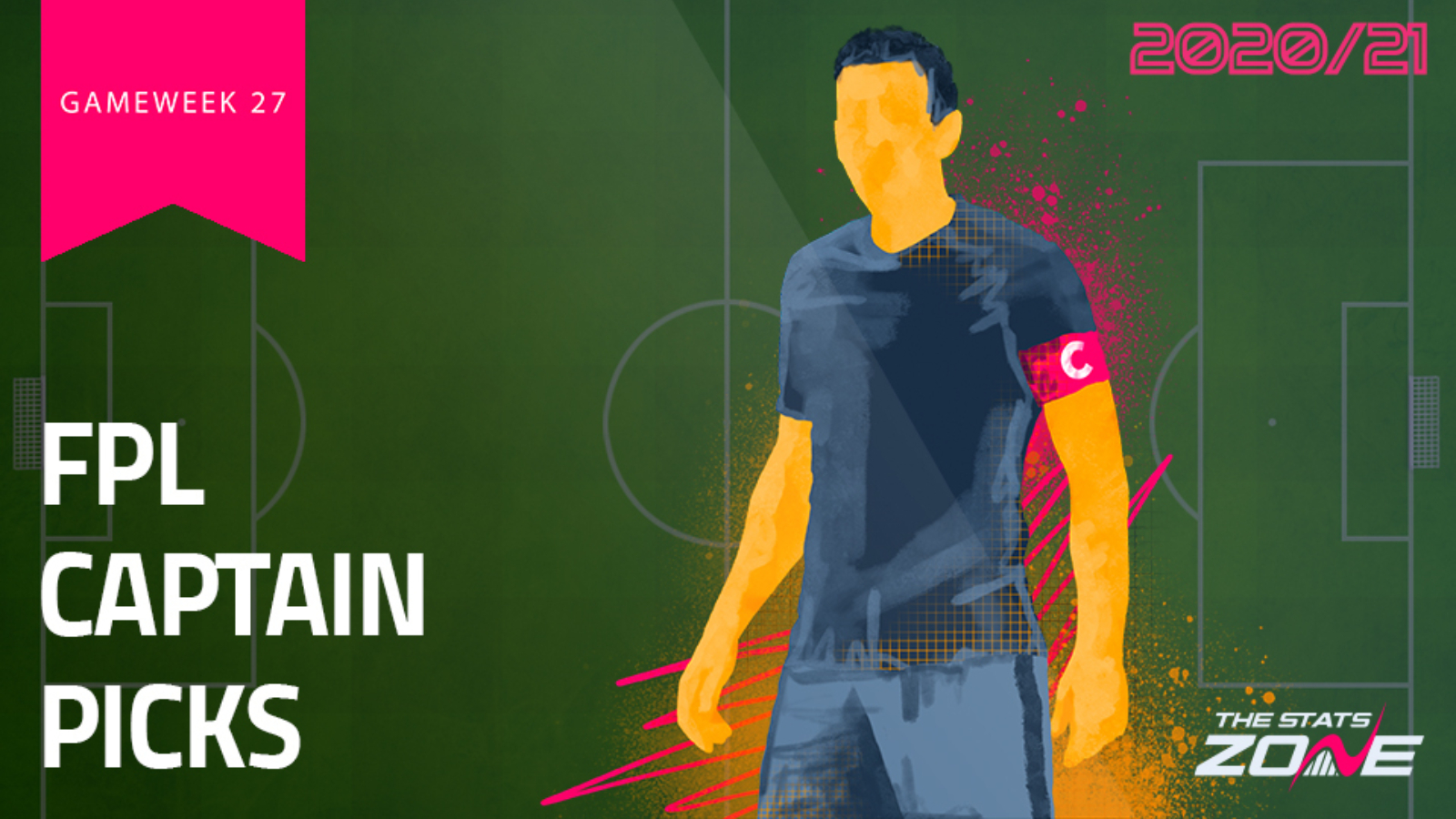 Select the sports you want to hear about and TSZ will send the best previews, analysis and predictions straight to your inbox. Sign up today!

Double Gameweek 26 was epitomised by the Harvey Barnes (£6.9m) knee injury. As the breakneck winger rolled around in agony on the hallowed turf of the King Power, numerous thoughts flooded the mind of spectators. 'Is he going to be okay for the Euros?' asked the majority of English football fans as the anguish across his face permeated through the television screens of many watching. 'How will Leicester compete for top four without Barnes and James Maddison (£7.3m) for their next few fixtures?' was a more niche view, perhaps only conjured up by those supporting the Foxes. The final question that we all felt increasingly guilty about after learning the severity of his injury (early reports indicate up to six weeks on the sidelines), and demonstrates in abundance the inhumanity that we can attribute to this enthralling fantasy game, was 'You can last until 60 at the very least Harvey?'.
In a largely unpredictable Double Gameweek 26, we had a few success stories but in similar fashion to the 26 weeks that preceded it, there was a copious amount of managers feeling hard done by. Bruno Fernandes (£11.6m) recorded back-to-back blanks as a large percentage of managers entrusted him with the infamous Triple Captain chip. He looked ineffective and in contrast to his usually unmatched levels of creativity, he seemed unlikely to conjure up a goal-scoring opportunity throughout the lacklustre 180 minutes of football. As his team stuttered to consecutive stalemates, the frustrating inconsistency of Man Utd assets this season was once again a topic of discussion amongst the FPL community. As was the case with Frank Lampard earlier this season, it is becoming more and more transparent that Ole Gunnar Solskjaer is found wanting in season-defining moments. A serial semi-final loser that employs slightly glamourized Tony Pulis tactics against fellow top six opposition, this is clearly another case of a club legend outliving his legacy. With a lack of a plan B in effectively all fixtures the Red Devils encounter adversity and his failure to pro-actively manage in big games, Man Utd assets are becoming increasingly unpredictable in FPL primarily due to the Norwegian. The sit-back-and-hope-Bruno-does-my-job approach will be exposed against a scarily efficient Man City side this weekend and for the first time this season, Bruno Fernandes may be disposable. We certainly don't know whether the Man Utd players are good enough to compete with this City side but it's becoming increasingly obvious that the manager isn't.
As we enter Double Gameweek 27, it feels a little as if we're attending the premiere of Jaws 2. In prior seasons, double gameweeks were attractive primarily due to the scarcity in which they presented themselves and the unpredictability of these gameweeks aroused unprecedented levels of intrigue as managers effectively had to employ one of their chips. As we sit through this sequel that even Spielberg, the director of the first instalment, abandoned, we question whether this is all becoming a bit predictable. The shark eating the seemingly unexpecting victims is akin to the Pep rotation that has bitten into the points tally of so many hopeful FPL managers. Southampton also have a double gameweek this week, facing a tepid Sheffield Utd. At this point when a team faces Man City in their double gameweek, it should arguably renamed a 1.01 gameweek. While slightly less catchy than its predecessor, the prospect of returns is effectively nil against these cold-blooded killers. You would think after debunking the attraction of double gameweeks that there would be an absence of DGW players in the below article. You'd be incorrect.
Finally, if you revert back to our Double Gameweek 26 captaincy tips, you'll see we predicted a Harry Maguire (£5.5m) haul and encouraged triple captaincy. We hope one reader took this questionable piece of advice because this writer most certainly didn't.
PREMIUM OPTIONS
Ilkay Gundogan (£6.2m) vs MUN (H) & SOU (H)
Despite the copious amount of spreadsheets detailing the likeliness of each City player being rested by compiling their previous resting periods, their likeliness to be injured playing twice in a week and whether they like their eggs boiled or poached, we can assure you there is zero possibility you will be able to predict the line-ups of Pep Guardiola in the coming weeks as his side aim to be the first quadruple winners in English football, Ilkay Gundogan (£6.2m) was effectively fully-rested against Wolves and a relatively poor performance from the side in his absence (a 4-1 win is below par these days for this side) means he is certain to start against Man Utd on Sunday. You could argue Raheem Sterling (£11.6m), Kevin De Bruyne (£11.8m) and Sergio Aguero (£10.3m) are likely to start the fixture also. However, given this timely rest, you would assume Gundogan may feature in both of these fixtures and rested against Fulham prior to City's second leg of their Champions League tie.
Sterling was rested in the West Ham fixture in Double Gameweek 26 so is most definitely a captaincy option. However, given his tumultuous performance levels in recent weeks, it would take a brave FPL manager to hand the Englishman the armband.
Harry Kane (£11.1m) vs CRY (H)
It seems as if the Player of the Season award has already become a two-horse race in the form of Bruno Fernandes and Ruben Dias (£6.1m). Heralding 25 goal involvements, curtailed by missing two games against Brighton and Chelsea, Harry Kane (£11.1m) will feel robbed if he is not considered direct competition. His importance to Spurs is paramount and should he finally leave this summer, there are few centre-forwards available that will glue this Spurs side together as effectively.
A London derby is a near certainty for goals for the in-form striker and this Palace side are looking thin on defensive options. Gary Cahill (£4.5m) and Cheikhou Kouyate (£4.8m) were impressive against Man Utd but should Spurs play the quartet of Gareth Bale (£9.3m), Heung-Min Son (£9.5m), Lucas Moura (£6.6m) and Kane, expect them to be tested beyond their capabilities.
Mo Salah (£12.6m) vs FUL (H)
Long time, no captain for the Egyptian marksman. Aaron Ramsdale (£4.6m) suddenly being capable of preventing goals being scored against the Blades was the reason for another unfortunate blank for Mo Salah (£12.6m) in the first fixture of Double Gameweek 26. At the time of writing, he has not faced his former side Chelsea but should he perform in his signaturemenacing manner, he should be on course for a haul against a much-improved Fulham side that are prone to conceding against the bigger sides due to their admirable but simultaneously naïve approach of playing out from the back.
A relatively forgotten man in the FPL community, Salah becomes more of a differential captaincy option by the gameweek and we're backing him to get back on track as Liverpool are boosted by the return of Alisson (£5.9m) and Fabinho (£5.4m) in addition to their impressive performance against Sheffield Utd.
DIFFERENTIAL CHOICE
Phil Foden (£6.1m) vs MUN (H) & SOU (H)
Despite Phil Foden (£6.1m) being less nailed on in the starting line-up than Gundogan, there is similar reason for expecting he will heavily feature in Double Gameweek 27. With the re-emergence of De Bruyne in the City starting line-up, it's too early to tell whether Foden has lost his place due to being out of favour with Pep or whether he is simply being rested. As City's Champions League race intensifies, we would expect Foden to become a more frequent starter in the league to give the more regular starters, De Bruyne, Gundogan, Sterling and Bernardo Silva (£7.4m), a chance to rest for the more difficult fixtures. When Foden plays, he normally returns and with Southampton looking very vulnerable at the minute, Foden could be helping himself to a few overdue goal contributions on the back of a disappointing gameweek.