February 24, 2021 3:29 PM

Jamie Ryder
FPL Double Gameweek 26 – Captain Picks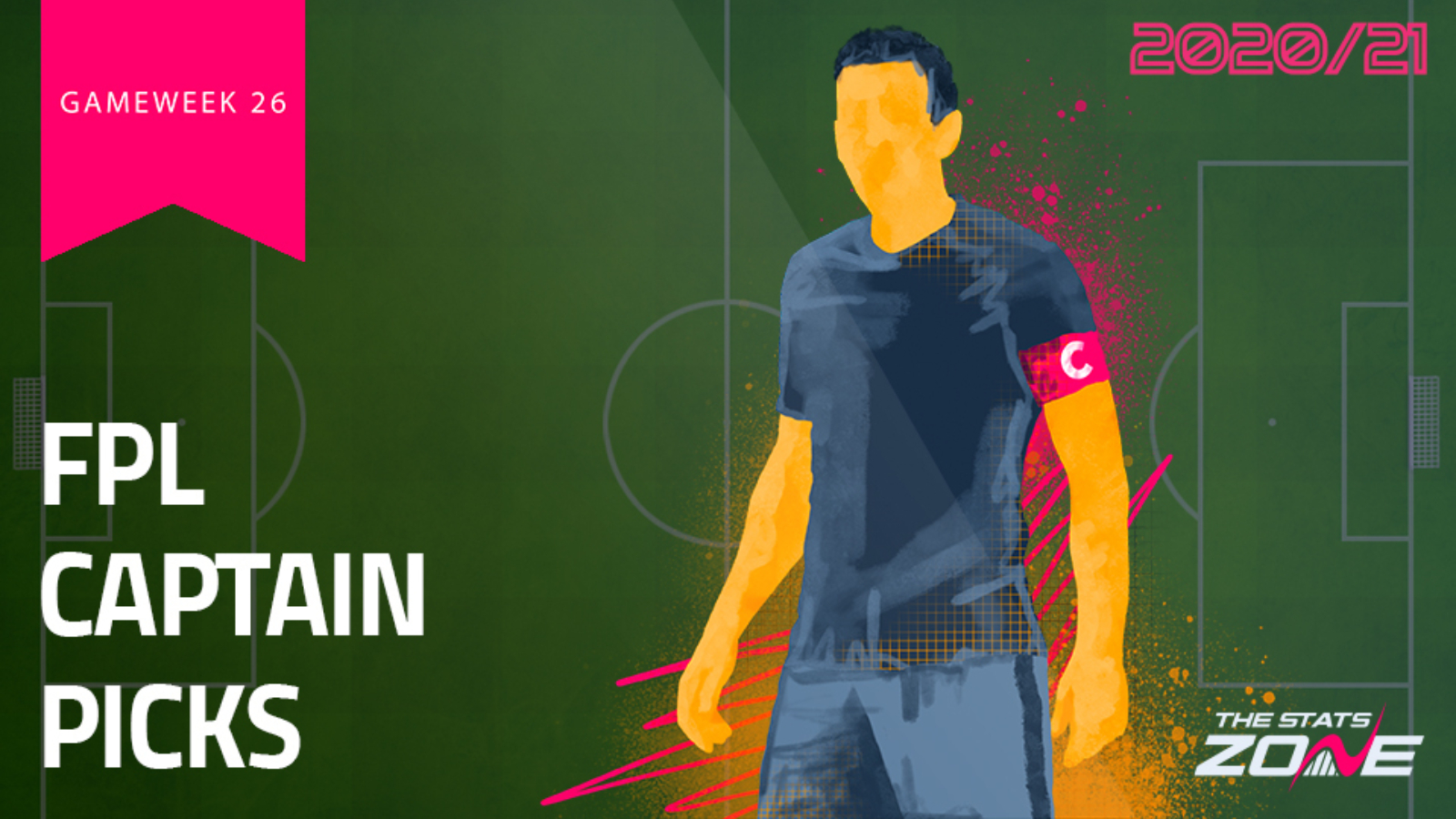 As your finger hesitantly hovers over the Triple Captain chip this weekend, painful flashbacks force you to stop and take a deep breath. Are you cursed? Surely you're just overreacting; it's only a fantasy sports game and your choices couldn't possible have an influence on real-life proceedings. Leroy Sane being pushed out of the Manchester City squad after you elected him as your Triple Captain in the 18-19 season was just inevitable. He was too flashy for that disciplined Guardiola team and you were just an unfortunate victim that naïvely overlooked this imminent departure. Flashback to the 19-20 season, a seemingly unstoppable Sadio Mane (£11.8m) )is the chosen one and enters a double gameweek with the infamous white (C) towering over his four letter name, scarily similar to that of his predecessor. He goes down injured after roughly 25 minutes. This one is slightly unusual given Mane has featured in effectively every fixture prior to the two you have entrusted him with this chip for. Surely you should have considered the intense fixture congestion before selecting the Senegalese wideman. You should've listened to Gary Neville in 2016, it was only a matter of time before Liverpool's intense press took its toll on the players. It would be crazy to suggest a chip in a fantasy sports game is cursed and you are the sole reason for Sane being offloaded to Bayern Munich and Sadio Mane never truly recovering the goal scoring form he showed prior to his Triple Captain duties for your side. Or is it?
As Double Gameweek 26 approaches, we all feel like morbidly obese children at a bake sale. An abundance of treats and enough variety to satisfy even the most unusual of appetites. The run-of-the-mill chocolate cake and vanilla sponge are present; these goods have been tried and tested and for the safe customers, these are simply a no-brainer. Harry Kane (£11.1m), Mo Salah (£12.6m) and Bruno Fernandes (£11.6m) are metaphorically represented by these tasty treats. As you stroll towards the back of the bake sale, the relatively unexplored route due to the chocolate cake being available next to the entrance, you notice an old woman positioned just outside the exit. She smiles at you, filling your entire body with both excitement and dread. She lifts up a titanium lid to unveil toffee apples that shine as they intercept the beams of light stemming from the sun above. These toffee apples are a previously unexplored delicacy for you but in that beautiful moment, they become the only food in the world and without hesitation you mutter 'I'll Triple Captain Ollie Watkins (£6.5m)'.
The age-old fixture-vs-form debate has never been more enthralling as Spurs face Burnley and Fulham, fixtures that would have been tantalising had they come about ten gameweeks earlier. Bruno Fernandes seems unstoppable but the Chelsea defence seems equally as impermeable at the minute. This duel will draw comparisons between Voldemort and Harry Potter's final battle but who will represent the skinny kid with glasses and a scar on his forehead (no spoilers)? This gameweek represents the biggest chance for those of you facing imminent relegation in your mini-leagues to have a season-defining roll of the dice on a differential option and I hope I can assist you in rolling a six.
PREMIUM OPTIONS
Bruno Fernandes (£11.6m) vs Chelsea (a) & CRY (a)
As prefaced in the introduction, the Portuguese magician faces an increasingly durable first fixture as he travels to Stamford Bridge on Saturday. The 'new manager bounce' was an undeniably smart move by Roman and his cartel as Tuchel seems to have faced a string of weak opposition (Spurs included) in quick succession until Atletico Madrid earlier this week. In this relatively uneventful fixture, his side oozed confidence defensively and previously shunned players within the Frank Lampard regime, most notably Andreas Christensen (£4.7m), Antionio Rudiger (£4.6m) and Marcos Alonso (£5.7m), looked reinvigorated both in terms of confidence and playing ability. All good things must come to an end and with Bruno looking likely to receive a full rest on Thursday, expect him to be eager to have a go at this in-form Chelsea team.
Crystal Palace are beginning to become the bad smell of the Premier League. Being utterly dreadful week in, week out but somehow managing enough wins, usually down to the individual brilliance of Wilfred Zaha (£7.1m) when fit, to get to the 40-point mark. Their win against Brighton on Monday would've been an injustice to football had their goals not been so goddam beautiful. They will struggle against Utd and with Zaha missing in conjunction with Cheikhou Kouyate (£4.8m) and Gary Cahill (£4.5m) invariably as their main centre-backs, expect Bruno to produce an impressive haul.
Harry Kane (£11.1m) vs BUR (H) & FUL (a)
Harry Kane has the most goal contributions in the Premier League this season. He comes up against the 17th and 18th-placed teams in relatively decent goal-scoring form. This should be a no-brainer right? Kind of.
Burnley have conceded just once in their last three. It's important to note these games were against a Zaha-less Palace, a ten-man West Brom and a Fulham side who have been infamous for their bad finishing this season. Kane has previously excelled in this fixture having been directly involved in nine goals in his last five appearances facing the Clarets. Add this to the fact he scored against Fulham earlier this season and Kane should be as close to a no-brainer we'll get this gameweek.
DIFFERENTIAL CHOICE
Ollie Watkins (£6.5m) vs LEE (a) & SHU (a)
'Aston Villa are effectively Sheffield Utd without Jack Grealish (£7.7m)' tweets @FPLBrownBread69. While this could well in fact turn out to be true, this hypothesis has had a singular trial in the form of a Leicester side who are second only to Man City in terms of explosiveness currently. While it is unfortunate Grealish may well be missing for both games, these are potentially the most favourable set of fixtures for a budget striker this gameweek. Expect Dean Smith to adjust his tactics accordingly on the back of a dismal performance against the Foxes last time out.
Watkins has four goals in his last seven and expect him to be eager to banish the narrative that Grealish is the only player at this Villa side. This same narrative existed last season and Villa came 17th by the skin of their teeth. I'm sure if Watkins was allowed to play FPL, he'd employ the Triple Captain chip on himself this gameweek #justiceforVillaFPL.
Jamie Vardy (£10.1m) vs ARS (H) & BUR (a)
We have gone for Jamie Vardy (£10.1m) over Harvey Barnes (£6.9m) as we expect the former is more likely to be rested on Thursday night. Barnes have been increasingly impressive in this exciting Leicester side that may well have been in contention with Man City had they not been plagued with injuries this season. Liverpool have continuously complained about their centre-half problems throughout the season while Leicester, missing half their first team for the majority of the season (Wilfred Ndidi (£4.8m), Caglar Soyuncu (£5.3m), Ricardo Pereira (£5.9m), James Maddison (£7.3m), Timothy Castagne (£5.7m andVardy have all faced lengthy spells out), have quietly chipped away in a vein of form similar to that of their title-winning campaign.
Expect Vardy to have a real go at an Arsenal backline lacking pace and discipline in addition to the ability to defend. Owned by under 20% of managers, Vardy may be the most essential premium asset this week.
*Final tip- Harry Maguire will score this gameweek, Triple Captain him if you're desperate for a big dirty green arrow*