January 08, 2021 11:03 AM

Jamie Ryder
FPL Blank Gameweek 18 – Captain Picks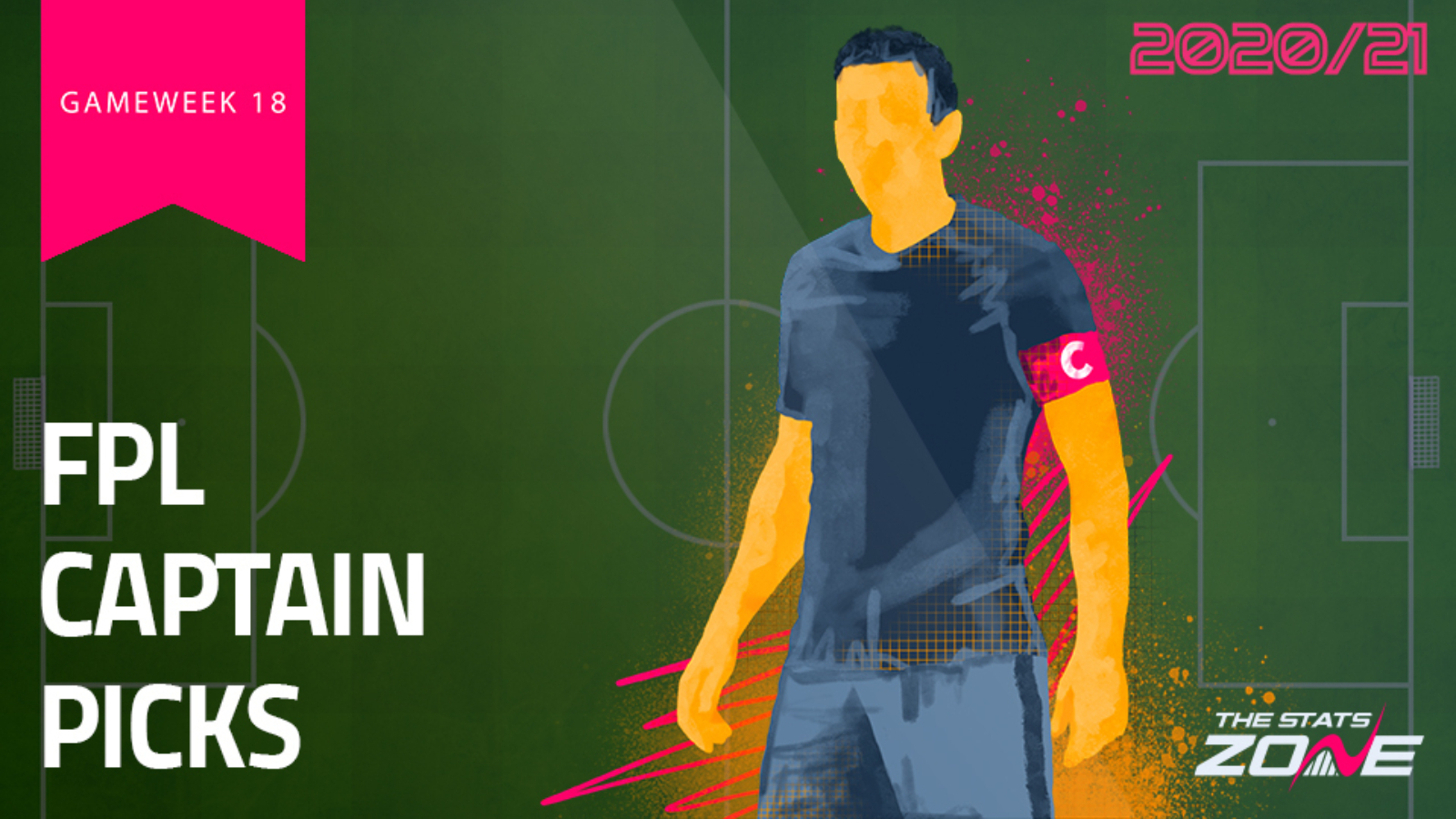 Gameweek 17 presented an increasingly recurrent outcome for our captain picks at The Stats Zone. Marcus Rashford (£9.5m), recently declared the most valuable player globally, was the only one of our four picks who failed to return with yet another limp individual performance in Man Utd's overcoming of a dogged Aston Villa side. His eighth blank of the season has diminished his temporary status as a direct differential to his magic teammate Bruno Fernandes who registered both a goal and an assist which saw him become the second highest scorer in FPL behind the equally scintillating Heung-Min Son (£9.8m).

Our first premium option Harry Kane (£11.0m) played a pivotal role in dismantling a Leeds side that continue to display the tactical naivety that has seen them embarrassed by Liverpool, Man Utd and Chelsea this term. A goal, an assist and a maximum bonus ensured a fruitful return for readers. Jamie Vardy (£10.2m) was next up and despite looking menacing throughout against a questionable Newcastle defence, he was relatively unfortunate to only take away one assist. The return of James Maddison (£7.1m) and Wilfred Ndidi (£4.8m) has contributed massively to the rejuvenation of a Leicester side that seemed void of creativity only a few gameweeks back.
Finally, our riskiest, and perhaps craziest captain pick of the entire season, Eberechi Eze (£5.8m), looked destined for failure when he was surprisingly benched for the second game running. Given he had only registered one goal prior to this gameweek, a second-half substitute appearance would have crushed the dreams of the one, potentially two crazy readers of last week's article who took this advice. That was until the FPL Gods struck down the unfortunate Jeffrey Schlupp (£5.4m) after 40 minutes; a Premier League footballer second but a TSZ captain pick martyr first. Eze, in one of his first involvements, cascaded around the inept Sheffield defence to score one of the best individual goals of the season. This captain picking stuff? Too Eze if you ask me.
Gameweek 18 is one the most challenging gameweeks of the season so far as many teams face a blank gameweek and Aston Villa's COVID-19 19 outbreak has only added to the uncertainty amongst Spurs assets. As a result, we have chosen to overlook this fixture for captaincy options.
PREMIUM PICKS
Kevin De Bruyne (£11.7m) vs BRI (H)
Un-droppable, reliable and up against a dire defence this gameweek, Kevin De Bruyne (£11.7m) will undoubtedly be the most captained player in this unpredictable gameweek. In a week of uncertainty, find solace in a no-brainer captaincy option. Despite the large amounts of football KDB has clocked up over the festive period, he looks anything but lethargic as this City team have finally got their mojo back (a phrase which caused Pep an abundance of confusion in his post-match interview on Wednesday night). Scintillating performances against both Chelsea and Man Utd in the last few days offer some foreshadowing for City's next league fixture and Graham Potter will be fearing an utter capitulation from his side when they face the most in-form team in the league. Despite his namesake, Potter is no magician and without a competent goalkeeper, expect City to add to the 28 goals Brighton have already conceded this campaign.
Bruno Fernandes (£11.3m)/ Edinson Cavani (£7.8m) vs BUR (A)
Man Utd were bullied by a far superior City side in the Carabao Cup on Wednesday and their chances of silverware have massively depleted given their exodus via yet another semi-final. Too many of their fans' amazement, their game against Burnley hands them the opportunity to overtake Liverpool and put them in first place for the first team this season. Whilst the consistency of Bruno Fernandes (£11.3m) is difficult to overlook, the revitalised Edinson Cavani (£7.8m) is bound to start after completing a harsh three-game ban. His low ownership makes the Uruguayan marksman a tempting differential against a Burnley side, who despite being renowned for their robust defence in prior seasons, have struggled this season. Any managers activating the free hit should consider a one-week punt on Cavani.
Alexandre Lacazette (£8.3m) vs CRY (H)
Frequently referred to as 'Lacazette the machete' by Arsenal fans that are also prone to wearing full kits to matches, Alexandre Lacazette (£8.3m) has recently displayed the levels of sharpness associated with the aforementioned weapon. Deployed as a central forward in recent weeks, Lacazette is enjoying reaping the rewards of a youthful Arsenal side partially carried by the vibrant Bukayo Saka (£5.3m). Whilst not first choice for penalties, it is worth noting Gabriel Martinelli (£4.9m) may start ahead of Aubameyang against Palace which would ensure Lacazette steps in as deputy.
Considered surplus to requirements by the majority of Arsenal fans over the last 12 months, four goals in his last 204 minutes of Premier League football has given fan's a nostalgic display of the goal scoring prowess displayed in Lacazette's first two seasons at the club. Up against an inconsistent Palace backline, expect there to be goals at both ends in this fixture. We're backing Lacazette to add to his tally of seven goals this campaign.
DIFFERENTIAL CHOICE
Miguel Almiron (£5.6m) vs SHU (A)
The opponents of our differential pick seem to be recurringly Sheffield Utd and there is good reason for this. They are completely and utterly dreadful. It is hard to fathom how this durable powerhouse of a side from last season have become so easy to beat for every side this season. Admittedly, the loss of Dean Henderson (£5.2m) back to Man Utd and the absences of Sander Berge (£4.9m) and Jack O'Connell (£4.7m) haven't helped Chris Wilder but there is no player bar David McGoldrick (£5.2m) and potentially John Egan (£4.7m) who have performed at a level close to last campaign. The signing of Aaron Ramsdale (£4.7m) has been one of the worst of the summer and back-up goalkeeper Michael Verrips (£4.0m) has to be scratching his head at what this calamitous signing has to do to be dropped.
Backing any attacking player against Sheffield seems a relatively safe bet currently and the Paraguayan speed merchant is prone to a goal against weaker opposition. Other notable differential picks in Gameweek 18 include Joao Cancelo (£5.7m) and Callum Wilson (£6.5m).