Following transfer deadline day, we assess the January signings that could make an impact in your FPL squad.

Pierre-Emerick Aubameyang (£10.5m)
Despite facing a number of disciplinary sanctions at Dortmund this season, the Gabon striker still netted 13 goals and provided three assists in 16 games.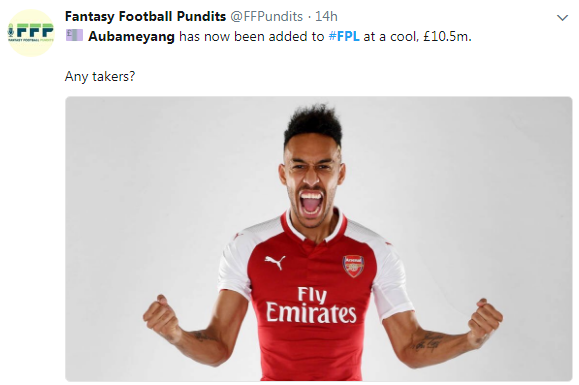 Exactly how 'Auba' fits into Wenger's plans is unclear, considering the Gunners' attacking options. Chances should be plentiful for the striker playing with the likes of Mesut Ozil (£9.3m) and Henrikh Mkhitaryan (£7.6m), though his arrival could mean further defensive woes for Arsenal; the north London side are without a clean sheet since GW18.

The striker is more expensive than Liverpool forward Roberto Firimino (£9.2m), while he could fail to match the explosive returns of both Sergio Aguero (£11.9m) and Harry Kane (£12.9m). Upcoming fixtures against Everton (h), Spurs (a), and Man City (h) should allow FPL bosses to assess Aubameyang's minutes before the schedule turns very favourable in GW29.
Verdict: Hold fire…particularly as the forward is now a doubt for GW26

Olivier Giroud (£8.2m)
As Aubameyang arrived at the Emirates, Arsenal stalwart Giroud departed for Stamford Bridge. With Alvaro Morata (£10.4m) plagued by a back injury (and a severe lack of form), the Frenchman could gain pitch time immediately under Antonio Conte.
Giroud managed just 374 Premier League minutes for the Gunners this season, scoring an encouraging four goals – one every 93.5 minutes. In five full seasons with Arsenal, the forward scored at least 116 fantasy points each campaign.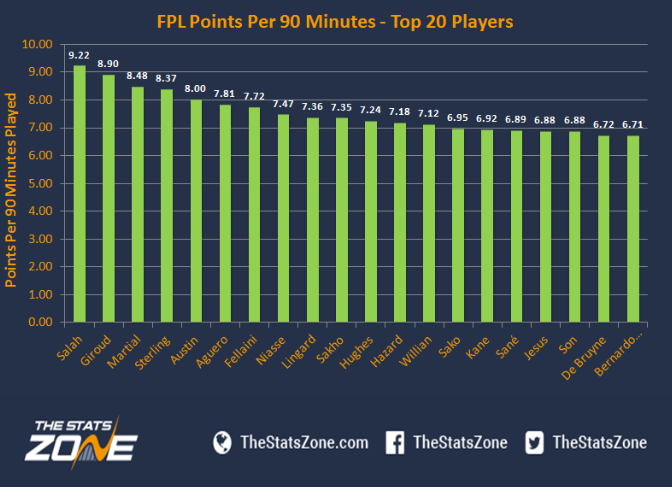 After an incredibly poor home display against Bournemouth on Wednesday, the Blues have fixtures away to Watford and at home to West Brom. The champions will need a swift return to form in order to hold a top-four spot. Giroud could be the perfect antidote, though Conte's side face successive road trips to Manchester from GW28.

Verdict: Could shake up the mid-price forward bracket

Theo Walcott (£7.2m)
Another Arsenal alumnus, Walcott is attracting serious transfer attention after a GW25 brace. An immediate price rise is indicative of managers' eagerness to accommodate the affordable midfielder in their sides.
Walcott's 15-point haul against Leicester, aided by two glaring defensive errors by the Foxes, made it two goals and an assist in two starts for Everton. The winger offers a good solution for those still holding the injured Marko Arnautovic (£6.9m) as the Toffees head into a fairly sweet run of fixtures.

Everton will also have a fixture in upcoming blank Gameweek 31, further heightening Walcott's appeal. If the Merseyside outfit finally find form, the man transferred in by 135,000 FPL bosses this week will be integral once fitness is maintained.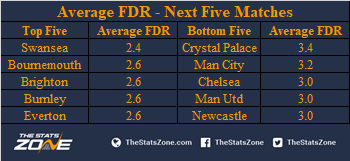 Verdict: This bandwagon should continue to roll at pace

Aymeric Laporte (£5.5m)
Pep Guardiola handed an immediate debut to French defender Laporte in GW25 due to John Stones' illness; the Spaniard was not disappointed.

The former Athletic Bilbao centre-half will compete with Stones (£5.4m) and Vincent Kompany (£5.8m) for a place at the heart of Guardiola's defence alongside Nicolas Otamendi (£6.5m).

If Laporte can nail down that spot, he will offer tremendous value in a side with the joint-best defensive record in the league.
Verdict: Early adopters could be well rewarded though benching will occur as fixtures pile up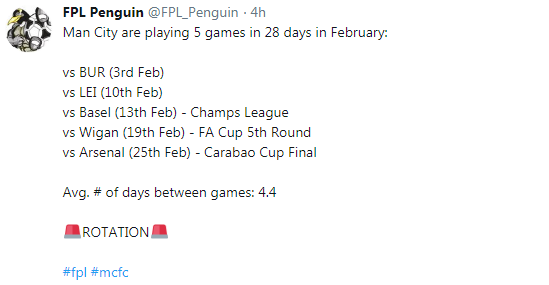 Alexis Sanchez (£11.7m)
The January transfer window is heavily Arsenal-themed, particularly in FPL terms. Last season's top points scorer (264) currently resides in just 4.2% of squads, though United's fanbase means this differential situation won't last long.
An inauspicious league debut means investment has yet to rocket, though upcoming fixtures against Huddersfield (h) and Newcastle (a) should change that. Those games offer Sanchez the perfect opportunity to bed into United's attack.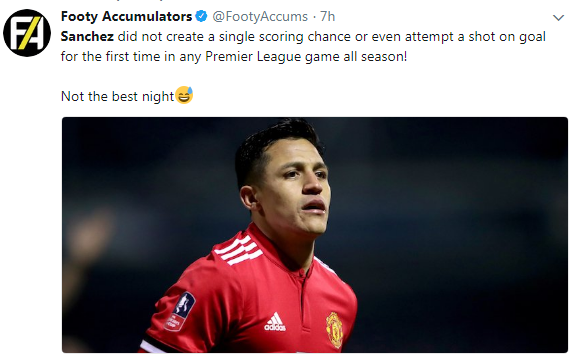 The Chilean's price tag is obstructive, though if the attacker hauls over the next two gameweeks investors should see healthy rank rises. While Mourinho could switch formation after being spanked by Spurs at Wembley, Sanchez will remain as part of a front four or an attacking three.

Verdict: Immediate fixtures make Sanchez immensely attractive
Kenedy (£4.7m)
Inserted straight into the Newcastle XI for GW25, the on-loan Chelsea midfielder was unlucky to bag just one assist as Joselu missed a penalty won by the winger.

The Magpies have a mixed selection of fixtures up to GW31, where they will blank if Spurs advance to the FA Cup sixth round.

However, Corner-taker Kenedy could certainly represent value as a fifth midfielder, particularly with on-loan Leicester forward Islam Slimani (£6.6m) soon to be part of Newcastle's attack; the Algerian is currently ruled out with a thigh injury.
Verdict: Excellent budget enabler as part of a 4-3-3
Lucas Moura (£8.0m)
Pacy winger Moura adds to the plethora of options in a purring Spurs midfield. The Brazilian played just 72 minutes (all as a substitute) for PSG this season, managing a goal and an assist over that time.
37 Ligue 1 appearances in the 16-17 campaign saw Moura score 12 times while creating five goals. Considering the excellence of Totteham's performance against Man Utd in GW25, it seems unlikely that Mauricio Pochettino will make too many tweaks for the time being.
The midfielder's lack of pitch time in 17-18 also suggests that it will take time for Moura to get up to speed. With fellow midfield option Heung-Min Son (£8.1m) at virtually the same price and the likes of Walcott potentially offering greater value, Moura looks just a watchlist addition at present.
Verdict: Awkward price point and question over minutes – potentially one for the closing weeks of the season

Daniel Sturridge (£7.9m)
The Liverpool loanee looks another option in the previously barren mid-price forward bracket; Sturridge came very close to netting on his West Brom debut as a substitute in GW25.
Now three points adrift at the bottom of the table, Alan Pardew's side need wins quickly. Sturridge's eye for goal should see the England hopeful rack up minutes for West Brom once he can stay fit.

The forward managed two goals and an assist for the Reds this league season, posting an attacking return every 142 minutes. Owned by just 0.8% of managers, Sturridge clearly represents a big risk but could profit from a reasonable set of upcoming fixtures for the Baggies.

Verdict: Maverick pick