Young footballers rarely – if ever – contemplate retirement, but when a highly successful footballer approaches the dreadful final countdown to the end of his playing days, tentative thoughts about management may well be entertained, the ever-repetitious question 'do I have what it takes?' indulging the fear of the unknown with increasing frequency until retirement is finally – and so horribly reluctantly – arrived at.
The relatively new breed of highest quality managers have all experienced this crossroads, but have traversed the divide between playing and coaching with phenomenal success in both arenas: Pep Guardiola, Diego Simeone, Carlo Ancelotti, and of course Zinedine Zidane, have all won European trophies as players and managers. They are the crème de la crème of our sport, the figureheads admired the world over for their footballing skills followed by their intellect of the game.
Delving further back into the archives of triumphant history, some of the bygone greats of players-turned-managers are still etched in our memories: Franz Beckenbauer (World Cup winning player and manager), Sir Bobby Robson, Jupp Heynckes, and probably the greatest footballer-turned-manager of all time, Johan Cruyff.
So who are today's former football idols now riding the tripwire of football management, striving to reach the pinnacles of Guardiola and co?
Gheorghe Hagi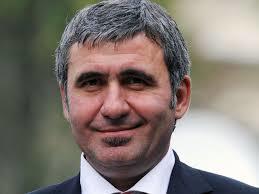 The greatest former player currently climbing the coaching ladder is Romanian icon Gheorghe Hagi. 125 caps for his country, a sparkling career as one of the few players who could say 'I played for Real Madrid and Barcelona', Hagi initially struggled to make the transition into the world of management.
A brave man would make his managerial debut for his national team, but Hagi did just that as he was handed the reins with Romania in 2001. Every Romanian supporter urging in unison for the greatest player in their history to make their country as proud as his spell-binding performances did at the 1994 World Cup.
To the disappointment of all, Hagi's spell was short-lived. He failed to qualify for the 2002 World Cup and was unceremoniously relieved of his duties.
Not one to give up easily, he spent almost a decade managing various clubs in Turkey and Romania, the dust within his managerial trophy cabinet floating around a space occupied by one solitary trophy, a cup triumph with Galatasaray in 2005.
His turn-around since has been stunning, albeit in a very different context. Hagi used €10m of his own funds to set up the Hagi Academy, one of the most modern training facilities in Europe for young footballers to strut their stuff in the hope Hagi himself gives them the green light for first-team football.
Viitorul Constanta, a club also founded by Hagi in 2009, climbed relentlessly up the Romanian league system and now sit in an astonishing fourth place in the top flight! Hagi is owner and manager of this club.
"Seventy per cent of the team are players who have come through the Academy," explains a passion-filled Hagi.
"Everybody wants to win the championship but our main target is to promote the [young] players because we have the best [youth] academy in Romania."
A further three wins from three encounters in the UEFA Youth League this season is making everyone sit up.
Hagi now stands proud as a manager who promotes youngsters into first team action so frequently and so successfully that other clubs around Europe now look to his methods to replicate his success on their own stage.
Sergei Rebrov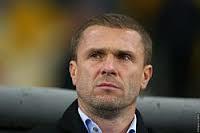 Another manager from Eastern Europe catching the eager eyes of club owners around the continent for very different reasons is former Spurs striker Sergei Rebrov.
He entered the managerial fray with an unprecedented sense of anticipation surrounding his arrival at Dynamo Kiev a couple of years ago. Their supporters greeted his first press conference with a hullabaloo not seen at the club since the lofty days of Valeriy Lobanovskyi – one of football's all-time managerial greats.
With two European trophies and a record number of championship titles decorating Dynamo Kiev's historical corridor of achievements, all under the unremitting ceaselessness of Lobanovskyi in the 70s, 80s and 90s, the mid-2000s saw the landscape of football power in the Ukraine usurped in spectacular fashion by Shakhtar Donetsk under Romanian manager Mircea Lucescu.
Shakhtar's first ever league championship in 2005 began a relentless run of eight titles in 10 years, and an extraordinary UEFA Cup triumph – the final UEFA Cup in history – playing near enough 'total' football. Lucescu recruited countless Brazilian players as aspirational jewels in their teens and sold in their mid-20s as polished diamonds worth hundreds of million in cumulative value. Lucescu was deemed impregnable…
Until the aptly nicknamed 'little magician' Sergei Rebrov turned up in April 2014. One month later, a Ukrainian Cup final battle between Rebrov – the abrasive and intensely determined newcomer – and Lucescu – the experienced and wily tactician. Rebrov triumphed, 2-1. And this was to be the unlikely launch-pad for Rebrov's dominance against his elder.
Shakhtar's run of five consecutive league titles was obliterated the following season in 2015 as Rebrov led his band of hard-line warriors to a 10-point winning margin over Lucescu's had-beens (and they only play 26 matches in the Ukrainian league!). Lucescu's class of Brazilian might was expected to strike back the following season, whilst Rebrov urged his men to up the ante. And they did just that – 66 points in 2014/2015 converted to 70 points in 2015/2016 put Lucescu in the doldrums. So much so that he opted to leave the Ukraine for a new chapter in his managerial portfolio at FC Zenit in Russia.
Rebrov of course remained at Kiev, waiting for his newest challenger…
Paulo Fonseca was Lucescu's courageous successor at Shakhtar last summer. And Rebrov is now the one faced with an almighty challenge: Fonseca has reinvigorated Shakhtar's talented individuals and organised them in highly coordinated unison, football flowing seamlessly from back to counter-attacking front as they attempt an 'invincible' season with just 7 league games left to negotiate.
Fonseca currently stands eight points clear of Rebrov, who no doubt eased his foot off the pedal after Lucescu's departure. 'Complacency is a disease' are now well-recognised words uttered by Sir Alex Ferguson after his retirement. Even Rebrov the Unflappable can be sprinkled with such a disease, but the race is not yet won. Fonseca and Rebrov will have face off on Saturday 10th December, and if Dynamo Kiev run out winners that day, the remaining four games will be pressure-cooked for the players and managers, and mouth-watered deliciously for the fans.
Markus Babbel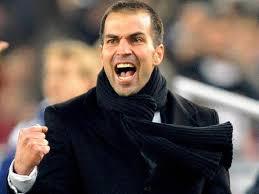 Moving across the vast wildlands of the Ukraine towards the mountainous climes of Switzerland, Markus Babbel endured a psychological battering on 26th May 1999 when he was strutting his stuff at the Camp Nou along with his Bayern Munich team-mates. And then, Bang Bang! A double whammy from Teddy Sheringham and Ole Gunnar Solskjaer turned Babbel's euphoria into shock-and-awe.
Two years later he experienced arguably the most entertaining match in the history of European football as he helped Liverpool to a 5-4 see-saw victory over Spanish side Alaves to lift the UEFA Cup, one of five trophies won under Gerard Houllier that year.
51 international caps for Babbel and a final highly memorable curtain call, winning the Bundesliga against all expectations with Stuttgart in 2007, preceded what the German press labelled a 'natural' career in management.
Stuttgart agreed and made him assistant to Armin Veh. One year on, Babbel was promoted to head coach. Stuttgart were languishing below mid-table before Babbel pulled the strings with unparalleled expertise to finish the season third in the Bundesliga. The following season, Stuttgart were on the precipice of a Champions League last-16 berth before Babbel was given his marching orders due to a poor run of results in the Bundesliga.
Two years ago, Babbel took over the reins at Luzern who were bottom of the Swiss Super League with just five points from 11 league games. A stunning recovery job, including a run of seven victories in their last nine matches saw Luzern rise to fifth by the end of the campaign.
Last season he lifted Luzern to third place, qualifying for the Europa League. This season the board's remit for their German coach was made explicit even with the press: runner-up, which would open up Champions League possibilities.
Babbel's team now sit fourth, and with his usual capacity to bring the best out of his teams in the latter stages of the season, Luzern supporters are quietly hopeful for an inaugural tilt at Champions League qualification for the first time in the club's history.
Hagi, Rebrov and Babbel – each carrying a reputation for above-the-norm talent on the playing field – are now looking to cement their status on the more complicated stage of football management. Before they had to focus on themselves, now the men they manage have to be the focal points of their thoughts, ideas and innovations. They are not alone. Here are some other ex-footballers currently seeking further glory on the fragile and fluctuating road of management: