65801
FIFA 19 eSports – eWorld Cup Grand Final live blog: day 3
18:57: With that, we're signing off. Thank you to everyone who has joined us over the past three days, we hope you've enjoyed our coverage as much as we've enjoyed bringing it to you on here, Twitter and Instagram.
Take care and we'll see you again soon!
18:55: That brings to a conclusion a fantastic tournament at the 02 Arena in London. Congratulations to the new FIFA eWorld Cup winner MoAuba.

18:52: The German has done it. Werder Bremen's MoAuba beats Rogue's Msdossary 3-2 on aggregate. What a performance from the PS4 man. He wins $250,000!!!
18:50: FULL TIME AND MOAUBA IS YOUR FIFA eWORLD CUP CHAMPION!
18:46 Just as we finish typing Msdossary gets one back. It's 2-1 and 3-2 on aggregate. It's going to the wire!
18:45, MoAuba is almost home, 15 mins to hang on and he has a two goal advantage.
18:40: HT in the second leg and MoAuba holds a 3-1 aggregate lead. Bar a miracle it's looking like the FIFA eWorld Cup is on its way to Germany...
18:35: MoAuba draws first blood in the second leg. He leads 1-0 and 2-1 on aggregate. Massive moment in this tie.
18:27: Big advantage for MoAuba with the second leg taking place on PS4. Will he make the most of it?
18:22: The two players can't be separated in the first leg as it finishes 1-1 on Xbox.
18:11: Second half is underway in the first leg and it remains 1-1.
18:07: Both players feeling each other out and it's HT at the end of the 1st leg. 1-1 so far.
18:05 The Grand Final is underway and we already have 2 goals. It's Msdossary 1-1 MoAuba
17:50: Well we're still recovering from that incredible semi final, but the FIFA eWorld Cup Grand Final is about to get underway between Msdossary and MoAuba.
17:01: MOAUBA'S DONE IT, HE'S MADE IT TO THE FIFA eWORLD CUP GRAND FINAL. YOU'LL NEVER SEE A BETTER GAME. AMAZING!
15:57: WE'RE GOING TO PENS, IT'S FAST AND FURIOUS HERE WE GO
16:54: HT in ET! My goodness are we going to have a $75,000 penalty shootout. We're still all ties up with 15 minutes left to play.
16:51: Unbelievable scenes! It finishes 5-5 and we're going to extra time!!!
16:50 HE'S DONE IT! NICOLAS SCORES WITH THE LAST ACTION OF THE GAME. MOAUBA HAS THROWN AWAY A TWO GOAL ADVANTAGE WITH LESS THAN 5 MINUTES OF NORMAL TIME LEFT!
16:48: Nicolas gets one more back, can he get one more and draw level!
16:41: Nicolas has pulled the deficit back. He's 5-3 down on aggregate and we're into the second half of the second leg. MoAuba has some defending to do!
16:34: We're back underway in the second leg. It's now or never for Nicolas, he needs a minimum of three goals.
16:30: What a brilliant first leg performance from MoAuba. He holds a 4-1 lead over Nicolas. Can the Argentine respond in the second leg?
16:25: MoAuba extends his lead to 4-1 against Nicolas. The Werder Bremen player is cooking on gas and may only need the first leg to wrap this tie up if he continues like this.
16:20: MoAuba is on fire! He's gone 3-1 ahead against Nicolas and it's only HT in the first leg. An outstanding first half performance from the German.
16:14 WHAT A START WE HAVE HERE! Nicolas goes ahead early on and is immediately cancelled out by MoAuba. 1-1 and only 15 minutes gone.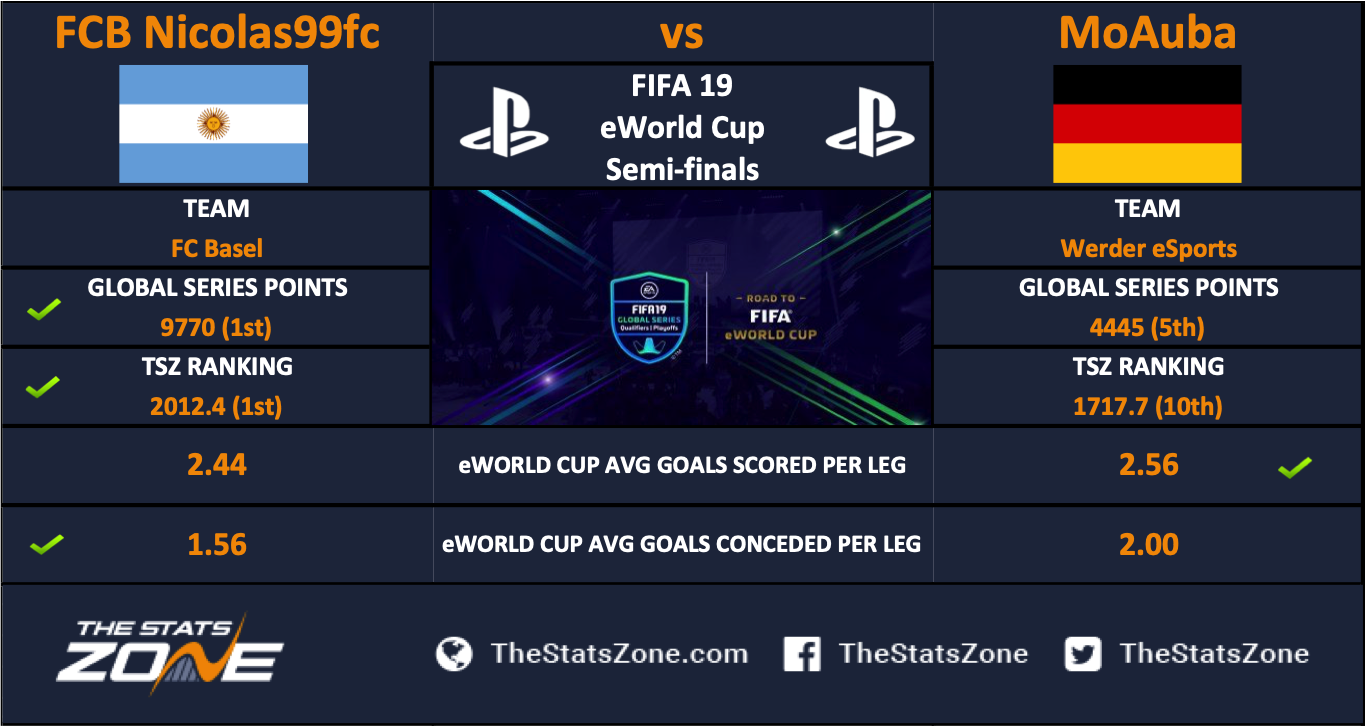 16:11: As we get underway he is how Nicolas99fc and MoAuba line up face to face ahead of this PS4 Semi Final.
16:10: The interlude is over and we're about ready for our second semi final.
15:50: We're now set for a brief interlude before the second semi final, this time on PS4 between Nicolas99fc and MoAuba. Stay with us!
15:46: Rafsou gets a 92nd minute consolation but it's all over. MSDOSSARY IS THROUGH TO THE FIFA eWORLD CUP GRAND FINAL! 4-3 on aggregate against the Frenchman.
15:43: MSDOSSARY SURELY SEALS IT! Pele with the individual run and finish to put the Rogue player. 3-0 up in this leg and 4-2 up. Only ten minutes to go.
15:39: Msdossary leads for the first team. He's 3-2 up and Rafsou has just over 20 minutes to save this game. A reminder that we will go to extra time and possibly pens if it finishes level on aggregate.
15:35: HT in the second leg and it's tied at 2-2. This one is going right to the wire. Does Rafsou have the belief to go on and pull off the upset?
15:34: BRILLIANT GOAL FROM MSDOSSARY! The Saudi Prince ties it up at 2-2 with a wonderful team move finished by Ronaldo (R9)!
15:30: The second is underway and you feel the next goal is vital, Rafsou leads 2-1.
15:25: Full time in the first leg and Rafsou has a 2-1 lead going into the second leg. The shock is on!
15:23 Leveller for Msdossary with 20 mins left, but he's quickly cancelled out by a second Rafsou goal who is back in the lead at 2-1.
15:17: Half Time in the first leg of the Xbox semi final and Rafsou narrowly leads Msdossary 1-0. Can the Saudi Prince bounce back in this second half?
15:07: Here we go then. The first semi final is about to get underway. Msdossary vs Rafsou, Rogue vs Team Vitality. Let's see who comes out on top!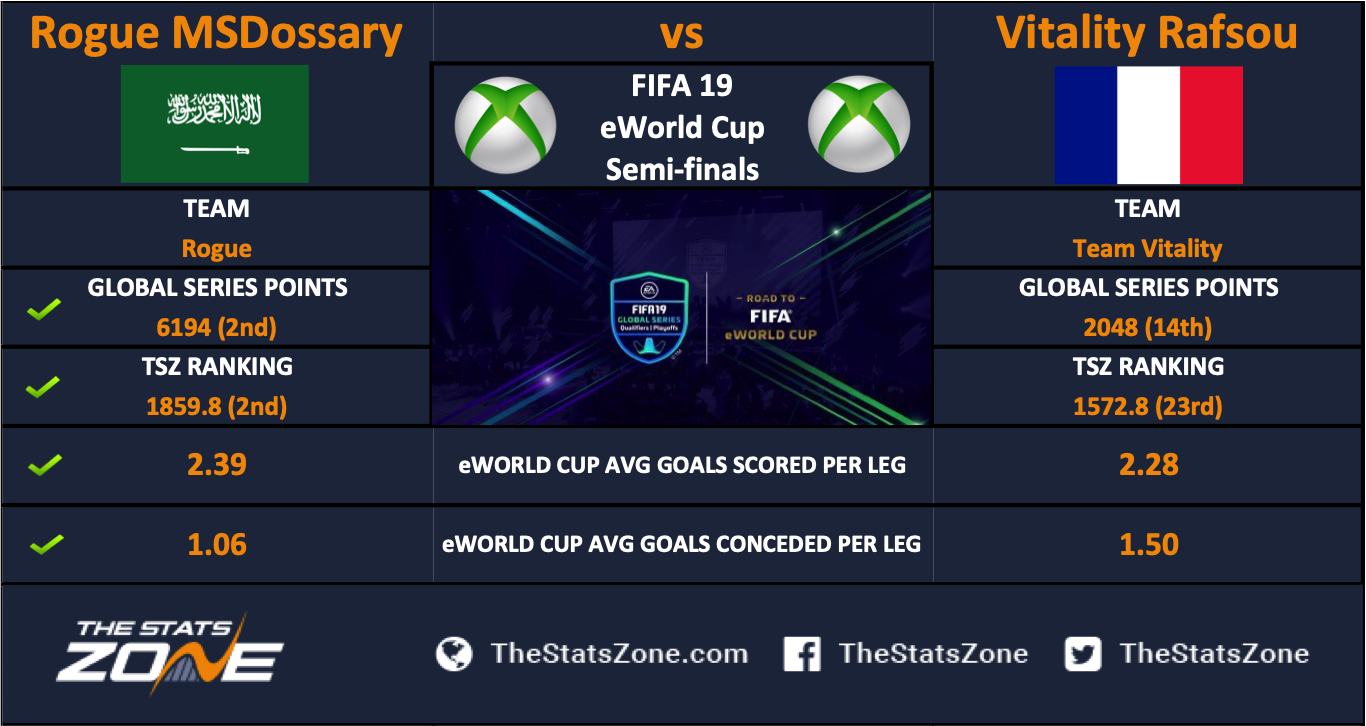 15:00: We're about to go live, before the games begin, here's a quick look at the head to head statistics for the first semi final. It's the Xbox clash between Msdossary and Rafsou.
14:30: Afternoon everyone, 30 minutes to go before day 3 of the FIFA eWorld Cup gets underway. We're here at the 02 Arena to bring you live updates of the action. It's finals day!