When it comes to managing a football team it's hard to see two or more fans having the exact same opinion. This difference can also be translated to a more professional area as some it is quite common to see sporting directors and managers having several differences of opinion on certain topics.
Celta de Vigo are quite lucky they are not one of the teams that suffer those problems. The Balaídos side has everybody on the same page when it comes to the managing tactics and it seems everyone involved with the team is sure that Eduardo Berizzo is the right man for the job. He has certainly proven to be competent enough to compete in La Liga and in light of recent results he's quickly becoming one of the most underrated managers in Europe this season.
The Argentinean has had a quick rise when it comes to his career on the sidelines. Following a successful spell as Marcelo Bielsa's assistant coach in the Chilean National Team he moved on to his first official managing role with Estudiantes La Plata in his home country. The results weren't very good (only five wins in 15 games) and he only spent a few months there before moving to Chile where he managed O'Higgins, a relatively small team that always found a way to stay near the mid-part of the standings. It was with Los Celestes, however, that he started to gain reputation as a very intelligent manager capable of making adjustments on the fly.
Berizzo spent two-and-a-half years with O'Higgins and the results were very good right from the start. He kicked his tenure winning 15 out of 23 matches in the Torneo Apertura 2012 but he had his best performance in the Torneo Apertura 2013 where he crowned O'Higgins for the first time in the club's history. He got kicked out of the Copa Libertadores the following year but several pundits praised O'Higgins for their attacking style.
Berizzo left O'Higgins with 63 wins, 28 draws and 30 losses in 123 matches while also winning a title and participating in the international stage. Below we have a chart that details Berizzo's performance with the club in each tournament.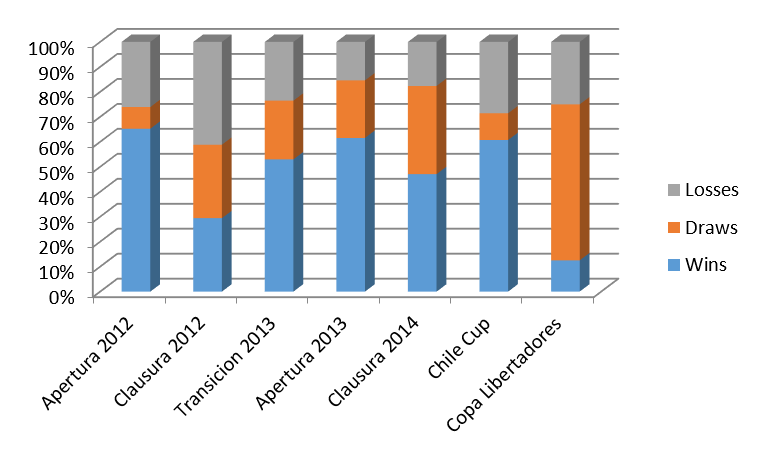 After his successful tenure with O'Higgins, Berizzo signed with Celta, a club he knew pretty well since he played for them between 2001 and 2005. He had a serious lack of talent in the squad during the first season but he managed to get positive results: 13 wins, 12 draws and 13 losses in a first year where he avoided relegation and began to build the foundation for a more successful future.
The strategy has paid off for Berizzo. He secured the services of Iago Aspas, Claudio Beauvue, Daniel Wass and Marcelo Diaz for a combined €15,1M and sold Augusto Fernandez, Santi Mina, Joaquin Larrivey and others for €18,5M. The chart below indicates the money spent between arrivals and departures – a chart that shows the Balaídos side ended the transfer period with a €4,4M profit.
Not only has he left a positive balance in the club's economy; he also has Celta well positioned to play in Europe next season as the team's currently in 7th place with 42 points in 28 matches.
Berizzo has done this marked improvement with players who aren't worth much in the market. According to Transfermarkt's team page, Nolito tops the squad in terms of value at €15M and there's no other player topping the €10M mark. Here's a chart of Celta's regular starting XI that illustrates how much Berizzo's best selection is worth.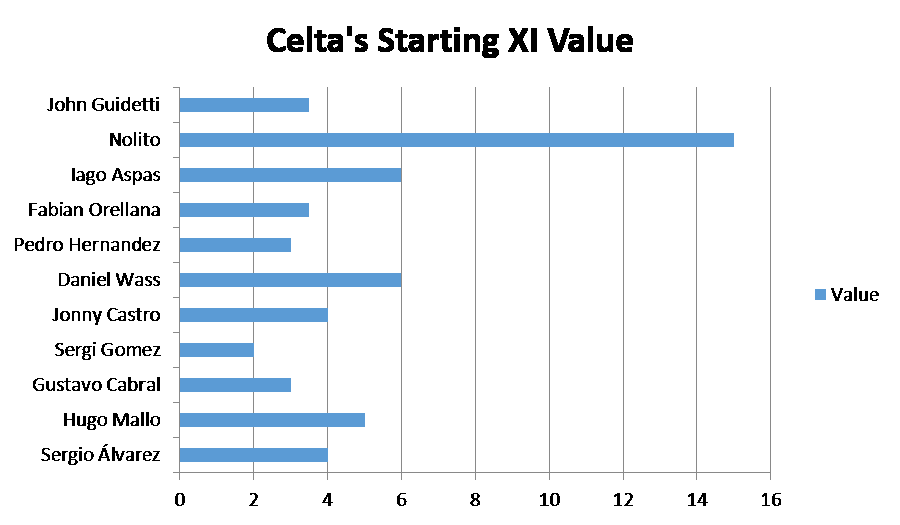 To put things into perspective, Celta's players would be among the less valued at the likes of Athletic Bilbao, Sevilla FC and Villarreal CF, their direct competition for European places. This chart below illustrates the top three players in terms of value for the four aforementioned sides and Celta's players are clearly the less-valued of the four.
What Berizzo has done is quite impressive. He has a squad that's currently ranked as the 9th most expensive in La Liga and he has the team in seventh place.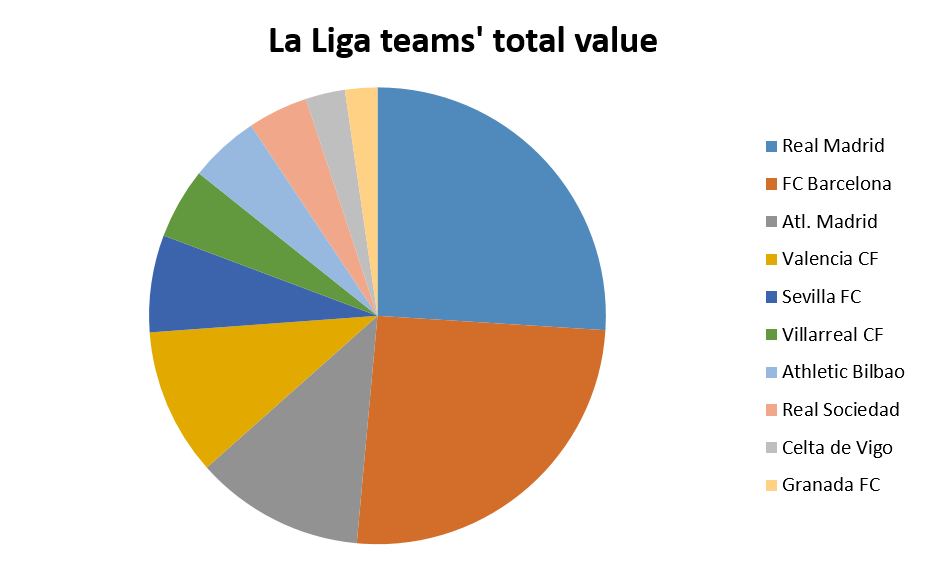 Cristiano Ronaldo, Lionel Messi, Neymar, Luis Suarez, James Rodríguez and Gareth Bale are all individually worth more than Celta as a whole.
Celta barely has internationals on his squad (and some like Fabian Orellana, John Guidetti and Pedro Pablo Hernandez barely play for their countries) yet he's competing on a weekly basis in one of the toughest leagues in Europe.
All things analysed, there's little doubt that Berizzo is quickly making a name for himself as an avid tactician, a smart man to choose his squad and he's proving he can get value despite the price tag of the players. He's clearly one of the most underrated managers in Europe this season.