The 2016 European Tour season reaches its conclusion this week at the Race to Dubai's final event, the DP World Tour Championship at Jumeirah Golf Estates in Dubai. The top 60 players in the current R2D rankings will battle it out and will be aiming to push their way into top 10 on the points list to take a share of the additional $5 million bonus pool. Furthermore, with little separating the top 20, the incentive to play well this week is as important as ever.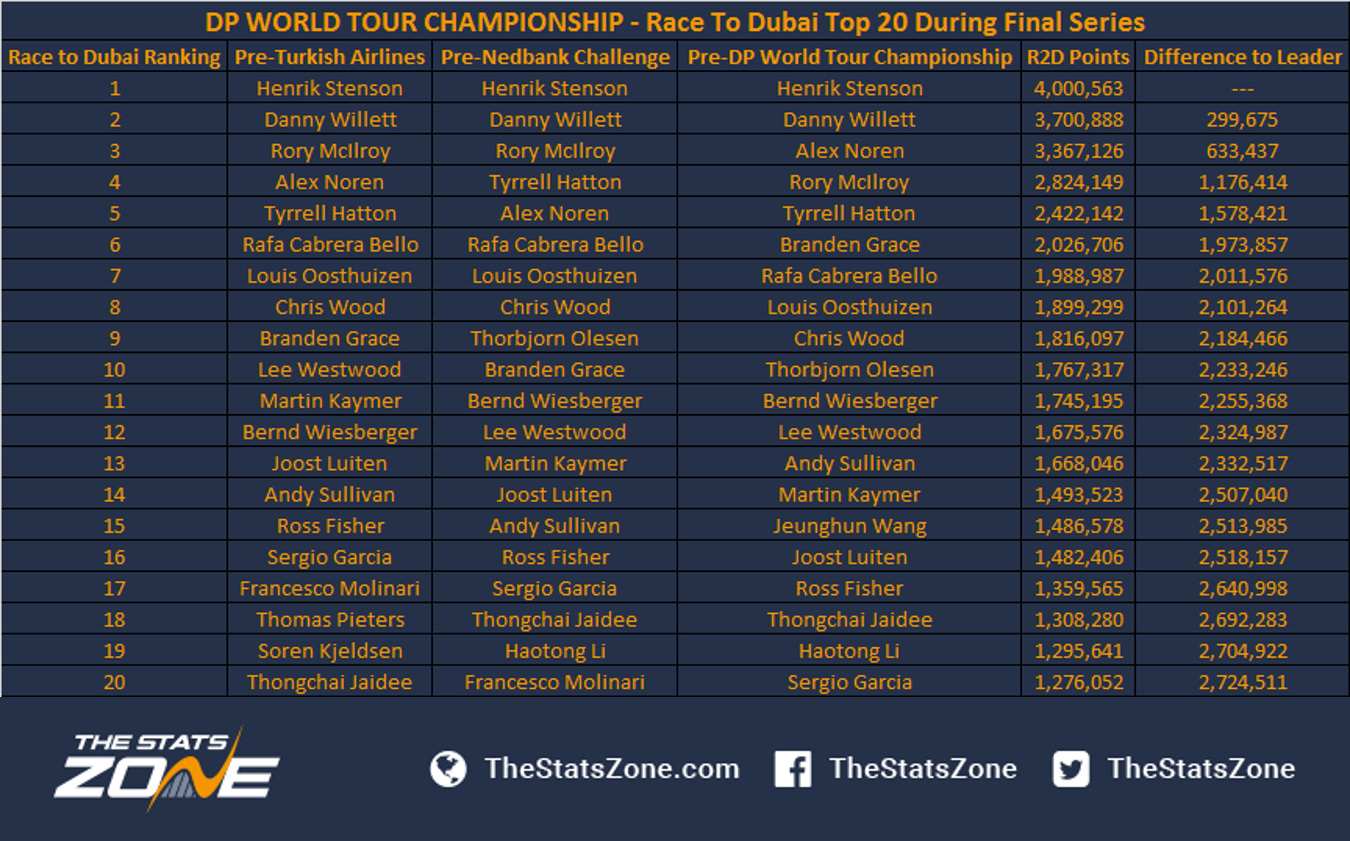 Stenson's eighth place finish at the Nedbank Challenge saw him advance his R2D lead to 299,675 points over Masters Champion Willett, and put himself firmly in the driving seat with just one event remaining. Noren's impressive season continued with a fourth victory at last week's Nedbank Golf Challenge, perhaps making him the hottest player in world golf right now. The win moved him to third in the race, trailing Stenson by 633,436 points. Reigning champion McIlroy decided to skip the previous two events which has left him with the near impossible task of retaining his R2D crown and trails by 1,176,414 points. Furthermore, Korean player Wang moved himself up 24 places to 15th with a runner-up finish in South Africa last week, putting him in position to make the top ten. Mathematically, the top four all have a chance of claiming the R2D crown this week – here's how it can be won and lost:

As discussed previously, of the four remaining players still able to win the 2016 Race to Dubai, McIlroy's chances are highly improbable when taking into account the calibre of players and current form he is up against. Nevertheless, Noren's superior play and Willett's late form during last week will push Stenson all the way and make this season finale the most anticipated in years.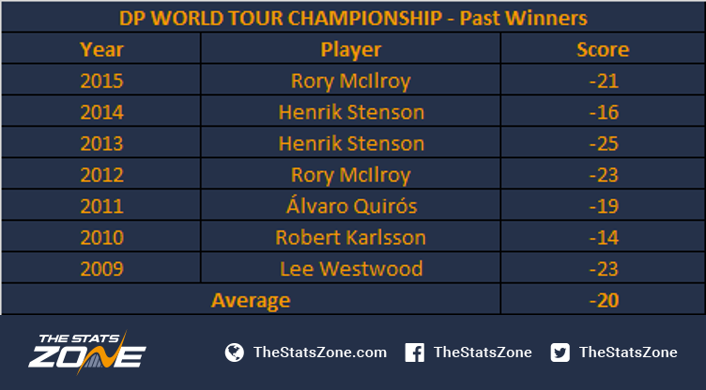 The Earth Course has played host to the season ending DP World Tour Championship since 2009 and has yielded five different winners. The 7675 yard course - designed by Greg Norman – is inspired by the great parkland courses of Europe and North America. With the final four holes playing in conjunction with or over water - concluding in a snaking creek running the full length of the final hole - there will be no shortage of drama down the stretch. The winning total has been 21 under par or better on four occasions from the seven tournaments played, averaging minus 20. However, during 2010, Karlsson won with just 14 under demonstrating how difficult the course can play in testing conditions. Additionally, a player from GB&I has finished inside the top two during each event since 2009 and with seven ranked inside the top 20, the trend is likely to continue.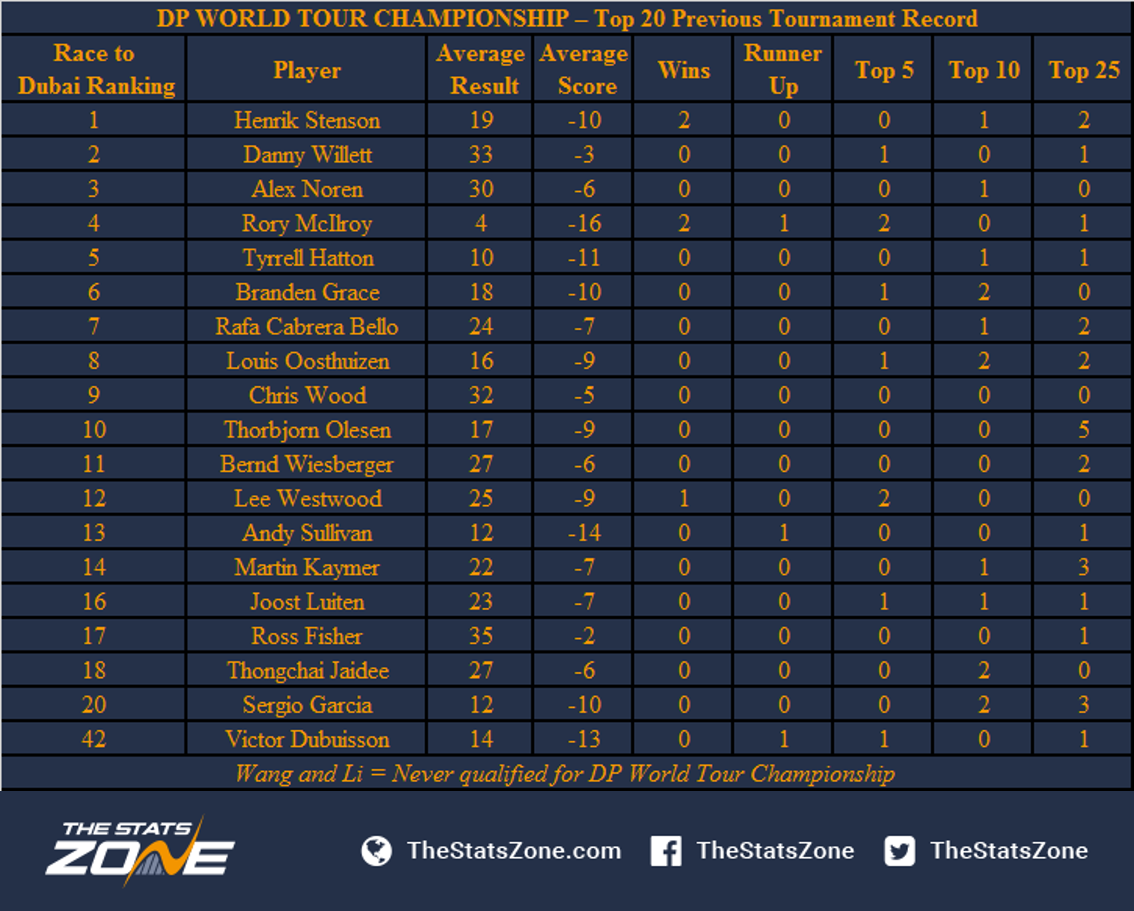 Stenson heads to Dubai as firm favourite for the R2D title and will be difficult to beat when taking into account his past form around the Earth course with two victories in his last three starts. Nevertheless, Willett will take some extra confidence from a fourth place finish last year while in contention for the R2D crown against McIlroy. Noren's meteoric rise in the game this season is clearly shown none more so than with just one top ten finish here during 2009. McIlroy can become world number one again with a victory this week and will perhaps be seeing that as his main target. His superior record here over the field is astonishing with two victories, two runner-up's and a top ten from his five starts, averaging fourth place, making him a formidable force and genuine course expert. Olesen's surge in the rankings with his victory at the Turkish Airlines two weeks ago makes him an in-form player and with five top 25 finishes here from five starts, could see him sneak his way into the top five. Sullivan's runner-up finish last year -which saw him take McIlroy to the final hole - showed the world his class and with the joint second lowest scoring average (-14), makes him one to watch. Frenchman Dubuisson finished third at the Nedbank to sneak his way into this week's field and although ranked 42 in the race, he has recorded a runner-up and a top five finish here from three starts. Having won the Turkish Airlines twice in previous seasons demonstrating his end of season form, he could be an outsider to view.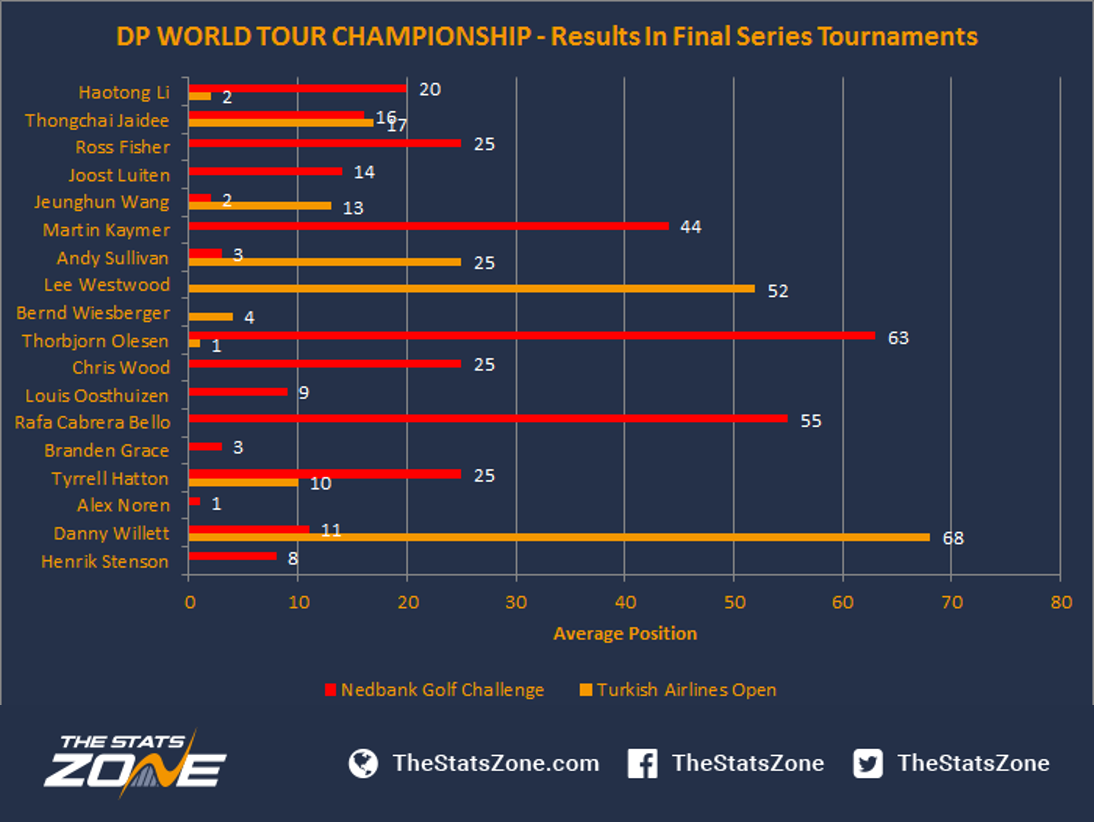 The European Tour's Race to Dubai has perhaps seen a decrease of interest from the world's best players in recent years that choose mainly to compete on the PGA Tour. This is evident from the R2D top 20, where only seven have played in both the final series events with the others opting for just one – a situation that we wouldn't likely see at the FedEx Cup playoffs. Both McIlroy and Garcia have not played in either event even though they had a great opportunity to be crowned European No. 1 – something Garcia has never achieved and seemingly does not see as important. Consequently, the chance of certain players winning the R2D has been reduced considerably and perhaps the system and championship should be reassessed to make for more compelling viewing. Additionally, Wang and Li played in both events and have averaged eight and 11th finishes respectively.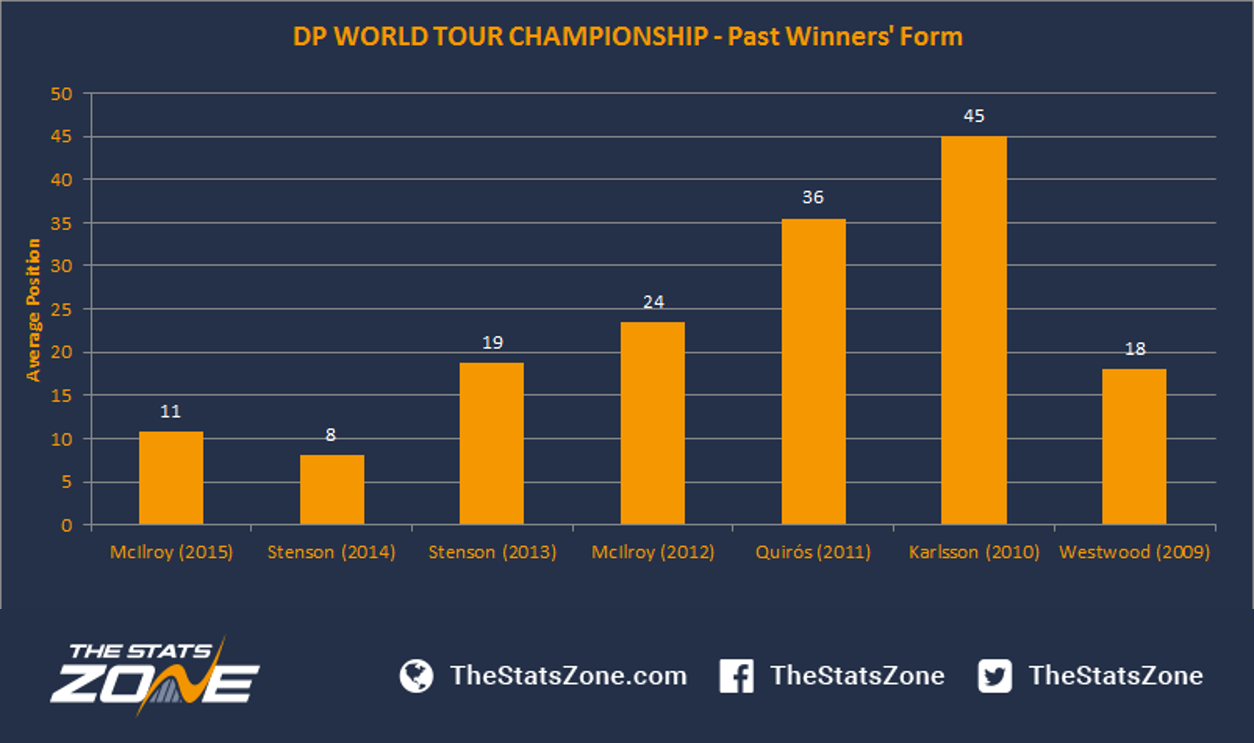 Form heading into the DP World Tour Championship has generally been an important aspect on route to victory. The previous four tournament finishes on the European Tour were assessed and average finishes are measured as form. Notably, five of the seven Race to Dubai champions also won the Tour Championship cementing their place at the top of the rankings. Furthermore, form for McIlroy, Stenson and Westwood was strong, with all averaging 24th or better. However, during 2010 and 2011 - where the final event winner did not win the R2D - form was weak heading to Dubai.
Conclusion
Stenson's season and Earth course form make him the favourite to win the DP World Tour Championship for the third time in his last four visits as well as being crowned the R2D champion for the second time. However, a good week at the Nedbank gives Willett hope of accomplishing the crown he narrowly missed out on 12 months ago. Arguably, Noren's season would fittingly end with a win and the R2D championship, but the disappointment would not live long in the memory if he is unable to topple those in front. McIlroys views of having already won the R2D and being of less importance to him may result in a relaxed approach that could destroy the field and take him back to world number one and even another R2D crown. Nonetheless, with so many great players all competing for one thing, the spectacle for fans and viewers promises to go to the wire and provide the drama that would appropriately close a brilliant 2016 European Tour season.