In the past few years, since Chelsea last lifted the trophy in 2012, there has been a distinct lack of English presence in the latter stages of the Champions League (UCL). This has led many people to criticise English football and hail Spanish and German teams as the pride of Europe. It has also led to criticism of the Premier League (EPL) as well. With so few teams making it past the last 16 in the UCL, how can the EPL claim to be the best league in the world? While Spanish and German teams dominate in Europe, it is true that Italy are catching up too. If this trend continues the EPL's UEFA ranking coefficient could see English football sacrifice one of its UCL spots to Italy in the coming years!
Why then is so much television money being thrown at the EPL? Revenue from television rights has steadily increased for English teams year on year. So much so, it is predicted that Manchester United will finally eclipse Real Madrid as football's biggest earners at the end of this season (and that's after United have been dumped out of the UCL!). Money talks, and with this much popularity, the EPL simply cannot be lagging behind La Liga and the Bundesliga. There must be another reason (or many) why English teams are under performing in Europe. This piece looks at the fatigue factor.
Bayern Munich are widely considered the world's best football team. That may well be true. Pep Guardiola boasts a phenomenal trophy per season ratio and Robert Lewandowski could walk into any team in the world. However, German teams do benefit from a much more relaxed footballing season. Figure 1 shows the average amount of games that English, Spanish and German teams play over the course of a season.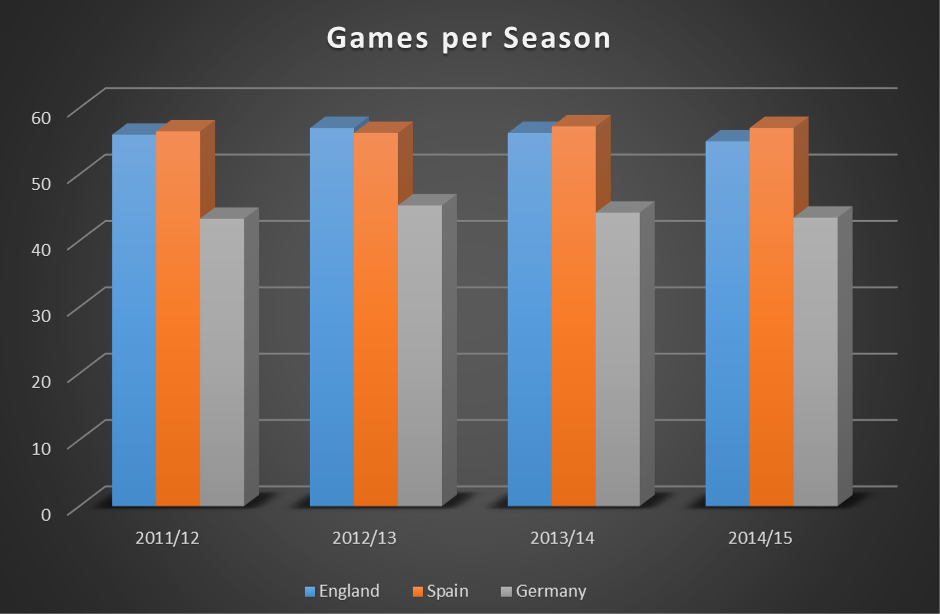 Figure 1. Average games per season.
German teams play, on average, over ten fewer games than both their English and Spanish counterparts. Over the course of a season players in the Bundesliga will run fewer miles than players in La Liga and the EPL, leaving them fresher for the UCL. The Verdict then is English and Spanish players are more likely to suffer from the fatigue factor than German players.
It's interesting to note however, that on three of the last four seasons, Spanish teams have had to play marginally more games than English teams. Therefore, we have to look deeper into these games to see whether the fatigue factor could be at play. To do this, we look at the average amount of days a team has to recover from a league or cup game before they play a UCL game. Figure 2 shows the average length of time, in days, a team has to recover before playing a UCL game.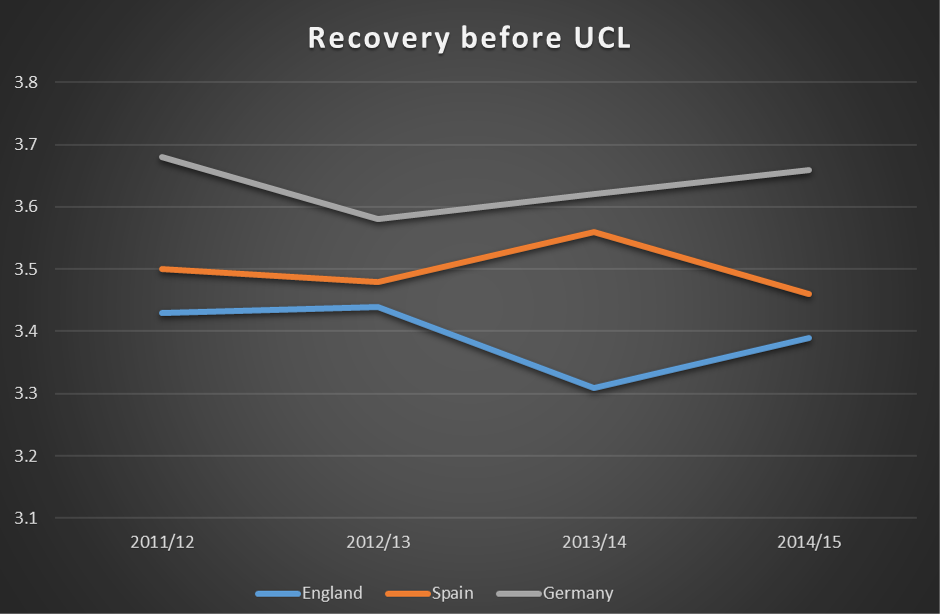 Figure 2. Average recovery before a UCL game.
As can be seen from Figure 2, although playing slightly fewer games than Spanish teams over a season, English teams get less time to recover from their domestic competitions than both Spanish and German teams. Just to be clear, only midweek UCL games that followed a weekend match where used to create this graph. This means that games given extended rest periods, like the final, were excluded (which would only increase German and Spanish recovery times, further widening the gap between them and English teams!).
The outspoken fitness critic, Raymond Verheijen, argues that professional footballers need as much recovery time as possible in order to be fresh for the next game. German and Spanish teams get more recovery time than English teams giving them a higher level of freshness for their UCL games. The verdict then is English teams are more likely to suffer from the fatigue factor than German and Spanish teams.
The ironic thing about all of this is that while television companies are paying so much money to see the best league in the world, they could in effect be ruining that league. Television companies want to see teams playing in prime-time slots, this means Saturdays and Sundays. Increasingly Sundays are being reserved for the 'biggest' games, involving UCL teams, and drawing a larger audience. In doing this, Sundays are no longer a recovery day and the player's schedules are pushed to the right, having a knock-on effect to their midweek UCL performance. Spanish and German football is much more accommodating to their UCL teams in allowing them to play games on the Friday night rather than the Saturday. This pushes the players schedule to the left and in some instances gives them five days of recovery before their midweek UCL game. Friday however, is not a prime-time slot for English football and is shunned by television companies.
So can English teams bounce back and reclaim Europe? Some would argue, with the television money being pumped into them, each club should be able to bankroll two UCL challenging sides. But that's a discussion for another time. What we aimed to look at here was that the fatigue factor may be playing a part in why EPL teams are not performing in the UCL. Simply saying that the EPL is poor because its teams aren't winning the UCL is narrow minded. The question is, should the Premier League and The FA be helping our teams out more when it comes to scheduling matches?