When Super League was formed in 1996, the professional game of Rugby League became a summer sport, having previously been classed as a winter sport. It was a move pushed by Sky Sports for their coverage of the sport but also designed to increase attendances by producing a better spectacle, with the theory that the weather – and therefore pitches – would be more conducive to expansive styles of play.
Fast forward to 2016 and with the regular Super League season now complete, only recently have we began to see sustained sunshine after some heavy rain through the first month of the British summer in June. Has this poor weather had an impact on the number of points scored this year in comparison to recent years? Can the weather really have an impact on how the game is played? TSZ investigates.
Previous Four Years
Firstly, it's worth noting that the weather isn't of course the be-all and end-all when talking about how many points are scored in a game. There is a perception that the better the conditions, the easier it is to score points, but there are other factors that play a part in this. Defences could be on top in a high-intensity game for example, and there's nothing to stop a high-scoring game in poor conditions and likewise, a low-scoring game in the sun. Handling conditions can be affected by humidity just as much as they could be by rain. However, by looking at the points scored in Super League over the last four years, it should give us a starting point to examine if there are any trends and if these can be linked to seasonality.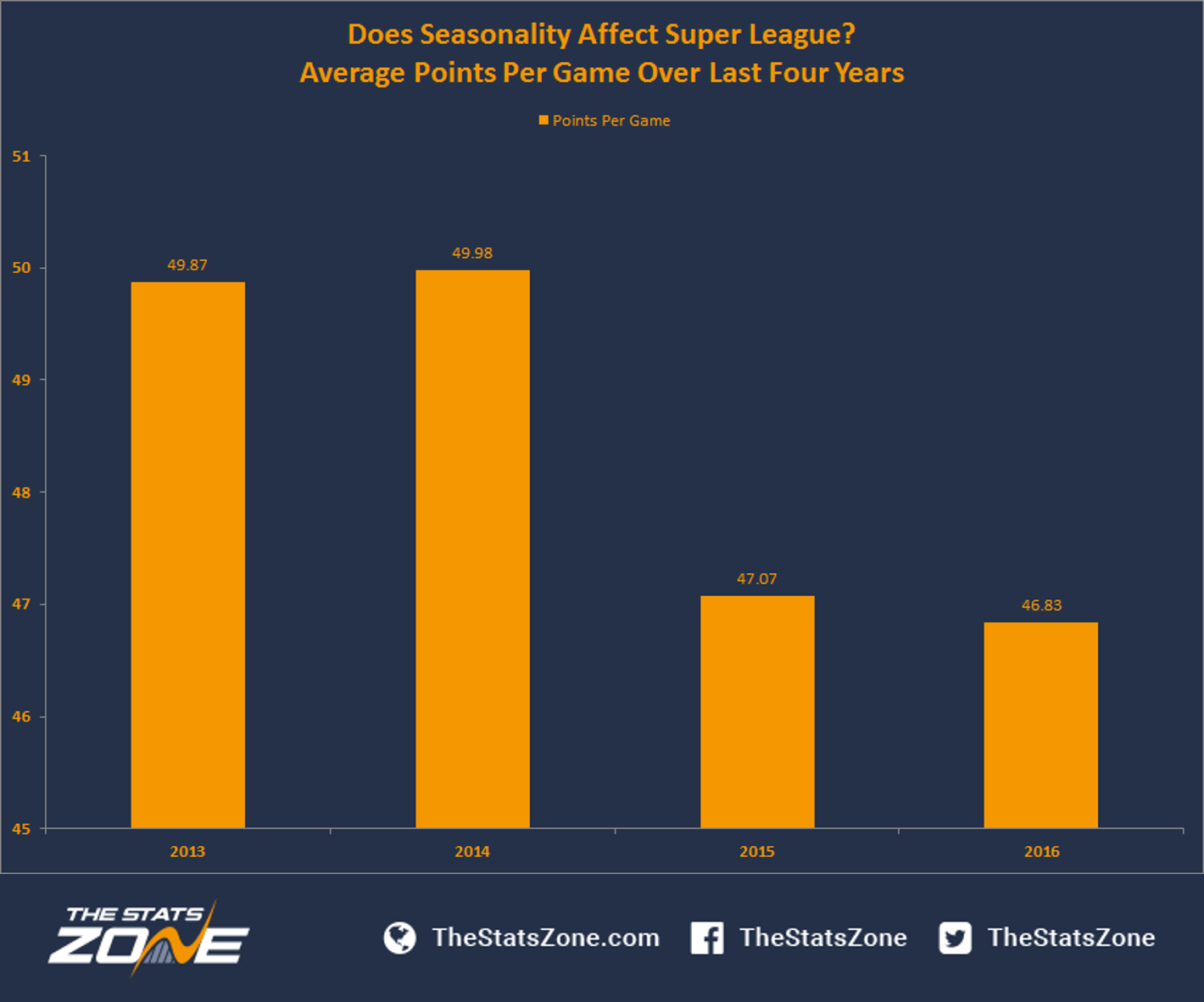 The above graph shows some amazing consistency over the last four years in terms of points per game (PPG). In 2013 and 2014, when Super League consisted of 14 teams, the average PPG was almost identical (49.87 in 2013, 49.98 in 2014). When the Rugby Football League introduced its new format for Super League in 2015, it saw the number of teams drop by two. With that came a slight dip in PPG but it was again very close to the number produced in 2016 (47.07 in 2015, 46.83 in 2016). **
Despite the apparent bad weather this year, the number of points scored by Super League teams has only dropped by 33. Factored in with the difference of just 20 points between 2013 and 2014, which is highlighted by the closeness of the PPG, it suggests that seasonality may not play that much of a part in Super League. Conversely, when breaking the season up into two parts, does it hint at otherwise?
First Half of Season vs Second Half of Season
With the Super League season predominantly getting underway in the first week of February, it's usually cold with some extremely wintery conditions occasionally on display. In 2012, Salford faced Castleford in their Super League opener on a pitch covered in snow with only the pitch markings having been cleared. With the end of the regular season ending in July (previously September before the change in league format), pitches are generally firmer and in a better state, allowing for better playing conditions.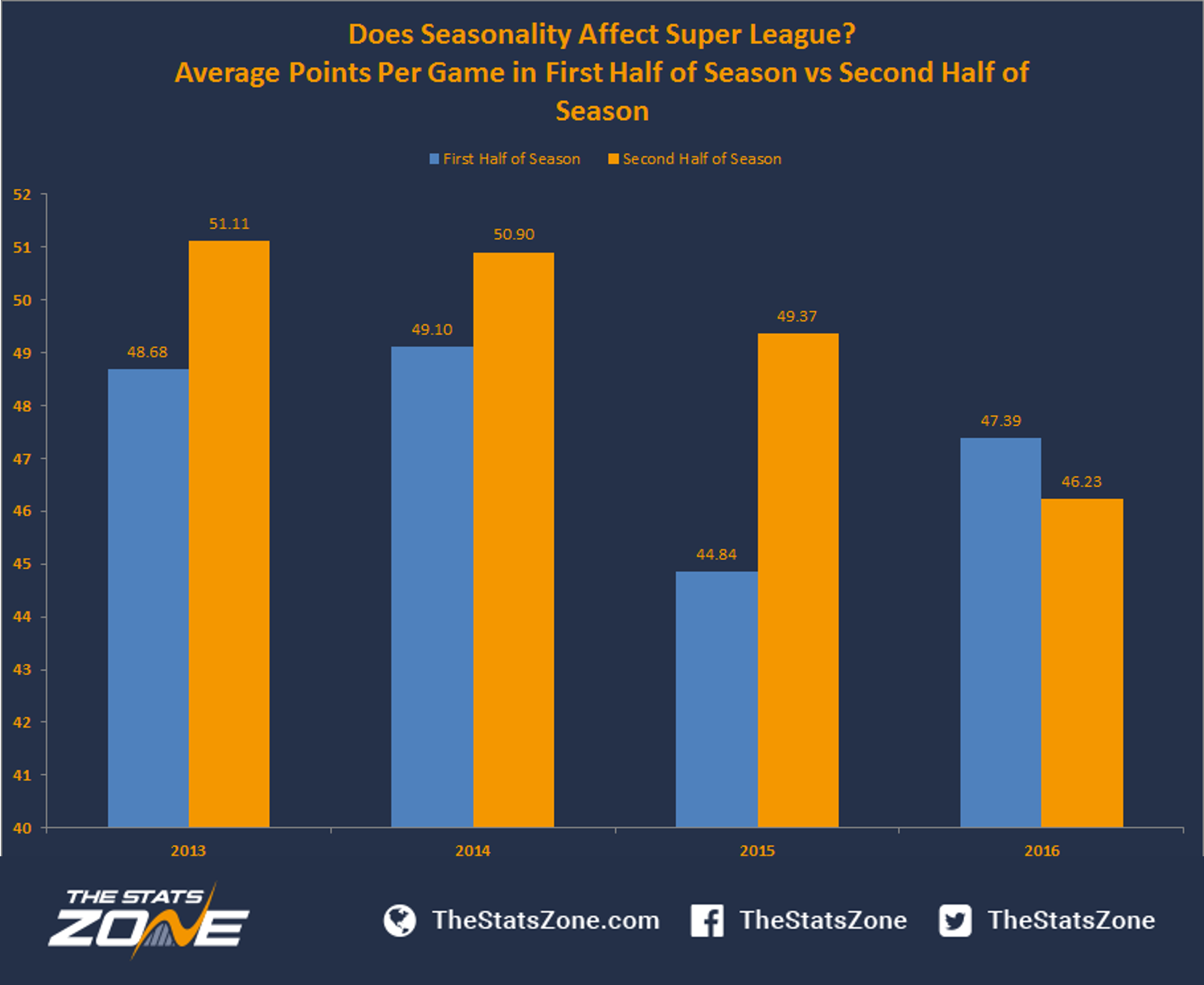 From 2013 to 2015, there were more PPG in the second half of the season compared to the first half of the season. This maybe isn't too surprising because of when those periods come in, with the second half of the season getting the benefit of the summer. In 2015 in particular, there was a significant difference with 44.84 PPG in the first half of the season compared to 49.37 PPG in the second half. That's effectively just over a try more every game in the second half of the season.
The current season is the only one of the last four years that goes against this trend, with the first half of the season seeing 47.39 PPG as opposed to the second half which had 46.23 PPG. This again isn't too surprising when referring back to the weather over the last couple of months.
With these numbers potentially highlighting that seasonality does play a part in Super League, the most important thing to analyse is the PPG on a month-by-month basis – this should give the clearest indication on any trends regarding seasonality.
PPG on a Month-by-Month Basis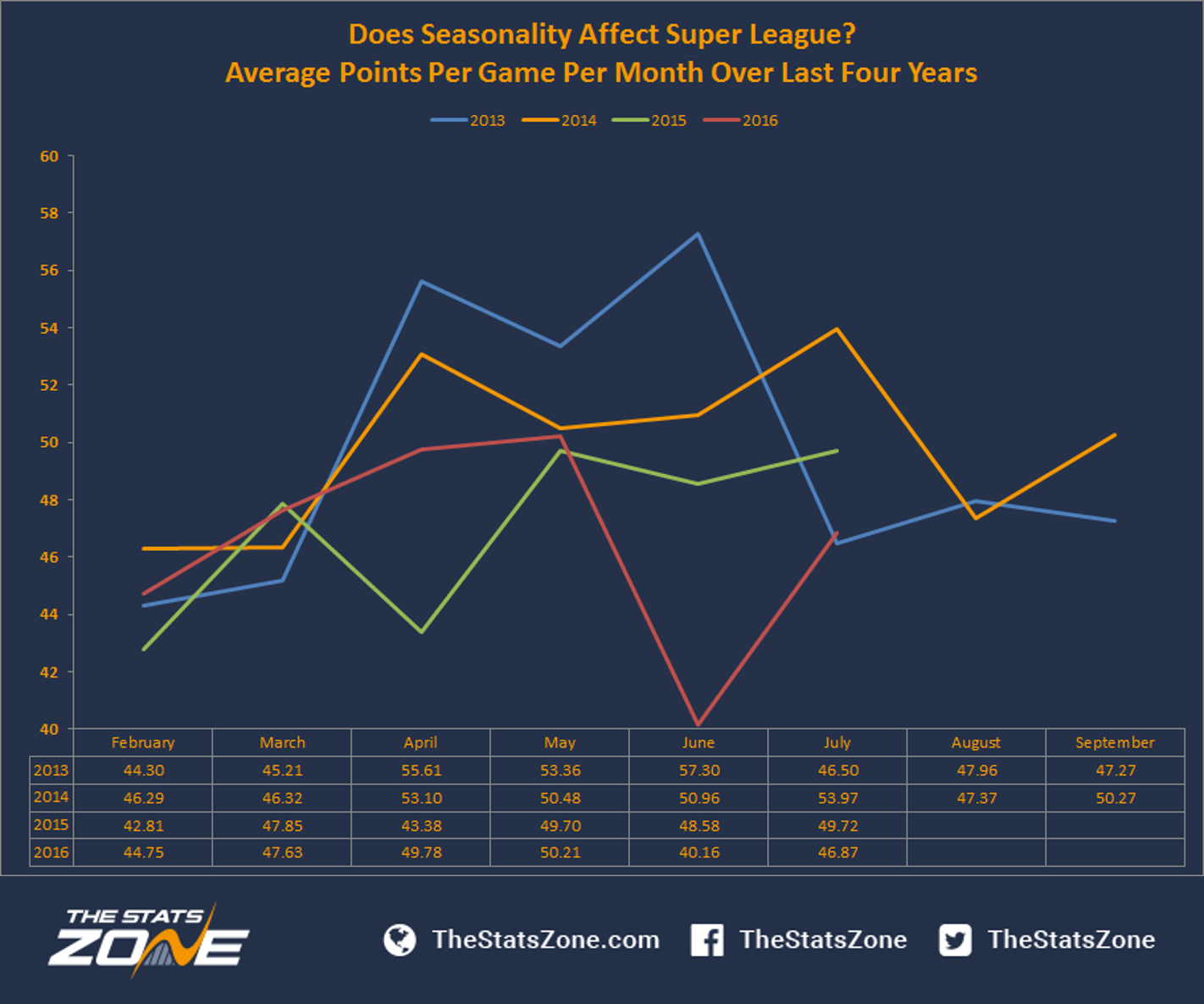 The graph above shows the number of PPG per month over the last four years. There are some interesting figures which we'll look at in more detail below.
February - PPG Average 44.54: A consistent month over the four years with the second lowest PPG total recorded in 2015 (42.81). It also has the fourth and fifth lowest totals over this period with 44.30 PPG in 2013 and 44.75 PPG in 2016. It is the lowest PPG average out of any month which shows that points are hard to come by in the final month of winter.
March - PPG Average 46.75: Another consistent month and even more so than February. March is the most consistent month of the Super League season (not including August with a smaller sample size) with a difference of just 2.64 PPG between the lowest and highest totals over the last four years. March has the second lowest PPG average, with the weather still tending to be poor in early spring.
April - PPG Average 50.47: April has shown to be a real mixed bag with no consistency. 2015 produced a low of 43.38 PPG (the second lowest total out of any month) but also a high of 55.61 in 2013 (the second highest total out of any month). The second month of spring can produce anything with the weather varying year on year.
May - PPG Average 50.94: May has produced the highest average PPG out of any of the months recorded. With a low of 49.70 in 2015 to a high of 53.36 in 2013, it shows that the points start to flow as we get closer to the summer months.
June - PPG Average 49.25: June is the most interesting month of the year in terms of looking at seasonality in Super League which is why we will look at this in more detail later. After posting the highest recorded PPG in a month in 2013 with 57.30, it also had the lowest in 2016 with just 40.16.
July - PPG Average 49.27: Another high scoring month with summer usually set in at this point. A solid PPG average with the lowest total recorded in this month still a respectable 46.50 PPG in 2013.
August - PPG Average 47.67: A slight dip in the final summer month with autumn just around the corner. Both recorded PPG totals for August are very similar for the two years in 2013 and 2014 with the league format altering after this and meaning the regular season ended in July.
September - PPG Average 48.77: Like August, September has just two totals recorded but are both fairly high once again with this month having a better PPG average than August by just over a point a game.
The Month of June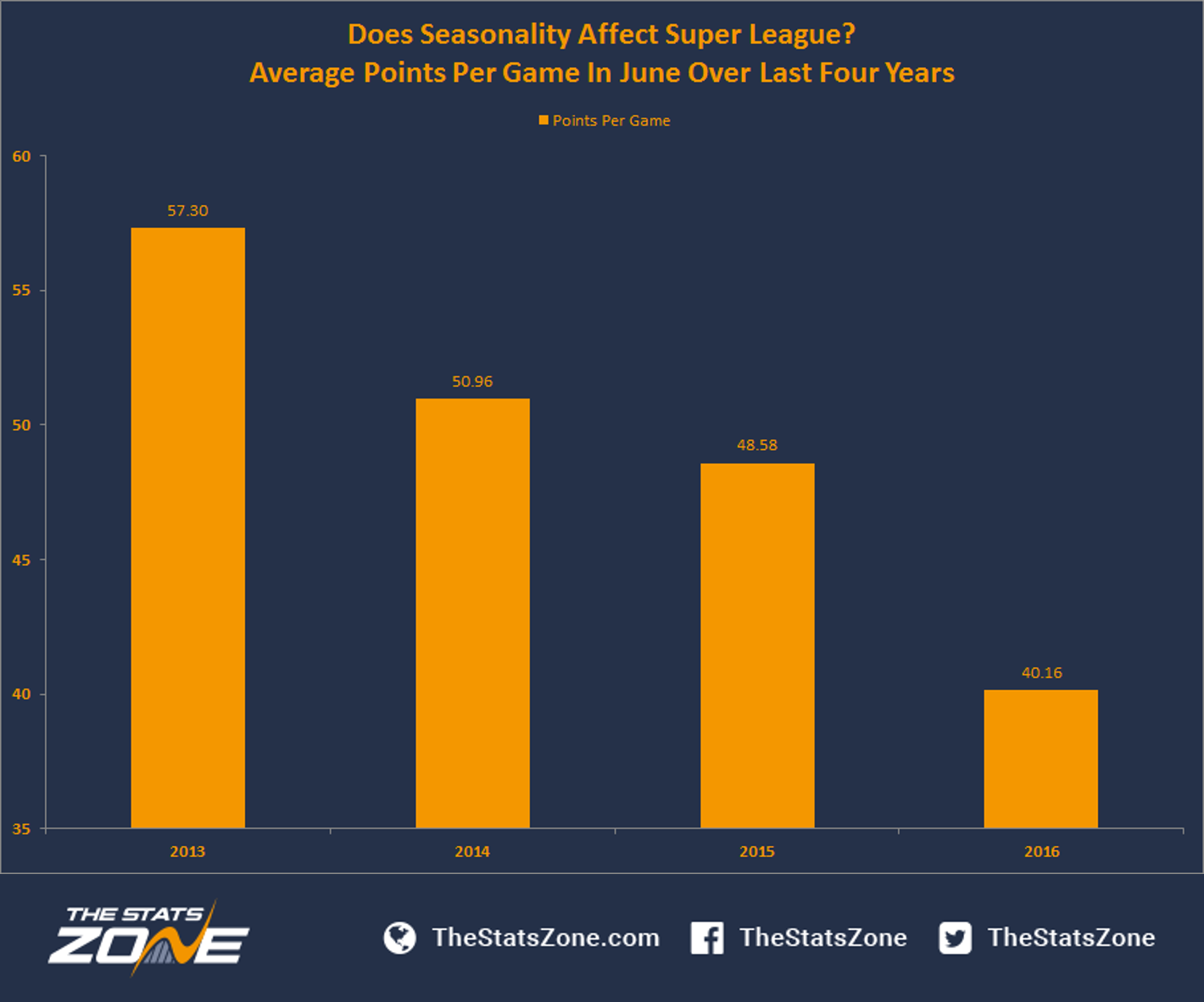 June delivered the most intriguing results. From the highest PPG recorded in 2013 (57.30) to the lowest in 2016 (40.16). That's a huge difference of 17.14 PPG, almost three converted tries. The low number in 2016 caused the overall average of the four years to fall, which left June as the fourth highest month when looking at the monthly PPG averages. Without that poor month, June could have had the highest average PPG over the four years, which would have served to back up that more points are scored at the end of spring/in the summer.
Comparison of Catalans and Wigan
With the inclusion of Catalans Dragons in Super League, it's possible that they could skew this data. There's every chance that whilst England is suffering from downpours on any given weekend, there's bright sunshine and clear skies in the south of France. Whilst this isn't always going to be the case, it would be understandable that there would be more points over the course of a season at Catalans' home games as opposed to other Super League teams. We'll use Wigan Warriors as an example, a team who are known to be tough in defence and also play on a pitch that is notorious for struggling to cope with poor weather conditions.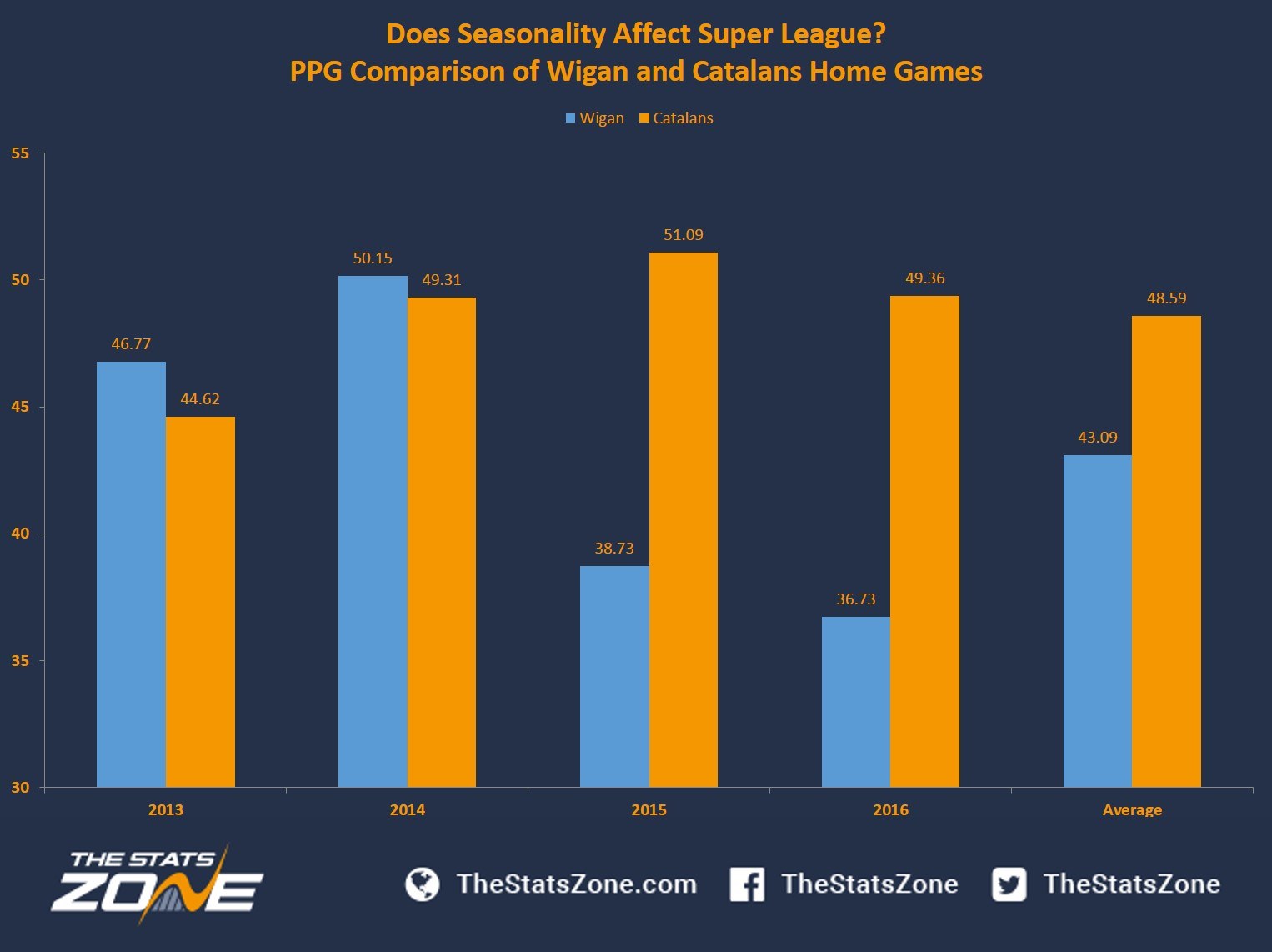 Perhaps surprisingly, the graph above shows that Wigan's DW Stadium saw more points in 2013 and 2014 than Catalans' Stade Gilbert Brutus. However, a huge drop from Wigan in 2015 and a further drop in 2016 saw Catalans where you'd probably expect them to be. When Wigan had the higher PPG in 2013 and 2014, it was very close to Catalans' PPG. In 2015 and 2016, the difference is drastic with Catalans' PPG higher than Wigan's PPG (12.36 and 12.63 respectively). This leaves the average over the course of four years looking as you'd expect it with almost an extra converted try at every game at the Stade Gilbert Brutus compared to the DW.
Conclusion
Without having access to extremely accurate weather data, it's difficult to make a claim one way or the other with any real certainty. As well as that, what weather constitutes affecting a game? How much rainfall would be required? It may not even need to rain during a game for the weather to play a part, with a greasy surface causing the ball to do strange things and ultimately making it slippery.
From the data we do have, we're able to make an informed judgement. According to Met Office data, Bradford's weather station (the most central station when thinking of all Super League teams) recorded 105.6mm of rainfall in the month of June. This was a huge amount compared to previous years (22mm in 2013, 38.4mm in 2014, 31.4mm in 2015). There were 14.2 days of rainfall of more than 1mm in England in June this year, which means there's a very high chance that some games were affected by rain. Warrington and Hull FC saw one of the highest error counts in a game in Super League history during their top of the table June encounter.
When comparing the rainfall in June 2013 to June 2016, it does indicate that the weather has played a part when looking at the respective PPG of the two years – the highest and lowest PPG from the data we looked at. June 2013 produced the highest month in terms of PPG over the four years we looked at with 57.30 when there was only 22mm of rainfall in England. The consistency during February and March (winter and the start of spring) also highlight a trend of low PPG which would support the theory of seasonality affecting Super League.
Whilst the overall PPG is fairly consistent and would maybe lead some to believe that seasonality doesn't affect Super League, one reason for the drop between the 2013 and 2014 numbers compared to 2015 and 2016 could be that in those earlier years, the regular Super League season went on longer and gave those sides an extra month of playing in the summer, which hasn't happened over the previous two years.
As touched upon, there's no definitive right or wrong answer to this. From the data we've gathered, it does appear that Super League is affected by seasonality with various trends supporting this over the previous four years. The next time you're watching a game of Super League and there's a deluge of rain, don't be too surprised if it's a low-scoring affair…