Roger Federer is undoubtedly one of the greatest players to ever grace a court in the history of tennis. Throughout his illustrious career he has witnessed many challengers come and go, but at the ripe old age of 35, what chances does the Swiss virtuoso have of securing his 18th Grand Slam title in 2017? Despite winning his last Grand Slam in 2012, his old coach Paul Annacone believes "it's about staying healthy, but I absolutely think he can contend for a major title.", also stating that his best chance may come on the grass at Wimbledon. TSZ have decided to look at Federer's chances for the upcoming season and to compare how age affected other tennis greats.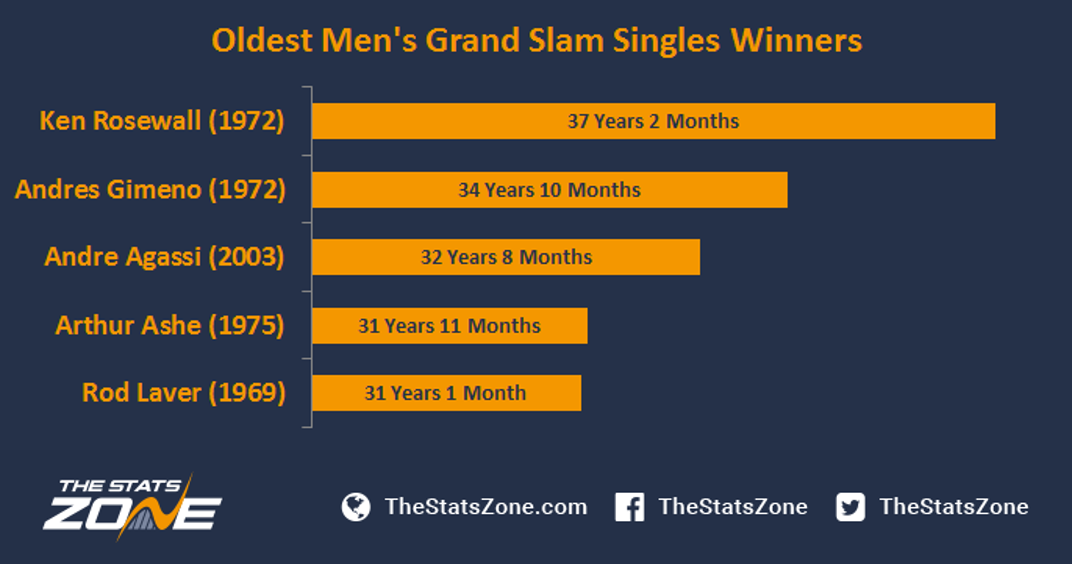 Looking through the history books, Ken Rosewall is tennis' oldest Grand Slam singles winner at 37, which is just under two years older than Federer will be if he reaches the upcoming Australian Open final on 29th January. Interestingly, Andre Agassi appears to be the only winner on the list that secured his title in the last 15 years. Does this suggest the advancements made in modern tennis have made winning a Grand Slam title in your twilight years more difficult?
Let's also take a look at the women's game;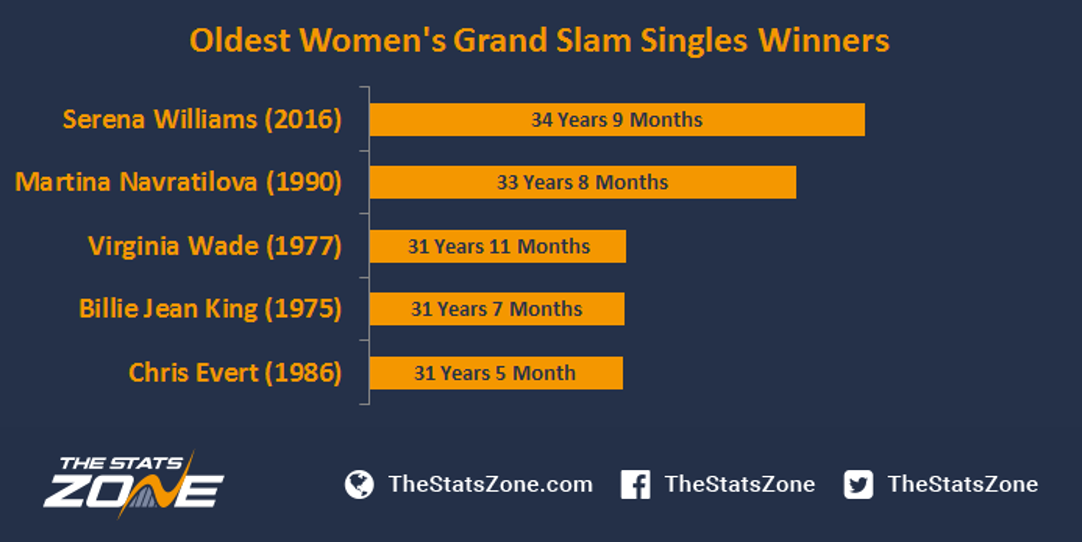 Within the women's game, there are two clear stand out performers; Serena Williams became the oldest Grand Slam winner last summer when she captured the Wimbledon title for the seventh time and enters the 2017 season still very much in contention to further her own record and claim more Grand Slam trophies. We cannot talk about age within tennis without mentioning the incredible achievements of Martina Navratilova. Despite being second on the list of oldest winners, she also reached a Grand Slam final just shy of 38 years old, and even more remarkably, won a Grand Slam doubles title in 2006 just short of her 50th birthday.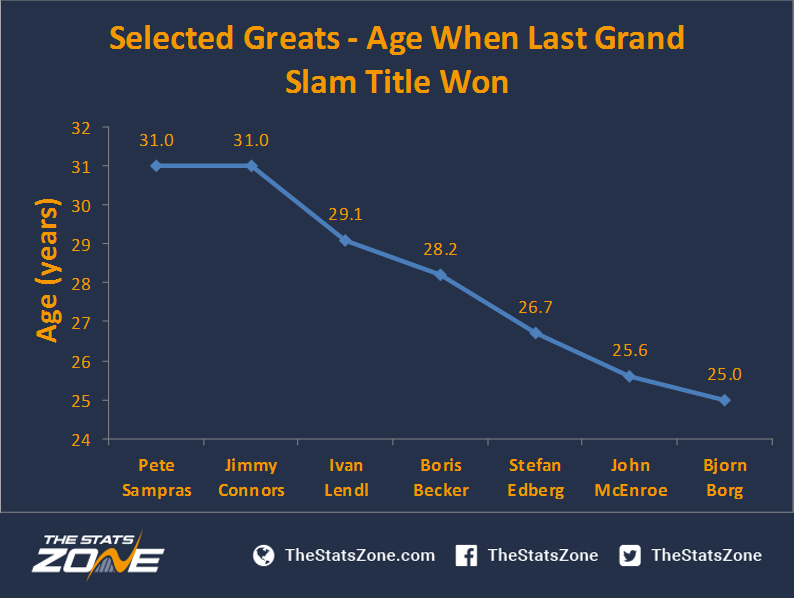 Could Federer go on for years to come and rival Navratilova's resilience? Well, history is not exactly on his side. When looking at male tennis legends throughout time, not one of them was able to capture a Grand Slam title anywhere near the age Federer is going into the 2017 season.
In order to further investigate his chances, it is worth looking at Federer's 2016 Grand Slam form;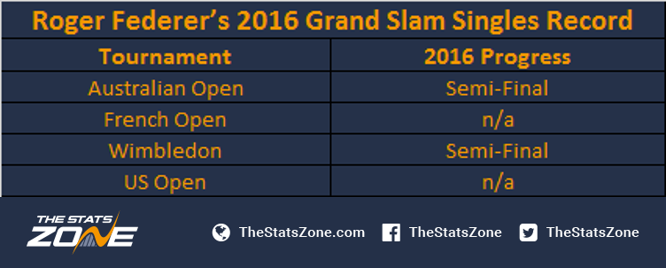 In the two Grand Slam tournaments he entered, he managed to reach the semi-final on both occasions, showing that he is still able to reach the business end of major tournaments. However, 2016 saw Federer suffer from various injuries that resulted in him pulling out of the French and US Open and missing a considerable part of the 2016 season. Some experts feel that his significant break last year will have fostered a healthier and fresher Federer, with his ageing legs given a much needed break as he prepares for possibly his final assault on an 18th Grand Slam title.

Inevitably, in order to be the best, you have the beat the best. So, who are the main contenders Federer must overcome if he is to win another Grand Slam title? Given his long injury lay off in 2016, Federer has dropped down the singles rankings to 16th. However, when Pete Sampras won the US Open in 2002, he was ranked 17th and had suffered a similar barren spell to the Swiss. So, as a result of his current world ranking Federer may face old adversaries Andy Murray or Novak Djokovic as early as the fourth round and Rafael Nadal even in the third round of the upcoming Australian Open, due to begin on January 16th. Andy Murray had unquestionably his best ever season during 2016, finishing the year atop the singles rankings and has to be seen as the man to beat at the moment. However, Federer holds a 5-1 record over Murray in all Grand Slam meetings which could give a psychological edge to the Swiss should the two meet in Melbourne.
It was only a stunning run of form from Murray last year that helped him finally dethrone Novak Djokovic at the top of the men's rankings, but the Serbian remains an exceptional player and will be looking to defend his Australian Open title later this month. Looking at Federer's head to head record against Djokovic in Grand Slams, the Serb leads 9-6 and has notably taken the upper hand in recent meetings between the two.
So, which Grand Slam represents Federer's best hope of glory?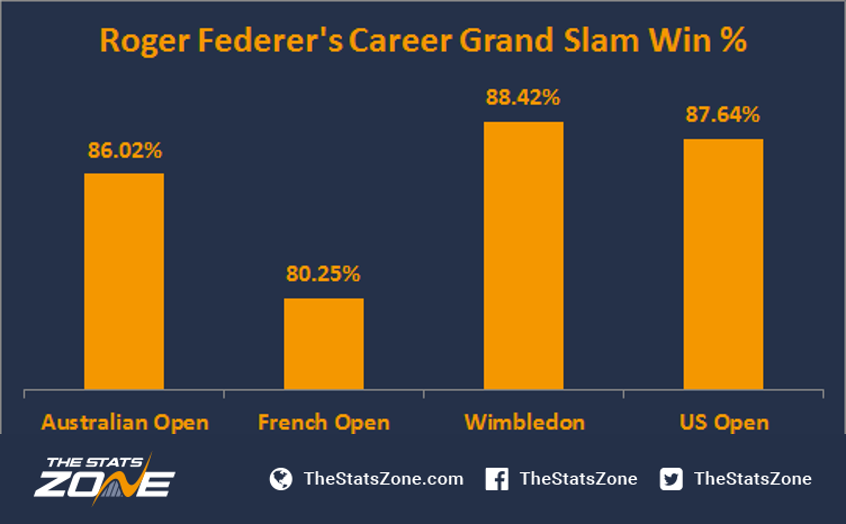 The statistics support Paul Annacone's views that Roger's best chance will come on the grass at Wimbledon, where he boasts his highest Grand Slam win percentage. Points on grass tend to be shorter in duration than those played on other surfaces, and with Federer's age and recent injury concerns, these shorter points suit his elegant technical game far more than the longer and more physically draining rallies on other surfaces (particularly the clay at Roland Garros).

Wimbledon has historically been Federer's most successful Grand Slam, where he has tasted victory a joint record seven times. Notably, his most successfully two Grand Slams – Wimbledon and the US Open – have also played host to his most recent final appearances (2015). This suggests that these surfaces, which promote shorter rallies rather than the more physical and energy draining requirements of the other slams, suit Federer's 'textbook' technique (the US Open hard-courts are quicker than those at the Australian Open). Only time will tell if Roger Federer has another Grand Slam title in him, but given his style and temperament, it is no surprise that he is still going strong after all these years. His ability to glide around the court, almost balletic like, has allowed him to pick off his opponents; unleashing devastating winners as opposed to grinding matches out. His style contrasts with that of the high octane players such as Nadal and Murray, where the physical strain of elite tennis may take its toll when they reach their twilight years, which arguably Nadal already has. History suggests it will be incredibly tough for Federer to claim another Grand Slam at his age, but history also suggests that you should never underestimate the great man.