Any American football fan will have heard the saying "defence wins championships" more times than you care to remember. Fresh from a dominating victory in the Super Bowl and the AFC Championship game two weeks before, the Denver Broncos are the epitome of that saying. To say they relied on their defence in the Super Bowl would be an understatement. Offensively the Broncos generated a hundred and ninety three yards of offence (the lowest total by a winning team in the Super Bowl ever, in fact fifty yards fewer than the next nearest team!). They not only relied on it, they lived and died by the performance of their defence. Super Bowl 50 was a matchup between the number one and number two ranked defences in the league which is the perfect ammunition for any advocate of the "defence wins championships" argument; but do the numbers support it?
The first area to examine is the defensive and offensive rankings of teams that have reached the Super Bowl each year. With this comes the problem of choosing which metric to use. Total defence is measured completely based on yards allowed and scoring defence is simply the points allowed on defence. Both have their obvious downfalls, only really measuring things on a macro level. With total defence you could give up lots of yards but stop the opposition before they get into scoring range; despite succeeding at your job, the stats say otherwise. Whereas with scoring defence you could be put in bad a field position by your offense causing turnovers or the special teams giving up big returns meaning your opponents may be close if not already in scoring range through no fault of the defence.
The metric that I believe is much more indicative of how well a defence plays is DVOA (Defence-adjusted Value Over Average). DVOA is a measure of efficiency of the defence or offense. It works by measuring the success compared to the league average on a play by play basis. It eliminates a lot of the faults with other measurements and gives a more accurate picture by analysing at a play by play level.
The table below shows the defensive and offensive rankings of all the Super Bowl teams for the last 20 years.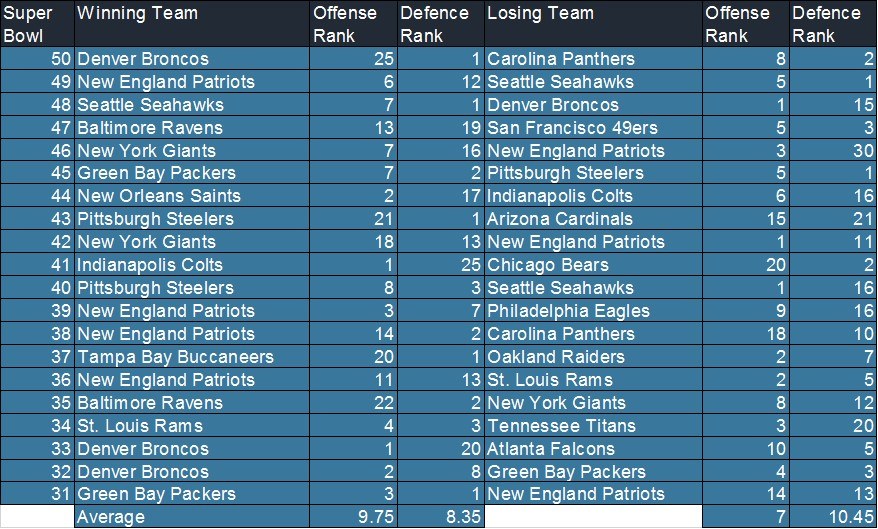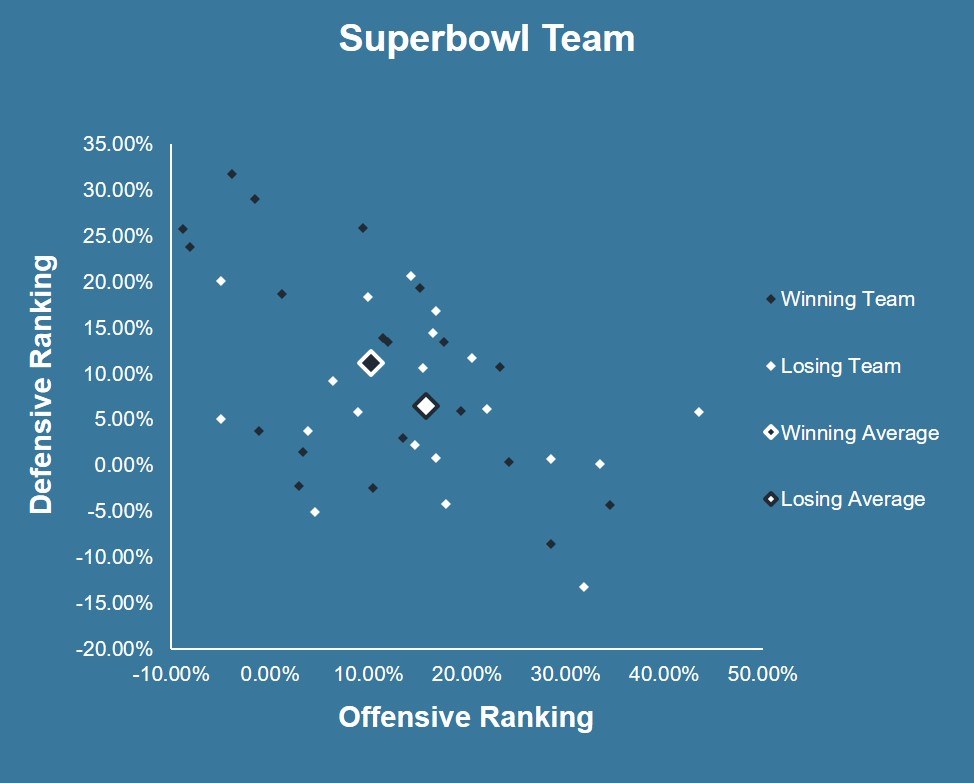 The first thing to notice is that the average defensive rank of both the winning and losing team isn't that high, 8.35 and 10.45 respectively. Only seventeen top five defences have made it to the Super Bowl out of a possible forty and only ten have won. On the offensive side, seventeen top five offenses have reached the big game but this time only six have walked away with the Lombardi trophy. Interestingly, the better defence in each Super Bowl has won eleven times but the better offense has only won seven times. There have been six games where the team with both the worse offense and worse defence has won.
The defensive rankings give us a good picture of what's going on but they don't show the distribution of relative ability between one another. Maybe the number one defence is twice as good as the number two defence, but the number two defence may only be 5% better than the number three defence. To get a true picture we need to use the actual DVOA scores. Note: a good defensive score is usually expressed as a negative value and good offensive score as a positive value. For simplicity I've inverted the defensive scores to make a positive value for both offense and defence.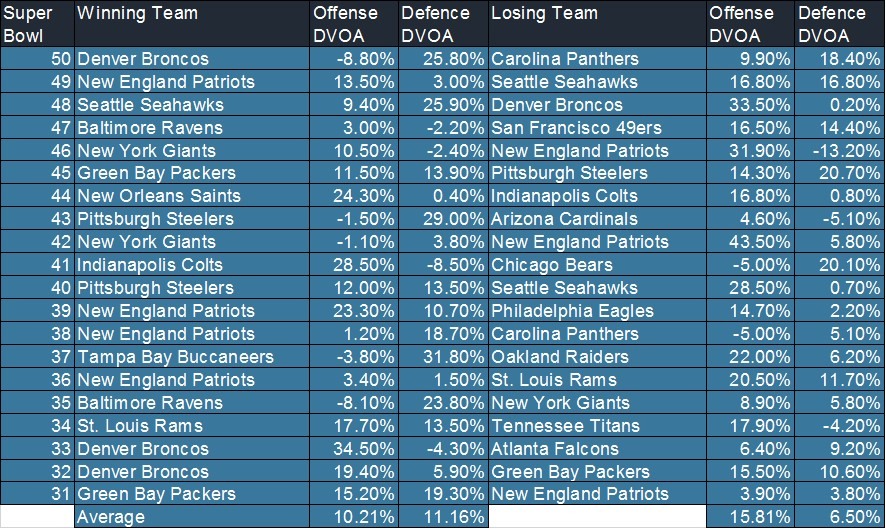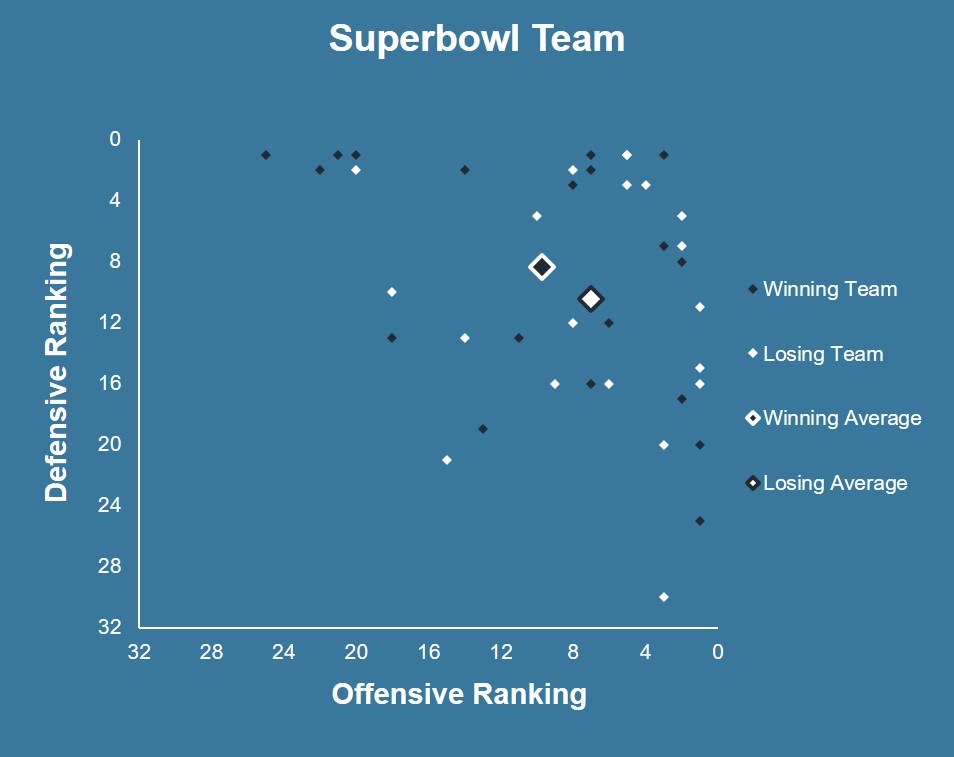 These DVOA scores give us a little more information. Specifically the five best defences to go to the Super Bowl have all won, the best six (there was a tie for fifth) offenses on the other hand didn't fare so well. They only won twice in those six occasions. Below those top scores, the distribution of winners and losers is fairly equal in terms of the better offense and defence. Of those top five defences, four carried offenses that performed below the league average and the other was only a little way above the league average. So what this really tells us is that if you have an all-time great defence and get to the Super Bowl, the chances are you'll walk away with a ring. Turn up with an all-time great offense and it's anyone's guess as to how you'll do.
What this might come down to is consistency. For a defence to play really well it has to rely on a number of players playing well. For a top offense to succeed they'll most likely be relying on a quarterback or running back to be on top form. A top defence can probably absorb one or two players making mistakes, a top offense cannot absorb their start quarterback or running back having a bad game. Then we have to think about the Super Bowl in general, the biggest game of many players' lives; nerves kick in more than before; players are scrutinised down to the finest detail. And which players are scrutinised the most? Who has the most pressure put on them? The offensive superstars, the quarterbacks and running backs that are supposed to lead their team to glory. Even as professional athletes, they must be feeling the nerves at the pinnacle of their career. Like we discussed above, a defence can absorb a nervous player or two who has an off day but an offense can't which may be part of the reason these top ranked offenses come unstuck on the big stage.
Finally, if we look at the combined offensive and defensive DVOA then we can see that actually the losing teams in the Super Bowl were on average slightly better than the winning team, and if we look at each individual matchup it's a tie at ten each, in terms of whether the better or worse team wins.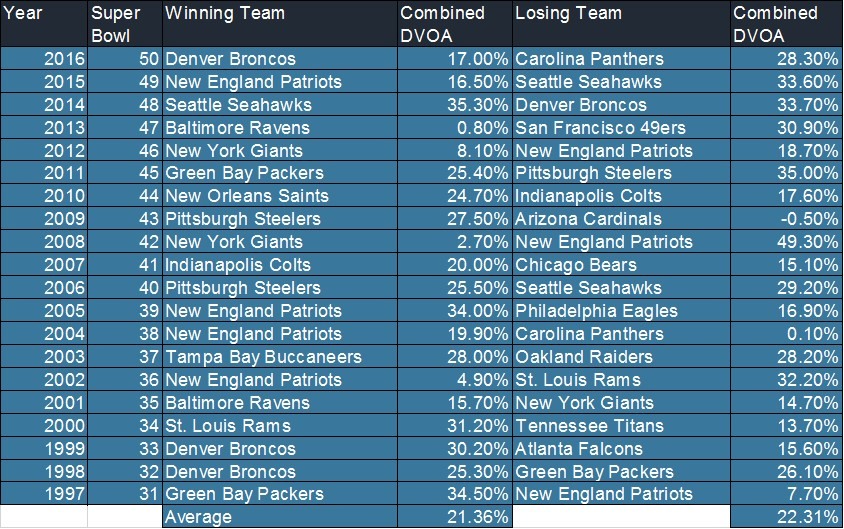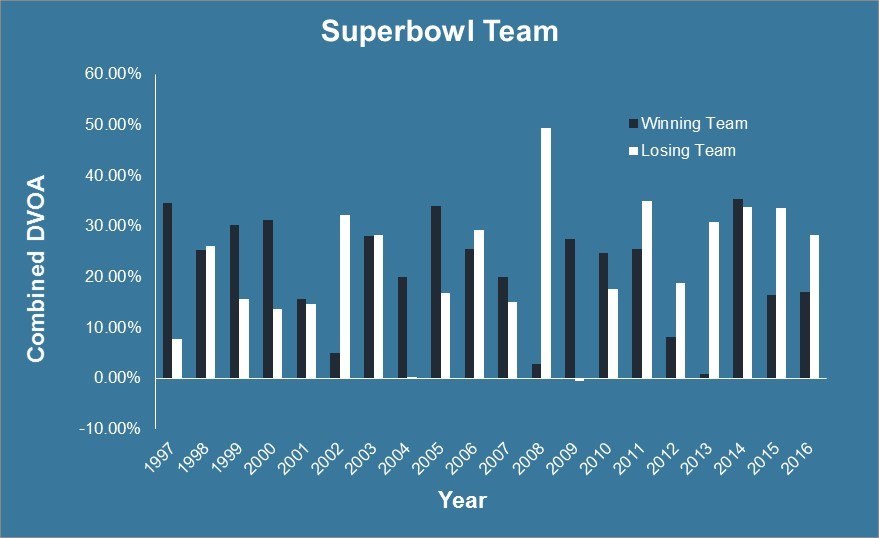 I thought it would be useful to have a brief look at the regular season to see if defensive efficiency was more significant than offensive efficiency. After running regression on all of the regular season offensive and defensive DVOAs for the past twenty seasons, the data shows that defensive DVOA only has 2.1% more effect on the winning percentage of a team than offensive DVOA does which is hardly enough to make it significant. If we break this down into three bands of winning percentage we get some very interesting results.

This actually shows that for teams that finish with a winning percentage of above 66.7% offense has a far greater importance to their winning percentage than defence does. On the other side, for teams that win below 33.3% of their games, defence is far more significant to their winning percentage.
So does defence really win championships? Well, not really. History shows that, in stark contrast to a great offense, if you have a great defence and manage to get to the Super Bowl you're very likely to win. However, more generally the data shows a very mixed spread of results, plenty of poor defensive teams have won and plenty of good defensive teams have lost. Many plain average teams have come up trumps and often against teams ranked far and above their level. The brief insight into the regular season results shows offense has more bearing on the final standings of the teams that make the playoffs than defence. The only certainty is in fact uncertainty and that makes for some great story lines.
Data Sources
DVOA values - http://www.footballoutsiders.com/
W L T records, collected from - http://www.nfl.com/