America's Deontay Wilder defends his WBC World Heavyweight title for the seventh time against Cuba's Luis Ortiz at the Barclays Center, Brooklyn on March 3rd. The bout was originally due to take place in November 2017 only for Ortiz to test positive for a banned substance – the second time in three years. However, on this occasion he was cleared of any wrongdoing and given the go-ahead to fight for the title.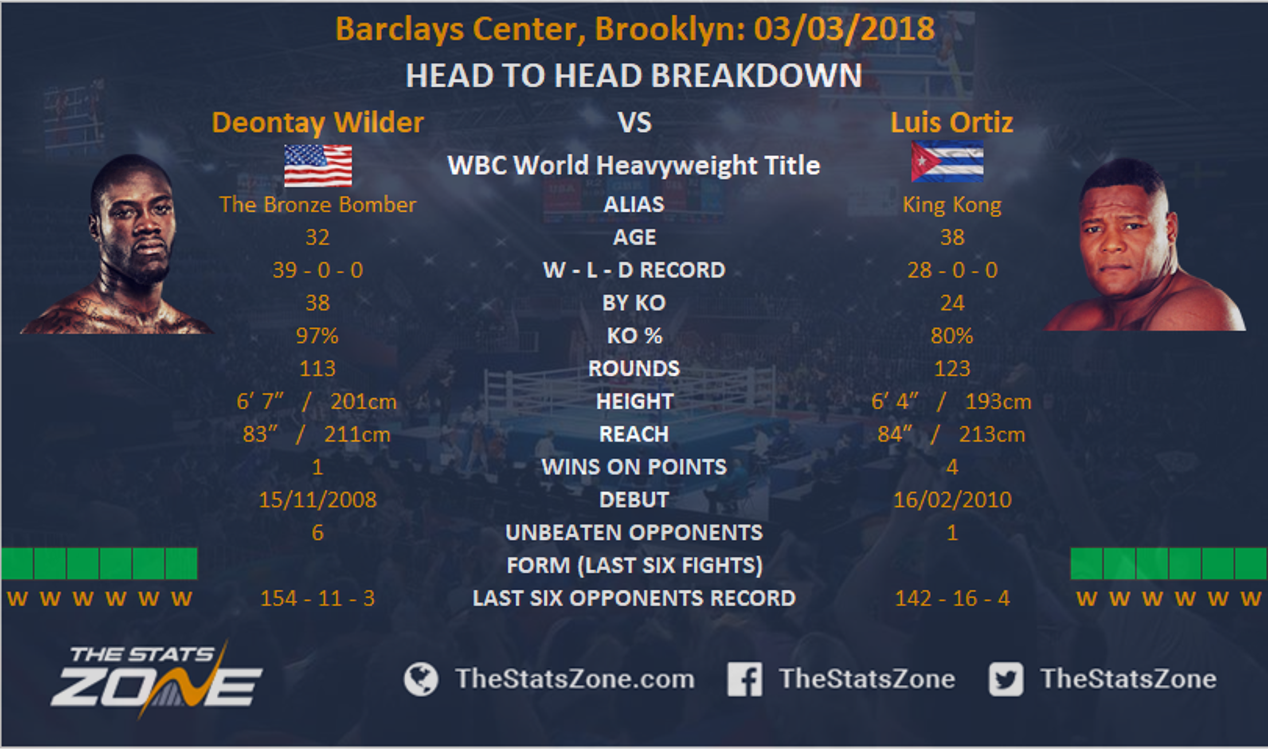 After 28 unbeaten bouts with an 80% KO record and at the age of 38, this is Ortiz's first world title fight.
Wilder on the other hand defends his title for the seventh time having amassed 38 bouts with a highly impressive 97% knockout record.
Although 'King Kong' is three inches shorter than 'The Bronze Bomber', he actually possesses a one-inch reach advantage, something that will be awkward for Wilder to deal with.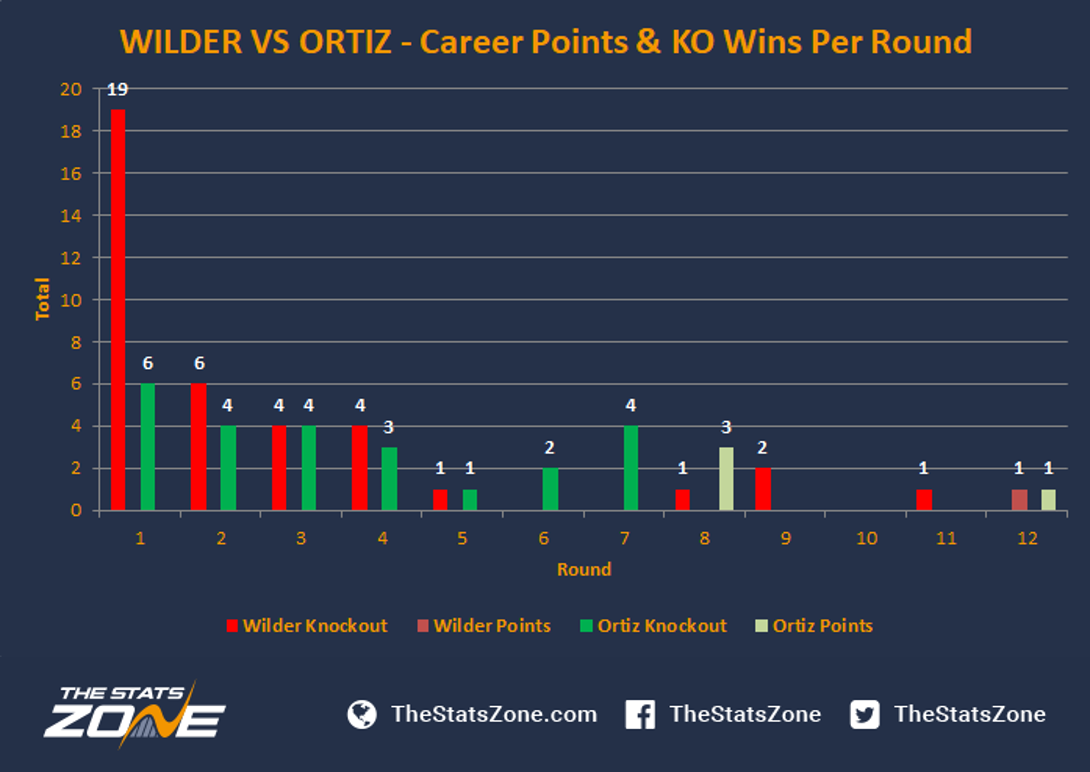 Wilder's 38 KO victories from 39 bouts demonstrate why he is regarded as one of the most powerful one-punch specialists within the sport. His aggressive style where he looks for the KO from the first bell has been a successful game-plan thus far, recording 19 KO's in the first round alone and a total of 33 (87%) inside the first four rounds.
Ortiz's KO ratio is no pushover though, having recorded 17 KO's (71%) inside the first four rounds himself. However, the Cuban has won four times on points, proving he can and does alter his style depending on the situation - something Wilder is unlikely to do regardless of the opponent.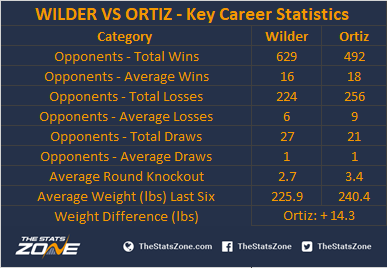 With Wilder having had 11 more bouts than Ortiz and having turned professional two years beforehand, their average opponent records are remarkably similar.
Ortiz has faced boxers who on average have recorded two more victories than that of Wilder's; however, they have also recorded three more losses suggesting many have his opponents have been experienced but of a poorer quality.
The differences in their statures will play a role within the bout with Wilder being the modern typical heavyweight – tall, athletic and powerful, whereas Ortiz is shorter, stockier and awkward. This is highlighted in their average weight (lbs) for their last six bouts with 'King Kong' weighing in 14.3 pounds heavier than Wilder even though he is three inches shorter in height.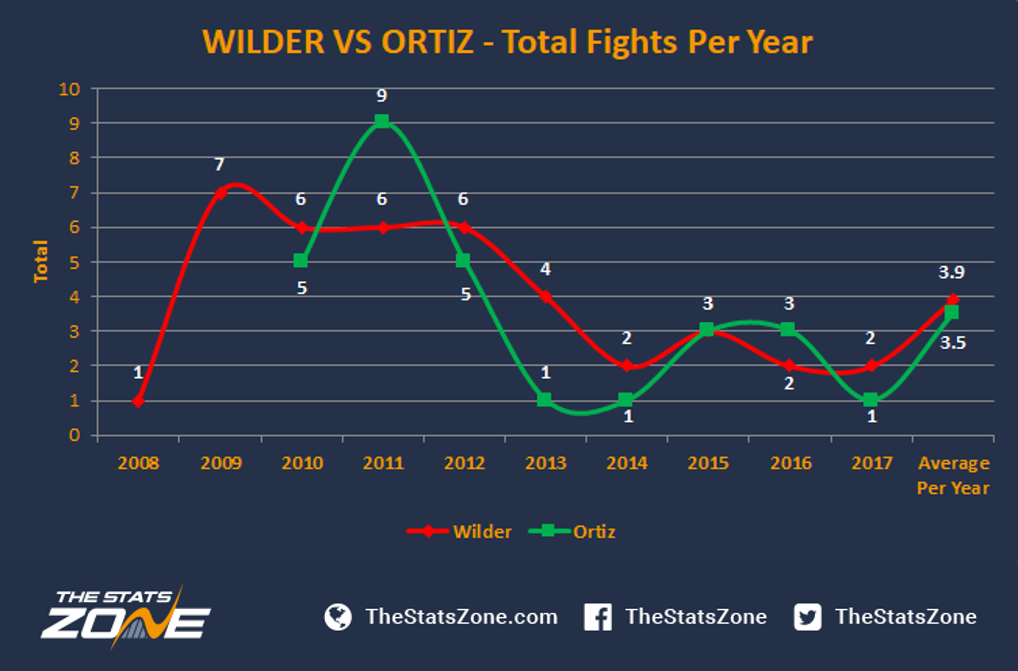 Wilder is now in his tenth year as a professional and has built his name progressively within the division. Nevertheless, even as a world heavyweight title holder, his brand is still relatively small which is revealed with this being touted as his toughest and biggest opponent to date.
Ortiz was late to the professional ranks, joining at the age of 30 after a distinguished amateur career and quickly built up a 19-fight unbeaten record in his first three years. Since 2013 he has fought just a further ten times with two bouts being classed as no-contests (2013 & 2014).
The only time Wilder has been taken the distance was during a comprehensive win against Bermane Stiverne for the title in January 2015. Since then, he has gone on to defend six times via KO, progressively taking out his opponents earlier in the fights - perhaps showing his confidence has grown in his abilities as world champion.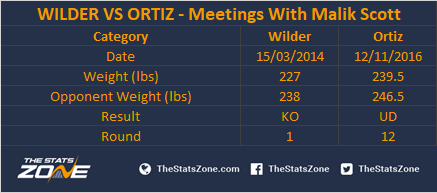 The two have faced the same opponent in Malik Scott with 32 months separating the contests. Although Scott was much bigger in weight against Ortiz and perhaps in better condition, 'The Bronze Bomber' dismantled him inside the first round while 'King Kong' was taken the full 12 rounds – a result that might be significant in this contest.
PREDICTION
This is arguably the biggest heavyweight clash out there at present – perhaps a closer and more entertaining contest than Joshua vs Parker – which will make for an entertaining fight. Both boxers possess the power to end the fight during any round and more importantly, both will aim to do so.
Nonetheless, they will be aware of each other's power and style meaning it could be a very cautious contest during the first half of the fight with neither boxer wanting to make unforced errors early doors. Expect the Cuban to cause Wilder a lot of trouble – more than any opponent to date - during the first half of the fight with his superior foot-work and ring-craft. Still, as the fight goes into the later rounds, the much younger Wilder is favoured to record another late KO.