The code-hopping debate shall once again become a very 'hot' topic in the coming weeks, due to Sale's acquisition of Wigan's, Josh Charnley (when a player moves between Rugby League to Rugby Union or vice versa). Hopefully, for the sake of the debate, the Union pundits and column writing ex-players will abandon their subjective asinine fallacies in favour of unbiased examinations: otherwise, their anti-code hopping narratives, as seen during the Sam Burgess affair, will dilute the complex and nuanced debate.
Bravely, Sale and Charnley have chosen to challenge these naysayers and so we will observe the code-hopping debate in a more objective manner. Specifically, we will investigate the influential factors that most affect code-hoppers switches, such as; age upon transition, size, X-factor/skillset, positional switch, international promises and hype /expectation. Though to move this article beyond tabloid conjecture, we will use both previous and present code-hoppers (code-crossers) as case studies, hence prioritising context, reality and relativity over guesswork. Furthermore, this article will avoid the overused fabrication, (espoused by many protectionist ex-player pundits who detest outside imports diluting their sport) that League players are analogous beings and so that if one fails to make it, then so will all the others. Such ignorance disregards the individuality and uniqueness of each athlete (as well as their skillset and body type) and so can never hope to properly assess the potential of their futures in Union. Obviously, it is important to acknowledge that Rugby League and Rugby Union are undeniably different sports with different rulebooks. League sides have 13 players, non contested scrums, non contested breakdowns and a five tackle rule. Whereas Union sides have 15 players, contested scrums, contested breakdowns and unlimited tackle counts. However, we will waste no more time amplifying these often-exaggerated differences and so move on to the core of this article.

Positional Switch
The table below shows the various positions code-hoppers have attempted to transition from and to, though in isolation it doesn't elaborate on how successful they have been. So to understand their successes, we suggest returning to the table on page 1: and remembering the greater their longevity in union (as measured by appearances accumulated) the more successful their transition has been. But why does positional switch effect longevity?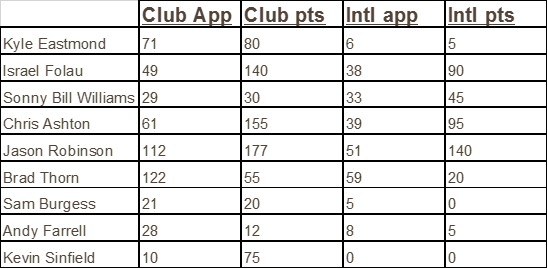 There are certain absolutisms when looking at code crossing: firstly you never see a League back becoming a Union forward and nor do you observe any League players trying to become; props, hookers, open side flankers and scrum halfs. But, as the table on the left illustrates most other positional switches have been attempted. Using appearances as a judge of success, we can see some basic patterns emerge: most obviously, a League back is much more likely to become a Union success story than an old League Forward (unless you are Sonny Bill Williams). This is because both codes value the same essential qualities in their backs; vision, pace, ball carrying ability, skill, finishing and dynamism. To illustrate this point you need look no further than the likes of; Israel Folau (Brisbane Bronco's and NSW Waratahs), Jason Robinson (Wigan and Sale), and Chris Ashton (Wigan and Saracens), all of whom converted from being League backs into Union; centres, wingers or fullbacks.
Importantly Sale, upon recruiting Charnley, have spoken of their desire to play him as a winger (to replace the outgoing Tom Brady who is leaving for Leicester) and hence, as this section elaborates will have a greater chance to succeed than if he was a League forward transitioning into a Union back. To conclude this section we point towards a recent code-hopper, Ngani Laumape of the Wellington Hurricanes. Due to his contemporariness and similarity to Charnley (as both are powerful young wingers very capable of scoring tries and breaking the defence), he offers the best insight into how a young code-hopper will fair in Union. Thankfully for Charnley, Laumape has already scored 3 tries in 5 games: but furthermore the Hurricane's coaching staff have selected him in every match so far, due to his exhilarating attacking talents and bone crunching defensive impacts adding real value to the team.
Age at transition (or switch)
'Father time is undefeated', and to a certain extent this old truism holds fast for players trying to 'code hop'. By consulting the graphs, we can see an obvious correlation between age at transition and how successful a player turns out to be: put simply the younger you are the easier it is. For example, Andy Farrell switched codes at age 32, managing only 28 club appearances and 8 internationals before he retired: whereas Chris Ashton swapped codes at 20 and is now nearing 200 Premiership appearances combined with 39 Internationals. Of course some may look to Kevin Sinfield to counter this point, but they should be reminded he is only playing in the second division of English rugby and the comparison is not valid.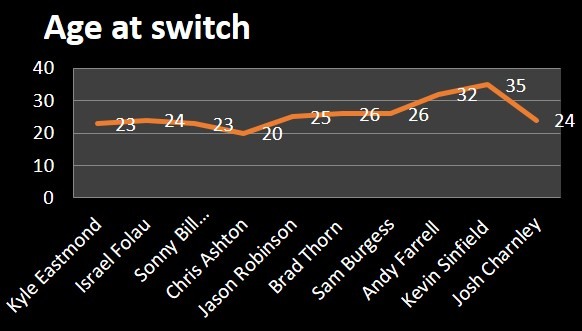 But why is age of transition so important? Is it because of body durability, is it because they are more malleable, is it due to young players having less expectations placed on them or is it that being young allows players more time to learn? The answer ,is a combination of the above; firstly, young players are more receptive and flexible to learning new skills, techniques and rules .Secondly , young players have less expectation placed upon them and so are allowed more time in order to develop. The importance of 'time', cannot be underestimated: without time a player is rushed and will not be granted the developmental failures that help (and not break) him to come back stronger. Chris Ashton has often spoken of this factor, when describing how the hardships he faced early on at Northampton taught him the developmental lessons that moulded him into one of Europe's most productive try scoring predators.
The combination of size, speed & skill
The combination of size, speed and skill is something that makes certain League players very attractive to Union clubs. Israel Folau, Sonny Bill and Sam Burgess prove thus, and their acquisitions speak of a trend that has taken over Union. But why has this trend begun? Well the trend started due to what can only be described as an arms race, occurring throughout Union, to counter the ever increasing defensive stalemates dogging rugby's theatre .A stalemate caused by complex new defensive systems that take advantage of the increasing size of players (as the graph below illustrates) and their improving fitness levels, to reduce both space and weaknesses on the rugby field. Thus, teams across the game have began to search outside their usual talent pools, to find x-factors (or dynamic destructive athletes with a cutting skillset) capable of breaking down even the most stoic of defences. Sonny Bill, proved the ultimate pathfinder in the 'arms race', and now Goliath-like League players have become the weapon of choice throughout Union.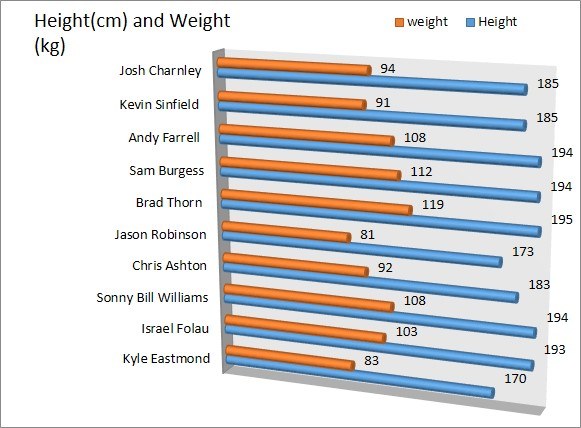 Interestingly, Charnley, doesn't have a massive physique, rather Sale have identified him for having a different X-Factor. To appreciate this better it will be more useful to consider smaller code-hopper's like; Ashton, Robinson and Eastmond. These athletes were heavily pursued by Union clubs not because of their physiques but instead because of their intangible, but equally destructive talents, like; speed, agility, vision, elusiveness, skill and playmaking ability. This will be expanded on in the next section, but it is safe to say that such skillsets have proved immensely successful in Union (as shown by the international appearances that each of these smaller men have accumulated), and so Charnley's lack of size should not detract from his potential.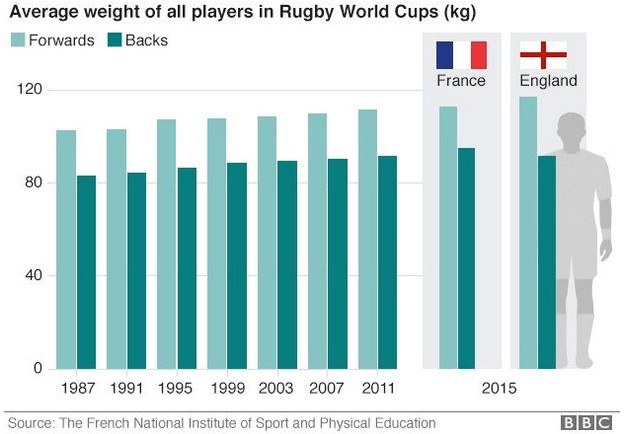 The X-Factor skill set
Frequently, league converts who have had the most success are those armed with a unique skillset or X factor, capable of breaking down the modern defensive systems. If we consider some of the most successful code-hoppers we can illustrate these unique X-Factors; Sonny Bill has the freakish physicality of a forward combined with a hybrid offloading game that allows him to unravel any defence (in fact Sonny has become so successful that many sides have tried to find themselves a similar weapon, for example Bath recruited Sam Burgess and Saracens purchased Joel Tomkins): the mercurial Israel Folau is armed with a unbelievable mixture of immense pace, size, nimbleness and aerial prowess. Jason Robinson had unparalleled levels of elusiveness and burst acceleration that allowed him to evade and escape even the tightest defence.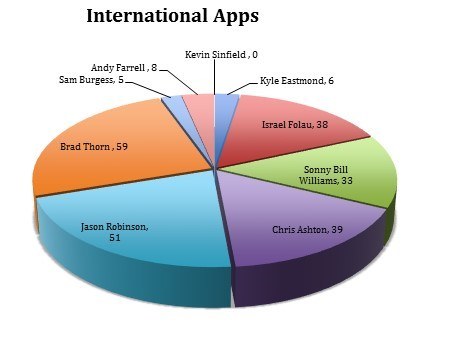 Though most useful to this article is to focus on Chris Ashton's skillset. As a 20-year-old Wigan winger he was appreciated as a try-scoring predator, with outrageous speed, anticipation, tracking lines and vision. Such a poacher's skillset has proved immensely valuable and easy to transfer into Union- just ask Northampton or Saracens - and so Charnley , who is very comparable to Ashton, must understand that his try scoring credentials and speed can prove immensely productive to Sale.
Lee Briers gave a very useful insight into Charnley and his future on Brian Moore's radio show , when he called him a "a natural back" armed with great ;pace , physicality , scoring ability and " kicking game" (which is unusual for a league player). Furthermore, he stated that his particular combination of talents would mean that Sale should have little difficulty transitioning him into becoming an effective; wing or fullback. Lee finished by calling Charnley a "great signing " and even hinted towards international honours by 2019 (World Cup in Japan). Briers opinions correlate with my own belief that given time, Charnley's poachers skillset will offer Sale a real cutting edge out wide. This article will now move onto the more abstract psychological factors that affect a player's transition, perhaps devices that will be harder to cognate when predicting Charnley's future.
International Promises (and more money)
The promise of being a test International is especially important when we consider the code-hopping 'superstars' and their longevity in Union. Fundamentally, this is because most of them cite such a promise as the primary motivator behind the switch (due to how superior Test rugby is in Union than League).
By considering Kyle Eastmond we can understand this factor more clearly: he was a young player of considerable talent at St Helens, with a huge future both domestically and internationally ahead of him. Nonetheless, as his contract ran down, agents and columnists started gossiping (about him swapping League for Union and becoming the new Jason Robinson, largely due to his body shape), thus fuelling speculation. Soon many of the most ambitious Premiership clubs, such as Bath, were circling Kyle with a view to acquiring his signature. For Bath this move made huge, financial, commercial and sporting sense, as they envisaged Kyle re-energizing a side that was looking for a re-brand after the Steve Meehan years. But, Kyle was a very sort after talent, wanted by both League and Union clubs, hence to ensure his signature Bath decided to make a few enticing promises to Kyle. Firstly they offered him a vastly increased salary (As shown in the tables below) but secondly and more influentially they promised him a developmental pathway to international recognition.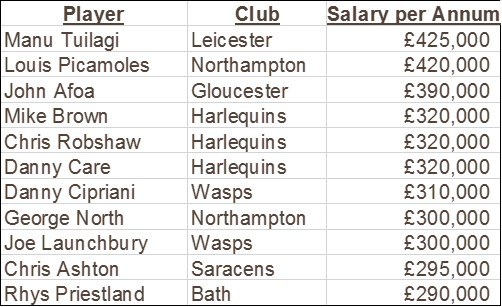 However, the 'international promise' can potentially become a double-edged sword that will drive certain code-hoppers to return to League. Eastmond, who initially found himself earmarked as an international 12 and a perennial England camp attender now finds himself shunned by England in favour of larger men, causing his name to be constantly linked with a return to League (especially as it became known in press circles that he felt a little marginalised by the Lancaster regime). Thankfully, Kyle stayed committed to Bath and the dream of England. However, this is not always the case, Joel Tomkins came to Union with the promise of being England's 'Sonny Bill', but after only a few caps it became clear he wasn't good enough to offer any offensive threat in the Test arena. Rather than remaining at Saracens, as an above average 'club player' (which he was), Tomkins returned to Wigan: confessing it had become clear to him that he would never be the Union test centre he was promised to become and furthermore even after 3 hard years he never felt comfortable or wanted in Union. Thus we see how the 'international promise' can work both ways, but the question remains how or if it will affect Charnley.
Hype and expectation
Bath's acquisition of Sam Burgess, was the most overhyped and over romanticized event of the sporting year, thanks to the media who managed to convince many English fans that he was the saviour of English rugby (in truth, the most these fans and pundits had ever seen of Sam were of his highlights on You Tube, all of which suggested that he was completely capable all of the time of game changing carries, bone cracking tackles and unbelievable offloads). This narrative turned out to be the millstone around Sam's neck; he could never become the hero the public yearned for. To give this some perspective, the great and mighty Sonny Bill, had 2 years and 33 games to learn Union at Wilkinson's Toulon (a period in which Sonny openly admits was out of the media spotlight and full of growing pains) before returning to New Zealand and playing a further 21 games for the Canterbury Crusaders. This meant he had north of 50 appearances and 3 and a half years experience before becoming an All Black. Sam, in contrast, was given only 21 games for Bath before his England debut: and crucially during this time he was made to split his development between two positions, flanker and centre, due to the disagreements between Bath and England.
In Sam's defence his World Cup was certainly not as bad as many like to make out, he played better and had a more positive impact than some seasoned internationals. Nonetheless, Sam was never able to match the unreal expectations people had for him, but then again not even Superman, or should we say Sonny Bill, could have done(within this timescale). What followed was the criminal scapegoating of Sam, as pundits and fans alike falsely condemned Burgess's arrogance in attempting to cross codes. Of course, they all ignored that Sam was set up to fail by the unimaginative and undistinguished headmaster, Lancaster. This drove Sam to believe he was never going to be accepted or even given a fair chance by Union and hence resolved it wasn't worth wasting his prime years lingering at Bath: playing for fans who already deemed him a failure. Consequently, it is hard to blame Sam for jumping on board Russell Crowe's jet and fleeing to South Sydney and a league that cherished him. This sorry and short-lived affair illustrates perfectly how hype and the expectation can ruin any brave league player's ability to transition into union.
So how long will Charnley Survive?
Sale will have learnt from the Burgess affair and hence will minimise the publicity Josh receives, by shunning the countless media opportunities (something Bath and Bruce Craig failed to do) that the club will no doubt be given by journalists hoping for a Burgess 'part 2'. Furthermore, Steve Diamond (the pragmatic Sale coach) will give Josh all the time he needs to evolve his skillset and absorb the Union game: perhaps by using reserve games alongside a carefully planned timetable of exposure. Ultimately, this will allow Josh to avoid many premature 'hype stories' and eventually allow him to be judged purely on his own skills and performances. If this is achieved his transition into the Union game should be very successful and perhaps by the 2019 World Cup he will have become a dual code international. Though to end this article I wish to point to a code-hopper who may well be playing for England a lot earlier than Charnley, Ben T'eo (who may also be the first English international to play without ever playing a game for an English club). In July, T'eo (who stands at 6'3 and is approximately 17 stone) will leave Leinster and become a Worcester Warrior: although if the rumours are to be believed then he will have worn the red rose in Australia before he even runs out at Sixways. If this occurs it would be a lovely 'follow on' to the Sam Burgess affair, due to T'eo being Burgess's teammate at the Rabbitohs and perhaps pointing to what might have been, had Burgess been allowed 'Time'.