Cristiano Ronaldo began his 2018 FIFA World Cup campaign in fine form with a sensational hat-trick against Spain, which took his international tally to 84 goals in 151 games. This puts the five-time Ballon d'Or winner level with Ferenc Puskas as Europe's all-time leading scorer, and he is second on the global list behind Iran's Ali Daei (109 goals).
With the Portuguese star bidding for World Cup glory with his country, we've put together some statistics on his goalscoring record at international level.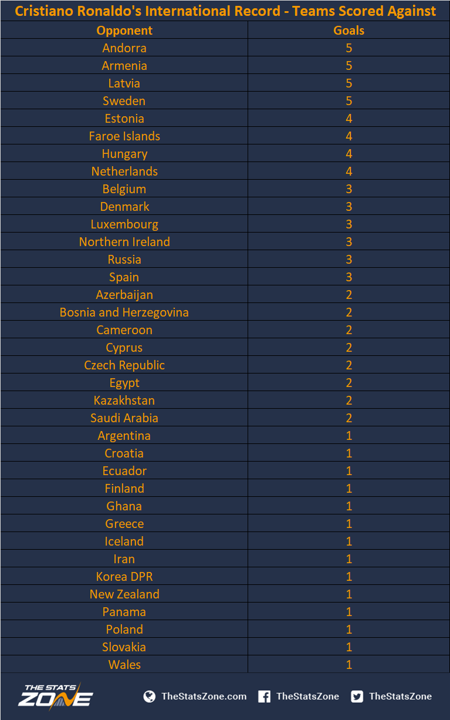 There are of course some weaker opposition in this list but Ronaldo has scored multiple times against top tier teams such as Netherlands, Belgium and now Spain. Andorra, Armenia, Latvia and Sweden have all been on the receiving end of five Ronaldo goals.

The next step of our analysis has been to look at where he has scored the goals to see if there are any trends. 46.4% of his 84 goals have come at home with 35.7% coming away. 15 of the 84 have come in final tournaments at neutral venues though, showing that he has scored when it counts for his national team.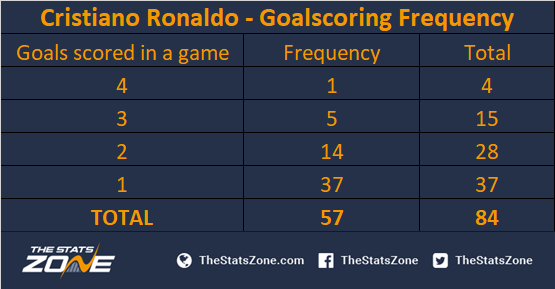 Looking at the frequency of Ronaldo's goals, he scored four times in one match against Andorra in qualifying for the 2018 World Cup, and his recent hat-trick against Spain was his fifth for Portugal. He has scored a brace on 14 occasions whilst he has hit the net once in 37 separate international matches.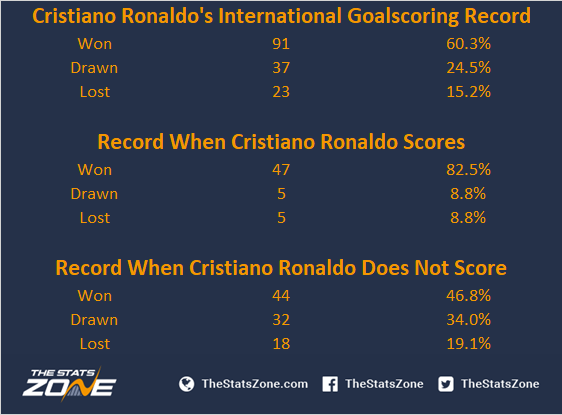 The final piece of our analysis was to break his goals and appearances down to study Portugal's win record when he is playing, and compare this against when he scores and when he does not score. The overall win ratio in his 151 matches is 60.3% but this jumps to 82.5% in the 57 matches when he has scored. When he does not score, Portugal's win ratio drops to just 46.8%. Not only does this partially highlight his importance to the side but combined with his goalscoring record against some of the weaker teams in world football, that does not bode well for Morocco and Iran who represent Ronaldo's next two opponents.