Cristiano Ronaldo is used to breaking records, but the milestone he reached following his hat-trick against Bayern Munich was particularly special, as he became the first player in history to score 100 Champions League goals.
We've broken down Ronaldo's strikes in order to assess how he went about his century of goals in Europe's premier club competition: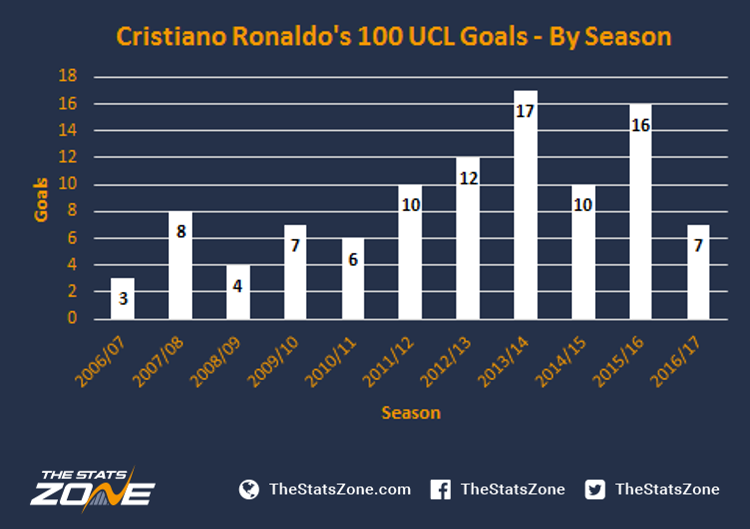 Ronaldo's most successful Champions League campaign was 2013/14 when he scored 17 goals, which stands as a competition record.
He has scored at least ten goals in five separate seasons.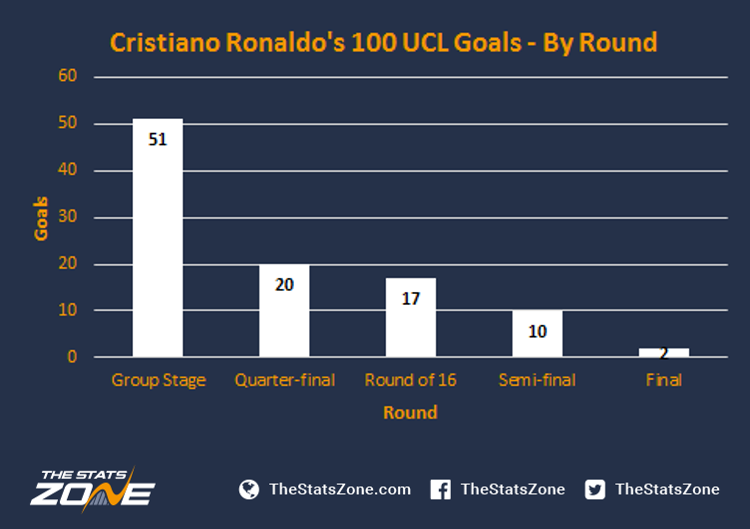 Over half of Ronaldo's goals have come during group stage matches, but a significant number have also been scored in knockout rounds, including an impressive 20 in quarter final ties.
The majority of goals were scored inside the area, with a quarter being scored from inside the 6 yard box. Ronaldo has also registered some spectacular long range strikes though, with 16 being scored from outside the area.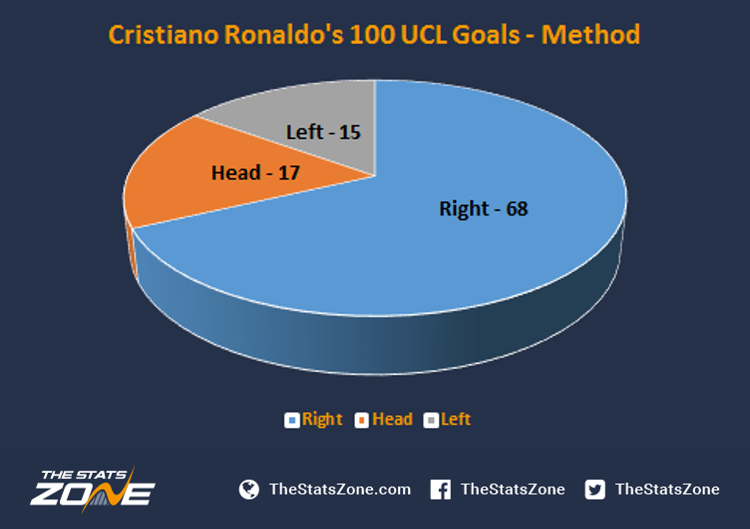 This split highlights Ronaldo's ability to score goals in multiple ways, with his weaker left foot and his prowess in the air accounting for almost a third of all of his goals.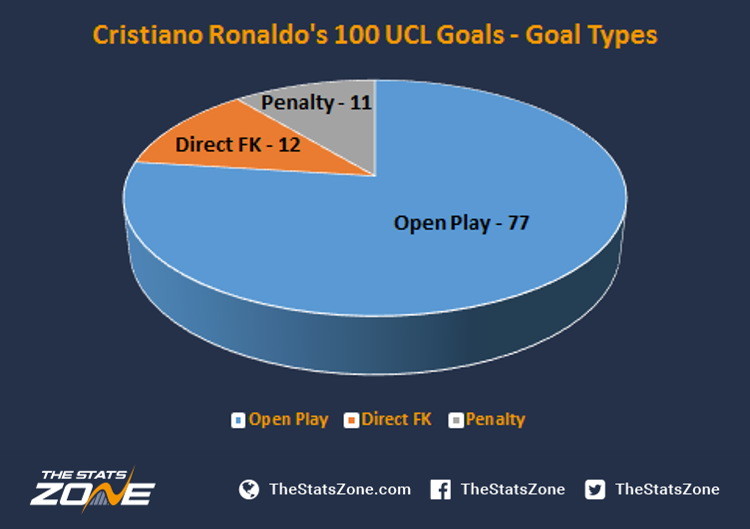 The vast majority of Ronaldo's goals have been scored from open play, but just over a fifth have come from dead ball situations.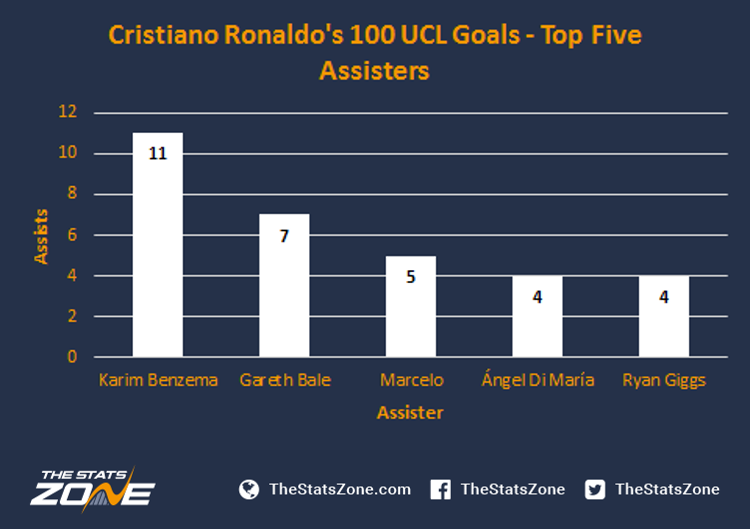 Ronaldo has been the beneficiary of a Karim Benzema assist on no less than 11 occasions in the Champions League.
Two Welshman appear on the list, with Gareth Bale assisting seven times since he joined Real Madrid, whilst Ryan Giggs fed Ronaldo four times during his Manchester United days.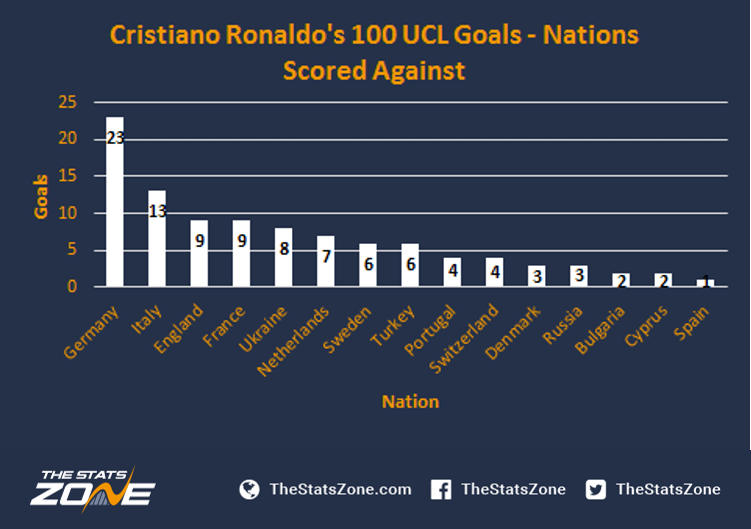 Ronaldo clearly enjoys playing against German opposition, as they have conceded 23 goals to the Portuguese superstar in the Champions League. Italian sides are the next in line to have suffered at Ronaldo's hands, with 13 conceded.
Somewhat surprisingly, Ronaldo has only scored once against Spanish opposition; a Champions League final goal against Atletico Madrid in the 2013/14 season.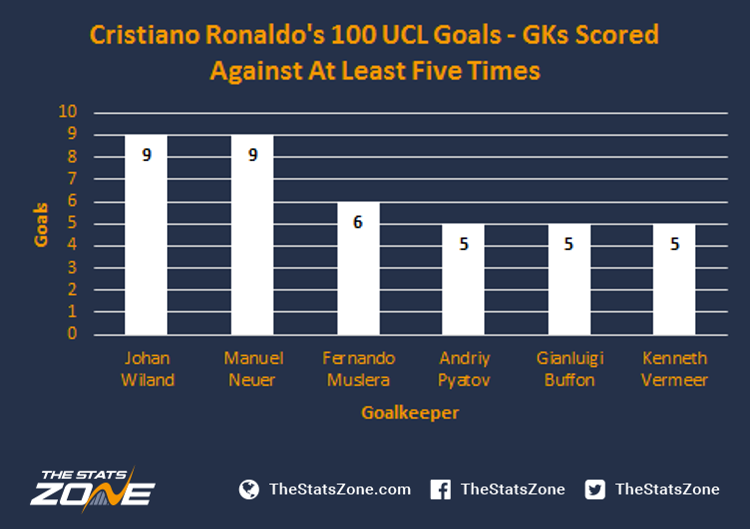 Ronaldo's hat-trick against Manuel Neuer in the Champions League quarter-final took the German goalkeeper to joint-first on this particular list
Ronaldo has scored at least five goals against six different goalkeepers in the Champions League.