July 26, 2021 4:52 PM
Last modified date: August 21, 2021 9:20 PM

Trystan Pugh
The Hundred 2021 Tournament Page – Men's & Women's Fixtures, Results, Where To Watch & How To Get Tickets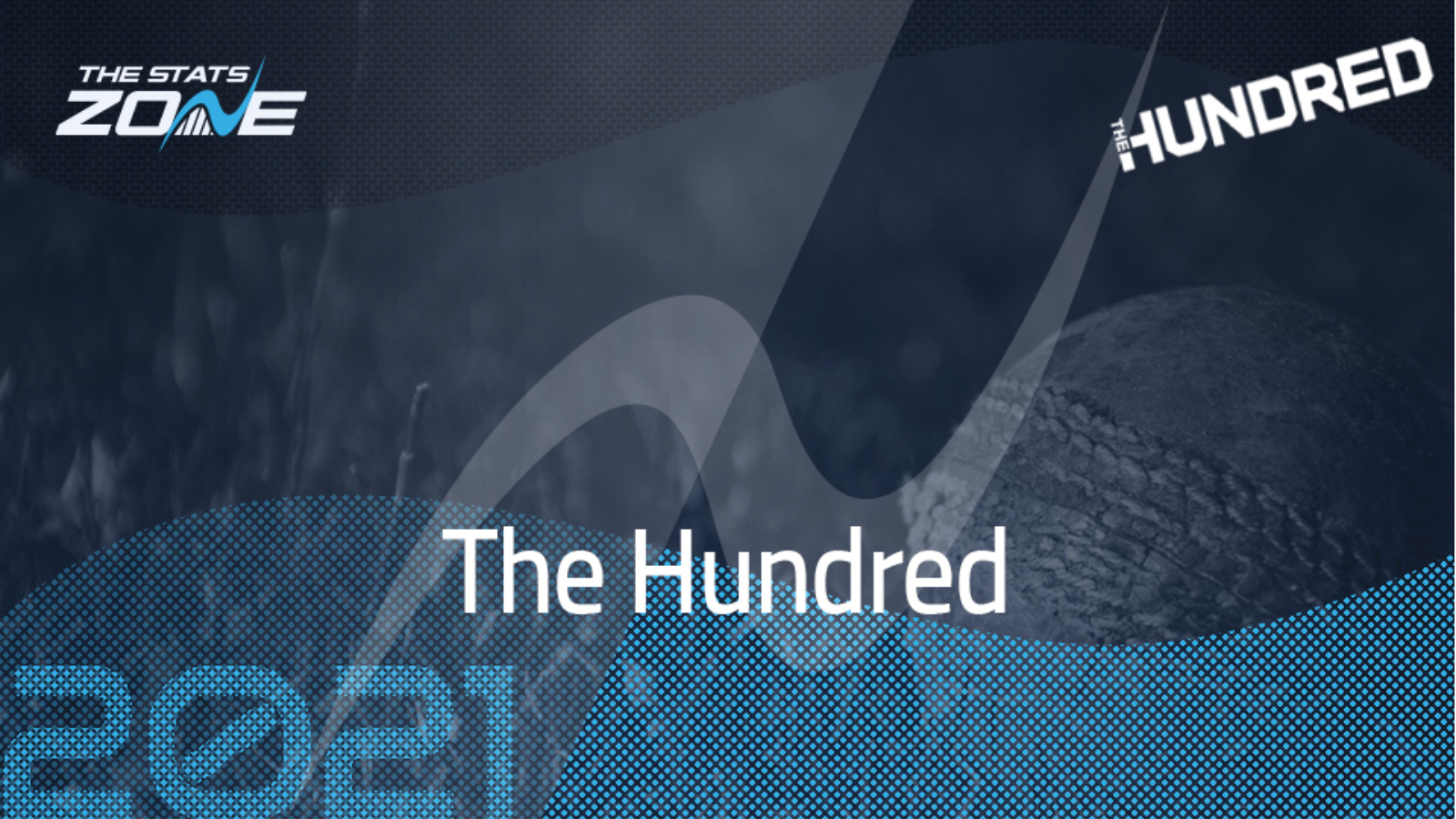 THE LOWDOWN
What is The Hundred all about?
The Hundred is a brand new cricket tournament taking place in England and Wales and will take place for the first time in 2021 across July and August. The Hundred introduces a fresh format to the game in a bid to appeal to a younger and more diverse audience, with a men's and women's tournament set to run concurrently.
What is the format of The Hundred?

The men's and women's tournament will each feature eight teams. The top team from each will progress to the final, while the second and third-placed teams will face each other in an eliminator for the right to contest the final. The main rules are as follows:
100 balls per innings
A change of ends after ten balls
Bowlers deliver either five or ten consecutive balls
Each bowler can deliver a maximum of 20 balls per game
Each bowling side gets a strategic time-out of up to two-and-a-half minutes
A 25-ball powerplay start for each team
Two fielders are allowed outside the initial 30-yard circle during the powerplay
Teams will be able to call time-outs
The non-striker must return to their original end after a caught dismissal
No-balls are worth two runs

Who is competing in The Hundred?
The following teams - of which there will be a men's and women's team - make up The Hundred:
Birmingham Phoenix
London Spirit
Manchester Originals
Northern Superchargers
Oval Invincibles
Southern Brave
Trent Rockets
Welsh Fire
When is the Hundred taking place?
The tournament begins on Wednesday 21st July and will conclude on Saturday 21st August, when both the men's and women's finals will take place.
Will fans be allowed at The Hundred?
Yes! A single ticket allows you to watch both the men's and women's matches that are taking place that day (if applicable). Visit this link for everything you need to know about purchasing tickets.
Is the Hundred being televised?
Sure is! Select matches will be televised across BBC platforms and are shown in the fixtures and results section below. In addition to the BBC games, Sky Sports will be televising every single game.
Can the Hundred be streamed?
Absolutely! Sky Sports subscribers can stream every Hundred fixture live on Sky Go, while UK based fans can stream select matches on the BBC iPlayer, BBC Sport website and app. Alternatively, every Hundred women's fixture alongside select men's games can be streamed live via the Sky Sports Cricket YouTube channel.
Is The Stats Zone covering each match?
TSZ's cricket experts will be providing team news and predictions for every single match for both the men's and women's events. All our predictions can be found here!
FIXTURES & RESULTS
Wednesday 21st July
Oval Invincibles v Manchester Originals, Kia Oval
Women: Oval Invincibles win by 5 wickets
Thursday 22nd July
Oval Invincibles v Manchester Originals, Kia Oval
Men: Oval Invincibles win by 9 runs
Friday 23rd July
Birmingham Phoenix v London Spirit, Edgbaston
Women: London Spirit win by 3 wickets
Men: Birmingham Phoenix win by 3 wickets
Saturday 24th July
Trent Rockets v Southern Brave, Trent Bridge
Women: Southern Brave win by 23 runs
Men: Trent Rockets win by 9 wickets
Northern Superchargers v Welsh Fire, Emerald Headingley
Women: Northern Superchargers win by 6 wickets
Men: Welsh Fire win by 5 runs
Sunday 25th July
London Spirit v Oval Invincibles, Lord's
Women: Oval Invincibles win by 15 runs
Men: Match abandoned
Manchester Originals v Birmingham Phoenix, Emirates Old Trafford
Women: Birmingham Phoenix win by 20 runs
Men: Manchester Originals win by 6 wickets
Monday 26th July
Trent Rockets v Northern Superchargers, Trent Bridge
Women: Northern Superchargers win by 27 runs
Men: Trent Rockets win by 2 wickets
Tuesday 27th July
Welsh Fire v Southern Brave, Sophia Gardens
Women: Southern Brave win by 8 wickets
Men: Welsh Fire win by 18 runs
Wednesday 28th July
Manchester Originals v Northern Superchargers, Emirates Old Trafford
Women: Match abandoned
Men: Match abandoned
Thursday 29th July
London Spirit v Trent Rockets, Lord's
Women: Trent Rockets win by 18 runs
Men: Trent Rockets win by 7 runs
Friday 30th July
Southern Brave v Birmingham Phoenix, Ageas Bowl
Women: Southern Brave win by 8 wickets
Men: Southern Brave win by 4 wickets
Saturday 31st July
Welsh Fire v Manchester Originals, Sophia Gardens
Women: Welsh Fire win by 9 wickets
Men: Manchester Originals win by 7 wickets
Northern Superchargers v Oval Invincibles, Emerald Headingley
Women: Northern Superchargers win by 4 runs
Men: Northern Superchargers win by 6 wickets
Sunday 1st August
Birmingham Phoenix v Trent Rockets, Edgbaston
Women: Trent Rockets win by 11 runs
Men: Birmingham Phoenix win by 6 wickets
London Spirit v Southern Brave, Lord's
Women: Southern Brave win by 7 wickets
Men: Southern Brave win by 4 runs
Monday 2nd August
Oval Invincibles v Welsh Fire, Kia Oval
Women: Welsh Fire win by 12 runs
Men: Oval Invincibles win by 6 wickets
Tuesday 3rd August
London Spirit v Northern Superchargers, Lord's
Women: London Spirit win by 7 wickets
Men: Northern Superchargers win by 63 runs
Wednesday 4th August
Birmingham Phoenix v Oval Invincibles, Edgbaston
Women: Oval Invincibles win by 8 wickets
Men: Birmingham Phoenix win by 6 wickets
Thursday 5th August
Manchester Originals v Southern Brave, Emirates Old Trafford
Women: Manchester Originals win by 17 runs (DLS Method)
Men: No Result
Friday 6th August
Welsh Fire v Trent Rockets, Sophia Gardens
Women: Trent Rockets win by 4 wickets
Men: Trent Rockets win by 6 wickets
Saturday 7th August
Southern Brave v Northern Superchargers, Ageas Bowl
Women: Southern Brave win by 7 wickets (DLS Method)
Men: Southern Brave win by 5 wickets
Sunday 8th August
Oval Invincibles v Trent Rockets, Kia Oval
Women: Match abandoned without a ball bowled
Men: Oval Invincibles win by 9 runs
Monday 9th August
Birmingham Phoenix v Welsh Fire, Edgbaston
Women: Birmingham Phoenix win by 10 wickets
Men: Birmingham Phoenix win by 93 runs
Tuesday 10th August
Manchester Originals v London Spirit, Emirates Old Trafford
Women: London Spirit win by 5 wickets
Men: London Spirit Men win by 6 runs
Wednesday 11th August
Southern Brave v Welsh Fire, Ageas Bowl
Women: Southern Brave win by 39 runs
Men: Southern Brave win by 8 wickets
Thursday 12th August
Northern Superchargers v Manchester Originals, Emerald Headingley
Women: Manchester Originals win by 8 wickets
Men: Northern Superchargers win by 69 runs
Friday 13th August
Trent Rockets v Birmingham Phoenix, Trent Bridge
Women: Birmingham Phoenix win by 3 wickets
Men: Birmingham Phoenix win by 16 runs
Saturday 14th August
Oval Invincibles v London Spirit, Kia Oval
Women: Oval Invincibles win by 8 wickets
Men: Oval Invincibles win by 2 wickets
Sunday 15th August
Trent Rockets v Manchester Originals, Trent Bridge
Women: Manchester Originals win by 9 wickets
Men: Trent Rockets win by 7 wickets
Monday 16th August
Southern Brave v Oval Invincibles, Ageas Bowl
Women: Southern Brave win by 30 runs
Men: Southern Brave win by 6 wickets
Tuesday 17th August
Northern Superchargers v Birmingham Phoenix, Emerald Headingley
Women: Birmingham Phoenix win by 14 runs
Men: Birmingham Phoenix win by 8 wickets
Wednesday 18th August
Welsh Fire v London Spirit, Sophia Gardens
Women: London Spirit win by 7 wickets
Men: Welsh Fire win by 3 wickets
Friday 20th August
ELIMINATORS
Women: Oval Invincibles vs Birmingham Phoenix, Kia Oval
Oval Invincibles win by 20 runs
Men: Southern Brave vs Trent Rockets, Kia Oval
Southern Brave win by 7 wickets
Saturday 21st August
FINALS
Women: Southern Brave vs Oval Invincibles, Lord's
Oval Invincibles win by 48 runs
Men: Birmingham Phoenix vs Southern Brave, Lord's
Southern Brave win by 32 runs