With all the talk of a tough season ahead for Tottenham Hotspur as they play their home games at Wembley, we've looked at a selection of teams in the top five European leagues (England, Spain, Germany, Italy and France) who have moved stadium since 2000. How did other teams fare after moving stadium at the end of the season?
New stadiums
The following table lists the teams we have chosen for our analysis: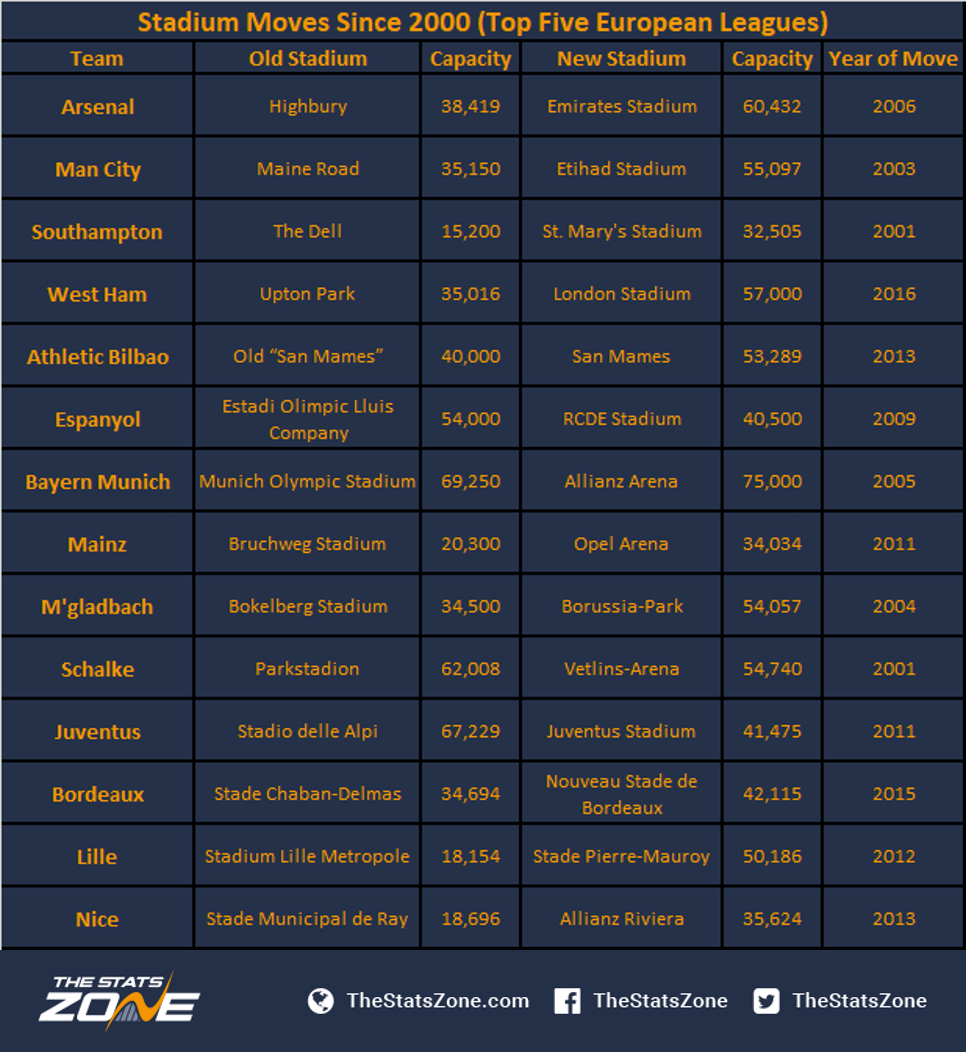 Certain teams e.g. Lyon, moved stadium in the middle of a season, so they are not included in our analysis.
Have these stadium moves had the desired effect of attracting more fans per game thus increasing revenue? We need to look at average attendances in the season before the stadium move and season after to really see.
The following graph shows the average attendance increase (if there has been) after moving stadium to the capacity increase (again if there has been):
Out of the 14 teams, 11 have both increased their stadium sizes and number of fans turning up to the game. Surprisingly, Juventus downsized their stadium capacity by 25,754 yet their average attendance rose from 21,966 to 37,545 in the season they moved to the Juventus Stadium. Espanyol and Schalke also moved to smaller stadiums but increased average attendances. All three of these teams moved from Olympic sized stadiums with running tracks around the pitch to smaller modern grounds, closer to the pitch, engaging the fans more and improving the atmosphere. Athletic Bilbao are the only team that moved stadium to actually have a lower average attendance after the move.
Nine of the 14 teams have successfully moved stadiums and attracted over 10,000 more fans on average to their games, the top of the list being Lille, Arsenal and West Ham. Unsurprisingly, these three teams have all had the biggest capacity increases in moving stadiums.
Does it affect league form?
After the big stadium moves, the question is; have team's felt the pressure from possible higher expectations and bigger crowds to perform at a higher level? Has this hindered the team in the following season after the stadium move?
The following graph shows the average points per game overall in the league as well as at home, in the season before the move and the season after: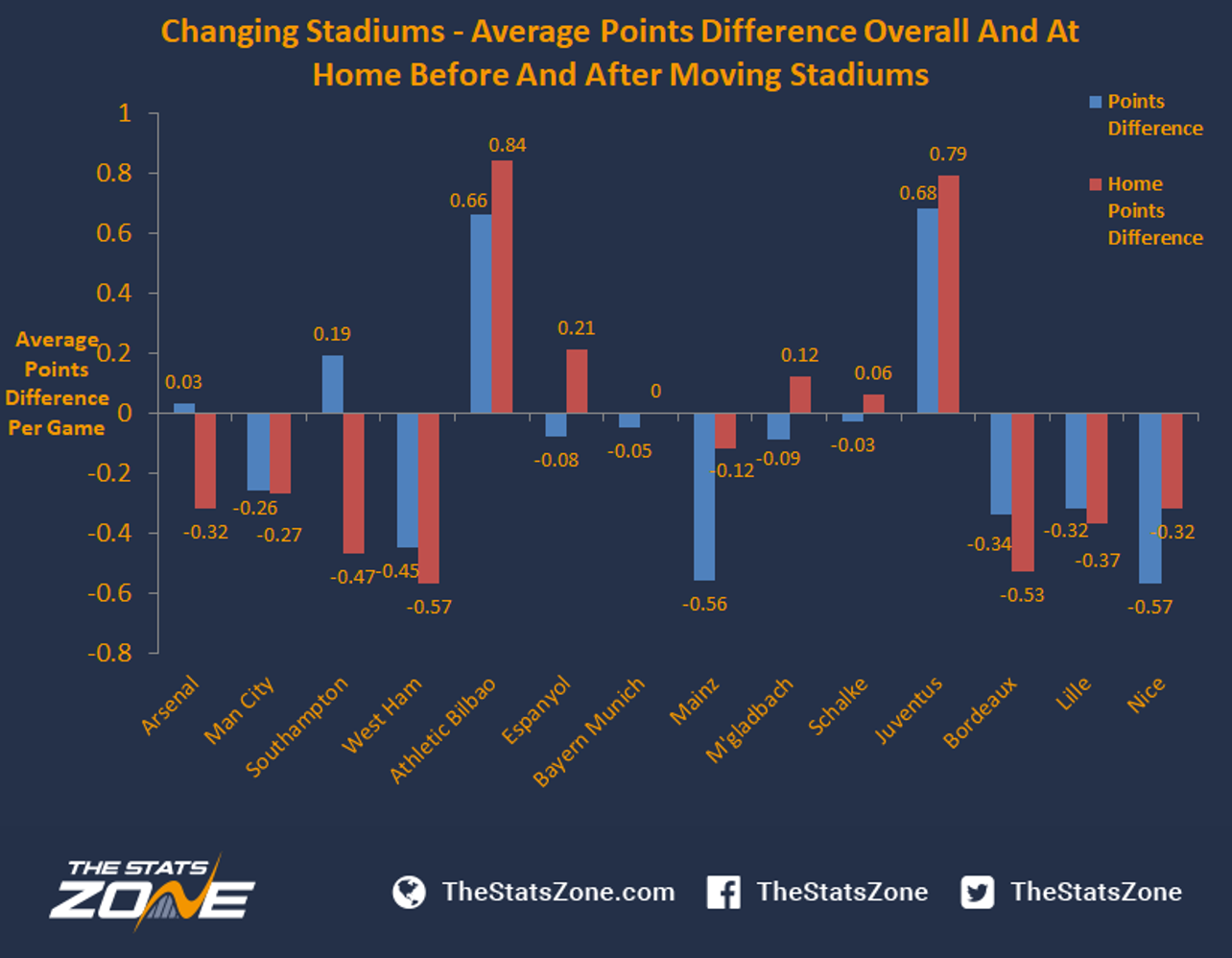 Three teams stand out here, for different reasons. Juventus and Athletic Bilbao have clearly thrived in the following season after moving stadium, with their overall form improving significantly and their home form at the new stadiums improving even more. Athletic Bilbao gained almost a whole point higher at home (0.84).
On other hand, and this may be of particular relevance to Tottenham Hotspur fans, Premier League rivals West Ham's form took a significant dip in their first season at the London Stadium. All four English teams that have changed stadium have had their home form suffer in the following season, as even though Arsenal and Southampton had better seasons overall, clearly their away form was to thank for that. Looking at this graph, it's difficult to see what impact moving stadium actually has on a team's form, as there are other factors that could contribute to a team's form such as managerial changes, transfers etc.
Overall though, 11 of the 14 teams performed worse in the season after moving into their new stadiums, and only Athletic Bilbao and Juventus performed better both overall and at home. It is worth nothing that some teams (e.g. Bayern Munich) may have set such a high standard the season before that maintaining it was an incredibly difficult task regardless of switching stadiums.
The following graph shows the average number of points each team won at home the season before and after moving stadiums: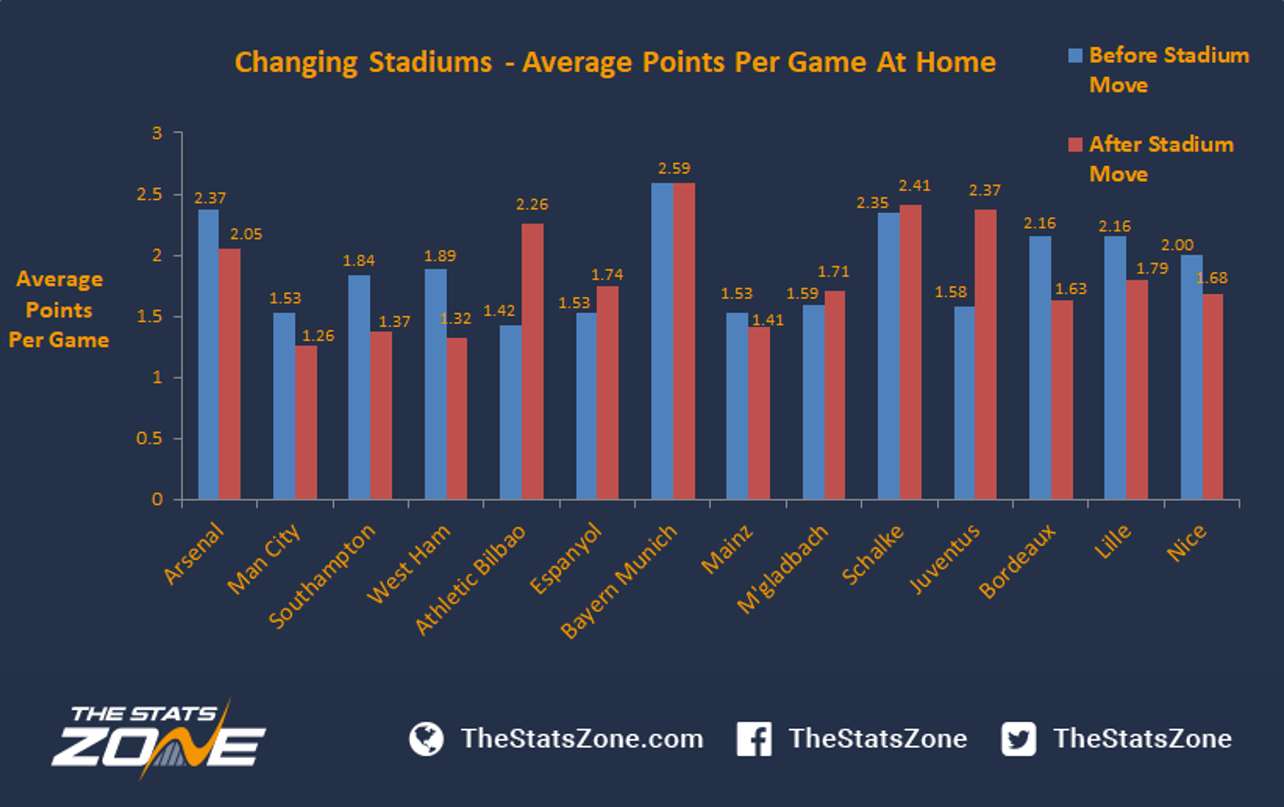 As you can see, Bayern Munich's home record was incredible in the season before and after they moved to the Allianz Arena. Clearly, Schalke are not quite the force of old as they had the second best home record out of the 14 teams being compared in the 2001-02 season. This graph just highlights how strong teams can be at home if they are getting more than two points a game on average.
More pressure to entertain?
Is there a greater expectancy to entertain in front of a higher number of fans at home after moving stadium? The following graph reveals something really interesting – it shows the average number of goals scored per game at home for each team in the season before and after they moved stadium: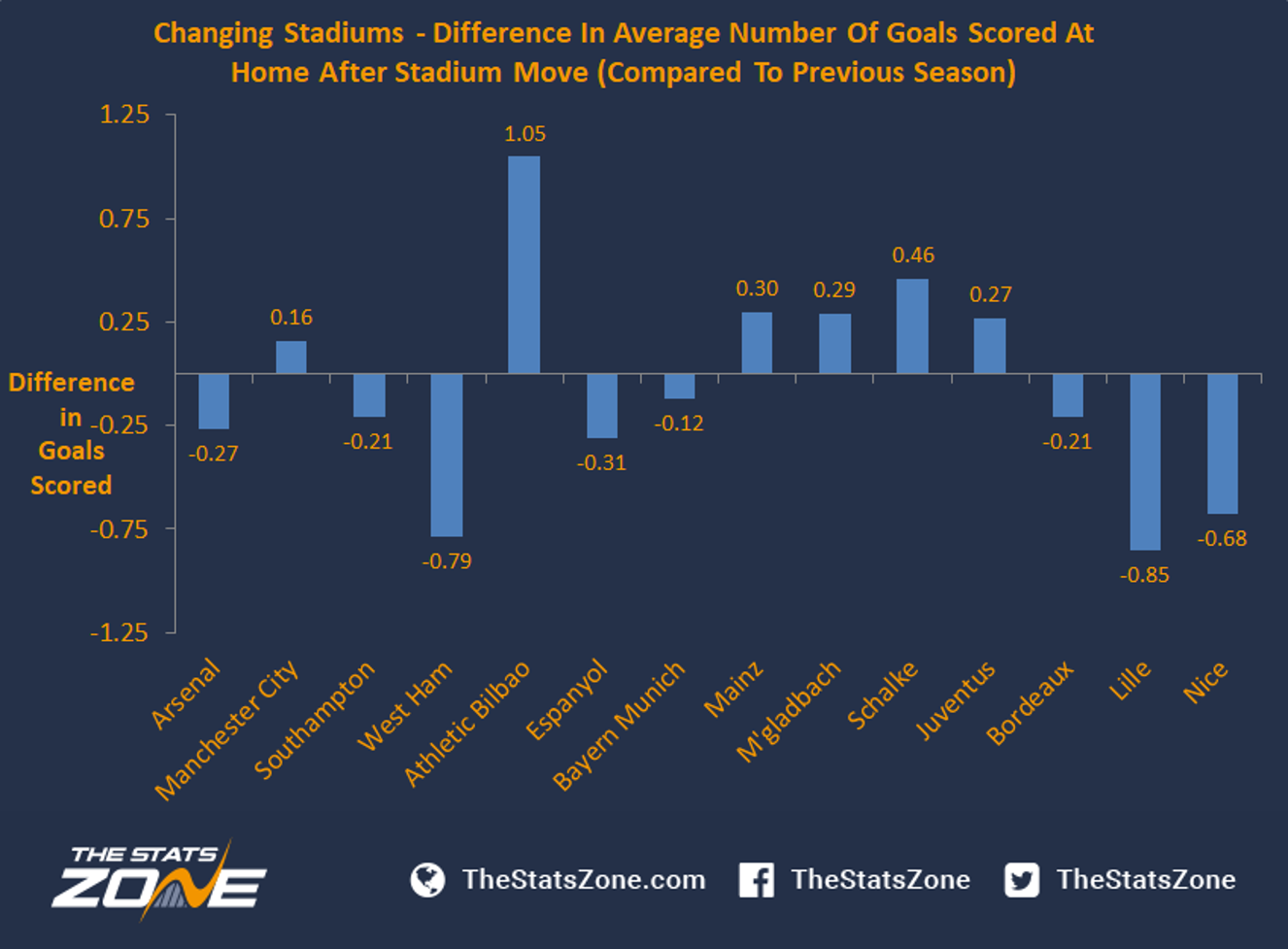 Eight teams scored fewer goals at home in their first season at a new stadium compared to the season before; clearly, some teams felt the pressure. Once again, Athletic Bilbao come out very strong here – they scored over a goal on average more per home game the season they moved into the new "San Mames".
Another way to see if there was a trend would be to match average attendance increase against the difference in average number of goals scored at home before and after the stadium move: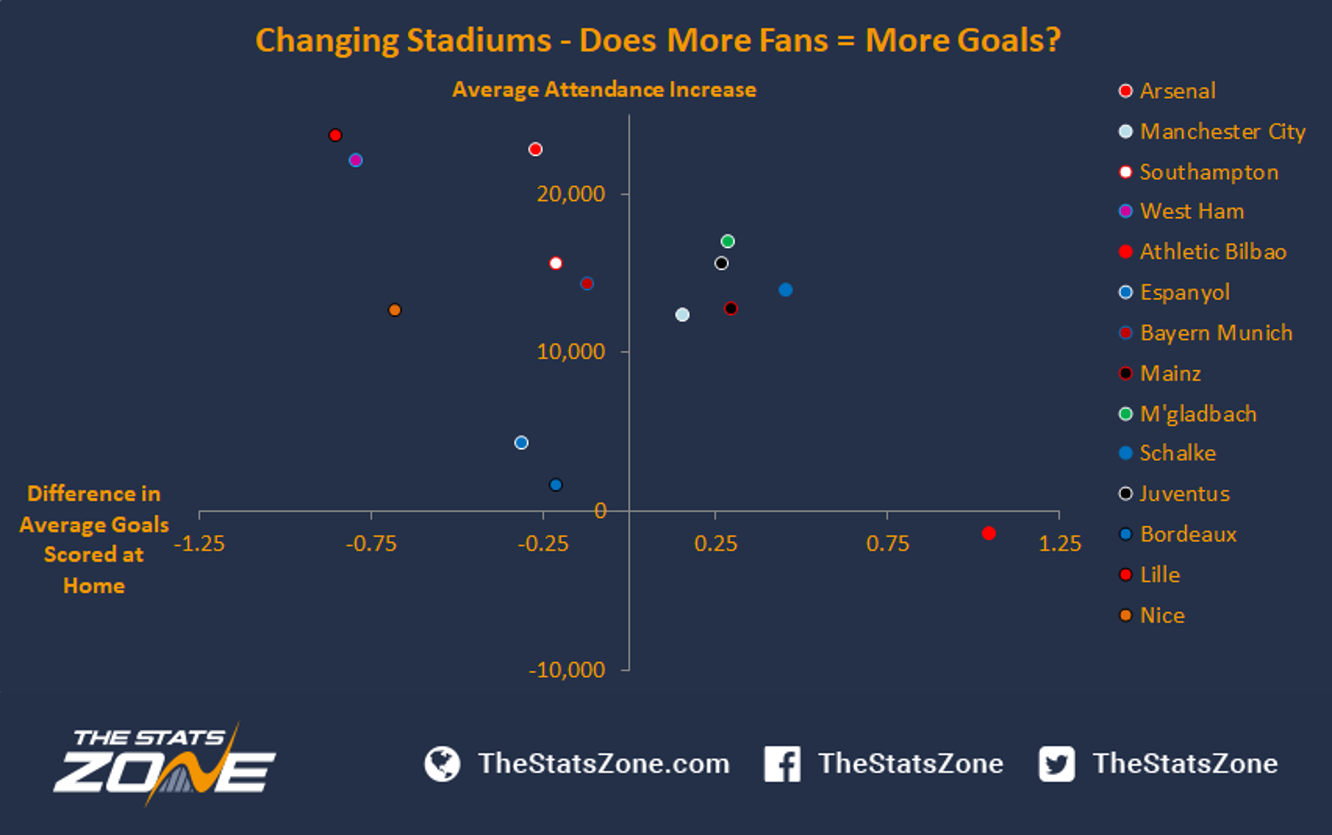 The scatter graph is rather well spread. There are some interesting points though – the three teams with the highest increase in average attendance after they moved stadium all scored fewer goals on average after the move, so arguably the pressure of more fans affected their play. The only team with fewer fans turning up to see them on average after the stadium move scored a goal per game more than they did beforehand (Athletic Bilbao).
Does moving stadium affect your form?
The evidence strongly suggests that moving stadiums can negatively impact a team. Potentially, it adds that extra pressure to perform and maybe even teams feel more obliged to entertain the fans with more exciting and flamboyant football. Importantly, it says a lot about the team in how they deal with this extra pressure. Perhaps the teams trying to be the most ambitious with the biggest stadium increases have buckled initially under this pressure and their form has suffered because of this – notably Arsenal, West Ham and Lille.
Some teams have however thrived under these new stadiums and taken their form to a new level – Juventus and Athletic Bilbao. Ultimately, it takes some time for a new stadium to feel like 'home', which can create an intimidating atmosphere for the visiting side.
The outlook for Spurs
Spurs struggled last season when they were required to play their Champions League games at Wembley, and their first two home league games of the current campaign have resulted in a defeat to London rivals Chelsea and a disappointing draw with Burnley. It is obviously too early to make firm judgements on how they will be affected this season, but the warning signs are already there.
Playing at Wembley is something of a unique situation though, as it is only a temporary solution whilst construction is completed on a new permanent stadium. In this sense, it will be difficult for the players and fans to truly feel like Wembley is their home turf, and although the club have been at pains to insist that they are not suffering from the 'Wembley wobbles', time will tell as to how they fare for the rest of the season.