Three-weight world champion Leo Santa Cruz suffered the first loss of his 32 fight career at the hands of Belfast's Carl Frampton in July 2016 on route to losing his WBA 'super' Featherweight title. In the process, Frampton became Northern Ireland's first native two-weight world champion and the two will once again battle it out on January 29th at Las Vegas' MGM Grand Arena. Here at TSZ, we will look at both boxer's career statistics and the all-important figures from their previous fight to discover where the bout could be won or lost.
Before their last contest, very few experts gave Carl Frampton any chance of success against one of the current best pound-for-pound boxers in Leo Santa Cruz, and when assessing the tale of the tape it's easy to see why: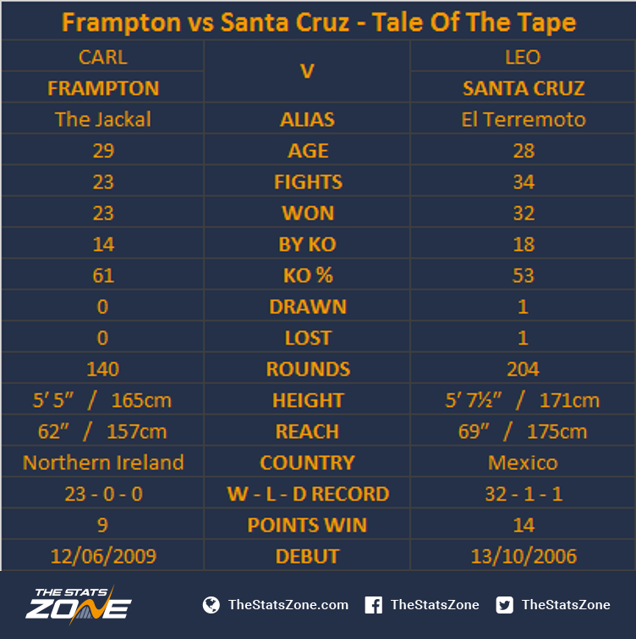 Although there is just one-year age difference between the two fighters, Santa Cruz – the youngest – has had 11 more fights than Frampton and amassed 64 additional rounds.

Furthermore, Santa Cruz has an incredible reach advantage of seven inches which makes Frampton's win all the more impressive.

Notably, Frampton has a higher KO % (61) compared to Santa Cruz (53), demonstrating his significant power prowess over his opponents.

On paper, even after their first fight, Santa Cruz is by far the more experienced fighter and has arguably faced more high calibre opponents on route to his world titles in three different weight divisions. However, Frampton remains the man with a 100% record, meaning experience and physical advantages alone will not be enough for Santa Cruz to topple Frampton as was proved in their last fight.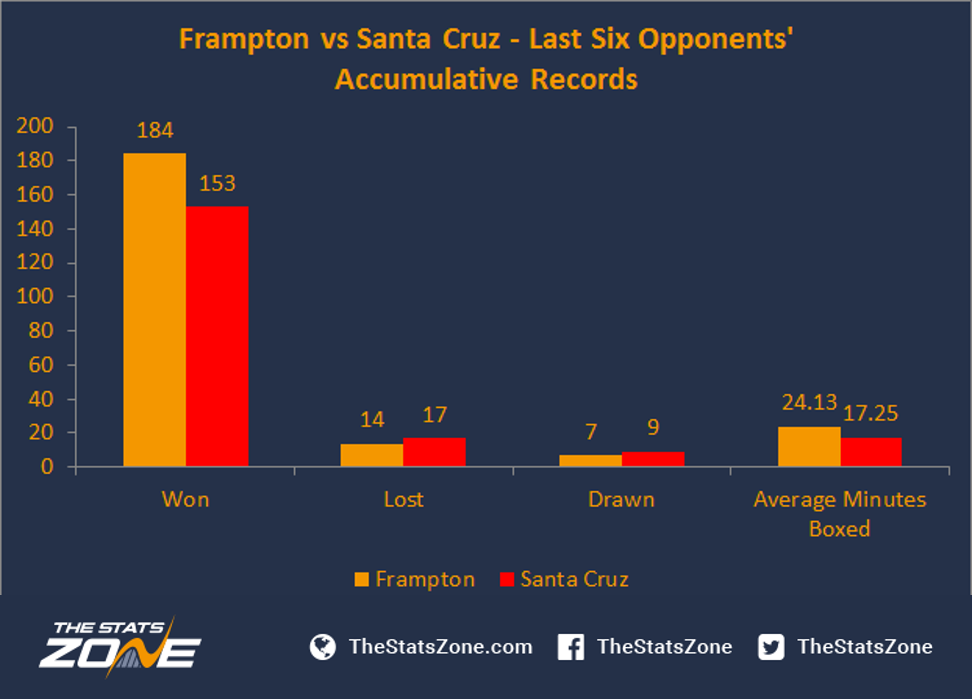 Frampton's last six opponents have a combined total of 184 wins, 14 losses and seven draws in comparison to 153 wins, 17 losses and nine draws for Santa Cruz's opponents.

Notably, Frampton has beaten two undefeated fighters during his last two fights with world titles on the line in Quigg and Santa Cruz respectively.

Perhaps unsurprisingly, Santa Cruz has spent less time in the ring, averaging 17:25 minutes compared to Frampton's 24:13. Arguably, Frampton is better prepared to go the distance again with four of his previous five fights going the full 12 rounds, whilst Santa Cruz has experienced just two in his last six. Even so, perhaps a change of tactics for Santa Cruz this time will prove decisive.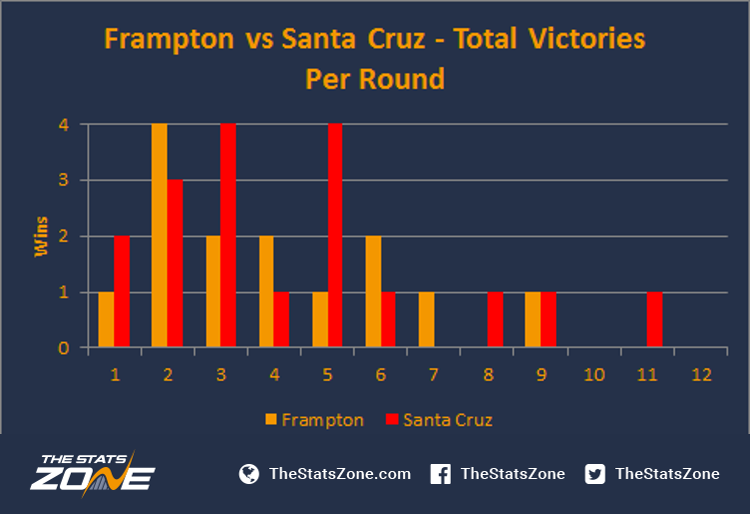 If Santa Cruz does adopt different tactics to tackle Frampton, then going for the knockout during the later rounds is something he has been capable of previously, producing three wins between rounds eight to 11 compared to Frampton's one.

Both fighters have the pedigree to win early but a fight at this level between boxers of this calibre is likely to go the distance again.

Nevertheless, questions have been raised previously regarding Frampton's fitness levels during the latter stages of a fight, which was seen against Scott Quigg and Santa Cruz himself. If it proves to be the case again, then a KO for the Mexican in the later rounds could be likely.
Many experts believed Santa Cruz should have been the winner of the previous contest, and assessing total punches thrown the argument can be supported to an extent: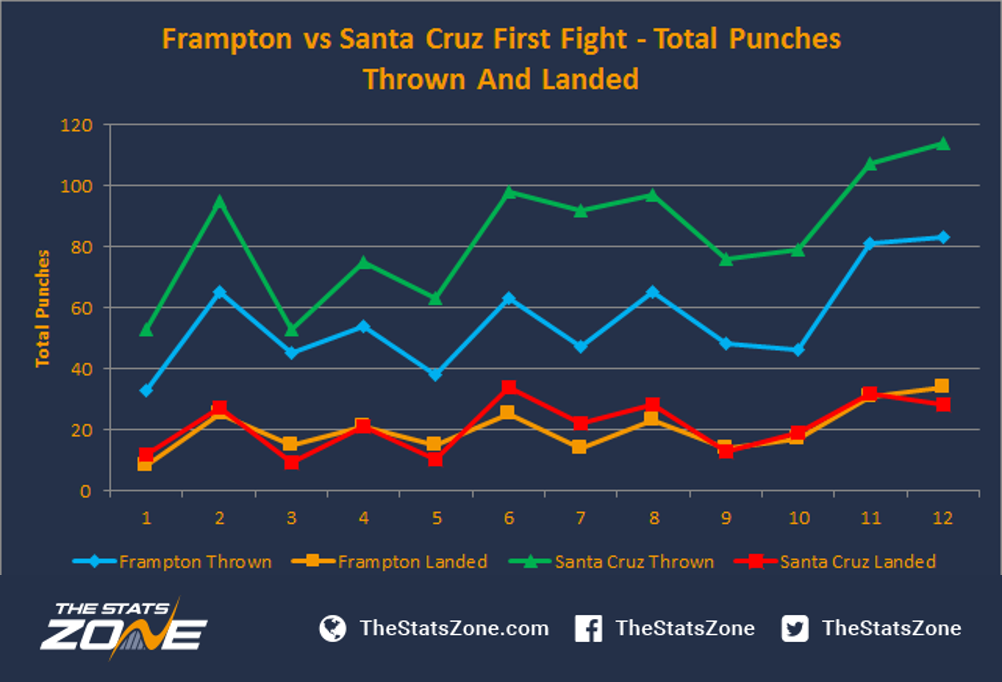 Punch stats provided by CompuBox

Santa Cruz was the busier of the two fighters throughout and increased the volume during the second half of the fight, while Frampton stayed consistent during the course of the bout.

Santa Cruz amassed a staggering 1002 punches during the fight and landed 255, whereas Frampton threw 668 and landed just 13 less with 242.

Significantly, Frampton's efficiency was the key factor as he landed 36.2% of his punches whereas Santa Cruz managed just 25.4%.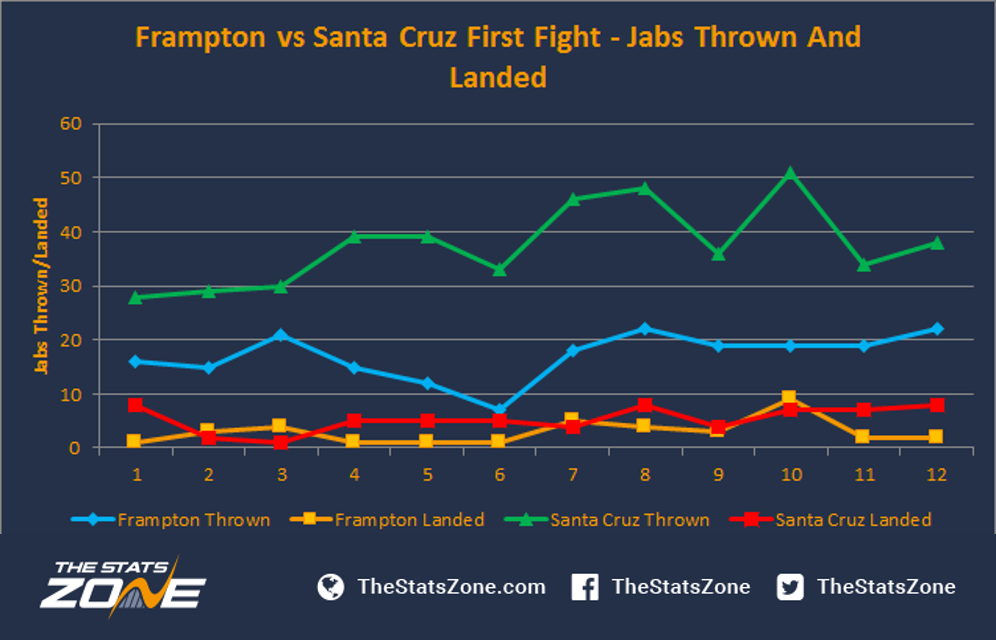 Punch stats provided by CompuBox

Naturally, the story is similar in the jab department with Santa Cruz throwing over double (451) the jabs that Frampton (205) did.

Again, although Santa Cruz landed more (64) than Frampton (36), his conversion rate was just 14.2% compared to 17.6% respectively. Frampton chose his jab more wisely and was able to use it to set himself up for power punches.
As a result, power punches is where the fight was won and lost:
Punch stats provided by CompuBox

Frampton produced more power punches during three rounds and virtually matched Santa Cruz in a further seven.

Furthermore, Frampton landed more power punches in seven rounds and again virtually matched Santa Cruz during an additional four, only being overpowered once in this department during round seven, when the Mexican increased his punch volume during the second half of the fight.

Consequently, Frampton was able to convert nearly half (44.5%) of all his power punches thrown compared to Santa Cruz's 43.7%.
In summary, Frampton's previous victory over Santa Cruz appears all the more impressive when assessing the statistics. Frampton and his coach Shane McGuigan adopted efficiency in their punch selection, choosing their shots carefully and effectively whereas Santa Cruz's style – which has produced three world titles at different weights – was to overpower his opponent. Taken all into account, Santa Cruz will undoubtedly adopt a refined approach whereas Frampton will need to at least box as good as he did previously; meaning revenge for the Mexican is a highly possible outcome.