Canelo Álvarez, one of boxing's biggest names, faces fellow countryman Julio César Chávez Jr. on Saturday night. Fittingly, the bout takes place on Mexico's national celebration weekend, the Cinco De Mayo, at the T-Mobile Arena in Las Vegas. Both fighters have stated how important this contest is for the Mexican people, making it a fight both will have prepared for to the maximum.
The fight has been agreed at a catchweight of 164.5 pounds, with severe sanctions in place should Chávez come in heavy. Indeed, some reports indicate that he could be fined $1 million for every pound he is over the weight limit – a factor the headlining team are clearly taking very seriously. If Álvarez is to be triumphant, it is expected to lead to the mega-fight that the boxing world wants to see against Gennady Golovkin. This is the perfect opportunity – and not by coincidence – for Canelo to test exactly how he fairs at the higher weight, as well as give his body a longer time to settle into the weight should he face GGG.
The 164.5 pound catchweight is a smart move by Álvarez's team as Chávez has not fought below this weight since 2012, when he lost. Furthermore, the nearest he has fought is at 167.5, a full three pounds heavier, where he has been fighting at super-middle weight and even light heavyweight. Subsequently, this will make it very difficult for him to get down to the required weight, hence the contract clause.
Álvarez however has steadily gone up each weight division throughout his career, and will be at his heaviest to date in this bout. It is much easier for a fighter to put on the extra pounds required rather than strip them off when at a significantly higher weight, which could be most notable during the later rounds. Additionally, Álvarez has had an extra three months off compared to Chávez's last fight, which if planned in advanced could be the major factor in this contest.
Álvarez will give away 10cm in height and six in reach and with the added mass potentially slowing him down compared to Chávez's increased speed, the fight could be a real match-up physically.
Canelo has been in three world title fights in his last six encounters against high calibre opponents; he has been triumphant each time and they all took place in the last two years, whereas Chávez has lost two of his last six against lower class opponents and has been somewhat inactive by recording these in the last four years. As a current pound-for-pound great, many of the factors are in Álvarez's favour.
Both fighters have similar records in knocking out their opponents within the first five rounds, with Álvarez recording 21 wins and Chávez 27 inside this distance.
Chávez's number of wins in the early rounds demonstrates his style of boxing, but with just one win in each round between six and 10 from 50 wins, his aggressive style and tactics could be his downfall against a higher calibre opponent such as Álvarez.
Canelo has recorded at least one win in each round between eight and 12 (nine total), demonstrating he has the boxing skills to wear down his opponents and finish them off in the later rounds. Nevertheless, with characteristic Mexican boxing styles and power from both, this has the possibility to be a classic.
The last time Chávez Jr. fought below the 165-pound limit was against Sergio Martínez for the WBC world middleweight title on 15/09/2012, losing on points in a unanimous decision in what was at the time the first loss of his professional career. In order to determine a more accurate understanding of his style at the lower weight, punch statistics from this particular fight were analysed. With Canelo progressively moving up in weight and being just one pound lighter in his last fight against Liam Smith compared to his previous five, the punch statistics from this bout were also assessed to give a comparison.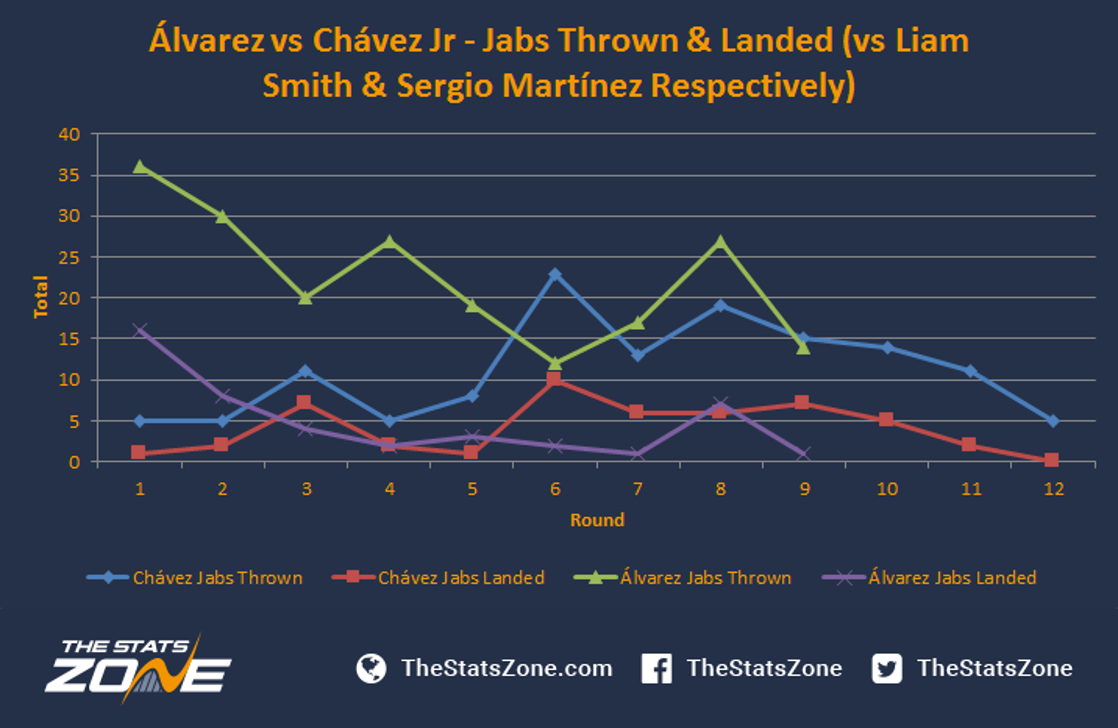 Álvarez used his jab much more regularly, recording nearly double (202) the amount thrown during the first nine rounds compared to Chávez's 104. Furthermore, Chávez went on to record a total of 134 jabs during his 12 rounds with Martínez, still 68 less than Canelo.
However, Chávez was much more accurate with his jab, landing 42 (40.4%) in the first nine rounds compared to just 44 from Canelo (21.8%). If both fighters adopt similar tactics during their upcoming fight, the extra pressure from Canelo could result in a similar fate as Smith, but if Chávez is able to defend more effectively and preserve energy, this could prove critical in the later rounds.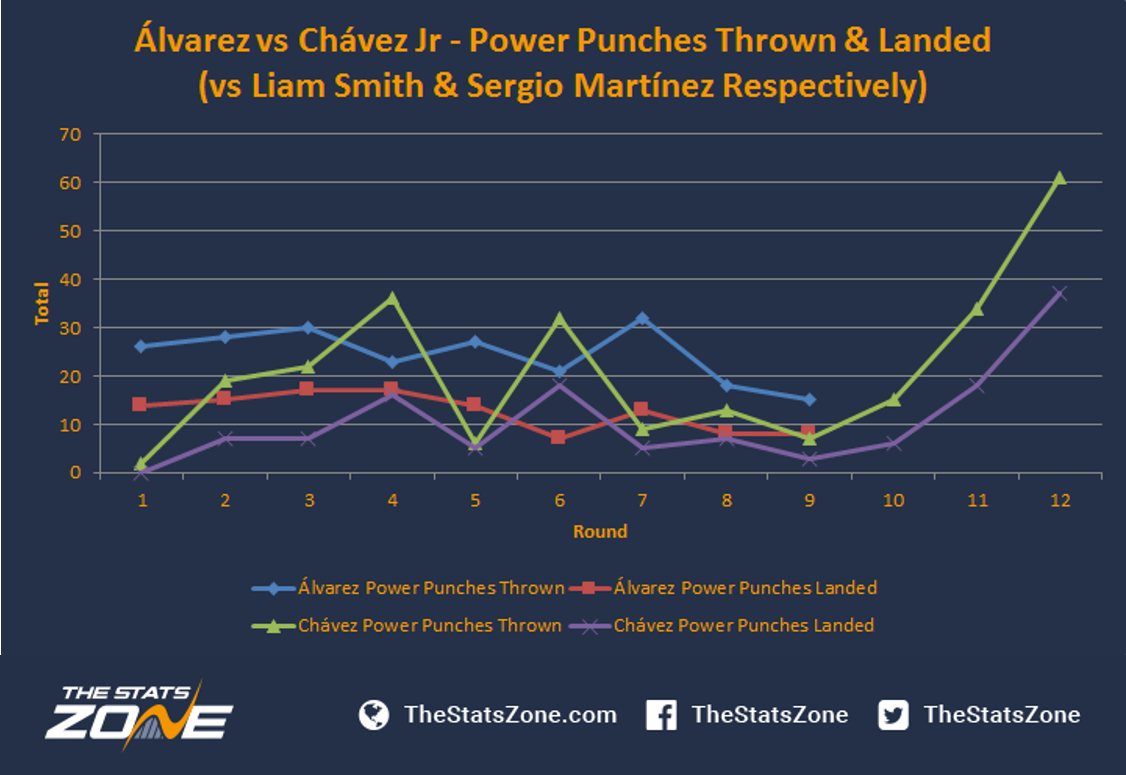 Álvarez's knockout record speaks for itself and it is clear to see why he has dominated so many weight divisions. During the nine rounds against Smith, he recorded a total of 220, landing 113 with a conversion rate of 51.4% and never dipping below 21 thrown in the first seven rounds. Chávez's defence will have to be perfect to avoid the knockout blow that has befallen so many before him.
On the other hand, Chávez recorded just 146 thrown and 68 landed against Martínez, but converted a respectable 46.8%. Similar to his jab, his work-rate in the earlier rounds was slow but precise, possibly a tactic to preserve energy for the later rounds. This is evident in the fact that he managed to throw 110 more in the final three rounds against Martínez. Again, if he is able to ride the Canelo attack early, the latter part of the fight could be Chávez's.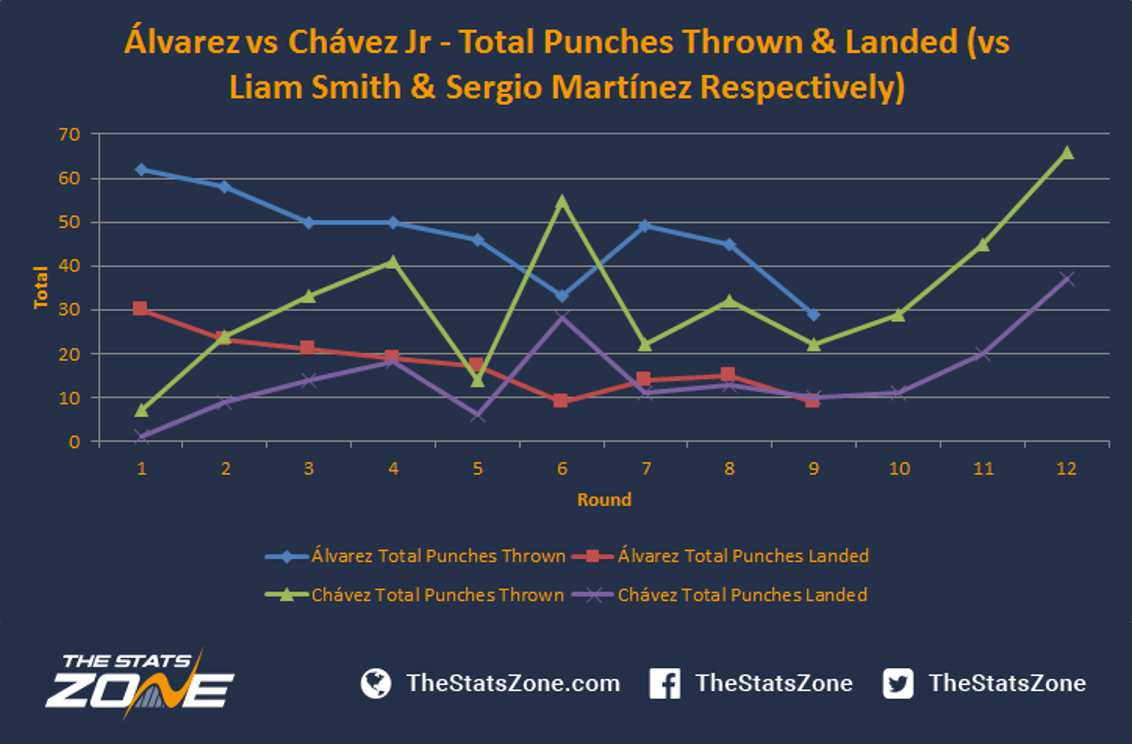 As is evident with total punches thrown, Álvarez's energy and attack was vital to his success, not giving his opponent any time to settle into the fight. With only the one loss in 50 bouts (coming against the great Floyd Mayweather) and 14 wins on points, it must be noted this style is not his only tactic and he has the ability to adapt to whatever arsenal his opponent may use.
Chávez however, appears more calculated in his approach and is willing to take the fight into the later rounds. Perhaps this is a significant tactic used when at his lower weight as the energy required - and evidently used in his earlier fights where he regularly knocked out his opponents within the first five rounds - is not possible anymore.
As mentioned, the catchweight could be the deciding factor in the contest. Álvarez is treading into new territory but has the experience of stepping up weight divisions throughout his whole career, whereas Chávez will need to cut significant weight for the first time in years.
Álvarez is undeniably the favourite for this fight but has everything to lose, whereas Chávez has an opportunity to put his name back into the big time and regain the respect and notice that made him a world champion in the past. Due to Chávez having nothing to lose, he has the freedom to attack and the skills to cause Canelo real trouble.
Although many are predicting this to be another comfortable victory for Álvarez, TSZ predicts it could be a much closer contest than that, so expect an entertaining match-up with both fighters having to dig deep. Nevertheless, anticipate the pound-for-pound great to record another victory and finally set-up the long-awaited GGG fight.
Punch stats sourced via CompuBox.