When Roger Federer injured his knee in July last year, questions were asked about his future at the top of the game and whether he would add to his haul of 17 Grand Slams. Indeed, we asked that very question at the start of the year.

Fast forward 12 months and the Swiss maestro has been installed as the favourite by most bookmakers to lift his eighth Wimbledon trophy, having already secured his 18th Grand Slam at the Australian Open in January.
Since his historic five-set victory over long-time rival Rafael Nadal in Melbourne, Federer has managed his schedule carefully but to great effect; in the six ranking tournaments he has entered, he has emerged victorious in four of them: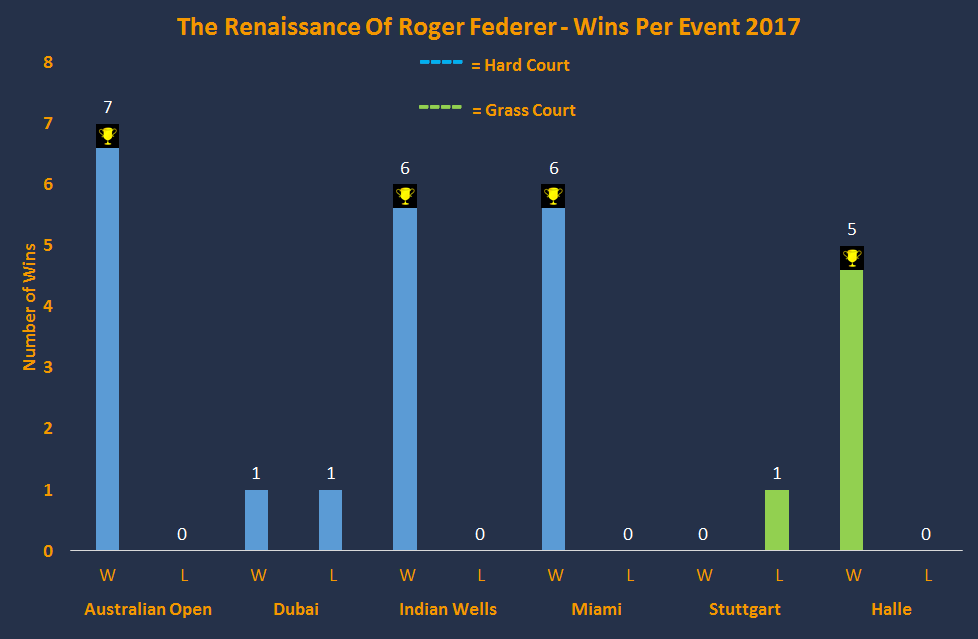 Not since 2006 has Federer won more than four tournaments at this stage of the season, a statistic made all the more impressive by his absence from the entire clay court season.
Federer has made some significant changes to certain aspects of his game, but let's see if this is backed up by the numbers. As a starting point, we've broken down the figures behind Federer's ATP matches this year:
Federer has played in 26 ranking matches this year, of which he has won 24 and lost just two (vs Evgeny Donskoy at the Dubai Duty Free Tennis Championships and vs Tommy Haas at the Mercedes Cup in Stuttgart).
Federer has been involved in 70 sets in 2017, losing just 13 of them. This equates to a set win percentage of 81.43%.
Breaking that down even further, Federer has so far played a total of 800 games. He has won 478 of these (59.75%) and lost 322 (41.25%).
We'll now take a look at his ATP statistics. We've put his current 2017 numbers alongside that of 2015 (2016 didn't throw up enough for us to be able to compare due to the lack of games he played). We've also listed his career statistics as a further comparison: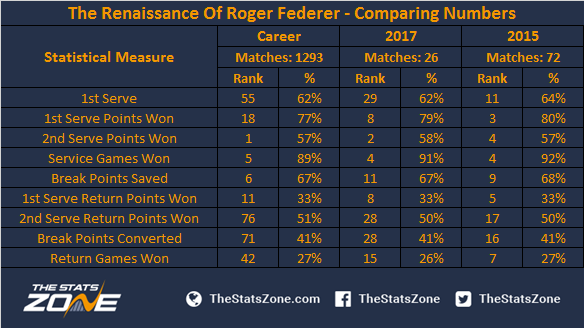 Federer has alluded to the fact that his improved backhand return has hugely benefited his overall game, and by being able to use it effectively, it is helping him to step into the court a lot easier than previously in his career.

Pundits and spectators would tend to agree with this assessment, based on an observation of his matches in 2017. Interestingly though, as the table above shows, there is very little in the raw numbers to suggest such an improvement.
What should be taken into account here is the fact that tennis is a game of tiny margins, and even the slightest improvement in any area can mean the difference in winning and losing. This stance is illustrated by the fact that, over the span of his whole career, Roger Federer has won 54% of the total points he has played. One might expect one of the greatest players of all time to have a more dominant record than that, but such are the small fractions at the top of the game.
There are some noteworthy examples in the numbers above, though. For example, Federer is currently winning 1% more of his 2nd service points compared to his overall career record. It may not sound much, but a narrow boost can have a dramatic impact.
In terms of return games won in 2017, Federer is actually 1% down on both his overall career and his 2015 record. A possible explanation for this is Federer's decision to skip the clay court season this year. Clay is typically the surface where the most return games are won (due to the slower surface making the serve less dominant), so Federer's absence in these events has certainly hindered this particular statistic.
Federer looks like a different player this season, even if that isn't strongly backed up by some of his key numbers. One observation we can take from the ATP performance markers is that he's remained consistent – could it be that other players around him are failing to maintain their own standards? Certainly Andy Murray and Novak Djokovic have been well below their best – leaving the old guard of Federer and Nadal to claim the major titles.
Heading into Wimbledon
Due to its speed and affordability to the serve-and-volley game, grass is Federer's preferred surface, not surprising given his results at the All-England Club: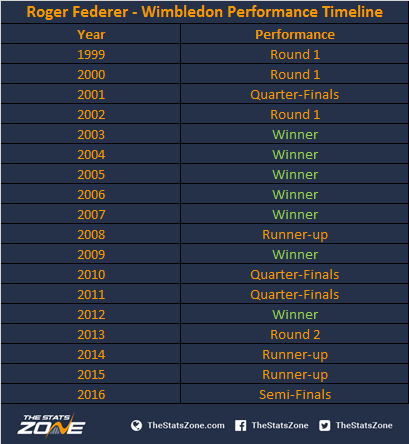 Although the Swiss hasn't claimed the trophy since 2012, he has reached the final in two of the last three years, losing to Novak Djokovic on both occasions. This year, the top four seeds for the event are made up of the 'big four', meaning Federer will be kept apart from Djokovic, Murray and Nadal until at least the semi-final stage.

In terms of Federer's grass preparation, his early defeat in Stuttgart this month did raise a few eyebrows, but he quickly bounced back by claiming his ninth Halle title, giving him vital confidence and practise on the surface ahead of the third Grand Slam of the season.
By picking and choosing which tournaments he participates in (when not dictated by injury), Federer has been able to keep himself fresh this year. With Wimbledon just around the corner, who would back against Federer adding to the seven crowns he has already collected at SW19?
Data sourced from the ATP World Tour official website – accurate as of 28/06/17.